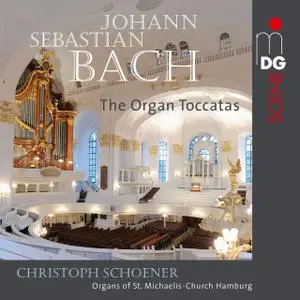 Christoph Schoener - J.S. Bach: The Organ Toccatas (2015)
WEB | FLAC (tracks) - 329 MB | 01:18:01
Genre: Classical | Label: MDG Scene
Amid the never ending list of available recordings of Bach's organ works, it's nice to see a new SACD being released that brings all of his brilliant Toccatas together on one disc. These works, which capture a snapshot of Bach letting his hair down, showcase the essence of the composer at his best. Highly spirited music, brimming with expressive freedom bordering on the ecstatic. Organist Christoph Schoener certainly perceives these elements within the music and delivers up-tempo, animated and exuberant readings of all the pieces that call for it. The highlight for me on this disc is the account of the Toccata in F, BWV 540. A brilliant work, even by Bach's standards, with outstanding harmonic development throughout, underpinned by solid and long-sustained pedal notes upon which Bach constructed cathedrals of sound.