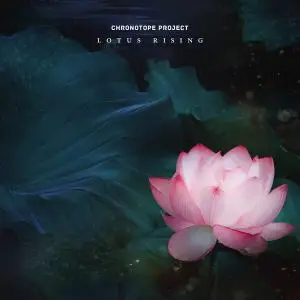 Chronotope Project - Lotus Rising (2018)
WEB FLAC (tracks) - 223 MB | MP3 CBR 320 kbps (LAME 3.93) - 139 MB | Front cover
Genre: Downtempo, Ambient | RAR 3% Rec. | Label: Spotted Peccary
Lotus Rising, Chronotope Project's fourth album on the Spotted Peccary label, is a series of musical reflections on Zen Buddhism. The ambient electronic character of the album is deeply rooted in lush synth textures and mesmerizing sequenced electronics, naturally flowing together to create mystical soundspaces seasoned with cello, Irish whistle, twenty-four string Harpejji, hand percussion, and natural field recordings. The wonderfully mysterious soundscapes of Lotus Rising glide meaningfully through atmospheric undercurrents that range from murky and enigmatic to angelic and serene, providing a thought-provoking deep listening experience that evolves continuously with the passing of each moment.
Drawn from composer Jeffrey Ericson Allen's thirty years of study and practice of Zen, Lotus Rising focuses on the poignant image of the lotus flower - which ascends from the murky depths of desire and attachment to bloom in the light of realization – as Buddhism's most recognizable symbol. The album's eight tracks tell the story of an aspirant's journey of self-actualization on the Buddha Way, stressing the importance of the moment.
The rich textures and vibrant electronic sequences are hallmark elements of the Chronotope Project style, and those familiar with previous works by the artist will recognize the plaintive flute or voice-like sound of the musical protagonist that guides the listener through the course of the album. This instrument, the Hakken Continuum Fingerbooard, is a uniquely expressive synthesizer that anchors the listener in the journey and gives musical expression to the protagonist's quest for expansion and self-surrender on the imaginative voyage through Lotus Rising.
With it's many layered textures, melodic moments, and hypnotic rhythms, Lotus Rising has much to offer the casual listener as well as those who delve more deeply, and its meaningful musical journey is sure to leave a lasting impression that will touch and inspire all.
Tracklist:
01. Crossing the Great Water
02. Lotus Rising
03. Zazen
04. Opening the Hand of Thought
05. A Prayer for Tenderness
06. Gateless Gate
07. Mountains are Mountains, Rivers are Rivers
08. Homage to the Three Jewels
Total time:
58:53

PERFORMER: auCDtect Task Manager, ver. 1.6.0 RC1 build 1.6.0.1
Copyright © 2008-2010 y-soft. All rights reserved

ANALYZER: auCDtect: CD records authenticity detector, version 0.8.2
Copyright © 2004 Oleg Berngardt. All rights reserved.
Copyright © 2004 Alexander Djourik. All rights reserved.


FILE: 08.Homage to the Three Jewels.flac
Size: 42634533 Hash: 046EF6356C86B45C91D2A48C6E70C529 Accuracy: -m0
Conclusion: CDDA 49%
Signature: 77C98C47301D9915D36BE33469B205A3D5648D6E
FILE: 07.Mountains are Mountains, Rivers are Rivers.flac
Size: 15222358 Hash: 515FB6868309D3E77D9A0CC081DF639D Accuracy: -m0
Conclusion: CDDA 43%
Signature: E51C2BF75E73DDD3218C0171624ABB6C230B3ECC
FILE: 06.Gateless Gate.flac
Size: 18788475 Hash: 389F6342054784026DAAC8456C7290E5 Accuracy: -m0
Conclusion: CDDA 94%
Signature: 92EC67036DE92F5B6A07B47C9E545DC426D53121
FILE: 05.A Prayer for Tenderness.flac
Size: 18982298 Hash: F26B6FD26681F1C147BD68D2E0CBC68A Accuracy: -m0
Conclusion: MPEG 80%
Signature: F1B9E1FA347825EF6964FD9A6BADF6D582CF0DB4
FILE: 04.Opening the Hand of Thought.flac
Size: 37308970 Hash: 034828EAB4C1811F92222FD3D5B1D824 Accuracy: -m0
Conclusion: CDDA 100%
Signature: 76C587D45750A1DCD4795D9928D2FA2E7FBE2724
FILE: 03.Zazen.flac
Size: 24888503 Hash: DD05B7A8B3FFE55CD860690990E38392 Accuracy: -m0
Conclusion: CDDA 100%
Signature: 6C1B087F971B8A79A09A4D471960F351C1841B45
FILE: 02.Lotus Rising.flac
Size: 30553239 Hash: EBC740EC75058C760C75FB8B15A39C61 Accuracy: -m0
Conclusion: CDDA 87%
Signature: 7323BD2F4FC81D83B805C5C4AC9164A7B3514B8A
FILE: 01.Crossing the Great Water.flac
Size: 39300830 Hash: 5F50C92553BB79DED872C14CD8A24514 Accuracy: -m0
Conclusion: CDDA 100%
Signature: D68A82AA48B54E069AFB481F22EBE71B7CE287B6
See also:
Chronotope Project - Ovum (2017)