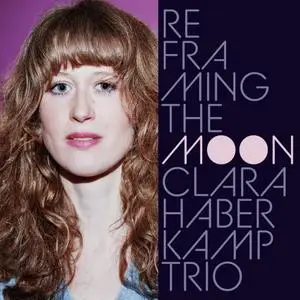 Clara Haberkamp Trio - Reframing the Moon (2021)
WEB FLAC (Tracks) - 264 MB | Cover | MP3 CBR 320 kbps - 116 MB | 00:49:12
Jazz | Label: Malletmuse Records
It is considered a virtue to turn weaknesses into strengths. Good thing. But the Berlin pianist Clara Haberkamp is already a step further, because in a constant process of osmosis she has long since transformed strengths into further strengths. Everything that we have come to know and appreciate from her is still contained in the core, only extremely solved, cleared out, tidied up.
On a constant path of perfection, the sensitive tone poet is not concerned with perfection, but with reinventing herself at every stop along the way, without denying what she has achieved. The latest evidence of this maxim is "Reframing The Moon", the new album by the Clara Haberkamp Trio.
Despite her young years, Clara Haberkamp has already acquired an extraordinarily distinctive signature as a composer. Expressiveness, depth of soul and perhaps the world's most unique ability to translate productive doubt into sensual sound are part of her brand essence, which she approaches from a different perspective on each of her albums. On "Reframing The Moon" she now opens a new chapter once again. Never before has Clara Haberkamp sounded so cleared and tidy as in these ten compositions, which were created over a period of two years. Everything that one knows and has come to appreciate from her is still contained in the core, only extremely dissolved. For the pianist, this was a logical step. She opened herself up to improvisation, focused entirely on the sound of the piano and exploited the range of its possibilities.
Freed from the cocoon of external expectations, she just plays fearlessly. "I realized that the thoughts you put into a piece don't matter at all in the end. It's just what comes out of it that counts. It's insanely exhausting to mull everything over and question it five times. You can use that time much better for other things. You can always make a decision from one moment to the next. That realization was very liberating for me."
Wouldn't it be appropriate at this point to look for notable comparisons for the Clara Haberkamp Trio? No, because from the very beginning the Berliner has unswervingly gone her own way. As an artist who walks through the world with her senses open, she absorbs thousands of impressions, which she processes for herself and stores in the fund of her imagination in order to retrieve them when needed. On "Reframing The Moon", she consistently resists distraction from her own sensitivities, discards all ballast and concentrates on the essential. What has to be said is said, everything else may and should remain unsaid. Instead of going all ways at once, she chooses a clearly delineated route in each track, which she follows as if according to a map. Joining her trio on these tracks is like drawing your very own sonic topography.
This restriction to the essential is not an individual achievement of the bandleader, but definitely a trio achievement. Drummer Tilo Weber has been part of the Clara Haberkamp Trio from the beginning. He is the calming pole of the troika. You don't have to hear him all the time to still feel him in every moment. Hardly any other drummer of his generation possesses such a transcendent physique. Bassist Oliver Potratz also radiates the calmness of a hungry veteran who always keeps his eye on the concrete goal. Like a sailor, he can lean far out of the given frame and steer out into the open water without ever losing sight of the shore. His attention to detail goes far into narrative risk, but always makes sense in the overall context with impressive reliability. The three members of the trio translate this jointly acquired composure into spontaneous elegance and immanent elasticity. The density of intentions becomes so strong at the end that one doesn't even have to think about who in the trio has which share in the frenzy of events while listening.
In this context, the album's dramaturgy is exciting. The first track, the solo improvisation "Firmament", is somewhat reminiscent of the great Russian concert pianists of the last century, as it is hard to beat in terms of drama. This song is the grand portal to a musical garden filled with flowers, herbs, shady bushes and trees, birds, bugs and butterflies, and a stream that breathes life into the garden. Behind every corner of this garden there is a different scent, new insights become visible. A unifying moment of the album, which is very heterogeneous in its layout, is movement. The individual tracks describe states of motion such as running, striding, dancing, gliding or floating. These different sequences of movement also allow the ear a different approach in each piece.
New for the Clara Haberkamp Trio is the use of a Fender Rhodes piano. It is only used in the second half of the album in the song "Twist", but is inserted so organically into the overall context that, despite its special sound impression, there is no aesthetic break in the trio's narrative flow. "Which instrument I play on doesn't make much difference to me at all," confirms Clara Habercamp. "On the acoustic piano, of course I think of the strings, the wood and everything that goes with it. On the Fender Rhodes, I also think of the hammers. If I were to play on a synthesizer with all its sounds, I would have to completely change my mind set again, but on the Fender Rhodes I also think more acoustic. I always let the sound guide me." Every nuance, every vibration, every shift of intention is always about the whole thing. Like in Robert Altman's film "Short Cuts", individual moments and strands of thought interweave to form a holistic whole, but one that couldn't do without a single one of these nuances.
Is there a synonym for magic? Spell, verve, power, force, charm … none of these even come close to capturing the soulful pull of "Reframing The Moon". But if you could sum it up in one or two words, there would be no reason to listen to the album. By virtue of their undisguised emotionality, Clara Haberkamp, Oliver Potratz and Tilo Weber need neither brushes nor words to turn their compositions into pictures, poems and choreographies by concentrating on the sound alone.
TRACKLIST
01. Firmament (2:13)
02. Films (5:49)
03. Mein Herz ist unterwegs (3:44)
04. Double Eyed (4:27)
05. Choral (6:01)
06. Twist (4:43)
07. Accumulation (6:23)
08. Flashbacks (4:40)
09. Reframing the Moon (4:23)
10. Pink Overture (6:54)
–––––––––––-
DON'T MODIFY THIS FILE
–––––––––––-
PERFORMER: auCDtect Task Manager, ver. 1.6.0 RC1 build 1.6.0.1
Copyright © 2008-2010 y-soft. All rights reserved
http://y-soft.org
ANALYZER: auCDtect: CD records authenticity detector, version 0.8.2
Copyright © 2004 Oleg Berngardt. All rights reserved.
Copyright © 2004 Alexander Djourik. All rights reserved.
FILE: 10 - Clara Haberkamp Trio - Pink Overture.flac
Size: 39168643 Hash: DCEA19B3EF99FA074116F399B99BECFD Accuracy: -m0
Conclusion: CDDA 100%
Signature: FE8090CA105A6F2C6E30F13EB86908C6D5CE6D4E
FILE: 09 - Clara Haberkamp Trio - Reframing the Moon.flac
Size: 29535265 Hash: 9BC61464EF42F14A172CC534F862F87D Accuracy: -m0
Conclusion: CDDA 92%
Signature: C3566318E3AD315949D209C3EF5542E66215A374
FILE: 08 - Clara Haberkamp Trio - Flashbacks.flac
Size: 21183250 Hash: FB0E71AA52CF2D6B7F0E6283752A3430 Accuracy: -m0
Conclusion: CDDA 100%
Signature: 5D6BB5835ECF0BF55E509B9EC735253F13672B48
FILE: 07 - Clara Haberkamp Trio - Accumulation.flac
Size: 33974289 Hash: B211105CDA43BED59CCF9DCD29844C1C Accuracy: -m0
Conclusion: CDDA 100%
Signature: E371EAF483299A57DC72E0A0E746D2ACC33A0ACE
FILE: 06 - Clara Haberkamp Trio - Twist.flac
Size: 26224966 Hash: 6823A099A100B8B261B67D695E8AACFD Accuracy: -m0
Conclusion: CDDA 100%
Signature: C9A638AD15DF684C5DDF470FAB9C5B6BA8309471
FILE: 05 - Clara Haberkamp Trio - Choral.flac
Size: 32167791 Hash: 18D62843C74AEAE08EEF2B30A6F37D1A Accuracy: -m0
Conclusion: CDDA 100%
Signature: F615126C4DF5373F5ABBEF0D9293935001CE8741
FILE: 04 - Clara Haberkamp Trio - Double Eyed.flac
Size: 30135248 Hash: BDF0F4F81681E49F8E1790568BA11C85 Accuracy: -m0
Conclusion: CDDA 100%
Signature: 16A494CE9FFFC66AF15B342F1E882AD8843B6A1D
FILE: 03 - Clara Haberkamp Trio - Mein Herz ist unterwegs.flac
Size: 21458324 Hash: 197FB56ED762C388FE56F9BC424FE2E7 Accuracy: -m0
Conclusion: CDDA 100%
Signature: DF357716C8469C07E69DE3CF7CAC437D100109AA
FILE: 02 - Clara Haberkamp Trio - Films.flac
Size: 33805455 Hash: BA94AF8DC9D4DDB93D376FE5C2640000 Accuracy: -m0
Conclusion: CDDA 100%
Signature: 808E2380BD9EB36EE0A0CD15DEE657955045100D
FILE: 01 - Clara Haberkamp Trio - Firmament.flac
Size: 8922571 Hash: D6A0AF03070CAE05192FD18C1E3F1755 Accuracy: -m0
Conclusion: CDDA 99%
Signature: 46B1CD6E1146897A83D1853A1B4CABC56C351900
All thanks go to the original releaser