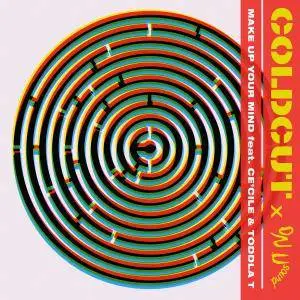 Coldcut - Make Up Your Mind (2018)
MP3 CBR 320kbps | Tracks: 8 | 35:08 min | 81 Mb
Style: Electronic, Dub, Reggae | Label: Ahead Of Our Time
Coldcut and On-U Sound founder Adrian Sherwood have released new single 'Make Up Your Mind', a lovelorn, dubbed out ballad, given a fresh lease of life with new versions and a stack of remixes. Well-timed to provide a melancholy tint to Valentine's Day, it's the latest single from dub-pop opus 'Outside The Echo Chamber'. Last year marked the 30th anniversary of Coldcut, and this record sees their long-overdue collaboration with Sherwood – a fellow giant of independent UK music – continue into 2018.
Some big-hitters feature across the three versions on the single. The album version features Ce'Cile, a Jamaica-born, landmark name in reggae and dancehall, plus Toddla T – one of the big champions of dancehall music in the UK. The heartfelt reply comes from Elan, whose sweet-sounding voice bagged him a gig as The Wailers' frontman in the '90s. Finally, Roots Manuva – who's long bridged connections between UK and Afro-Caribbean music – leads a version entitled 'Everyday Another Sanction', from the aforementioned album, previously only available as a Japanese exclusive.
The remixes showcase a wide spectrum of approaches. Dub Phizix, who's released on respected drum 'n' bass imprints like Exit and Soul:R, constructs a tightly-wound, mid-tempo roller, with vocals looped and dubbed to atmospheric effect. Manasseh (aka Nick Manasseh), a cornerstone of London's roots-minded dub producer community, whom Coldcut first met in the KISS FM pirate days, provides three different takes, each of them keeping the feel of the original intact, while navigating sounds or ideas in a different direction. Alex Tesla's remix, meanwhile, casts the track in a more dramatic style, violins and subtle synths giving adding a new urgency to Ce'Cile's vocals.
Tracklist:
1. Make Up Your Mind feat. Ce'Cile and Toddla T 03:20
2. Make Up Your Mind feat. Elan 03:18
3. Beat Your Chest feat. Roots Manuva (Japanese Bonus Track) 03:23
4. Make Up Your Mind feat. Ce'Cile and Toddla T (Dub Phizix Remix) 05:42
5. Make Up Your Mind feat. Ce'Cile and Toddla T (Alex Tesla Remix) 04:53
6. Make Up Your Mind feat. Ce'Cile and Toddla T (Manasseh Remix) 03:38
7. Make Up Your Mind feat. Ce'Cile and Toddla T (Manasseh Dub) 03:32
8. Make Up Your Mind feat. Ce'Cile and Toddla T (Manasseh Disco Mix) 07:22