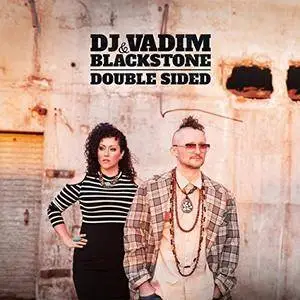 DJ Vadim And Blackstone - Double Sided (2017)
MP3 CBR 320 kbps | 57:56 | 139 Mb
Genre: Trip-Hop, Downtempo, Soul / Label: BBE
Recording and touring together on and off for several years now, sonic journeyman DJ Vadim and Californian songwriter Katrina Blackstone unveil their long awaited full-length album 'Double Sided', released on BBE Music. After providing a pair of stellar guest appearances on Vadim's 2014 'Dubcatcher' album, Katrina Blackstone joined Vad on tour and the duo have been steadily laying down tracks ever since. Eschewing samples in favour of drum machines, guitars and a dizzying array of synths, Vadim's compositions on 'Double Sided' range from dubby downtempo grooves to upbeat afroboogie business. Katrina's crystal clear vocals, catchy melodies and highly relatable lyrics provide the perfect foil for Vadim's raw productions.
Track List:
1. DJ Vadim & Blackstone - Burning Love 3:14
2. DJ Vadim & Blackstone - Double Sided 5:13
3. DJ Vadim & Blackstone - Luv 2 Luv 3:38
4. DJ Vadim & Blackstone feat. Aima the Dreamer - Choose 5:04
5. DJ Vadim & Blackstone feat. Tiggy Tafari - No No No 3:54
6. DJ Vadim & Blackstone - Re Run 3:41
7. DJ Vadim & Blackstone - Been Waiting All Night 4:11
8. DJ Vadim & Blackstone feat. Parly B - Stand Up 4:31
9. DJ Vadim & Blackstone - Ride Slow 3:52
10. DJ Vadim & Blackstone feat. Aima the Dreamer - That's Not Me 3:26
11. DJ Vadim & Blackstone feat. Dakini Star - Magnetic 3:59
12. DJ Vadim & Blackstone - How Long 4:37
13. DJ Vadim & Blackstone feat. Pugs Atomz - Shoop Shoop 4:43
14. DJ Vadim & Blackstone - Rewind 3:40