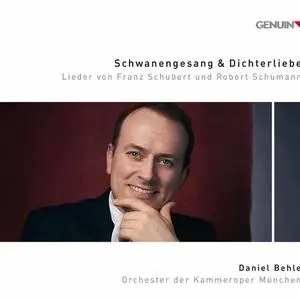 Daniel Behle, Orchester der Christophe Goerdes - Schwanengesang und Dichterliebe: Lieder Franz Schubert und Robert Schumann
FLAC tracks | 01:19:39 | 366 Mb
Genre: Classical / Label: Genuin
The star tenor Daniel Behle sings for the first time here in a Genuin production. Together with the orchestra of the Kammeroper München, he interprets two of the most beautiful song cycles ever, namely Franz Schubert's Schwanengesang and Robert Schumann's Dichterliebe. In both cycles, Alexander Krampe transforms the original piano accompaniment into an exciting orchestral arrangement. This is best supported by the sonorous and supple voice of Daniel Behle: from the delicate weaving of Schubert's Liebesbotschaft to the pale surfaces of his Doppelgänger to the cutting rhythms of Schumann's Die alten, bösen Lieder.
Track List:
01. Schwanengesang, D. 957 (Orch. A. Krampe) No. 1, Liebesbotschaft
02. Schwanengesang, D. 957 (Orch. A. Krampe) No. 2, Kriegers Ahnung
03. Schwanengesang, D. 957 (Orch. A. Krampe) No. 3, Fruhlingssehnsucht
04. Schwanengesang, D. 957 (Orch. A. Krampe) No. 4, Standchen
05. Schwanengesang, D. 957 (Orch. A. Krampe) No. 5, Aufenthalt
06. Schwanengesang, D. 957 (Orch. A. Krampe) No. 6, In der Ferne
07. Schwanengesang, D. 957 (Orch. A. Krampe) No. 7, Abschied
08. Schwanengesang, D. 957 (Orch. A. Krampe) No. 8, Der Atlas
09. Schwanengesang, D. 957 (Orch. A. Krampe) No. 9, Ihr Bild
10. Schwanengesang, D. 957 (Orch. A. Krampe) No. 10, Das Fischermadchen
11. Schwanengesang, D. 957 (Orch. A. Krampe) No. 11, Die Stadt
12. Schwanengesang, D. 957 (Orch. A. Krampe) No. 12, Am Meer
13. Schwanengesang, D. 957 (Orch. A. Krampe) No. 13, Der Doppelganger
14. Schwanengesang, D. 957 (Orch. A. Krampe) No. 14, Die Taubenpost
15. Dichterliebe, Op. 48 (Orch. A. Krampe) No. 1, Im wunderschonen Monat Mai
16. Dichterliebe, Op. 48 (Orch. A. Krampe) No. 2, Aus meinen Tranen sprie?en
17. Dichterliebe, Op. 48 (Orch. A. Krampe) No. 3, Die Rose, die Lilie, die Taube, die Sonne
18. Dichterliebe, Op. 48 (Orch. A. Krampe) No. 4, Wenn ich in deine Augen seh`
19. Dichterliebe, Op. 48 (Orch. A. Krampe) No. 5, Ich will meine Seele tauchen
20. Dichterliebe, Op. 48 (Orch. A. Krampe) No. 6, Im Rhein, im heiligen Strome
21. Dichterliebe, Op. 48 (Orch. A. Krampe) No. 7, Ich grolle nicht
22. Dichterliebe, Op. 48 (Orch. A. Krampe) No. 8, Und wu?ten`s die Blumen
23. Dichterliebe, Op. 48 (Orch. A. Krampe) No. 9, Das ist ein Floten und Geigen
24. Dichterliebe, Op. 48 (Orch. A. Krampe) No. 10, Hor` ich das Liechen klingen
25. Dichterliebe, Op. 48 (Orch. A. Krampe) No. 11, Ein Jungling liebt ein Madchen
26. Dichterliebe, Op. 48 (Orch. A. Krampe) No. 12, Am leuchtenden Sommermorgen
27. Dichterliebe, Op. 48 (Orch. A. Krampe) No. 13, Ich hab` im Traum geweinet
28. Dichterliebe, Op. 48 (Orch. A. Krampe) No. 14, Allnachtlich im Traume
29. Dichterliebe, Op. 48 (Orch. A. Krampe) No. 15, Aus alten Marchen winkt es
30. Dichterliebe, Op. 48 (Orch. A. Krampe) No. 16, Die alten, bosen Lieder
ANALYZER: auCDtect: CD records authenticity detector, version 0.8.2
Copyright © 2004 Oleg Berngardt. All rights reserved.
Copyright © 2004 Alexander Djourik. All rights reserved.


FILE: 01 - Schwanengesang, D. 957 (Orch. A. Krampe)_ No. 1, Liebesbotschaft.flac
Size: 14728016 Hash: 3D608B787A733F3455D81E247258FB37 Accuracy: -m40
Conclusion: CDDA 100%
Signature: 2E581C72D7946F8738AA166A8436D5EDF123E1FD
FILE: 02 - Schwanengesang, D. 957 (Orch. A. Krampe)_ No. 2, Kriegers Ahnung.flac
Size: 24447135 Hash: 1FB702AE02EBFA80C5979EC6F1E749EE Accuracy: -m40
Conclusion: CDDA 100%
Signature: F8F121F208762247938499C1D69868FB137D15DC
FILE: 03 - Schwanengesang, D. 957 (Orch. A. Krampe)_ No. 3, Frühlingssehnsucht.flac
Size: 21797719 Hash: 793A3F54EB3F7A5DF55D02A43CE0D88E Accuracy: -m40
Conclusion: CDDA 99%
Signature: 2E23F42CB67B6094EC06EB2D842B10A6264BEDFC
FILE: 04 - Schwanengesang, D. 957 (Orch. A. Krampe)_ No. 4, Ständchen.flac
Size: 18933528 Hash: 6D4D7A678C9939D0D620C3A83CB9F8C9 Accuracy: -m40
Conclusion: CDDA 99%
Signature: 67EC096692FEDBA987ECE150893920810203CB6F
FILE: 05 - Schwanengesang, D. 957 (Orch. A. Krampe)_ No. 5, Aufenthalt.flac
Size: 14348031 Hash: DB59D14DA75306BB351DE04879BE1E02 Accuracy: -m40
Conclusion: CDDA 100%
Signature: 14142999B207669C5575D66BC35CF59C6266EA54
FILE: 06 - Schwanengesang, D. 957 (Orch. A. Krampe)_ No. 6, In der Ferne.flac
Size: 27539200 Hash: DA156BAA4EB95FDA3750182C413A2F11 Accuracy: -m40
Conclusion: CDDA 100%
Signature: 2514C31BB73DDF26F9442AFFDA99078CCD54AC4A
FILE: 07 - Schwanengesang, D. 957 (Orch. A. Krampe)_ No. 7, Abschied.flac
Size: 20307344 Hash: E6148E82EFAC15F397F2ECBF59DF264E Accuracy: -m40
Conclusion: CDDA 100%
Signature: EE557978A0BF28CF05B918834339927A6619A4B6
FILE: 08 - Schwanengesang, D. 957 (Orch. A. Krampe)_ No. 8, Der Atlas.flac
Size: 11491012 Hash: 7CAB3329235F58A1E0A12E4B8EBBD40D Accuracy: -m40
Conclusion: CDDA 100%
Signature: E8420F58261E90CC41CDE0B758175626DD43F039
FILE: 09 - Schwanengesang, D. 957 (Orch. A. Krampe)_ No. 9, Ihr Bild.flac
Size: 11919590 Hash: 459A4888BEC1E45C141B6572DB455006 Accuracy: -m40
Conclusion: CDDA 100%
Signature: FEDB55CDA26788B74680ECEE5FD05DFC3FCC2267
FILE: 10 - Schwanengesang, D. 957 (Orch. A. Krampe)_ No. 10, Das Fischermädchen.flac
Size: 8577060 Hash: 30419B1937F533121A4A429BDA8E806C Accuracy: -m40
Conclusion: CDDA 100%
Signature: DD470411944A3A731842A7E6F87873528CB71734
FILE: 11 - Schwanengesang, D. 957 (Orch. A. Krampe)_ No. 11, Die Stadt.flac
Size: 10508852 Hash: 6235B22AB3561754557DA338AD8F0DA2 Accuracy: -m40
Conclusion: CDDA 100%
Signature: D2A8349B9A1D56218E02A769DFAFF1F9C4BA46A5
FILE: 12 - Schwanengesang, D. 957 (Orch. A. Krampe)_ No. 12, Am Meer.flac
Size: 17642323 Hash: D1756C719170576570F67B94DDE5266F Accuracy: -m40
Conclusion: CDDA 100%
Signature: 723385118713A85269D7074DAA07D8B7EA784D42
FILE: 13 - Schwanengesang, D. 957 (Orch. A. Krampe)_ No. 13, Der Doppelgänger.flac
Size: 17485454 Hash: C74EB1B4CB25516447BA634036989B23 Accuracy: -m40
Conclusion: CDDA 100%
Signature: AAB90F2B5F35F64158E199C8BE77300A46B84915
FILE: 14 - Schwanengesang, D. 957 (Orch. A. Krampe)_ No. 14, Die Taubenpost.flac
Size: 17736462 Hash: 3C0A0C283A240DC501A6E8A44CB810EA Accuracy: -m40
Conclusion: CDDA 100%
Signature: E8B6406DD14EA99113BD6C0BCC97A886116EA547
FILE: 15 - Dichterliebe, Op. 48 (Orch. A. Krampe)_ No. 1, Im wunderschönen Monat Mai.flac
Size: 9364568 Hash: 372D300F1A1A04E65954FFFED6260587 Accuracy: -m40
Conclusion: CDDA 100%
Signature: E50194F7A16C11B8284A8757A6D12827461E225D
FILE: 16 - Dichterliebe, Op. 48 (Orch. A. Krampe)_ No. 2, Aus meinen Tränen sprießen.flac
Size: 4313387 Hash: A7EF98623A55232CA10EF5CCB8BF71C4 Accuracy: -m40
Conclusion: CDDA 100%
Signature: 8F2D6C5A938E193F9D007C24C31D02F0B7FAE428
FILE: 17 - Dichterliebe, Op. 48 (Orch. A. Krampe)_ No. 3, Die Rose, die Lilie, die Taube, die Sonne.flac
Size: 3212600 Hash: FCD0CDBC850CAB8A97F2B83E0DFA026A Accuracy: -m40
Conclusion: CDDA 100%
Signature: DB4F0D08F103E728FA3C396CCADD64BF61B4A704
FILE: 18 - Dichterliebe, Op. 48 (Orch. A. Krampe)_ No. 4, Wenn ich in deine Augen seh`.flac
Size: 7703940 Hash: 16AA2249DEBA6B6C6F76118F457A26BD Accuracy: -m40
Conclusion: CDDA 100%
Signature: ED178398D9AF2A28269B704686EAE8D24C64D749
FILE: 19 - Dichterliebe, Op. 48 (Orch. A. Krampe)_ No. 5, Ich will meine Seele tauchen.flac
Size: 3968186 Hash: 3DBCB5A810084A3AC1C48C147EC13BF3 Accuracy: -m40
Conclusion: CDDA 100%
Signature: ABB0CF67F4C2F791EC7CB91000408B4412BA1EC4
FILE: 20 - Dichterliebe, Op. 48 (Orch. A. Krampe)_ No. 6, Im Rhein, im heiligen Strome.flac
Size: 12883654 Hash: 13199C5E74746696F808F54E2E427B26 Accuracy: -m40
Conclusion: CDDA 100%
Signature: 1CC15DA37F888F31462BD49B2D1CB3B4C957DD29
FILE: 21 - Dichterliebe, Op. 48 (Orch. A. Krampe)_ No. 7, Ich grolle nicht.flac
Size: 8723646 Hash: 1C4B6C96C6EA9870F4363B9499A2B487 Accuracy: -m40
Conclusion: CDDA 100%
Signature: 47F021B3DD06A2E8CDA3ACA4FEFDCDCC613BDFAE
FILE: 22 - Dichterliebe, Op. 48 (Orch. A. Krampe)_ No. 8, Und wüßten`s die Blumen.flac
Size: 6816552 Hash: 8ECDC4905BE3AD24EF697674D92A3CE1 Accuracy: -m40
Conclusion: CDDA 100%
Signature: 8B73F011F0BCDAD415C378410EED729DA3D7ADCB
FILE: 23 - Dichterliebe, Op. 48 (Orch. A. Krampe)_ No. 9, Das ist ein Flöten und Geigen.flac
Size: 8730708 Hash: 6ABAA6E32B1A4ED3841EADFB02CD5D56 Accuracy: -m40
Conclusion: CDDA 100%
Signature: 6F7C83F9967ADB731AA8CA03A06A55D1925853A7
FILE: 24 - Dichterliebe, Op. 48 (Orch. A. Krampe)_ No. 10, Hör` ich das Liechen klingen.flac
Size: 11830795 Hash: 15AA724636CCF4D8587EB8B7A5A13AED Accuracy: -m40
Conclusion: CDDA 99%
Signature: C565105EF095AA1BF1267D1E51A04A073EA5A288
FILE: 25 - Dichterliebe, Op. 48 (Orch. A. Krampe)_ No. 11, Ein Jüngling liebt ein Mädchen.flac
Size: 5191112 Hash: 47880465F17B44686041B7675600018D Accuracy: -m40
Conclusion: CDDA 100%
Signature: CEE2227743705BE03CC7BFD2D6C1AEC08B581B8F
FILE: 26 - Dichterliebe, Op. 48 (Orch. A. Krampe)_ No. 12, Am leuchtenden Sommermorgen.flac
Size: 12794664 Hash: D80E68AD1BF26C624AC37D1748D680BF Accuracy: -m40
Conclusion: CDDA 100%
Signature: 9B8A6F8253EA970F174167D926D1FE821B22ACEE
FILE: 27 - Dichterliebe, Op. 48 (Orch. A. Krampe)_ No. 13, Ich hab` im Traum geweinet.flac
Size: 8515534 Hash: 46D46C47CC0363A5C0C8841CAA405509 Accuracy: -m40
Conclusion: CDDA 100%
Signature: 80EEFDE1CF0D01EB81EA061AAB3F3A06F77C41BE
FILE: 28 - Dichterliebe, Op. 48 (Orch. A. Krampe)_ No. 14, Allnächtlich im Träume.flac
Size: 6506534 Hash: 3AF913C5B6DF8CDEA78DCAA7E21C0AB3 Accuracy: -m40
Conclusion: CDDA 100%
Signature: B44F15D770995ECEE80EA7846A947D514F04FF7A
FILE: 29 - Dichterliebe, Op. 48 (Orch. A. Krampe)_ No. 15, Aus alten Märchen winkt es.flac
Size: 13889455 Hash: CADF06C2EB639D7699C38FBF7DCF2F18 Accuracy: -m40
Conclusion: CDDA 99%
Signature: 433C67E9777911ADB53FB054293466841BDD10BF
FILE: 30 - Dichterliebe, Op. 48 (Orch. A. Krampe)_ No. 16, Die alten, bösen Lieder.flac
Size: 21394336 Hash: 80E4ABB9710C40A86B78D737D1B3F88F Accuracy: -m40
Conclusion: CDDA 100%
Signature: 0A70B35904B9857F001C4E2398D3D5B3B2D6E8D3