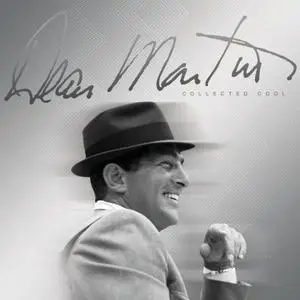 Dean Martin - Collected Cool (Remastered) (2012)
FLAC (tracks) - 794 MB | MP3 CBR 320 kbps - 343 MB
2:29:47 | Vocal Jazz, Traditional Pop, Swing, Easy Listening | Label: Hip-O Records
He may have played second banana to Jerry Lewis and (later) Frank Sinatra, but whether he was in the studio or in front of a crowd, no one carried a song (or performance) quite like Dean Martin. Martin's interpretive skills were extraordinary, and he could go from the slickest of clowning to the smoothest of crooning in a heartbeat. Collected Cool, his first career-spanning box set, came along surprisingly late, but it's no less impressive for the late arrival. A four-disc set, it includes one disc of Capitol recordings (the '50s), one disc of Reprise recordings (the '60s through the '80s), one audio disc of a concert in Lake Tahoe from 1962, and a DVD featuring a London concert from 1983. The audio portion is an excellent selection of hits and neglected classics, with a few unreleased nuggets – all of which deserved the excavation. The 1962 show is riotous and very entertaining, with Martin repurposing standards into new songs like "Almost Like Losin' My Mind" (instead of being in love) and "I Love Tahoe" (instead of Paris). The 1983 show is slightly more staid, and features more of the country material Martin turned to later in his career. It's easy to wish that the earlier concert was available on video, especially since some of the jokes are visual and lost on an audio-only audience, but Collected Cool functions extremely well as the best possible overview of the aspects that made Dean Martin a star – his peerless voice and, equally, his distinctively cool and clowning way with a crowd.
Tracklist
CD 1 (Memories Are Made Of This 1949-1961):
01. Dean's Spoken Word Introductions
02. My Own, My Only, My All
03. Powder Your Face With Sunshine (Smile! Smile! Smile!)
04. I Don't Care If The Sun Don't Shine
05. That's Amore
06. If I Could Sing Like Bing
07. Sway
08. Long, Long Ago (with Nat King Cole)
09. Memories Are Made Of This
10. Pardners (with Jerry Lewis)
11. Volare
12. Rio Bravo
13. On An Evening In Roma
14. Sleep Warm
15. Ain't That A Kick In The Head
16. Just In Time
17. Arrivederci Roma
18. Return To Me
19. A Hundred Years From Today
CD 2 (Everybody Loves Somebody 1962-1985):
01. Tik-A-Tee, Tik-A-Tay
02. Senza Fine
03. Who's Got The Action
04. Guys And Dolls (with Frank Sinatra)
05. Marina
06. Everybody Loves Somebody (with Instrumental Quartet)
07. The Door Is Still Open To My Heart
08. You're Nobody 'til Somebody Loves You
09. In The Misty Moonlight
10. Sophia
11. Send Me The Pillow You Dream On
12. In The Chapel In The Moonlight
13. Welcome To My World
14. Houston
15. I Will
16. Somewhere There's A Someone
17. My First Country Song (with Conway Twitty)
18. L.A. Is My Home
CD 3 (Live In Lake Tahoe):
01. Drink To Me Only With Thine Eyes (Live at Cal-Neva Lodge, Lake Tahoe, CA 1962
02. Almost Like Being In Love (Live at Cal-Neva Lodge, Lake Tahoe, CA 1962
03. I Love Tahoe (Paris) (Live at Cal-Neva Lodge, Lake Tahoe, CA 1962
04. Show Banter #1 (Live at Cal-Neva Lodge, Lake Tahoe, CA 1962
05. My Kind Of Girl (Live at Cal-Neva Lodge, Lake Tahoe, CA 1962
06. Show Banter #2 (Live at Cal-Neva Lodge, Lake Tahoe, CA 1962
07. Show Banter #3 (Live at Cal-Neva Lodge, Lake Tahoe, CA 1962
08. June In January (Live at Cal-Neva Lodge, Lake Tahoe, CA 1962
09. Show Banter #4 (Live at Cal-Neva Lodge, Lake Tahoe, CA 1962
10. Break It To Me Gently (Live at Cal-Neva Lodge, Lake Tahoe, CA 1962
11. Show Banter #5 (Live at Cal-Neva Lodge, Lake Tahoe, CA 1962
12. Rock-A-Bye Your Baby With A Dixie Melody (Live at Cal-Neva Lodge, Lake Tahoe, CA 1962
13. Instrumental (Live at Cal-Neva Lodge, Lake Tahoe, CA 1962
14. Show Banter #6 (Live at Cal-Neva Lodge, Lake Tahoe, CA 1962
15. Medley (Live at Cal-Neva Lodge, Lake Tahoe, CA 1962
16. Beautiful Dreamer (Live at Cal-Neva Lodge, Lake Tahoe, CA 1962
17. You Made Me Love You (Live at Cal-Neva Lodge, Lake Tahoe, CA 1962
18. It Had To Be You, Nevertheless (Live at Cal-Neva Lodge, Lake Tahoe, CA 1962
19. I'm Gonna Sit Right Down And Write Myself A Letter (Live at Cal-Neva Lodge, Lake Tahoe, CA 1962
20. Volare (Live at Cal-Neva Lodge, Lake Tahoe, CA 1962
21. On An Evening In Roma (Live at Cal-Neva Lodge, Lake Tahoe, CA 1962
22. Show Banter #7 (Live at Cal-Neva Lodge, Lake Tahoe, CA 1962
23. I Love Paris (Tahoe) (Live at Cal-Neva Lodge, Lake Tahoe, CA 1962
24. Outro (Live at Cal-Neva Lodge, Lake Tahoe, CA 1962