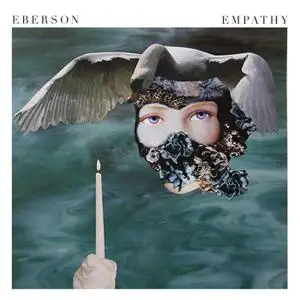 Eberson - Empathy (2018)
Electronic, Jazz | 00:41:16 | WEB FLAC (tracks) | 229 MB
Label: jazzland recordings
Two generations of Ebersons have created an exciting musical collaboration. Father and daughter - Jon and Marte - present 'Empathy', on which he duo express the importance of mutual support in the face of adversity. Through various songs with melancholy shades, and aggressive rhythms, the duo places themselves in a textural and musical landscape, drawing from both the worlds of pop and of jazz.
In this joint project, Jon has provided the lion's share of chordal structures, while Marte has created the melodies and text. The recording features Kristoffer Lo on wind instruments, Mats Miele Jensen on percussion and Roar Nilsen on bass.
Jon's acclaim as a composer and guitarist stretches back to the '70s, from bands like Moose Loose, Blow Out, and Radka Toneff's band, via the '80s Jon Eberson Group, Jazzpunkensemblet and a series of groups in various jazz contexts. In recent years, he has released several albums with Hilde Marie Kjersem and Sigurd Hole.
Marte was the central keyboard player in Highasakite for over five years, and has toured the world with the band, in addition to playing at the biggest festivals at home and abroad. She has also been renowned in diverse musical landscapes, through collaboration with several of Norway's major musical names in both jazz and pop, including Martin Halla, Sjur Miljeteig and Hedvig Mollestad. Marte also released the solo album 'Mad Boy' in 2016.
Tracklist
:
01.
Eberson - Who Am I
02.
Eberson - Summer Rain
03.
Eberson - Attitude
04.
Eberson - Lovely Day
05.
Eberson - Go Light
06.
Eberson - Bye Little Bird
07.
Eberson - Something New
08.
Eberson - Blue Mountain
ANALYZER: auCDtect: CD records authenticity detector, version 0.8.2
Copyright © 2004 Oleg Berngardt. All rights reserved.
Copyright © 2004 Alexander Djourik. All rights reserved.


FILE: 1.08. Blue Mountain.flac
Size: 26397697 Hash: 42658F266B53281812D30B3B141E35F2 Accuracy: -m8
Conclusion: CDDA 100%
Signature: 7F99FDF55BD105113024D7F9006007FD4F117B1D
FILE: 1.07. Something New.flac
Size: 21485289 Hash: B0AAEF99DCDCFC18EC7471037357036D Accuracy: -m8
Conclusion: CDDA 100%
Signature: 03036673E8B22D1A0717B9BCCDE34B52F9FC0908
FILE: 1.06. Bye Little Bird.flac
Size: 24067515 Hash: B22A9331E379B9F60648A1966E9D7532 Accuracy: -m8
Conclusion: CDDA 100%
Signature: 342B34D9F49D3E6EBAFEAD70E157E6BC49FBC06B
FILE: 1.05. Go Light.flac
Size: 47453865 Hash: 7CB570FF6B731B52534BCDAFA7E9DB1E Accuracy: -m8
Conclusion: CDDA 100%
Signature: 2DFB27588A3781D9A6F0EA728F99829B1A975DE9
FILE: 1.04. Lovely Day.flac
Size: 25348249 Hash: 4ED00D319F49A56F357644D887FE9CF5 Accuracy: -m8
Conclusion: CDDA 100%
Signature: 8DEC1AB3D1EB3F1188687C4DF23C0DDAADE0504B
FILE: 1.03. Attitude.flac
Size: 25614470 Hash: 6FEE55E2D909B2464612D0A44FF31C20 Accuracy: -m8
Conclusion: CDDA 99%
Signature: 96EB6118333A2C7648B31F6BD2B9DBE6FCE6A077
FILE: 1.02. Summer Rain.flac
Size: 28643854 Hash: 3016D93441F6E687CA2EF685C89CCFF6 Accuracy: -m8
Conclusion: CDDA 100%
Signature: 19853A2C808E2425664DE6AA151A87FF60485FDA
FILE: 1.01. Who Am I.flac
Size: 40588455 Hash: 3F6A947F60C2CA494F1B04D87E472941 Accuracy: -m8
Conclusion: CDDA 100%
Signature: DD36715B40E47B2A256A7935997B4CA67A7193D2