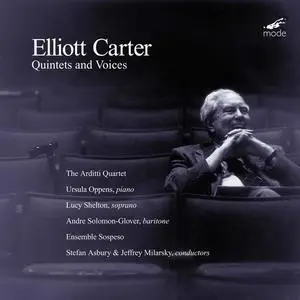 Arditti Quartet, Ensemble Sospeso, Ursula Oppens - Elliott Carter: Quintets & Voices (2004)
WEB | FLAC (tracks) - 351 MB | 01:18:39
Genre: Classical | Label: Mode Records
After what seems like years of delay, Mode has released this CD of chamber and vocal music in time for Elliott Carter's 95th birthday, which fell on Dec. 11, 2003. It was worth the wait. The Quintet for Piano and Strings (1997) is one of the two or three pinnacles of Carter's prolific eighties. Though undeniably an example of the his late style, it harks back to the First Quartet (1951!) in its long-lined writing for strings. The music is expansive and concise, light-hearted and dramatic all at once, and it is played to perfection by Ursula Oppens and the Arditti Quartet, the performers for whom it was written. The Arditti also provides the first recording of the brief, haunting Fragment II for string quartet (not to be confused with the FIGMENT No. 2 for solo cello). For the rest, there is a fine performance of the Quintet for Piano and Winds (the third recording and just as good as either of the others), and two vocal pieces: Tempo e tempi from 1998, and Syringa from 1978, one of Carter's most powerful works, written when he was a young man of 69. Tempo e tempi, settings of eight texts in Italian, contains some of the loveliest, most sensuous music Carter has ever written. To my ear, soprano Lucy Shelton is not as warm or expressive as Katherine Ciesinski in Syringa (Bridge 9014), or as Susan Narucki in Tempo e Tempi (also Bridge, No. 9111), but the engineering on this recording is superb, and the clarity of instrumental detail alone makes these performances worth owning.
Track List:
1. Fragment 4:31
2. Quintet For Piano & Strings 14:56
3. Syringa 19:11
Tempo E Tempi (16:06)
4. Tempo E Tempi 2:04
5. Ed E Subito Sera 0:41
6. Oboe Sommerso 1:58
7. Una Colomba 0:58
8. Godimeto 1:07
9. L'Arno A Rovezzano 3:46
10. Uno 1:32
11. Segreto Del Poeta 4:02
12. Quintet for piano & Winds 22:08
13. Retrouvailles 1:51
Performers:
Ursula Oppens (piano)
Lucy Shelton (soprano)
Andre Solomon-Glover (baritone)
Steve Taylor, Charles Niedich
William Purvis, Frank Morelli
Arditti Quartet
Ensemble Sospeso
Jeffrey Milarsky
Stefan Asbury
–––––––––––-
DON'T MODIFY THIS FILE
–––––––––––-
PERFORMER: auCDtect Task Manager, ver. 1.6.0 RC1 build 1.6.0.1
Copyright © 2008-2010 y-soft. All rights reserved
http://y-soft.org
ANALYZER: auCDtect: CD records authenticity detector, version 0.8.2
Copyright © 2004 Oleg Berngardt. All rights reserved.
Copyright © 2004 Alexander Djourik. All rights reserved.
FILE: 01 - Fragment No. 2.flac
Size: 18989564 Hash: 483156A6B9E4C00475FD2E6C04543873 Accuracy: -m0
Conclusion: CDDA 100%
Signature: EFAF80FE683B5F4F9BFB883A31942F653ED6AEDA
FILE: 02 - Piano Quintet.flac
Size: 62840267 Hash: C16809630B778E0B7A615EA774FEBEB2 Accuracy: -m0
Conclusion: CDDA 54%
Signature: 69D9ACD5932064EE3E2A0DBD4D794F21C25BD774
FILE: 03 - Syringa.flac
Size: 82290870 Hash: 563801F113D8CA90F79EC0C0FAAAAF4B Accuracy: -m0
Conclusion: CDDA 100%
Signature: 663D45BF1E1F1536241853556730ED469EDA7683
FILE: 04 - No. 1. Tempo e Tempi.flac
Size: 9516786 Hash: 1B12B443A4B5EBF7027447E84ADA2742 Accuracy: -m0
Conclusion: CDDA 100%
Signature: 98EEAC61380F2067881BB52D35CB3E0BC50716D5
FILE: 05 - No. 2. Ed e subito sera.flac
Size: 3187138 Hash: F5E3DE6067E2A41325C3215CD31F702F Accuracy: -m0
Conclusion: CDDA 100%
Signature: 5FD0322AD26ABDCE1416F822672A422A62C46C32
FILE: 06 - No. 3. Oboe Sommerso.flac
Size: 8294691 Hash: 0712292E0F1B7BA23297B3843206DDD4 Accuracy: -m0
Conclusion: CDDA 100%
Signature: 3CC3DDA360B7E228AE796036BF42FFB6FC5B6EC6
FILE: 07 - No. 4. Una Columba.flac
Size: 2818255 Hash: 60D9DFA67BA78D9E644BEBD93A7FF2A2 Accuracy: -m0
Conclusion: CDDA 100%
Signature: F9C19F8E3B7A6B4CD3ECFA5BEFEA9CA970F41464
FILE: 08 - No. 5. Godimento.flac
Size: 4827831 Hash: DCEFDF9610AD8A1A2963B2F483E507CD Accuracy: -m0
Conclusion: CDDA 100%
Signature: FE4F848AD51BF8F035641EE2EB6BF45C97383EF0
FILE: 09 - No. 6. L'Arno a Rovezzano.flac
Size: 17333757 Hash: 918B8530101268D4F7023DD38BFCF927 Accuracy: -m0
Conclusion: CDDA 100%
Signature: 8F4A5D39DB75890313042AE5979906FC54F6F081
FILE: 10 - No. 7. Uno.flac
Size: 6680237 Hash: 70E843DD1D888760E5E971F609989326 Accuracy: -m0
Conclusion: CDDA 100%
Signature: AACE7AFD4510F8A220E048A7338BBE759074C316
FILE: 11 - No. 8. Segreto del Poeta.flac
Size: 15900347 Hash: A475E944CB2118EAA40613A4E466A7AF Accuracy: -m0
Conclusion: CDDA 100%
Signature: 2B965C48C5948C4C239F5EACF7344F3A41A4120B
FILE: 12 - Quintet for Piano and Winds.flac
Size: 94917758 Hash: 37F9BDB8E7F9767808E649BF534FF36D Accuracy: -m0
Conclusion: CDDA 85%
Signature: 9B1532452AD590AA82387702A43B699C2C9AF13A
FILE: 13 - Retrouvailles.flac
Size: 5820139 Hash: 6F4ED514746CB38E29F7C79B4E3863A7 Accuracy: -m0
Conclusion: MPEG 93%
Signature: 68E7BBA0236C6BD7FF662B35899AA9F6A1E6BF8B