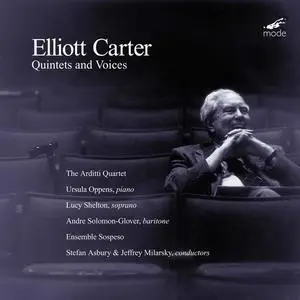 Arditti Quartet, Ensemble Sospeso, Ursula Oppens - Elliott Carter: Quintets & Voices (2004)
WEB | FLAC (tracks) - 351 MB | 01:18:39
Genre: Classical | Label: Mode Records
After what seems like years of delay, Mode has released this CD of chamber and vocal music in time for Elliott Carter's 95th birthday, which fell on Dec. 11, 2003. It was worth the wait. The Quintet for Piano and Strings (1997) is one of the two or three pinnacles of Carter's prolific eighties. Though undeniably an example of the his late style, it harks back to the First Quartet (1951!) in its long-lined writing for strings. The music is expansive and concise, light-hearted and dramatic all at once, and it is played to perfection by Ursula Oppens and the Arditti Quartet, the performers for whom it was written.