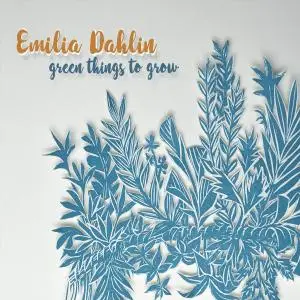 Emilia Dahlin - Green Things to Grow (2020)
WEB FLAC (tracks) - 303 MB | Tracks: 12 | 53:09 min
Style: Folk, Singer-Songwriter | Label: Emilia Dahlin
A decade in the making, this is the fifth album and first live publication for Portland-based singer-songwriter, Emilia Dahlin titled, "…Green Things To Grow". Dahlin, also an activist who's interested in how to use music to build healthier communities, transformed an industrial warehouse on Portland's Fore River waterfront into a pop-up venue for a one-evening community event last fall. Handcrafted stages and walls embraced listeners sitting at long, candle-lit tables and the audience shared a hot middle-eastern meal made by a New Neighbor together before the show. The audience and musicians made music as a whole and two local Non-profits were invited to speak about their missions. The album captures the vital connected feel of this special night.
"Truthfully, this project was a major undertaking. Building a venue from the ground up (for one night) and producing the dinner and performance was challenging, but invigorating. It felt like the right way to renew my creative process and to capture what I feel is so magical about performing music live, the energy and magic that's produced by a live show. Starting the evening by breaking bread and having the opportunity to talk with the people around us built a container that was strong and palpable."
"…Green Things To Grow" is a vow and creative reclamation project after Emilia's transition from nationally touring musician to mother and, now, artist-mother, a five-year journey. Songs reflect experiences from before and during this challenging and beautiful time and subjects range from gratitude, to deep connections to the natural world, overcoming fear, and the multitude of ways love manifests.
Long-time band-mates Adam Frederick (bass), Seth Kearns (drums), and Max Cantlin (guitar) were joined, for the first time, by Portland talents Kate Beever (vibes/percussion) and Sorcha Cribben-Merrill (harmonies and guitar) to make a work that offers ethereal driving grooves and the storytelling and imagery of folk, with a hint of latin jazz. The addition of Beever and Cribben-Merrill contributed to the richness and depth of Dahlin's evolved sound.
Throughout an eighteen-year musical performing career that has taken her through the U.S., Canada, Brazil and Europe, Emilia Dahlin has made Maine her home. Known for strong storytelling sensibilities and memorable performances, Emilia garnered national awards, from Telluride Troubadour, Winner of the Starbucks Music Makers Competition, Winner of Boston Music Conference Songwriting Competition, Best Female Vocalist and Songwriter in Portland, and the Great Waters Songwriting Contest. Emilia garners great joy from collaborating and co-creating and believes that music and storytelling are some of the most powerful tools to foster connection between people and create positive social change.
Tracklist:
01. Green Things to Grow (Live)
02. Anchor (Live)
03. Love, Love, Love (Live)
04. Beija Flor (Live)
05. The Wee Hours (Live)
06. Thank You To… (Live)
07. A Better Way (Live)
08. The Path I Choose (Live)
09. Fear Itself (Live)
10. Dawn Is Near (Live)
11. I Do (Live)
12. Blue Balloon (Live)


FILE: 01. Green Things to Grow (Live).flac
Size: 28050949 Hash: 612EA69AEF2FE0A34A4B7C968FB6262B Accuracy: -m0
Conclusion: CDDA 99%
Signature: 68DDDE8756157A6937F8D1867D81D500BE835626
FILE: 02. Anchor (Live).flac
Size: 29788667 Hash: 6B172B92A296B88C352A271F80A574B9 Accuracy: -m0
Conclusion: CDDA 100%
Signature: 396A67965E9762F4EC39E001AABA401ECDCFB66A
FILE: 03. Love, Love, Love (Live).flac
Size: 33427511 Hash: 7DFA0DCEE9206A01182E2C08774F6AC3 Accuracy: -m0
Conclusion: CDDA 100%
Signature: EA8F9BEED5D315860CCA379CB614A43C5B240D9C
FILE: 04. Beija Flor (Live).flac
Size: 23463148 Hash: D8CA9F9605D8527AA400D74AA85BA672 Accuracy: -m0
Conclusion: CDDA 100%
Signature: E51F3C6E2986AB45495E674BB909FF600D386AAE
FILE: 05. The Wee Hours (Live).flac
Size: 20902450 Hash: B0E44B02D49B22386CA1AAB304E2093B Accuracy: -m0
Conclusion: CDDA 100%
Signature: C19C35F14FBFDBB69EE13E51E2477CB8A81B7E45
FILE: 06. Thank You To… (Live).flac
Size: 33726551 Hash: 05B47E7996B84E56D93CF5AA510271B6 Accuracy: -m0
Conclusion: CDDA 99%
Signature: D11ED996F9736FA863FE89BA98D0BC30FF0D065C
FILE: 07. A Better Way (Live).flac
Size: 19635748 Hash: F2BA908A463B5C67059C30F8252C73D5 Accuracy: -m0
Conclusion: CDDA 100%
Signature: F87F57DA01CBE9579E55D9B5140F1C3827060E3B
FILE: 09. Fear Itself (Live).flac
Size: 30717111 Hash: F7D0BD177C3591A585EBFCD1F9E2F7A7 Accuracy: -m0
Conclusion: CDDA 99%
Signature: 27B9FF95010303A4266B4BCBECE3F020A53B27CA
FILE: 10. Dawn Is Near (Live).flac
Size: 13837770 Hash: C37EEFD580747D29103C9890FF4FBAB8 Accuracy: -m0
Conclusion: CDDA 100%
Signature: 72B53AFD3A6861344DC597F77F492AB7D86D76AD
FILE: 11. I Do (Live).flac
Size: 22139271 Hash: 657ADD90CDC28FE58F1045AC6B3DB184 Accuracy: -m0
Conclusion: CDDA 100%
Signature: B34392666BC4D837FF7F77CE91BE37EB99694FFD
FILE: 12. Blue Balloon (Live).flac
Size: 32348864 Hash: F79C0996475A156B5E5A7B9BFEB182C4 Accuracy: -m0
Conclusion: CDDA 100%
Signature: 07C2C82D01F4F0B80445474FB491C0ABC9D37762