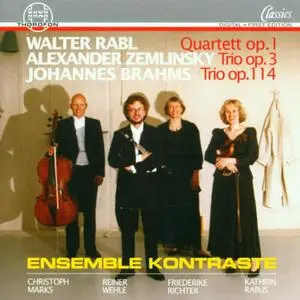 Ensemble Kontraste - Rabl, Zemlinsky, Brahms (2005)
WEB | FLAC (tracks) - 320 MB | 01:18:12
Genre: Classical | Label: Thorofon Records
This fine CD is a thoughtful and very generous combination of three late-Romantic pieces: one well known (the Brahms), one less known (the Zemlinsky), and one (the Rabl) that appears to have its first ever recording here. All three pieces are served admirably by this remarkable ensemble, and also by sensitive high-quality engineering. While all three are excellent, I agree with the last reviewer that the Rabl stands out from the other two. It appears to be the first piece ever written for the combination of violin, clarinet, cello, and piano (next deployed, I think, by Hindemith in 1938; and then famously by Messiaen in his Quatuor pour la fin du temps, of 1941). Rabl was only twenty-three when he entered the quartet in a competition, which brought it and him to the admiring attention of Brahms. It won first prize, and then seems to have slipped into obscurity. Congratulations to Ensemble Konstraste for bringing it to our attention once more!
Track List:Walter Rabl / Quartett Für Violine, Violoncello, Klarinette Und Klavier Op. 1
(24:37)
1 – Allegro Moderato 7:04
2 – Adagio Molto 8:38
3 – Andantino Un Poco Mosso 2:15
4 – Allegro Con Brio 6:40
Alexander Zemlinsky / Trio Für Klavier, Klarinette Und Violoncello Op. 3
(28:58)
5 – Allegro Ma Non Troppo 14:20
6 – Andante 9:20
7 – Allegro 5:18
Johannes Brahms / Trio Für Klavier, Klarinette Und Violoncello Op. 114
(24:31)
8 – Allegro 7:31
9 – Adagio 8:05
10 – Andantino Grazioso 4:40
11 – Allegro 4:15
Performers:
Ensemble Kontraste
–––––––––––-
DON'T MODIFY THIS FILE
–––––––––––-
PERFORMER: auCDtect Task Manager, ver. 1.6.0 RC1 build 1.6.0.1
Copyright © 2008-2010 y-soft. All rights reserved
http://y-soft.org
ANALYZER: auCDtect: CD records authenticity detector, version 0.8.2
Copyright © 2004 Oleg Berngardt. All rights reserved.
Copyright © 2004 Alexander Djourik. All rights reserved.
FILE: 01 - Quartett für Violine, Violoncel.flac
Size: 28899269 Hash: 4D35962DB50E2CB8F8DEEE1CE3C05169 Accuracy: -m0
Conclusion: CDDA 100%
Signature: 577BBA89E0D9B968FC1D4DECC3C7F75EA901836C
FILE: 02 - Quartett für Violine, Violoncel.flac
Size: 30483020 Hash: 11932D2AEE889BA8734B3E64D92D7377 Accuracy: -m0
Conclusion: CDDA 100%
Signature: 2BA023997F7ACCF96AA7E932DF9C2ADB3CC813C6
FILE: 03 - Quartett für Violine, Violoncel.flac
Size: 8296549 Hash: 44385A854FFCC17B3FD5A4327564D125 Accuracy: -m0
Conclusion: CDDA 99%
Signature: 19AD839BAED60450EE3B9264DB04C956E7C14D26
FILE: 04 - Quartett für Violine, Violoncel.flac
Size: 28856295 Hash: 5C4B30BD2E9C9F8309A8FA2D1F02F8D2 Accuracy: -m0
Conclusion: CDDA 100%
Signature: 593059D9494214B93B0B6C0EB426C2E10C84631B
FILE: 05 - Trio für Klavier, Klarinette un.flac
Size: 57846321 Hash: 0BDAF34E5278B2E08578D67E8A654321 Accuracy: -m0
Conclusion: CDDA 100%
Signature: 0B59AEA12FCA853C7A4D0A9F3F7D0DA44CD90364
FILE: 06 - Trio für Klavier, Klarinette un.flac
Size: 34401748 Hash: 9456A730560CB0B0A35D185FAD517A1B Accuracy: -m0
Conclusion: CDDA 100%
Signature: 43176BE4FE67CC6AEB0388DEB075FA844B4FFFA5
FILE: 07 - Trio für Klavier, Klarinette un.flac
Size: 20795322 Hash: 6F0474E1674F3B2658BDC647DF3864BD Accuracy: -m0
Conclusion: CDDA 100%
Signature: 223A2EBF9729058A1A9716CEC4493DCB153A6254
FILE: 08 - Trio für Klavier, Klarinette un.flac
Size: 29903544 Hash: 47D0ADB22E9B9480C93A2D8D7DC900BF Accuracy: -m0
Conclusion: CDDA 100%
Signature: A497DCB46A583BA81A08E9A29A51EE7D15380E4C
FILE: 09 - Trio für Klavier, Klarinette un.flac
Size: 29452293 Hash: A97EDE85CFC9488DB4E9DE89BF660578 Accuracy: -m0
Conclusion: CDDA 100%
Signature: F48A91655C3C3FF48DF0A2676B83188FF66C8B5F
FILE: 10 - Trio für Klavier, Klarinette un.flac
Size: 18276188 Hash: 6207225CF4FEF2E02C6B016EA319A756 Accuracy: -m0
Conclusion: CDDA 100%
Signature: 6B6C22EAAB90D4213F8B0F3B2575285285F4B379
FILE: 11 - Trio für Klavier, Klarinette un.flac
Size: 17631231 Hash: 12DC05292BD871C23908779011E0C715 Accuracy: -m0
Conclusion: CDDA 100%
Signature: A89CC094DD070826057D88C1778489043FBDC264