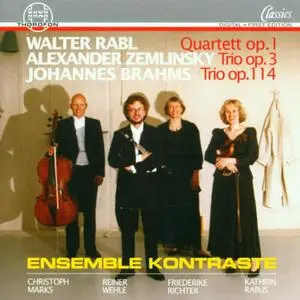 Ensemble Kontraste - Rabl, Zemlinsky, Brahms (2005)
WEB | FLAC (tracks) - 320 MB | 01:18:12
Genre: Classical | Label: Thorofon Records
This fine CD is a thoughtful and very generous combination of three late-Romantic pieces: one well known (the Brahms), one less known (the Zemlinsky), and one (the Rabl) that appears to have its first ever recording here. All three pieces are served admirably by this remarkable ensemble, and also by sensitive high-quality engineering. While all three are excellent, I agree with the last reviewer that the Rabl stands out from the other two.