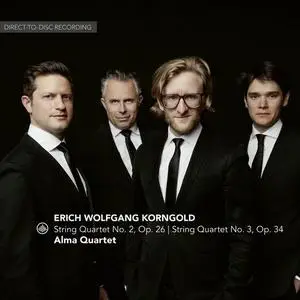 Alma Quartet - String Quartet No. 2, Op. 26 | String Quartet No. 3, Op. 34 (2021)
FLAC tracks | 49:34 | 207 Mb
Genre: Classical / Label: Challenge Classics
Erich Wolfgang Korngold (1897-1957) was a genius. Naturally he was most widely known and rewarded as one of the founding composers of Hollywood film music, but he is not a particularly well-known composer in the classical music world. His three String Quartets are surely masterpieces and can be seen as modern tone poems imbued with beautiful melancholy and Viennese charm. A child prodigy, Korngold wrote some of the most heart-wrenching melodies, which are sure to leave any listener longing for more.