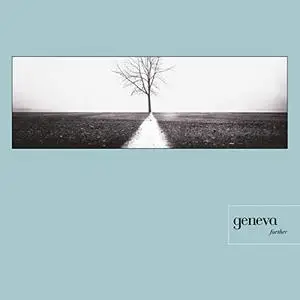 Geneva - Further (Deluxe) (1997/2019)
WEB FLAC (Tracks) - 623 MB | Cover | MP3 CBR 320 kbps - 208 MB | 01:29:51
Indie Pop, Britpop | Label: One Little Indian Records
Sounding like a cross between James and Suede, Geneva occasionally hits sweeping, graceful highs on their debut album, Further. Just as often, they languish in their own pretensions, achieving a fraction of what they set out to do. At their best, Geneva surges with power, creating grand soundscapes with folky overtones and powerful backbeats. Like Tim Booth, Andrew Montgomery's yearning falsetto calls attention to himself, and he does have an extraordinary voice. However, the band hasn't figured out how to harness its power with suitable songs. Most of the songs on Further spill forward with determination, but they don't really go anywhere, which is confirmed by songs as breathtakingly assured and pretty as "Into the Blue." Those are the moments that make Further into a promising, occasionally remarkable, debut, yet there aren't quite enough of them to make it a fully successful record.
TRACKLIST
01. Temporary Wings (Remastered)
02. Into The Blue (Remastered)
03. The God Of Sleep (Remastered)
04. Best Regrets (Remastered)
05. Tranquillizer (Remastered)
06. Further (Remastered)
07. No One Speaks (Remastered)
08. Worry Beads (Remastered)
09. Fall Apart Button (Remastered)
10. Wearing Off (Remastered)
11. Nature's Whore (Remastered)
12. In The Years Remaining (Remastered)
13. Feel The Joy (Remastered)
14. Strung Out On You (Remastered)
15. Driftwood (Remastered)
16. Michaelmas (Remastered)
17. What Your Shrink Says (Remastered)
18. Last Orders (Remastered)
19. Dead Giveaway (Remastered)
20. Closer To The Stars (Remastered)
21. Raymond Chandler (Remastered)
22. Riverwatching (Remastered)
–––––––––––-
DON'T MODIFY THIS FILE
–––––––––––-
PERFORMER: auCDtect Task Manager, ver. 1.6.0 RC1 build 1.6.0.1
Copyright © 2008-2010 y-soft. All rights reserved
http://y-soft.org
ANALYZER: auCDtect: CD records authenticity detector, version 0.8.2
Copyright © 2004 Oleg Berngardt. All rights reserved.
Copyright © 2004 Alexander Djourik. All rights reserved.
FILE: 22. Geneva - Riverwatching (Remastered).flac
Size: 22946283 Hash: C9929CF06C2D1DAA8F11008B77D22161 Accuracy: -m0
Conclusion: CDDA 54%
Signature: 06B2894B3B301C4E31AB1FFE5D93065BFEFE9A83
FILE: 21. Geneva - Raymond Chandler (Remastered).flac
Size: 37027733 Hash: 2D8DF803F50B5C48E58105C126A07EF2 Accuracy: -m0
Conclusion: CDDA 43%
Signature: 4338A0EC6AD26803483B94C95E95239C0AB3E631
FILE: 20. Geneva - Closer To The Stars (Remastered).flac
Size: 25052074 Hash: 66C100EFAF191616C646D409E9163064 Accuracy: -m0
Conclusion: CDDA 86%
Signature: 9EB15BB90AD1A8012A0A4C075EDD9D8AD2AC5AE3
FILE: 19. Geneva - Dead Giveaway (Remastered).flac
Size: 39391219 Hash: CE051A8433C4063A72C7C9D8B9DB9D9A Accuracy: -m0
Conclusion: CDDA 42%
Signature: 4089654D7A306C2C9F60E18A82D4417245A7E06C
FILE: 18. Geneva - Last Orders (Remastered).flac
Size: 33977948 Hash: 9409FC4FE4B70F15D9FA5D51079BE474 Accuracy: -m0
Conclusion: CDDA 49%
Signature: E7D44BF7DB90528278C1484C726187894A81C41F
FILE: 17. Geneva - What Your Shrink Says (Remastered).flac
Size: 28763503 Hash: 1C5FD6EF4DC66A70FF3A2E7DB22E3EFB Accuracy: -m0
Conclusion: CDDA 62%
Signature: 2CA536C576B4D2DDAA05383988147D419B7C8560
FILE: 16. Geneva - Michaelmas (Remastered).flac
Size: 28429914 Hash: 9A1CEFEC669A32C0EA28F802C56D1FF8 Accuracy: -m0
Conclusion: CDDA 43%
Signature: 3743797A04FC2FD51A4FEC0F00A03911D3F2481F
FILE: 15. Geneva - Driftwood (Remastered).flac
Size: 16616290 Hash: D47606753BC972756F6657FF2990510A Accuracy: -m0
Conclusion: CDDA 92%
Signature: CDBE6CBE05FC30899F0ABDA4D6D908D803D886CE
FILE: 14. Geneva - Strung Out On You (Remastered).flac
Size: 36720119 Hash: 407F793D7688B34D1DFD582581379E8C Accuracy: -m0
Conclusion: CDDA 54%
Signature: 945D8E18EAF862F3C60F89E7DCCC7CE4DDF3892F
FILE: 13. Geneva - Feel The Joy (Remastered).flac
Size: 41958410 Hash: 726D0DD43D8DA3955E9B885190423AD7 Accuracy: -m0
Conclusion: CDDA 43%
Signature: DC4DF8E3770363307650136B5997EB9185482449
FILE: 12. Geneva - In The Years Remaining (Remastered).flac
Size: 34289409 Hash: CB6F89FC3D0CF5A0C1268B0A33FF196D Accuracy: -m0
Conclusion: CDDA 62%
Signature: 8D4AEC2072E481B94FA051248631821FC2246819
FILE: 11. Geneva - Nature's Whore (Remastered).flac
Size: 23688424 Hash: 7045EEEAF7549DCD39FCE8F3412CD967 Accuracy: -m0
Conclusion: CDDA 43%
Signature: F3E1DFBD05169E04CABC29B61846B584A2F77DA8
FILE: 10. Geneva - Wearing Off (Remastered).flac
Size: 28896527 Hash: 436A6465E0932AE92D415D23337CA9F4 Accuracy: -m0
Conclusion: CDDA 87%
Signature: 99E5D7D2865413D6017CBA150DD9DFFE5A0E0529
FILE: 09. Geneva - Fall Apart Button (Remastered).flac
Size: 30854190 Hash: 41D0BA9207AFAE62A00E927F22A9A457 Accuracy: -m0
Conclusion: CDDA 100%
Signature: 362D1A8B2FB24CBACFE79AC9A4D36F716BC63657
FILE: 08. Geneva - Worry Beads (Remastered).flac
Size: 31273174 Hash: 4012F08D34C9DE5458C8F1A23B7D3F92 Accuracy: -m0
Conclusion: CDDA 43%
Signature: A9D65D5045AAF1A2D3B8B201226BADD0A7ADB00B
FILE: 07. Geneva - No One Speaks (Remastered).flac
Size: 27345272 Hash: F5BCA30A71096DEBFA02E527C015DB0E Accuracy: -m0
Conclusion: CDDA 86%
Signature: 71A3AA46665FCD4D2356D398F2D1173E634545C6
FILE: 06. Geneva - Further (Remastered).flac
Size: 34287990 Hash: 5B2B3CA8F3E58ECAD106809AD6BC998A Accuracy: -m0
Conclusion: CDDA 43%
Signature: 5E6B8C34877C81170762EDFBF6F379D6AC2CDEEB
FILE: 05. Geneva - Tranquillizer (Remastered).flac
Size: 26437100 Hash: BF7546F2BFA01B5272AA69D5A1CAB52F Accuracy: -m0
Conclusion: CDDA 87%
Signature: AA8D69152B795886EA254D394E6568B52B052040
FILE: 04. Geneva - Best Regrets (Remastered).flac
Size: 31563157 Hash: E27F49B79CDD0B9B7B6A3390F1D568B0 Accuracy: -m0
Conclusion: CDDA 100%
Signature: 5C27943CD00EE444DD9567809F2D57216E28AE96
FILE: 03. Geneva - The God Of Sleep (Remastered).flac
Size: 21518587 Hash: F85AC477F5C017168380469C3F6210EB Accuracy: -m0
Conclusion: CDDA 76%
Signature: 19873F5AF3FD9AB4E2D502FE4B0154BA1C7976B5
FILE: 02. Geneva - Into The Blue (Remastered).flac
Size: 27136159 Hash: 857C5A48FCABA1D91DB825AF2759A41B Accuracy: -m0
Conclusion: CDDA 86%
Signature: CF6FF111323C924EFC7826B7C2979F793891230C
FILE: 01. Geneva - Temporary Wings (Remastered).flac
Size: 25497178 Hash: 29F9AE4912D2C3AB407047D8A850A630 Accuracy: -m0
Conclusion: CDDA 62%
Signature: 1E77E127E35A84632D3019D678ED57D241BF2CD4
All thanks go to the original releaser