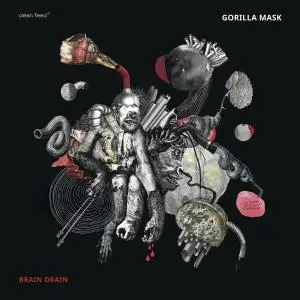 Gorilla Mask - Brain Drain (2019)
WEB FLAC (tracks) - 296 MB | Tracks: 9 | 42:37 min
Style: Jazz, Rock, Fusion | Label: Clean Feed Records
Peter Van Huffel's journey through the combination of jazz and rock, alien to the fusion tradition of the seventies and the collage of the nineties, proceeds with yet another opus from the Gorilla Mask gang, as always inclusive of the mindblowing rhythm section of Roland Fidezius and Rudi Fischerlehner. "Brain Drain" is a mishmash of punk, metal, jazz, free improvisation and written avant-garde music, always in the process of construction and deconstruction, going from persistent, headbanging riffs and grooves to abstract and puzzling situations or vice-versa, without excuses nor preconceptions. Black Sabbath is in the house, as are John Coltrane and Albert Ayler, two primary influences of the Berlin-based canadian saxophonist. The energy is overwhelming, but there are melodies on it, not only hammering rhythms or crazy textures. Highly emotional, but also structurally complex with fractured rhythms and bended tempos, this is the music of our present times: full of rage but also of joy. Deep, restless, invigorating and open to any possibility, all the qualities we expect from the art of sounds.
Tracklist:
01. Rampage
02. Brain Drain
03. Drum Song
04. Forgive me, Mother
05. Caught in a Helicopter Blade
06. AVALANCHE!!!
07. Barracuda
08. The Nihilist
09. HOSER


FILE: 01. Rampage.flac
Size: 33542146 Hash: 9D9F22A779099E0D566036666E1C2B48 Accuracy: -m0
Conclusion: CDDA 100%
Signature: 69AB92DB806EA390A72DDF1697C340A9F4C7BD09
FILE: 02. Brain Drain.flac
Size: 43158844 Hash: E6EDA942D26FC7FC843996B80B288DD9 Accuracy: -m0
Conclusion: CDDA 100%
Signature: 585CDF6F5AF3313C346F6F69A054AB7705E93023
FILE: 03. Drum Song.flac
Size: 46418452 Hash: E6C01D9291FA329B35B233A4A4F3D293 Accuracy: -m0
Conclusion: CDDA 100%
Signature: D8FC7AFD42DDB6B916260F6B36DF02C792C75B47
FILE: 04. Forgive me, Mother.flac
Size: 34277323 Hash: 67B106E4DD9CA09E8503FABB91AC8BF3 Accuracy: -m0
Conclusion: CDDA 100%
Signature: 0D739A58CA32C0C742344BBB60242DE1BD4C3351
FILE: 05. Caught in a Helicopter Blade.flac
Size: 44216148 Hash: 1F4FB3FF812C2A1DD9D8857EADF71351 Accuracy: -m0
Conclusion: CDDA 99%
Signature: 6B12E17AEBDC2E5A0B80D5543684D31027989EF9
FILE: 06. AVALANCHE!!!.flac
Size: 21681977 Hash: 14170684FD058B25FAB10481D8D9DA5F Accuracy: -m0
Conclusion: CDDA 100%
Signature: B4964CF1C0326F161F21079F2F3CE25DC8F6B022
FILE: 07. Barracuda.flac
Size: 27824142 Hash: C9D0FD58AEFAC9FF02374C3F43E6DD89 Accuracy: -m0
Conclusion: CDDA 100%
Signature: DAB6175BA6BC4F78DE9D84E698AA1DB5C216098C
FILE: 08. The Nihilist.flac
Size: 31306178 Hash: 8E8DD52DC4DD611C19EAAC8E286DB2DA Accuracy: -m0
Conclusion: CDDA 100%
Signature: B33C2E9D1D7F6F74B07EAF1C8C00E081D667725D
FILE: 09. HOSER.flac
Size: 28232694 Hash: 50D00D3D64A25A9A7F6A8E50A6866536 Accuracy: -m0
Conclusion: CDDA 100%
Signature: 763459C0AC2F998D32B739AD719568036170AE2D