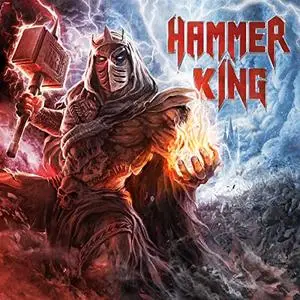 HAMMER KING - Hammer King (2021)
WEB FLAC (Tracks) 317 MB | Cover | 45:49 | MP3 CBR 320 kbps | 105 MB
Hardrock, Metal | Label: Napalm Records
Im Zeichen des Old-School-Power-Metal haben sich die Senkrechtstarter HAMMER KING versammelt, um auf ihrem neuen Album Hammer King (VÖ 11. Juni über Napalm Records) ein Feuerwerk abzufeuern! Seit HAMMER KING im Jahr 2015 in die Szene platzten, erweisen sie sich als unaufhaltsame Einheit. Auserwählt von Eurer Majestät, dem Hammer King höchstpersönlich, setzt sich die Band aus dem ehemaligen ROSS THE BOSS-Sänger Titan Fox V und dem ehemaligen SALTATIO MORTIS-Schlagzeuger Dolph A. Macallan zusammen, neben Gladius Thundersword am Bass und dem wohl zeitlosesten Leadgitarristen von Kleveland: Gino Wilde. HAMMER KING halten es mit rasanten Riffs, energiegeladenen Grooves und hymnischen Refrains wuchtig und widmen ihre Existenz stets dem allgegenwärtigen Mythos des göttlichen Hammer King! Das neue Album Hammer King beginnt mit schmetternden Drums und rasanten Gitarren auf "Awaken the Thunder", auf dem Frontmann und Gitarrist Titan Fox V seine unglaubliche stimmliche Bandbreite zeigt, während Songs wie "Atlantis" HAMMER KING's Talent für eingängige, einprägsame Refrains zeigen.
Hammer King erzählt die Geschichte des Hammer King selbst, einem zornigen und mächtigen Kriegsgott, der in Tracks wie dem hymnischen "Baptized by the Hammer", dem energiegeladenen und von Double-Bass getriebenen "In the Name of the Hammer" und dem knallharten "Hammerschlag" mit dem legendären Gerre von TANKARD, Isaac von EPICA und dem einzig wahren The Crusader (WARKINGS) gepriesen wird. Hammer King wird als Deluxe Box Edition erhältlich sein, sowie als Gatefold Vinyl und weiteren Formaten. Kniet nieder vor dem König der Könige, dem HAMMER KING!"
In the spirit of old school power metal, Germany's up-and-comers HAMMER KING have gathered to set fire on their new album Hammer King (out June 11 via Napalm Records)! Ever since HAMMER KING burst onto the scene in 2015, they have proven themselves as an unstoppable force. Hand-picked by thy majesty, the Hammer King himself, the band consists of former ROSS THE BOSS vocalist Titan Fox V and former SALTATIO MORTIS drummer Dolph A. Macallan, alongside Gladius Thundersword on bass and Kleveland's most timeless lead guitarist: Gino Wilde. HAMMER KING keeps it heavy with speedy riffs, energic grooves and fist-pumping choruses, devoting their existence to the one and only myth of the godly Hammer King! The new self-titled album starts off with blasting drums and brisk guitars on "Awaken the Thunder", with frontman and guitarist Titan Fox V showing off his incredible vocal range, whereas tracks like "Atlantis" prove HAMMER KING's ability to write catchy and memorable choruses. Hammer King tells the lore of the Hammer King himself, a wrathful and mighty war god, who is praised in tracks like anthemic "Baptized by the Hammer", energetic and double-bass driven "In the Name of the Hammer" and the hard-hitting "Hammerschlag" featuring the legendary Gerre from TANKARD, Isaac from EPICA and the almighty The Crusader (WARKINGS). Hammer King will be available as a deluxe box edition including, as well as on gatefold vinyl amongst others. Kneel before the king of kings, the HAMMER KING!
TRACKLIST
1. HAMMER KING - Awaken The Thunder
2. HAMMER KING - Baptized By The Hammer
3. HAMMER KING - Onward To Victory
4. HAMMER KING/Gerre/Isaac Delahaye/The Crusader - Hammerschlag
5. HAMMER KING - Atlantis (Epilogue)
6. HAMMER KING - We Are The Kingdom
7. HAMMER KING - Into The Storm
8. HAMMER KING - Ashes To Ashes
9. HAMMER KING - In The Name Of The Hammer
10. HAMMER KING - King Of Kings
11. HAMMER KING - Holy (Outro)
–––––––––––-
DON'T MODIFY THIS FILE
–––––––––––-
PERFORMER: auCDtect Task Manager, ver. 1.6.0 RC1 build 1.6.0.1
Copyright © 2008-2010 y-soft. All rights reserved
http://y-soft.org
ANALYZER: auCDtect: CD records authenticity detector, version 0.8.2
Copyright © 2004 Oleg Berngardt. All rights reserved.
Copyright © 2004 Alexander Djourik. All rights reserved.
FILE: 11 - Holy (Outro).flac
Size: 2731186 Hash: 6800CFF9CAC90CE51F35448575DAF928 Accuracy: -m0
Conclusion: MPEG 100%
Signature: E3DE3E3A192F9ABF7604660D888C841C3D63C4D1
FILE: 10 - King Of Kings.flac
Size: 46465827 Hash: B3E617C1355A92313C2E827486BAF999 Accuracy: -m0
Conclusion: CDDA 100%
Signature: 41E32A1E584FCCD484476E18560070E81D455E09
FILE: 09 - In The Name Of The Hammer.flac
Size: 35515458 Hash: 5D2A1C0DF836B94EF265CDA0FBA2F3B7 Accuracy: -m0
Conclusion: CDDA 100%
Signature: 2CF78568CEAC8DB8694CB1FA33374C2673D11A7B
FILE: 08 - Ashes To Ashes.flac
Size: 30751063 Hash: 0B4AFA8BC586518C8772855199BB8F1D Accuracy: -m0
Conclusion: CDDA 100%
Signature: 8901782C6B6D5C7B064E7E4D931C361F56E836C0
FILE: 07 - Into The Storm.flac
Size: 27285652 Hash: 994296FA87166164C8B964195C236505 Accuracy: -m0
Conclusion: CDDA 100%
Signature: CBDBCB9FCE9DA76057746D60A4496C28A62ADD47
FILE: 06 - We Are The Kingdom.flac
Size: 28787769 Hash: C97E4875FC335213FF4F13E68EC87450 Accuracy: -m0
Conclusion: CDDA 100%
Signature: 0FFD9491ED4E886A99731ADB8F087F8A9FF339DF
FILE: 05 - Atlantis (Epilogue).flac
Size: 43263433 Hash: D1417E5EABA18314F0C19CC32E6FC4C2 Accuracy: -m0
Conclusion: CDDA 100%
Signature: 0651739933E21CB89536FC3978BA3147E67A945C
FILE: 04 - Hammerschlag.flac
Size: 25049689 Hash: F6BA2F1A8A4D303A5D8F3E635E7B8577 Accuracy: -m0
Conclusion: CDDA 99%
Signature: 35D7D33A1DA2A6FC8C042FC50BEE454E40C8B564
FILE: 03 - Onward To Victory.flac
Size: 32628142 Hash: E45771D9C9F5353D5C1793C68C4BF37E Accuracy: -m0
Conclusion: CDDA 100%
Signature: 6AC96265707430EB29B1CDEFF93EA161C1B78048
FILE: 02 - Baptized By The Hammer.flac
Size: 29972790 Hash: CD560B543A565E978AFABA9420A0DAA5 Accuracy: -m0
Conclusion: CDDA 100%
Signature: B6355E43AE96B52F3FDC4C3B3922D5BCAEEC22AD
FILE: 01 - Awaken The Thunder.flac
Size: 30964327 Hash: F09C8DC87D1739F3718810088129EA71 Accuracy: -m0
Conclusion: CDDA 99%
Signature: 167D61C8B3E27FC932E56CB37D7BC5E94646BC84