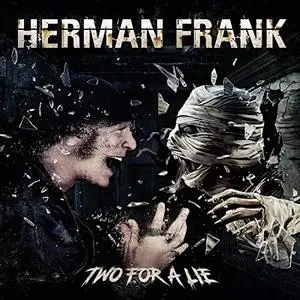 Herman Frank - Two for a Lie (2021)
WEB FLAC (Tracks) 329 MB | Cover | 42:51 | MP3 CBR 320 kbps | 99 MB
Hardrock, Metal | Label: AFM Records
"Two For A Lie" captivates everyone with its usual heavy riffs and incredible power. Herman Frank denounces the current global developments impressively and energetically in this musically imposing masterpiece!
HERMAN FRANK, the musical big player has been in the business for decades and still never tires of standing up for his ideals. Starting with ACCEPT, over VICTORY to his solo project started in 2009 and his work as a producer, the Hanoverian has been a guarantor for uncompromising Heavy Metal of the very first caliber for decades.
As he has proven with his previous four solo albums, the HERMAN FRANK concept is undoubtedly finding great favour with a steadily growing fan base. Not least because of the top-class line-up of the band itself: MASTERPLAN frontman Rick Altzi, guitarist Heiko Schröder, AT VANCE and MASTERPLAN drummer Kevin Kott and JADED HEART bassist Michael Müller give the project a wonderfully heavy polish.
Coupled with the incorrigible striving for a great future, HERMAN FRANK has created a standing for himself with "Two For A Lie" in a world that needs nothing more, especially in these times, than exactly these clear and distinct words of truth.
TRACKLIST
1. Herman Frank - Teutonic Order
2. Herman Frank - Venom
3. Herman Frank - Hate
4. Herman Frank - Eye of the Storm
5. Herman Frank - Liar
6. Herman Frank - Hail the New Kings
7. Herman Frank - Just a Second to Lose
8. Herman Frank - Danger
9. Herman Frank - Stand up and Fight
10. Herman Frank - Open Your Mind
–––––––––––-
DON'T MODIFY THIS FILE
–––––––––––-
PERFORMER: auCDtect Task Manager, ver. 1.6.0 RC1 build 1.6.0.1
Copyright © 2008-2010 y-soft. All rights reserved
http://y-soft.org
ANALYZER: auCDtect: CD records authenticity detector, version 0.8.2
Copyright © 2004 Oleg Berngardt. All rights reserved.
Copyright © 2004 Alexander Djourik. All rights reserved.
FILE: 10 - Open Your Mind.flac
Size: 43118361 Hash: F667B22E361355973B56268198705079 Accuracy: -m0
Conclusion: CDDA 99%
Signature: 98FBB3EA83CF7C0CBB495B19A14CAB09841500C7
FILE: 09 - Stand up and Fight.flac
Size: 37707069 Hash: DB8E880F93B0E52CBA1091F3DDDFCFCC Accuracy: -m0
Conclusion: CDDA 100%
Signature: 3FBAA971F5F90D82B0BFC133611C9E8F910AE116
FILE: 08 - Danger.flac
Size: 27587138 Hash: 86857D33EEE4BF0C4D35ED75DD600C3A Accuracy: -m0
Conclusion: CDDA 100%
Signature: AED15143E5C8DF59FE6FE62F428D7CC7AF9B9F08
FILE: 07 - Just a Second to Lose.flac
Size: 31825743 Hash: C99DF8022C29C530C33677C900ECB32E Accuracy: -m0
Conclusion: CDDA 100%
Signature: 95FB97FD184D4EE82402C47F367E3ED641CD5A15
FILE: 06 - Hail the New Kings.flac
Size: 30119936 Hash: 37E032209F80198EAE93081EFE299423 Accuracy: -m0
Conclusion: CDDA 100%
Signature: 0DD0C29D556F6D9A7A98D6B0A7A9702152CB2B51
FILE: 05 - Liar.flac
Size: 34641619 Hash: 85F06939B753DF0CC7771473563D7388 Accuracy: -m0
Conclusion: CDDA 99%
Signature: 22F22B0B1C92EFFD8FD6B0EAA7DB190078490FE0
FILE: 04 - Eye of the Storm.flac
Size: 38141391 Hash: 47DCE3369B45B9EE246CC31B8663857D Accuracy: -m0
Conclusion: CDDA 100%
Signature: 0B3339B9DCF2BD3FA3976187E7D9A8EAFDFDCFD1
FILE: 03 - Hate.flac
Size: 30701544 Hash: B157157F0C764F7DEB27EE035736AD4A Accuracy: -m0
Conclusion: CDDA 100%
Signature: EEBF5544E4703B612742E710640CAF80F7FC49E2
FILE: 02 - Venom.flac
Size: 30531767 Hash: 4FB82424DE7D1F45BD67A416FA782D9E Accuracy: -m0
Conclusion: CDDA 100%
Signature: BC63C119E191C3C980EED1F864984317494B1341
FILE: 01 - Teutonic Order.flac
Size: 40898461 Hash: 3DAFA32E6725FA8F5B19B5D8014757D2 Accuracy: -m0
Conclusion: CDDA 100%
Signature: 9A99F36DEF297A78A4E7FBF408C953FD0CD62C3D