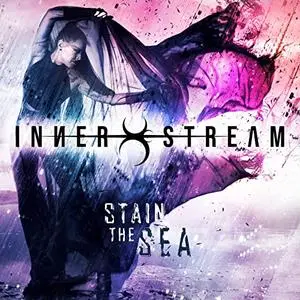 Inner Stream - Stain the Sea (2021)
WEB FLAC (Tracks) 285 MB | Cover | 39:52 | MP3 CBR 320 kbps | 92 MB
Symphonic Metal, Nu-Metal | Label: Frontiers Records S.R.L.
Frontiers Music Srl is pleased to announce the signing of Inner Stream to the label for a multi-album deal.. Inner Stream blends elements of different sub-genres and styles like symphonic metal, electronic, goth, and nü metal, among others. Pushing musical boundaries, the songs hold rich varieties of climates and textures, heavy riffs, powerful melodies, and emotional moments.
"I am very excited and proud to be a part of the Frontiers family," says Inés Vera-Ortiz, Inner Stream's songwriter and vocalist. "This opportunity came at the right time in which the concept of the project reached a peak of maturity and clear vision. While my songwriting is varied, my heart is very close to metal and I will never look away from it. The first album will include songs written during the last few years and I feel they represent well this long journey through lots of different, important, and emotional moments of my life. I am very happy to be able to share those personal moments with everyone."
Label President Serafino Perugino wanted to highlight the talents of vocalist Ines Vera-Ortiz and sought to pair her with producer Alessandro Del Vecchio to highlight her songs and voice. Inner Stream started off in 2008 as a project concocted by Inés Vera Ortiz and her brother Jorge in Buenos Aires, Argentina. At that time, Inés was the vocalist for some local power metal bands, but her songwriting was headed in a different direction. Subsequently, Inés and Jorge recorded a three song demo that was more in a goth metal direction. Afterward, Inés continued composing music on her own and attempted to put a band together, but ultimately decided to set aside the idea for a while. She continued to work on other projects for both Argentinian and international bands while biding her time. In 2017, she teamed up with Guillermo De Medio, an Argentinian keyboard player and producer (Tarja Turunen, Full Nothing, Barilari, etc.), who was undoubtedly the right fit to help Inés work on her songs and bring the vision of Inner Stream together. Now, in 2021, Inés and Inner stream have joined forces with Frontiers Music Srl for the release of their upcoming album, "Stain The Sea" as well as future releases.
TRACKLIST
1. Inner Stream - Massive Drain
2. Inner Stream - Fair War
3. Inner Stream - Hunt You
4. Inner Stream - Aftermath
5. Inner Stream - Dance with Shades
6. Inner Stream - Drown Me
7. Inner Stream - If You Dare
8. Inner Stream - Stain the Sea
9. Inner Stream - The Bridge
10. Inner Stream - Last Drink
11. Inner Stream - Real
–––––––––––-
DON'T MODIFY THIS FILE
–––––––––––-
PERFORMER: auCDtect Task Manager, ver. 1.6.0 RC1 build 1.6.0.1
Copyright © 2008-2010 y-soft. All rights reserved
http://y-soft.org
ANALYZER: auCDtect: CD records authenticity detector, version 0.8.2
Copyright © 2004 Oleg Berngardt. All rights reserved.
Copyright © 2004 Alexander Djourik. All rights reserved.
FILE: 11 - Real.flac
Size: 26330958 Hash: 4C800CF135587BD010974805794575A4 Accuracy: -m0
Conclusion: CDDA 100%
Signature: D34CDED1BA1922783F863971F8B7A46721E69274
FILE: 10 - Last Drink.flac
Size: 23046492 Hash: 9B26A2DB750D90FD3AB59AD8960681F8 Accuracy: -m0
Conclusion: CDDA 100%
Signature: CB3B232D91C132499A305AA570E3CD2D5CEBFBD2
FILE: 09 - The Bridge.flac
Size: 32776358 Hash: 484485904A067E1F2F05D73BF61C11CB Accuracy: -m0
Conclusion: CDDA 100%
Signature: BFEA9D904F47584FE10213995CC112D0DDA284CD
FILE: 08 - Stain the Sea.flac
Size: 34017863 Hash: 3F6AEDDCD73F9B5AD51DF4EF75234E9B Accuracy: -m0
Conclusion: CDDA 100%
Signature: A16EFA8441DB47A9DC07EE82F65DF9FF3ACC0160
FILE: 07 - If You Dare.flac
Size: 26266755 Hash: 9E15BFCDA936EC153B902BAA9CB1C5A6 Accuracy: -m0
Conclusion: CDDA 100%
Signature: 8B843C0D112F743E5AE2B7CD6D688F3E1ACF41EC
FILE: 06 - Drown Me.flac
Size: 31281338 Hash: 83109C96C9656036F49C867A2065F93C Accuracy: -m0
Conclusion: CDDA 100%
Signature: 67B4DF986EECCA4DBC39A99100EDD352B2382CAE
FILE: 05 - Dance with Shades.flac
Size: 27985459 Hash: 012E1955978D4381DBA1FB5586477585 Accuracy: -m0
Conclusion: CDDA 100%
Signature: A11A4E25BE1E0E9BBFD4B672066EEE15339E2C0B
FILE: 04 - Aftermath.flac
Size: 21844847 Hash: ED892B0D4E9083EE5E33CE9557053FAC Accuracy: -m0
Conclusion: CDDA 100%
Signature: 0482330BF8B56072E774208C15914E78BE4E66C4
FILE: 03 - Hunt You.flac
Size: 31392886 Hash: D14BE339261F34F906E911EA08829961 Accuracy: -m0
Conclusion: CDDA 100%
Signature: 28BB36B1EC8058B8BB8A802F2697014551B575C0
FILE: 02 - Fair War.flac
Size: 21391661 Hash: C3A971C7E6D71F08A8FABD02C731CFF7 Accuracy: -m0
Conclusion: CDDA 100%
Signature: 5BBE5ECF2FA26D9018F72550AB6E3A0156AA8E0F
FILE: 01 - Massive Drain.flac
Size: 22956888 Hash: A40AFBA6BCCB6C74E5BFD4B17A82949D Accuracy: -m0
Conclusion: CDDA 100%
Signature: 0076D919FE5CC104683DC3E046467C0CB6285F4A