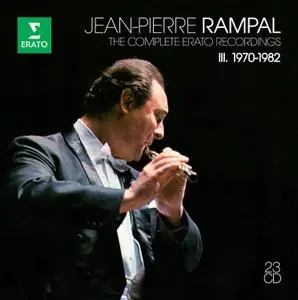 Jean-Pierre Rampal - Complete Erato Recordings Vol. III (1970-1982) [23 CD Box Set] (2015)
MP3 CBR 320 kbps | Run Time: 21:38:26 | 3,72 Gb
Genre: Classical, Flute | Label: Rhino Warner Classics
Not surprisingly, Jean-Pierre Rampal's recordings for Erato during the 1970s – when he was at the top of his career – encompass an immense repertoire, with a special emphasis on discoveries, whether in baroque, classical or romantic flute literature. Still a model today for flutists and flute lovers all over the world, his incomparable sound, spectacular brilliance and fabulous artistry made many albums legendary. Beyond their sheer beauty, the immense joy of music-making they communicate and the excitement they generate make these performances simply unforgettable.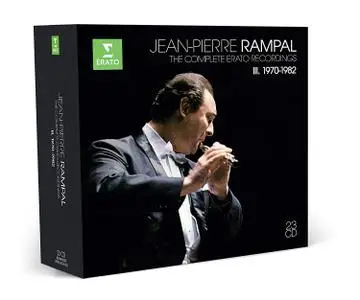 Alain:
Three Movements for Flute and Organ
Marie-Claire Alain (organ)

Alberti, G M:
Flute Concerto in F major
I Solisti Veneti, Claudio Scimone

Bach, C P E:
Flute Sonata in C major, Wq. 87 (H515)
Robert Veyron-Lacroix (harpsichord)

Bach, J S:
Orchestral Suite No. 2 in B minor, BWV1067: Badinerie
Orchestre de Chambre de Jean-François Paillard, Jean-François Paillard
Concerto for Flute in E Minor, BWV1059 & 35
Orchestre de Chambre de Jean-François Paillard, Jean-François Paillard
Brandenburg Concerto No. 2 in F Major, BWV1047
Orchestre de Chambre de Jean-François Paillard, Jean-François Paillard
Brandenburg Concerto No. 5 in D major, BWV1050
Robert Veyron-Lacroix (harpsichord)
Orchestre de Chambre de Jean-François Paillard, Jean-François Paillard
Flute Sonata No. 1 in B minor, BWV1030
Robert Veyron-Lacroix (harpsichord), Jordi Savall (viola da gamba)
Flute Sonata No. 2 in E flat major, BWV1031
Robert Veyron-Lacroix (harpsichord), Jordi Savall (viola da gamba)
Flute Sonata No. 3 in A major, BWV1032
Robert Veyron-Lacroix (harpsichord)
Flute Sonata in G minor, BWV1020
Robert Veyron-Lacroix (harpsichord)
Flute Sonata No. 5 in E minor, BWV1034
Robert Veyron-Lacroix (harpsichord), Jordi Savall (viola da gamba)
Flute Sonata No. 4 in C major, BWV1033
Robert Veyron-Lacroix (harpsichord), Jordi Savall (viola da gamba)
Flute Sonata No. 6 in E major, BWV1035
Robert Veyron-Lacroix (harpsichord)
Partita in A minor for solo flute, BWV1013
Robert Veyron-Lacroix (harpsichord), Jordi Savall (viola da gamba)
Lute Suite No. 2 in C minor, BWV997
trans. flute & basso continuo
Robert Veyron-Lacroix (harpsichord), Jordi Savall (viola da gamba)
Trio Sonata in G major, BWV1038
Robert Veyron-Lacroix (harpsichord), Jordi Savall (viola da gamba)
Trio Sonata in G major, BWV1039
Alain Marion (flute), Robert Veyron-Lacroix (harpsichord), Jordi Savall (viola da gamba)
Trio sonata BWV525 in G major
Robert Veyron-Lacroix (harpsichord)
Trio Sonata No. 2 in C minor, BWV526
Robert Veyron-Lacroix (harpsichord)
Trio Sonata No. 3 in D minor, BWV527
Robert Veyron-Lacroix (harpsichord)
Trio Sonata No. 4 in E minor, BWV528
Robert Veyron-Lacroix (harpsichord)
Trio Sonata No. 5 in C major, BWV529
Robert Veyron-Lacroix (harpsichord)
Trio sonata BWV530 in C major
Robert Veyron-Lacroix (harpsichord)

Benda, Franz:
Flute Sonata in G major
Robert Veyron-Lacroix (harpsichord)
Flute Concerto in E minor
Ensemble Orchestral de Paris, Jean-Pierre Wallez

Benda, J J:
Flute Sonata No. 1 in G major
Robert Veyron-Lacroix (harpsichord)
Blavet:
Flute Sonata in B minor, Op. 3 No. 2
Marie-Claire Alain (organ)
Flute Concerto in A minor
Orchestre de Chambre de Jean-François Paillard, Jean-François Paillard
Borne:
Fantaisie Brillante sur des airs de Carmen
Futaba Inoue (piano)

Cecere:
Flute Concerto in A major
I Solisti Veneti, Claudio Scimone

Chopin:
Nocturne No. 5 in F sharp major, Op. 15 No. 2
Futaba Inoue (piano)
Waltz No. 6 in D flat major, Op. 64 No. 1 'Minute Waltz'
Futaba Inoue (piano)

Cimarosa:
Concerto in G major for two flutes
Clementine Scimone (flute)
I Solisti Veneti, Claudio Scimone

Corrette, M:
Concerto in C Major for flute, string orchestra and continuo
Orchestre de Chambre de Jean-François Paillard, Jean-François Paillard

Croes:
Flute Concerto No. 2 in B minor
Solisten Van Luik, Géry Lamaire
Flute Concerto No. 4 in A minor
Solisten Van Luik, Géry Lamaire
Flute Concerto No. 5 in C major
Solisten Van Luik, Géry Lamaire

Debussy:
Clair de Lune (from Suite Bergamasque)
Futaba Inoue (piano)

Devienne:
Symphonie Concertante for Flute, Op. 76
Ransom Wilson (flute)
I Solisti Veneti, Claudio Scimone

Dietter:
Sinfonia Concertante No. 3 in D major
Ransom Wilson (flute)
I Solisti Veneti, Claudio Scimone

Doppler, F:
Concerto for two flutes and orchestra in D minor
Andras Adorjan (flute)
Orchestre National de l'Opera de Monte Carlo, Claudio Scimone

Doppler, K:
Fantasie sur des motifs hongrois, Op. 35
Futaba Inoue (piano)

Rigoletto, Fantasy, Op. 38
I Solisti Veneti, Claudio Scimone

Franck, C:
Flute Sonata in A major
Pierre Barbizet (piano)

Frederick II:
Flute Concerto No. 4 in D major
Ensemble Orchestral de Paris, Jean-Pierre Wallez

Galuppi:
Flute Concerto in D major
I Solisti Veneti, Claudio Scimone

Genin, P:
Carnaval de Venise
Futaba Inoue (piano)

Gianella:
Concerto lugubre
I Solisti Veneti, Claudio Scimone

Flute Concerto No. 3 in C major 'Military'
I Solisti Veneti, Claudio Scimone
Flute Concerto No. 1 in D minor
I Solisti Veneti, Claudio Scimone

Gluck:
Orfeo ed Euridice (Orphée et Euridice): Dance of the Blessed Spirits
Futaba Inoue (piano)
Orfeo ed Euridice (Orphée et Euridice): Dance of the Blessed Spirits
I Solisti Veneti, Claudio Scimone

Haydn:
Violin Concerto No. 1 in C major, Hob.VIIa:1: II. Adagio
trans. flute
I Solisti Veneti, Claudio Scimone

Indy:
Piano Concerto Op. 89
François-René Duchâble (piano), Frédéric Lodéon (cello)
Orchestre de Chambre de Jean-François Paillard, Jean-François Paillard
Suite dans le style ancien, in D major Op. 24 for trumpet, two flutes and stringquartet
Philippe Pierlot (oboe), Maurice André (trumpet)

Khachaturian:
Flute Concerto
Orchestre National de l'O.R.T.F., Jean Martinon

Krebs, J L:
Fantasia for flute & organ in F major
Marie-Claire Alain (organ)

Kreisler:
Liebesfreud
Futaba Inoue (piano)
Liebesleid
Futaba Inoue (piano)

Leclair, J-M:
Flute Concerto Op. 7 No. 3 in C major
Orchestre de Chambre de Jean-François Paillard, Jean-François Paillard
Flute Sonata in C major, Op. 1, No. 2
Robert Veyron-Lacroix (harpsichord)
Flute Sonata in E minor, Op. 1, No. 6
Robert Veyron-Lacroix (harpsichord)
Flute Sonata in E minor, Op. 9, No. 2
Robert Veyron-Lacroix (harpsichord)
Flute Sonata in C major, Op. 2, No. 3
Robert Veyron-Lacroix (harpsichord)

Marcello, B:
Sonata for flute and organ in B minor, Op. 3 No. 2
Marie-Claire Alain (organ)
Flute Concerto in C minor
I Solisti Veneti, Claudio Scimone

Martin, F:
Sonata da Chiesa for flute and organ
Marie-Claire Alain (organ)

Martini, G B:
Flute Concerto in G major
I Solisti Veneti, Claudio Scimone

Mercadante:
Concerto for Flute & Orchestra in E minor
I Solisti Veneti, Claudio Scimone
Concerto for Flute & Orchestra in D major
English Chamber Orchestra, Claudio Scimone
Flute Concerto in A major
English Chamber Orchestra, Claudio Scimone
Concerto for Flute & Orchestra in E major
I Solisti Veneti, Claudio Scimone

Molter:
Flute Concerto in G major, MWV 6/16
Orchestre de Chambre de Jean-François Paillard, Jean-François Paillard
Flute Concerto in B flat major, MWV 6/14
Orchestre de Chambre de Jean-François Paillard, Jean-François Paillard

Mozart:
Flute Concerto No. 1 in G major, K313
Wiener Symphoniker, Theodor Guschlbauer
Flute Concerto No. 2 in D major, K314
Wiener Symphoniker, Theodor Guschlbauer
Andante in C major, K315 for flute and orchestra
Wiener Symphoniker, Theodor Guschlbauer
Flute & Harp Concerto in C major, K299
Lily Laskine (harp)
Orchestre de Chambre de Jean-François Paillard, Jean-François Paillard
Divertimento No. 17 in D major K334
André Cazalet (horn), Jean Michel Vinit (horn), Régis Pasquier (violin), Bruno Pasquier (viola), Roland Pidoux (cello)
Flute Quartet No. 1 in D major, K285
Isaac Stern (violin), Salvatore Accardo (viola), Mstislav Rostropovich (cello)

Naudot:
Flute Concerto in D major, Op. 17 No. 3
Orchestre de Chambre de Jean-François Paillard, Jean-François Paillard

Nielsen:
Flute Concerto, FS119
Sjaellands Symfoniorkester, John Frandsen

Norby:
Illumination
Sjaellands Symfoniorkester, John Frandsen

Pergolesi:
Flute Concerto in G major
Orchestre de Chambre de la Radiodiffusion Sarroise, Karl Ristenpart

Piacentino:
Flute Concerto in G
I Solisti Veneti, Claudio Scimone

Pierné, G:
Flute Sonata, Op. 36
Pierre Barbizet (piano)

Pugnani:
Sonata for flute and organ in F major, Op. 6 No. 3
Marie-Claire Alain (organ)

Quantz:
Sonata for flute & continuo in D major, Op. 1 No. 4
Robert Veyron-Lacroix (harpsichord)
Flute Concerto in C minor, QV 5:38
Ensemble Orchestral de Paris, Jean-Pierre Wallez

Ravel:
Vocalise-étude en forme de habanera
Futaba Inoue (piano)

Romberg, B:
Flute Concerto in B minor, Op. 30
Orchestre National de l'Opera de Monte Carlo, Claudio Scimone

Sammartini, G B:
Flute Concerto in G major
I Solisti Veneti, Claudio Scimone
Flute Concerto in C major
I Solisti Veneti, Claudio Scimone

Stamitz, C:
Flute Concerto in G major, Op. 29
The Scottish Chamber Orchestra, Raymond Leppard

Stamitz, J:
Flute Concerto in C major
The Scottish Chamber Orchestra, Raymond Leppard

Tartini:
Flute Concerto in G major
The Saar Radio Chamber Orchestra, Karl Ristenpart
Violin Concerto in D major, D.28
I Solisti Veneti, Claudio Scimone
Flute Concerto in D major
I Solisti Veneti, Claudio Scimone
Flute Concerto in G major
I Solisti Veneti, Claudio Scimone
Flute Concerto in G major, Gimo 293
I Solisti Veneti, Claudio Scimone
Flute Concerto in G major, Gimo 294
I Solisti Veneti, Claudio Scimone

Telemann:
Sonata TWV 41:fis1 in F sharp minor for violin or flute & b.c.
Robert Veyron-Lacroix (harpsichord)
Sonata TWV 41:A3 in A major for violin or flute & b.c.
Robert Veyron-Lacroix (harpsichord)
Sonata TWV 41:g3 in G minor for violin or flute & b.c.
Robert Veyron-Lacroix (harpsichord)
Fantasia for solo flute No. 1 in A major, TWV 40:2

Viotti:
Flute Concerto in A major
Ransom Wilson (flute)
I Solisti Veneti, Claudio Scimone

Vivaldi:
Flute Concerto in G major, RV426
I Solisti Veneti
Concerto in G major RV102
I Solisti Veneti
Flute Concerto in D major, RV 89
I Solisti Veneti
Flute Concerto, Op. 10 No. 1 in F major, RV 433 'La tempesta di mare'
I Solisti Veneti, Claudio Scimone
Flute Concerto, Op. 10 No. 2 in G minor, RV 439 'La notte'
I Solisti Veneti, Claudio Scimone
Flute Concerto, Op. 10 No. 3 in D major, RV 428 'Il gardellino'
I Solisti Veneti, Claudio Scimone
Flute Concerto, Op. 10 No. 4 in G major, RV 435
I Solisti Veneti, Claudio Scimone
Flute Concerto, Op. 10 No. 5 in F major, RV 434
I Solisti Veneti, Claudio Scimone
Flute Concerto, Op. 10 No. 6 in G major, RV 437
I Solisti Veneti, Claudio Scimone
Flute Concerto RV 429: I. Allegro
I Solisti Veneti, Claudio Scimone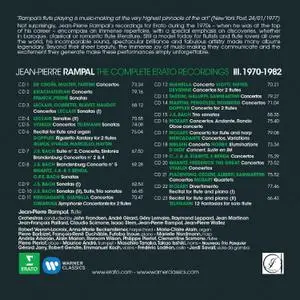 Disc: 1
1. Flute Concerto No. 2 in B Minor: I. Andante (Jean-Pierre Rampal)
2. Flute Concerto No. 2 in B Minor: II. Ceciliana Largo (Jean-Pierre Rampal)
3. Flute Concerto No. 2 in B Minor: III. Allegro assai (Jean-Pierre Rampal)
4. Flute Concerto No. 4 in A Minor: I. Allegro (Jean-Pierre Rampal)
5. Flute Concerto No. 4 in A Minor: II. Ceciliana Largo (Jean-Pierre Rampal)
6. Flute Concerto No. 4 in A Minor: III. Menuetto alternativo (Jean-Pierre Rampal)
7. Flute Concerto No. 5 in C Major: I. Allegro (Jean-Pierre Rampal)
8. Fute Concerto No. 5 in C Major: II. Adagio (Jean-Pierre Rampal)
9. Flute Concerto No. 5 in C Major: III. Allegro (Jean-Pierre Rampal)
10. Flute Concerto in G Major, MS 315: I. Allegro (Jean-Pierre Rampal)
11. Flute Concerto in G Major, MS 315: II. Affettuoso (Jean-Pierre Rampal)
12. Flute Concerto in G Major, MS 315: III. Allegro (Jean-Pierre Rampal)
13. Flute Concerto in B-Flat Major, MS 307: I. Allegro (Jean-Pierre Rampal)
14. Flute Concerto in B-Flat Major, MS 307: II. Adagio (Jean-Pierre Rampal)
15. Flute Concerto in B-Flat Major, MS 307: III. Allegro (Jean-Pierre Rampal)
16. Flute Concerto No. 3 in G Major, D. 105: I. Allegro non tanto (Jean-Pierre Rampal)
17. Flute Concerto No. 3 in G Major, D. 105: II. Andante (Jean-Pierre Rampal)
18. Flute Concerto No. 3 in G Major, D. 105: III. Allegro (Jean-Pierre Rampal)

Disc: 2
1. Flute Concerto in D Minor, Op. 46b: I. Allegro con fermezza (Jean-Pierre Rampal)
2. Flute Concerto in D Minor, Op. 46b: II. Andante sostenuto (Jean-Pierre Rampal)
3. Flute Concerto in D Minor, Op. 46b: III. Allegro vivace (Jean-Pierre Rampal)
4. Sonata for Flute and Piano in A Major, M. 8 (arr. Rampal): I. Allegretto ben moderato (Jean-Pierre Rampal)
5. Sonata for Flute and Piano in A Major, M. 8 (arr. Rampal): II. Allegro (Jean-Pierre Rampal)
6. Sonata for Flute and Piano in A Major, M. 8 (arr. Rampal): III. Recitativo - Fantasia: Ben moderato (Jean-Pierre Rampal)
7. Sonata for Flute and Piano in A Major, M. 8 (arr. Rampal): IV. Allegretto poco mosso (Jean-Pierre Rampal)
8. Sonata for Flute and Piano, Op. 36: I. Allegretto (Jean-Pierre Rampal)
9. Sonata for Flute and Piano, Op. 36: II. Allegretto tranquillo (Jean-Pierre Rampal)
10. Sonata for Flute and Piano, Op. 36: III. Andante non troppo (Jean-Pierre Rampal)

Disc: 3
1. Flute Concerto in C Major, Op. 7 No. 3: I. Allegro (Jean-Pierre Rampal)
2. Flute Concerto in C Major, Op. 7 No. 3: II. Adagio (Jean-Pierre Rampal)
3. Flute Concerto in C Major, Op. 7 No. 3: III. Allegro assai (Jean-Pierre Rampal)
4. Flute Concerto in E Minor, Op. 4 No. 6: I. Allegro (Jean-Pierre Rampal)
5. Flute Concerto in E Minor, Op. 4 No. 6: II. Largo (Jean-Pierre Rampal)
6. Flute Concerto in E Minor, Op. 4 No. 6: III. Allegro (Jean-Pierre Rampal)
7. Flute Concerto in A Minor: I. Allegro (Jean-Pierre Rampal)
8. Flute Concerto in A Minor: II. Gavotte I et II (Jean-Pierre Rampal)
9. Flute Concerto in A Minor: III. Allegro (Jean-Pierre Rampal)
10. Flute Concerto in C Major, Op. 17 No. 3: I. Gaiement (Jean-Pierre Rampal)
11. Flute Concerto in C Major, Op. 17 No. 3: II. Lentement (Jean-Pierre Rampal)
12. Flute Concerto in C Major, Op. 17 No. 3: III. Légèrement (Jean-Pierre Rampal)
13. Flute Sonata No. 1 in C Major, Book 1 No. 2 (arr. Veyron-Lacroix): I. Adagio (Jean-Pierre Rampal)
14. Flute Sonata No. 1 in C Major, Book 1 No. 2 (arr. Veyron-Lacroix): II. Corrente (allegro) (Jean-Pierre Rampal)
15. Flute Sonata No. 1 in C Major, Book 1 No. 2 (arr. Veyron-Lacroix): III. Gavotta (gratioso) (Jean-Pierre Rampal)
16. Flute Sonata No. 1 in C Major, Book 1 No. 2 (arr. Veyron-Lacroix): IV. Giga (allegro) (Jean-Pierre Rampal)
17. Flute Sonata No. 2 in E Minor, Book 1 No. 6 (arr. Veyron-Lacroix): I. Adagio (Jean-Pierre Rampal)
18. Flute Sonata No. 2 in E Minor, Book 1 No. 6 (arr. Veyron-Lacroix): II. Vivace (Jean-Pierre Rampal)
19. Flute Sonata No. 2 in E Minor, Book 1 No. 6 (arr. Veyron-Lacroix): III. Aria (affettuoso) (Jean-Pierre Rampal)
20. Flute Sonata No. 2 in E Minor, Book 1 No. 6 (arr. Veyron-Lacroix): IV. Allegro (Jean-Pierre Rampal)

Disc: 4
1. Flute Sonata No. 5 in G Major, Book 2 No. 5 (arr. Veyron-Lacroix): I. Andante (Jean-Pierre Rampal)
2. Flute Sonata No. 5 in G Major, Book 2 No. 5 (arr. Veyron-Lacroix): II. Allegro ma poco (Jean-Pierre Rampal)
3. Flute Sonata No. 5 in G Major, Book 2 No. 5 (arr. Veyron-Lacroix): III. Gavotta (gratioso) (Jean-Pierre Rampal)
4. Flute Sonata No. 5 in G Major, Book 2 No. 5 (arr. Veyron-Lacroix): IV. Allegro assai (Jean-Pierre Rampal)
5. Flute Sonata No. 4 in C Major, Book 2 No. 3 (arr. Veyron-Lacroix): I. Adagio (Jean-Pierre Rampal)
6. Flute Sonata No. 4 in C Major, Book 2 No. 3 (arr. Veyron-Lacroix): II. Allegro (Jean-Pierre Rampal)
7. Flute Sonata No. 4 in C Major, Book 2 No. 3 (arr. Veyron-Lacroix): III. Largo (Jean-Pierre Rampal)
8. Flute Sonata No. 4 in C Major, Book 2 No. 3 (arr. Veyron-Lacroix): IV. Giga (allegro ma poco) (Jean-Pierre Rampal)
9. Flute Sonata No. 3 in E Minor, Book 2 No. 1 (arr. Veyron-Lacroix): I. Adagio (Jean-Pierre Rampal)
10. Flute Sonata No. 3 in E Minor, Book 2 No. 1 (arr. Veyron-Lacroix): II. Allegro ma poco (Jean-Pierre Rampal)
11. Flute Sonata No. 3 in E Minor, Book 2 No. 1 (arr. Veyron-Lacroix): III. Sarabanda (largo) (Jean-Pierre Rampal)
12. Flute Sonata No. 3 in E Minor, Book 2 No. 1 (arr. Veyron-Lacroix): IV. Allegro (Jean-Pierre Rampal)
13. Flute Sonata No. 8 in G Major, Book 4 No. 7 (arr. Veyron-Lacroix): I. Andante (dolce) (Jean-Pierre Rampal)
14. Flute Sonata No. 8 in G Major, Book 4 No. 7 (arr. Veyron-Lacroix): II. Allegro ma non troppo (Jean-Pierre Rampal)
15. Flute Sonata No. 8 in G Major, Book 4 No. 7 (arr. Veyron-Lacroix): III. Aria (affettuoso) (Jean-Pierre Rampal)
16. Flute Sonata No. 8 in G Major, Book 4 No. 7 (arr. Veyron-Lacroix): IV. Giga (allegro moderato) (Jean-Pierre Rampal)
17. Flute Sonata No. 6 in B Minor, Book 2 No. 11 (arr. Veyron-Lacroix): I. Adagio (Jean-Pierre Rampal)
18. Flute Sonata No. 6 in B Minor, Book 2 No. 11 (arr. Veyron-Lacroix): II. Allegro (Jean-Pierre Rampal)
19. Flute Sonata No. 6 in B Minor, Book 2 No. 11 (arr. Veyron-Lacroix): III. Aria gratioso (allegro ma n (Jean-Pierre Rampal)
20. Flute Sonata No. 7 in E Minor, Book 4 No. 2 (arr. Veyron-Lacroix): I. Andante (dolce) (Jean-Pierre Rampal)
21. Flute Sonata No. 7 in E Minor, Book 4 No. 2 (arr. Veyron-Lacroix): II. Allemanda (allegro ma non tro (Jean-Pierre Rampal)
22. Flute Sonata No. 7 in E Minor, Book 4 No. 2 (arr. Veyron-Lacroix): III. Sarabanda (adagio) (Jean-Pierre Rampal)
23. Flute Sonata No. 7 in E Minor, Book 4 No. 2 (arr. Veyron-Lacroix): IV. Minuetto (allegro ma non trop (Jean-Pierre Rampal)

Disc: 5
1. Flute Concerto in D Major, RV 426: I. Allegro (Jean-Pierre Rampal)
2. Flute Concerto in D Major, RV 426: II. Siciliano (Jean-Pierre Rampal)
3. Flute Concerto in D Major, RV 426: III. Allegro (Jean-Pierre Rampal)
4. Vivaldi: Flute Concerto in G Major, RV 102: I. Allegro (Jean-Pierre Rampal)
5. Flute Concerto in G Major, RV 102: II. Adagio (Jean-Pierre Rampal)
6. Flute Concerto in G Major, RV 102: III. Vivace (Jean-Pierre Rampal)
7. Flute Concerto in G Major, RV 102: IV. Ariette (Jean-Pierre Rampal)
8. Flute Concerto in G Major, RV 102: V. Minuetto (Jean-Pierre Rampal)
9. Flute Concerto in D Major, RV 89: I. Allegro (Jean-Pierre Rampal)
10. Flute Concerto in D Major, RV 89: II. Cantabile (Jean-Pierre Rampal)
11. Flute Concerto in D Major, RV 89: III. Allegro (Jean-Pierre Rampal)
12. Flute Sonata in F Minor, TWV 41: fis 1 (arr. Veyron-Lacroix): I. Triste (Jean-Pierre Rampal)
13. Flute Sonata in F Minor, TWV 41: fis 1 (arr. Veyron-Lacroix): II. Allegro (Jean-Pierre Rampal)
14. Flute Sonata in F Minor, TWV 41: fis 1 (arr. Veyron-Lacroix): III. Andante (Jean-Pierre Rampal)
15. Flute Sonata in F Minor, TWV 41: fis 1 (arr. Veyron-Lacroix): IV. Vivace (Jean-Pierre Rampal)
16. Flute Sonata in A Major, TWV 41: A 3 (arr. Veyron-Lacroix): I. Adagio (Jean-Pierre Rampal)
17. Flute Sonata in A Major, TWV 41: A 3 (arr. Veyron-Lacroix): II. Vivace (Jean-Pierre Rampal)
18. Flute Sonata in A Major, TWV 41: A 3 (arr. Veyron-Lacroix): III. Cortesemente (Jean-Pierre Rampal)
19. Flute Sonata in A Major, TWV 41: A 3 (arr. Veyron-Lacroix): IV. Vivace (Jean-Pierre Rampal)
20. Flute Sonata in G Minor, TWV 41: g 3 (arr. Veyron-Lacroix): I. Adagio (Jean-Pierre Rampal)
21. Flute Sonata in G Minor, TWV 41: g 3 (arr. Veyron-Lacroix): II. Vivace (Jean-Pierre Rampal)
22. Flute Sonata in G Minor, TWV 41: g 3 (arr. Veyron-Lacroix): III. Grave (Jean-Pierre Rampal)
23. Flute Sonata in G Minor, TWV 41: g 3 (arr. Veyron-Lacroix): IV. Allegro (Jean-Pierre Rampal)
24. Flute Sonata in D Minor, TWV 41: d 3 (arr. Veyron-Lacroix): I. Andante (Jean-Pierre Rampal)
25. Flute Sonata in D Minor, TWV 41: d 3 (arr. Veyron-Lacroix): II. Allegro assai (Jean-Pierre Rampal)
26. Flute Sonata in D Minor, TWV 41: d 3 (arr. Veyron-Lacroix): III. Largo (Jean-Pierre Rampal)
27. Flute Sonata in D Minor, TWV 41: d 3 (arr. Veyron-Lacroix): IV. Allegro (Jean-Pierre Rampal)

Disc: 6
1. Flute Sonata in B Minor, Op. 3 No. 2: I. Andante e spiccato (Jean-Pierre Rampal)
2. Flute Sonata in B Minor, Op. 3 No. 2: II. Allegro (Jean-Pierre Rampal)
3. Flute Sonata in B Minor, Op. 3 No. 2: III. Minoetto (con variatione) (Jean-Pierre Rampal)
4. Flute Sonata in G Major, Op. 1 No. 12: I. Largo (Jean-Pierre Rampal)
5. Flute Sonata in G Major, Op. 1 No. 12: II. Allegro (Jean-Pierre Rampal)
6. Flute Sonata in G Major, Op. 1 No. 12: III. Adagio (Jean-Pierre Rampal)
7. Flute Sonata in G Major, Op. 1 No. 12: IV. Allegro (Jean-Pierre Rampal)
8. Krebs: Fantasia a traversiere in D Major (Jean-Pierre Rampal)
9. Flute Sonata in F Major, Op. 6 No. 3, Z. 84: I. Amoroso (Jean-Pierre Rampal)
10. Flute Sonata in F Major, Op. 6 No. 3, Z. 84: II. Allegro assai (Jean-Pierre Rampal)
11. Flute Sonata in F Major, Op. 6 No. 3, Z. 84: III. Menuetto (Jean-Pierre Rampal)
12. 3 Movements for flute and organ (arr. Marie-Claire Alain): I. Andante (Jean-Pierre Rampal)
13. 3 Movements for flute and organ (arr. Marie-Claire Alain): II. Allegretto con grazia (Jean-Pierre Rampal)
14. 3 Movements for flute and organ (arr. Marie-Claire Alain): III. Allegro vivace (Jean-Pierre Rampal)
15. Sonata da chiesa for Flute and Organ: I. Andante - Lento (Jean-Pierre Rampal)
16. Sonata da chiesa for Flute and Organ: II. Allegretto alla francese - Musette - Allegretto (Jean-Pierre Rampal)
17. Sonata da chiesa for Flute and Organ: III. Adagio (Jean-Pierre Rampal)
18. Fantasy for 2 Flutes on Themes from Verdi's Rigoletto, Op. 38 (arr. Scimone) (Jean-Pierre Rampal)
19. Orphée et Eurydice: Dance of the blessed Spirits (Jean-Pierre Rampal)
20. Flute Concerto in D Major, RV 429: I. Allegro (Jean-Pierre Rampal)
21. Flute Concerto in C Minor (orig. for oboe): II. Adagio (Jean-Pierre Rampal)
22. Flute Concerto in C Major, Hob. VIIa: 1 (orig. for violin): II. Andante (Jean-Pierre Rampal)

Disc: 7
1. Flute Suite No. 2 in B Minor, BWV 1067: I. Ouverture (Jean-Pierre Rampal)
2. Flute Suite No. 2 in B Minor, BWV 1067: II. Rondeau (Jean-Pierre Rampal)
3. Flute Suite No. 2 in B Minor, BWV 1067: III. Sarabande (Jean-Pierre Rampal)
4. Flute Suite No. 2 in B Minor, BWV 1067: IV. Bourrées I et II (Jean-Pierre Rampal)
5. Flute Suite No. 2 in B Minor, BWV 1067: V. Polonaise & double (Jean-Pierre Rampal)
6. Flute Suite No. 2 in B Minor, BWV 1067: VI. Menuet (Jean-Pierre Rampal)
7. Flute Suite No. 2 in B Minor, BWV 1067: VII. Badinerie (Jean-Pierre Rampal)
8. Flute Concerto in E Minor, after BWV 1059 & 35 (arr. Winfried Radeke): I. Allegro (Jean-Pierre Rampal)
9. Flute Concerto in E Minor, after BWV 1059 & 35 (arr. Winfried Radeke): II. … (alla siciliana, adag (Jean-Pierre Rampal)
10. Flute Concerto in E Minor, after BWV 1059 & 35 (arr. Winfried Radeke): III. Presto (Jean-Pierre Rampal)
11. Flute Sinfonia in B Minor from Cantata BWV 209, "Non sa che sia dolore" (Jean-Pierre Rampal)
12. Brandenburg Concerto No. 2 in F Major, BWV 147: I. Allegro (Jean-Pierre Rampal)
13. Brandenburg Concerto No. 2 in F Major, BWV 147: II. Andante (Jean-Pierre Rampal)
14. Brandenburg Concerto No. 2 in F Major, BWV 147: III. Allegro assai (Jean-Pierre Rampal)
15. Brandenburg Concerto No. 4 in G Major, BWV 1049: I. Allegro (Jean-Pierre Rampal)
16. Brandenburg Concerto No. 4 in G Major, BWV 1049: II. Andante (Jean-Pierre Rampal)
17. Brandenburg Concerto No. 4 in G Major, BWV 1049: III. Presto (Jean-Pierre Rampal)

Disc: 8
1. Brandenburg Concerto No. 5 in D Major, BWV 1050: I. Allegro (Jean-Pierre Rampal)
2. Brandenburg Concerto No. 5 in D Major, BWV 1050: II. Affettuoso (Jean-Pierre Rampal)
3. Brandenburg Concerto No. 5 in D Major, BWV 1050: III. Allegro (Jean-Pierre Rampal)
4. Flute Sonata in D Major, QV 2: 14: I. Suave (Jean-Pierre Rampal)
5. Flute Sonata in D Major, QV 2: 14: II. Allegro (Jean-Pierre Rampal)
6. Flute Sonata in D Major, QV 2: 14: III. Presto (Jean-Pierre Rampal)
7. Flute Sonata No. 1 in G Major: I. Allegro moderato (Jean-Pierre Rampal)
8. Flute Sonata No. 1 in G Major: II. Andantino (Jean-Pierre Rampal)
9. Flute Sonata No. 1 in G Major: III. Allegro (Jean-Pierre Rampal)
10. Flute Sonata in C Major, Wq 87 (H. 515): I. Allegretto (Jean-Pierre Rampal)
11. Flute Sonata in C Major, Wq 87 (H. 515): II. Andantino (Jean-Pierre Rampal)
12. Flute Sonata in C Major, Wq 87 (H. 515): III. Allegro (Jean-Pierre Rampal)
13. Flute Sonata in G Major, Op. 3 No. 1: I. Allegro (Jean-Pierre Rampal)
14. Flute Sonata in G Major, Op. 3 No. 1: II. Cantabile (Jean-Pierre Rampal)
15. Flute Sonata in G Major, Op. 3 No. 1: III. Scherzando (Jean-Pierre Rampal)

Disc: 9
1. Flute Sonata in B Minor, BWV 1030: I. Andante (Jean-Pierre Rampal)
2. Flute Sonata in B Minor, BWV 1030: II. Largo e dolce (Jean-Pierre Rampal)
3. Flute Sonata in B Minor, BWV 1030: III. Presto - Allegro (Jean-Pierre Rampal)
4. Flute Sonata in E-Flat Major, BWV 1031: I. Allegro moderato (Jean-Pierre Rampal)
5. Flute Sonata in E-Flat Major, BWV 1031: II. Siciliano (Jean-Pierre Rampal)
6. Flute Sonata in E-Flat Major, BWV 1031: III. Allegro (Jean-Pierre Rampal)
7. Flute Sonata in A Major, BWV 1032 (arr. Veyron-Lacroix): I. Vivace (Jean-Pierre Rampal)
8. Flute Sonata in A Major, BWV 1032: II. Largo e dolce (Jean-Pierre Rampal)
9. Flute Sonata in A Major, BWV 1032: III. Allegro (Jean-Pierre Rampal)
10. Flute Sonata in G Minor, BWV 1020: I. [Allegro] (Jean-Pierre Rampal)
11. Flute Sonata in G Minor, BWV 1020: II. Adagio (Jean-Pierre Rampal)
12. Flute Sonata in G Minor, BWV 1020: III. Allegro (Jean-Pierre Rampal)
13. Flute Sonata in E Minor, BWV 1034: I. Adagio ma non tanto (Jean-Pierre Rampal)
14. Flute Sonata in E Minor, BWV 1034: II. Allegro (Jean-Pierre Rampal)
15. Flute Sonata in E Minor, BWV 1034: III. Andante (Jean-Pierre Rampal)
16. Flute Sonata in E Minor, BWV 1034: IV. Allegro (Jean-Pierre Rampal)

Disc: 10
1. Flute Sonata in C Major, BWV 1033: I. Andante - Presto (Jean-Pierre Rampal)
2. Flute Sonata in C Major, BWV 1033: II. Allegro (Jean-Pierre Rampal)
3. Flute Sonata in C Major, BWV 1033: III. Adagio (Jean-Pierre Rampal)
4. Flute Sonata in C Major, BWV 1033: IV. Menuetto (I & II) (Jean-Pierre Rampal)
5. Flute Sonata in E Major, BWV 1035: I. Adagio ma non tanto (Jean-Pierre Rampal)
6. Flute Sonata in E Major, BWV 1035: II. Allegro (Jean-Pierre Rampal)
7. Flute Sonata in E Major, BWV 1035: III. Sicilienne (Jean-Pierre Rampal)
8. Flute Sonata in E Major, BWV 1035: IV. Allegro assai (Jean-Pierre Rampal)
9. Flute Sonata (Partita) in A Minor, BWV 1013: I. Allemande (Jean-Pierre Rampal)
10. Flute Sonata (Partita) in A Minor, BWV 1013: II. Courante (Jean-Pierre Rampal)
11. Flute Sonata (Partita) in A Minor, BWV 1013: III. Sarabande (Jean-Pierre Rampal)
12. Flute Sonata (Partita) in A Minor, BWV 1013: IV. Bourrée anglaise (Jean-Pierre Rampal)
13. Flute Suite in C Minor, BWV 997: I. Prélude (Jean-Pierre Rampal)
14. Flute Suite in C Minor, BWV 997: II. Fugue (Jean-Pierre Rampal)
15. Flute Suite in C Minor, BWV 997: III. Sarabande (Jean-Pierre Rampal)
16. Flute Suite in C Minor, BWV 997: IV. Gigue et double (Jean-Pierre Rampal)
17. Trio Sonata in G Major, BWV 1039: I. Adagio (Jean-Pierre Rampal)
18. Trio Sonata in G Major, BWV 1039: II. Allegro ma non presto (Jean-Pierre Rampal)
19. Trio Sonata in G Major, BWV 1039: III. Adagio e piano (Jean-Pierre Rampal)
20. Trio Sonata in G Major, BWV 1039: IV. Allegro (Jean-Pierre Rampal)
21. Trio Sonata in G Major, BWV 1038: I. Largo (Jean-Pierre Rampal)
22. Trio Sonata in G Major, BWV 1038: II. Vivace (Jean-Pierre Rampal)
23. Trio Sonata in G Major, BWV 1038: III. Adagio (Jean-Pierre Rampal)
24. Trio Sonata in G Major, BWV 1038: IV. Presto (Jean-Pierre Rampal)

Disc: 11
1. Flute Concerto No. 2 in E Minor, Op. 57: I. Allegro maestoso (Jean-Pierre Rampal)
2. Flute Concerto No. 2 in E Minor, Op. 57: II. Largo (Jean-Pierre Rampal)
3. Flute Concerto No. 2 in E Minor, Op. 57: III. Rondo russo (Jean-Pierre Rampal)
4. Symphonie Concertante in G Major for 2 Flutes and Orchestra: I. Allegro (Jean-Pierre Rampal)
5. Symphonie Concertante in G Major for 2 Flutes and Orchestra: II. Largo (Jean-Pierre Rampal)
6. Symphonie Concertante in G Major for 2 Flutes and Orchestra: III. Rondo (Jean-Pierre Rampal)
7. Flute Concerto in C Minor, 'Lugubre': I. Adagio (Jean-Pierre Rampal)
8. Flute Concerto in C Minor, 'Lugubre': II. Allegro - Adagio - Allegro - Adagio (Jean-Pierre Rampal)
9. Flute Concerto No. 3 in C Major, 'Militaire': I. Adagio - Allegro (Jean-Pierre Rampal)
10. Flute Concerto No. 3 in C Major, 'Militaire': II. Adagio (Jean-Pierre Rampal)
11. Flute Concerto No. 3 in C Major, 'Militaire': III. Polonaise (Jean-Pierre Rampal)

Disc: 12
1. Flute Concerto No. 1 in D Minor: I. Allegro (Jean-Pierre Rampal)
2. Flute Concerto No. 1 in D Minor: II. Adagio (Jean-Pierre Rampal)
3. Flute Concerto No. 1 in D Minor: III. Allegro (Jean-Pierre Rampal)
4. Concerto in A Major for 2 Flutes and Orchestra (orig. Violin Concerto No. 3, G. 25 - Adaptation for (Jean-Pierre Rampal)
5. Concerto in A Major for 2 Flutes and Orchestra (orig. Violin Concerto No. 3, G. 25 - Adaptation for (Jean-Pierre Rampal)
6. Concerto in A Major for 2 Flutes and Orchestra (orig. Violin Concerto No. 3, G. 25 - Adaptation for (Jean-Pierre Rampal)
7. Concerto Concertant No. 3 in D Major for 2 Flutes and Orchestra: I. Allegro (Jean-Pierre Rampal)
8. Concerto Concertant No. 3 in D Major for 2 Flutes and Orchestra: II. Adagio (Jean-Pierre Rampal)
9. Concerto Concertant No. 3 in D Major for 2 Flutes and Orchestra: III. Rondo (Jean-Pierre Rampal)
10. Symphonie Concertante in G Major, Op. 76 for 2 Flutes and Orchestra: I. Allegro (Jean-Pierre Rampal)
11. Symphonie Concertante in G Major, Op. 76 for 2 Flutes and Orchestra: II. Adagio (Jean-Pierre Rampal)
12. Symphonie Concertante in G Major, Op. 76 for 2 Flutes and Orchestra: III. Allegretto con grazia (Jean-Pierre Rampal)

Disc: 13
1. Flute Concerto No. 1 in D Major, D. 50: I. Allegro (Jean-Pierre Rampal)
2. Flute Concerto No. 1 in D Major, D. 50: II. Grave (Jean-Pierre Rampal)
3. Flute Concerto No. 1 in D Major, D. 50: III. Allegro (Jean-Pierre Rampal)
4. Flute Concerto No. 3 in G Major, D. 105: I. Allegro (Jean-Pierre Rampal)
5. Flute Concer to No. 3 in G Major, D. 105: II. Adagio (Jean-Pierre Rampal)
6. Flute Concerto No. 3 in G Major, D. 105: III. Allegro (Jean-Pierre Rampal)
7. Flute Concerto No. 4 in G Major, D. 50: I. Allegro non tanto (Jean-Pierre Rampal)
8. Flute Concerto No. 4 in G Major, D. 50: II. Andante (Jean-Pierre Rampal)
9. Flute Concerto No. 4 in G Major, D. 50: III. Presto (Jean-Pierre Rampal)
10. Flute Concerto No. 2 in G Major, D. 78: I. Allegro (Jean-Pierre Rampal)
11. Flute Concerto No. 2 in G Major, D. 78: II. Largo andante (Jean-Pierre Rampal)
12. Flute Concerto No. 2 in G Major, D. 78: III. Allegro (Jean-Pierre Rampal)
13. Flute Concerto in D Major: I. Allegro (Jean-Pierre Rampal)
14. Flute Concerto in D Major: II. Adagio (Jean-Pierre Rampal)
15. Flute Concerto in D Major: III. Allegro assai (Jean-Pierre Rampal)
16. Flute Concerto in C Major (orig. Concerto No. 2 for Violin or Cello piccolo): I. Allegro (Jean-Pierre Rampal)
17. Flute Concerto in C Major (orig. Concerto No. 2 for Violin or Cello piccolo): II. Andante (Jean-Pierre Rampal)
18. Flute Concerto in C Major (orig. Concerto No. 2 for Violin or Cello piccolo): III. Allegro (Jean-Pierre Rampal)

Disc: 14
1. Flute Concerto in G Major: I. Vivace (Jean-Pierre Rampal)
2. Flute Concerto in G Major: II. Andante vivace (Jean-Pierre Rampal)
3. Flute Concerto in G Major: III. Allegro (Jean-Pierre Rampal)
4. Flute Concerto in G Major: IV. Tempo di minuetto (Jean-Pierre Rampal)
5. Flute Concerto in G Major: I. Spiritoso (Jean-Pierre Rampal)
6. Flute Concerto in G Major: II. Adagio (Jean-Pierre Rampal)
7. Flute Concerto in G Major: III. Allegro spiritoso (Jean-Pierre Rampal)
8. Concerto in D Minor for 2 Flutes and Orchestra (arr. Adorjan): I. Allegro maestoso (Jean-Pierre Rampal)
9. Concerto in D Minor for 2 Flutes and Orchestra (arr. Adorjan): II. Andante (Jean-Pierre Rampal)
10. Concerto in D Minor for 2 Flutes and Orchestra (arr. Adorjan): III. Allegro (Jean-Pierre Rampal)
11. Flute Concerto in B Minor, Op. 30 (17): I. Allegro maestoso (Jean-Pierre Rampal)
12. Flute Concerto in B Minor, Op. 30 (17): II. Andante grazioso (Jean-Pierre Rampal)
13. Flute Concerto in B Minor, Op. 30 (17): III. Rondo allegretto (Jean-Pierre Rampal)

Disc: 15
1. Trio Sonata No. 1 in F Major for Flute and Harpsichord, BWV 525 (orig. for Organ): I. Presto (Jean-Pierre Rampal)
2. Trio Sonata No. 1 in F Major for Flute and Harpsichord, BWV 525 (orig. for Organ): II. Adagio (Jean-Pierre Rampal)
3. Trio Sonata No. 1 in F Major for Flute and Harpsichord, BWV 525 (orig. for Organ): III. Allegro (Jean-Pierre Rampal)
4. Trio Sonata No. 2 in D Minor for Flute and Harpsichord, BWV 526 (orig. for Organ): I. Vivace (Jean-Pierre Rampal)
5. Trio Sonata No. 2 in D Minor for Flute and Harpsichord, BWV 526 (orig. for Organ): II. Largo (Jean-Pierre Rampal)
6. Trio Sonata No. 2 in D Minor for Flute and Harpsichord, BWV 526 (orig. for Organ): III. Allegro (Jean-Pierre Rampal)
7. Trio Sonata No. 3 in E Minor for Flute and Harpsichord, BWV 527 (orig. for Organ): I. Andante (Jean-Pierre Rampal)
8. Trio Sonata No. 3 in E Minor for Flute and Harpsichord, BWV 527 (orig. for Organ): II. Adagio (Jean-Pierre Rampal)
9. Trio Sonata No. 3 in E Minor for Flute and Harpsichord, BWV 527 (orig. for Organ): III. Vivace (Jean-Pierre Rampal)
10. Trio Sonata No. 4 in G Minor for Flute and Harpsichord, BWV 528 (orig. for Organ): I. Adagio - Vivac (Jean-Pierre Rampal)
11. Trio Sonata No. 4 in G Minor for Flute and Harpsichord, BWV 528 (orig. for Organ): II. Andante (Jean-Pierre Rampal)
12. Trio Sonata No. 4 in G Minor for Flute and Harpsichord, BWV 528 (orig. for Organ): III. Un poco alle (Jean-Pierre Rampal)
13. Trio Sonata No. 5 in D Major for Flute and Harpsichord, BWV 529 (orig. for Organ): I. Allegro (Jean-Pierre Rampal)
14. Trio Sonata No. 5 in D Major for Flute and Harpsichord, BWV 529 (orig. for Organ): II. Largo (Jean-Pierre Rampal)
15. Trio Sonata No. 5 in D Major for Flute and Harpsichord, BWV 529 (orig. for Organ): III. Allegro (Jean-Pierre Rampal)
16. Trio Sonata No. 6 in A Major for Flute and Harpsichord, BWV 530 (orig. for Organ): I. Allegro (Jean-Pierre Rampal)
17. Trio Sonata No. 6 in A Major for Flute and Harpsichord, BWV 530 (orig. for Organ): II. Lento (Jean-Pierre Rampal)
18. Trio Sonata No. 6 in A Major for Flute and Harpsichord, BWV 530 (orig. for Organ): III. Allegro (Jean-Pierre Rampal)

Disc: 16
1. Flute Concerto No. 1 in G Major, K. 313 (cadenzas by Rampal): I. Allegro maestoso (Jean-Pierre Rampal)
2. Flute Concerto No. 1 in G Major, K. 313 (cadenzas by Rampal): II. Adagio ma non troppo (Jean-Pierre Rampal)
3. Flute Concerto No. 1 in G Major, K. 313 (cadenzas by Rampal): III. Rondo (Tempo di Menuetto) (Jean-Pierre Rampal)
4. Flute Concerto No. 2 in D Major, K. 314 (cadenzas by Rampal): I. Allegro aperto (Jean-Pierre Rampal)
5. Flute Concerto No. 2 in D Major, K. 314 (cadenzas by Rampal): II. Andante ma non troppo (Jean-Pierre Rampal)
6. Flute Concerto No. 2 in D Major, K. 314 (cadenzas by Rampal): III. Allegro (Jean-Pierre Rampal)
7. Andante in C Major, K. 315 (cadenzas by Rampal) (Jean-Pierre Rampal)
8. Oboe Concerto in C Major, K. 314: I. Allegro aperto (Jean-Pierre Rampal)
9. Oboe Concerto in C Major, K. 314: II. Andante ma non troppo (Jean-Pierre Rampal)
10. Oboe Concerto in C Major, K. 314: III. Rondo - Allegro (Jean-Pierre Rampal)
11. Rondo in D Major, K. Anh. 184 (orig. for Violin, K. 313) (Jean-Pierre Rampal)

Disc: 17
1. Concerto in C Major, K. 299 for Flute, Harp and Orchestra (Cadenza by Reinecke): I. Allegro (Jean-Pierre Rampal)
2. Concerto in C Major, K. 299 for Flute, Harp and Orchestra (Cadenzas by Thomas): II. Andantino (Jean-Pierre Rampal)
3. Concerto in C Major, K. 299 for Flute, Harp and Orchestra (Cadenzas by Reinecke): III. Rondo Allegro (Jean-Pierre Rampal)
4. Flute Concerto in D Major: I. Allegro (Jean-Pierre Rampal)
5. Flute Concerto in D Major: II. Andante alla siciliana (Jean-Pierre Rampal)
6. Flute Concerto in D Major: III. Polacca - Allegro brillante (Jean-Pierre Rampal)
7. Variations in A Major for Flute and Strings (Jean-Pierre Rampal)
8. Flute Concerto in E Major: I. Allegro maestoso (Jean-Pierre Rampal)
9. Flute Concerto in E Major: II. Largo (Jean-Pierre Rampal)
10. Flute Concerto in E Major: III. Polacca brillante (Jean-Pierre Rampal)

Disc: 18
1. Flute Concerto: I. Allegro moderato (Jean-Pierre Rampal)
2. Flute Concerto: II. Allegretto (Jean-Pierre Rampal)
3. Capriccio for Flute and Orchestra, 'Illumination' (Jean-Pierre Rampal)
4. Concerto for Flute, Cello, Piano and Strings, Op. 89: I. Modéré (Jean-Pierre Rampal)
5. Concerto for Flute, Cello, Piano and Strings, Op. 89: II. Lent et soutenu (Jean-Pierre Rampal)
6. Concerto for Flute, Cello, Piano and Strings, Op. 89: III. Assez animé (mouvement de ronde française (Jean-Pierre Rampal)
7. Suite in D for 2 Flutes, Trumpet and Strings, Op. 24, 'Dans le style ancien': I. Prélude (Lent) (Jean-Pierre Rampal)
8. Suite in D for 2 Flutes, Trumpet and Strings, Op. 24, 'Dans le style ancien': II. Entrée (Gai et Mod (Jean-Pierre Rampal)
9. Suite in D for 2 Flutes, Trumpet and Strings, Op. 24, 'Dans le style ancien': III. Sarabande (Lent) (Jean-Pierre Rampal)
10. Suite in D for 2 Flutes, Trumpet and Strings, Op. 24, 'Dans le style ancien': IV. Menuet (Animé) - T (Jean-Pierre Rampal)
11. Suite in D for 2 Flutes, Trumpet and Strings, Op. 24, 'Dans le style ancien': V. Ronde française (As (Jean-Pierre Rampal)

Disc: 19
1. Flute Concerto in G Major, Op. 29: I. Allegro (Jean-Pierre Rampal)
2. Flute Concerto in G Major, Op. 29: II. Andante non troppo moderato (Jean-Pierre Rampal)
3. Flute Concerto in G Major, Op. 29: III. Rondo allegro (Jean-Pierre Rampal)
4. Flute Concerto in C Major: I. Allegro assai (Jean-Pierre Rampal)
5. Flute Concerto in C Major: II. Andante poco adagio (Jean-Pierre Rampal)
6. Flute Concerto in C Major: III. Prestissimo (Jean-Pierre Rampal)
7. Flute Concerto in D Major: I. Allegro (Jean-Pierre Rampal)
8. Flute Concerto in D Major: II. Romance (Jean-Pierre Rampal)
9. Flute Concerto in D Major: III. Rondeau (Jean-Pierre Rampal)
10. Flute Concerto in E Minor (Cadenzas by Munclinger): I. Allegro con brio (Jean-Pierre Rampal)
11. Flute Concerto in E Minor (Cadenzas by Munclinger): II. Adagio un poco andante (Jean-Pierre Rampal)
12. Flute Concerto in E Minor: III. Presto (Jean-Pierre Rampal)

Disc: 20
1. Flute Concerto No. 108 in C Minor, QV 5: 32: I. Allegretto e con spirito (Jean-Pierre Rampal)
2. Flute Concerto No. 108 in C Minor, QV 5: 32: II. Arioso ma mesto (Jean-Pierre Rampal)
3. Flute Concerto No. 108 in C Minor, QV 5: 32: III. Allegro (Jean-Pierre Rampal)
4. Flute Concerto No. 4 in D Major: II. Adagio (Jean-Pierre Rampal)
5. Flute Concerto in F Major, Op. 10 No. 1, RV 433 'La tempest di mare': I. Allegro (Jean-Pierre Rampal)
6. Flute Concerto in F Major, Op. 10 No. 1, RV 433 'La tempest di mare': II. Largo (Jean-Pierre Rampal)
7. Flute Concerto in F Major, Op. 10 No. 1, RV 433 'La tempest di mare': III. Presto (Jean-Pierre Rampal)
8. Flute Concerto in G Minor, Op. 10 No. 2, RV 439, 'La notte': I. Largo - Presto (Fantasmi) (Jean-Pierre Rampal)
9. Flute Concerto in G Minor, Op. 10 No. 2, RV 439, 'La notte': II. Largo - Presto (Jean-Pierre Rampal)
10. Flute Concerto in G Minor, Op. 10 No. 2, RV 439, 'La notte': III. Largo (Il sonno) - Allegro (Jean-Pierre Rampal)
11. Flute Concerto in D Major, Op. 10 No. 3, RV 428, 'Il gardellino': I. Allegro (Jean-Pierre Rampal)
12. Flute Concerto in D Major, Op. 10 No. 3, RV 428, 'Il gardellino': II. Cantabile (Jean-Pierre Rampal)
13. Flute Concerto in D Major, Op. 10 No. 3, RV 428, 'Il gardellino': III. Allegro (Jean-Pierre Rampal)
14. Flute Concerto in G Major, Op. 10 No. 4, RV 435: I. Allegro (Jean-Pierre Rampal)
15. Flute Concerto in G Major, Op. 10 No. 4, RV 435: II. Largo (Jean-Pierre Rampal)
16. Flute Concerto in G Major, Op. 10 No. 4, RV 435: III. Allegro (Jean-Pierre Rampal)
17. Flute Concerto in F Major, Op. 10 No. 5, RV 434: I. Allegro non molto (Jean-Pierre Rampal)
18. Flute Concerto in F Major, Op. 10 No. 5, RV 434: II. Largo e cantabile (Jean-Pierre Rampal)
19. Flute Concerto in F Major, Op. 10 No. 5, RV 434: III. Allegro (Jean-Pierre Rampal)
20. Flute Concerto in G Major, Op. 10 No. 6, RV 437: I. Allegro (Jean-Pierre Rampal)
21. Flute Concerto in G Major, Op. 10 No. 6, RV 437: II. Largo (Jean-Pierre Rampal)
22. Flute Concerto i G Major, Op. 10 No. 6, RV 437: III. Allegro (Jean-Pierre Rampal)

Disc: 21
1. Flute Concerto in G Major: I. Allegro ma non troppo (Jean-Pierre Rampal)
2. Flute Concerto in G Major: II. Andante e non allegretto (Jean-Pierre Rampal)
3. Flute Concerto in G Major: III. Allegro (Jean-Pierre Rampal)
4. Flute Concerto in A Major: I. Tempo giusto (Jean-Pierre Rampal)
5. Flute Concerto in A Major: II. Largo (Jean-Pierre Rampal)
6. Flute Concerto in A Major: III. Allegro (Jean-Pierre Rampal)
7. Flute Concerto in F Major: I. Allegro (Jean-Pierre Rampal)
8. Flute Concerto in F Major: II. Adagio (Jean-Pierre Rampal)
9. Flute Concerto in F Major: I. Allegro spiritoso (Jean-Pierre Rampal)
10. Flute Concerto in G Major: I. Allegro (Jean-Pierre Rampal)
11. Flute Concerto in G Major: II. Grave (Jean-Pierre Rampal)
12. Flute Concerto in G Major: III. Allegro (Jean-Pierre Rampal)
13. Flute Quartet in D Major, K. 285: I. Allegro (Jean-Pierre Rampal)
14. Flute Quartet in D Major, K. 285: II. Adagio (Jean-Pierre Rampal)
15. Flute Quartet in D Major, K. 285: III. Rondo (Jean-Pierre Rampal)
16. Flute Quartet in A Major, K. 298: I. Andante (Jean-Pierre Rampal)
17. Flute Quartet in A Major, K. 298: II. Menuetto (Jean-Pierre Rampal)
18. Flute Quartet in A Major, K. 298: III. Rondo: Allegretto grazioso (Jean-Pierre Rampal)

Disc: 22
1. Divertimento No. 17 in D Major, K. 334: I. Allegro (Jean-Pierre Rampal)
2. Divertimento No. 17 in D Major, K. 334: II. Menuetto I (Jean-Pierre Rampal)
3. Divertimento No. 17 in D Major, K. 334: III. Adagio (Jean-Pierre Rampal)
4. Divertimento No. 17 in D Major, K. 334: IV. Menuetto II (Jean-Pierre Rampal)
5. Divertimento No. 17 in D Major, K. 334: V. Rondo: Allegretto (Jean-Pierre Rampal)
6. Fantaisie pastorale hongroise, Op. 26 (Jean-Pierre Rampal)
7. Alt-Wiener Tanzweisen: No. 1 Liebesfreud (Jean-Pierre Rampal)
8. Alt-Wiener Tanzweisen: No. 2 Liebesleid (Jean-Pierre Rampal)
9. Nocturne No. 5 in F-Sharp Major, Op. 15 No. 2 (Jean-Pierre Rampal)
10. Pièce en forme de habanera (orig. Vocalise-Etude, M. 51) (Jean-Pierre Rampal)
11. Orphée et Eurydice: Dance of the blessed Spirits (Jean-Pierre Rampal)
12. Variations on the Japanese popular theme Sakura (Jean-Pierre Rampal)
13. Carnaval de Venise, Op. 14 (Fantaisie variée) (Jean-Pierre Rampal)

Disc: 23
1. Waltz No. 6 in D-Flat Major, Op. 64, No. 1 (Jean-Pierre Rampal)
2. Debussy: Suite bergamasque, L. 45: No. 3 Clair de lune (Jean-Pierre Rampal)
3. Borne: Fantasie Brillante on Themes from Bizet's Carmen (Jean-Pierre Rampal)
4. Fantasy No. 1 in A Major, TWV 40:2: Vivace - Allegro (Jean-Pierre Rampal)
5. Fantasy No. 2 in A Minor, TWV 40: 3: Grave - Allegro (Jean-Pierre Rampal)
6. Fantasy No. 3 in B Minor, TWV 40: 4: Largo - Allegro (Jean-Pierre Rampal)
7. Fantasy No. 4 in B-Flat Major, TWV 40: 5: Andante - Presto (Jean-Pierre Rampal)
8. Fantasy No. 5 in C Major, TWV 40: 6: Presto - Allegro (Jean-Pierre Rampal)
9. Fantasy No. 6 in D Minor, TWV 40: 7: Dolce - Spirituoso (Jean-Pierre Rampal)
10. Fantasy No. 7 in D Major, TWV 40: 8: Alla francese - Presto (Jean-Pierre Rampal)
11. Fantasy No. 8 in E Minor, TWV 40: 9: Largo - Allegro (Jean-Pierre Rampal)
12. Fantasy No. 9 in E Major, TWV 40: 10: Affettuoso - Vivace (Jean-Pierre Rampal)
13. Fantasy No. 10 in F-Sharp Minor, TWV 40: 11: A tempo giusto - Moderato (Jean-Pierre Rampal)
14. Fantasy No. 11 in G Major, TWV 40: 12: Allegro - Allegro (Jean-Pierre Rampal)
15. Fantasy No. 12 in G Major, TWV 40: 13: Grave - Presto (Jean-Pierre Rampal)