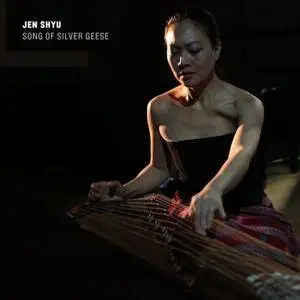 Jen Shyu - Song of Silver Geese (2017)
Jazz, World, Creative, Vocal | MP3 CBR 320 kbps | 00:49:05 | 112 MB
Label: Pi Recordings
The dramatic and sublime The Song of the Silver Geese is vocalist and multi-instrumentalist Jen Shyu's magnum opus. On it Shyu draws from her dual cultural ancestry as well as other east Asian heritages to craft memorable performance art replete with dynamic spontaneity, unique instrumentation and exquisite poetry. The nine-piece suite is divided into "doors" and each segment brims with a mystical ambience and a surreal air.
Shyu opens "Door 4: Sinom Semarangan" for example, with her resonant lute strings echoing in silence like shimmering moonlight on dark waters. Her contemplative singing is almost prayer-like especially as her voice soars and flitters over percussionist Satoshi Takeishi's dark thuds and drummer Dan Weiss' splashing cymbals. The rest of the ensemble forms a vibrant and fluid musical aura around Shyu. Violist Mat Maneri bows with expressive melancholy, bassist Thomas Morgan plays single note atmospheric refrains while reed player Anna Webber's flute mirrors Shyu's agile vocals.
Morgan's sparse reverberations set an expectant mood on the haunting "Door 2: World of Java." Eastern tones pepper Webber's angular lines while the Mivos quartet fades in an out of the backdrop adding a delightfully dark tension to the atmosphere. Webber solos with a lullaby like lyricism seamlessly linking this track to the next.
Shyu, brilliantly, has forged a singular language out of the several in which she sings including, Javanese and Mandarin among others. The mercurial transition from one tongue to the next also helps build a kaleidoscopic and emotive narrative that unifies the entire recording. For instance, on "Door 8: World of Baridegi" her passionate chanting, that rumbling percussion, vibraphonist Chris Dingman's chiming mallets and Mivos' riotous strings buoy, evokes ardent and incandescent spirituality. In contrast the closer "Door 9: Contemplation" is a serene recitation of Taiwanese poet Edward Cheng's verse in English accompanied by bursts of zither.
Shyu has not only crossed genres and cultures she has also fused various modes of artistic expression for a one of a kind creative statement. The Song of the Silver Geese is a bold and adventurous work that provokes, gratifies and sooths the soul. It is definitely one of the most exceptional releases of 2017.
TRACKLIST
01. Door 1: Prologue Song of Lavan Pitinu
02. Door 2: World of Java
03. Door 3: Dark Road, Silent Moon
04. Door 4: Sinom Semarangan
05. Door 5: World of Hengchun
06. Door 6: World of Wehali
07. Door 7: World of Ati Batik
08. Door 8: World of Baridegi
09. Door 9: Contemplation
Personnel:
Jen Shyu - vocals, dance, Taiwanese moon lute, gayageum (traditional Korean zither), piano, violin
Chris Dingman - vibraphone
Mat Maneri - viola
Thomas Morgan - bass
Satoshi Takeishi - percussion
Anna Webber - flutes
Dan Weiss - drums
Jennifer Choi - violin
Erica Dicker - violin
Victor Lowrie - viola
Mariel Roberts - cello.