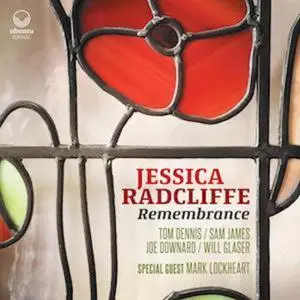 Jessica Radcliffe - Remembrance (2018)
Jazz | 00:54:33 | WEB FLAC (tracks) | 283 MB
Label: Ubuntu Management Group
"A unique and powerfully empathetic portrayal of the impact the First World War, Remembrance transcends boundaries and the definitions of genres and does what arts do best - expresses life's truths." Issie Barratt, award-winning composer & educatorAs 2018 draws to a close, vocalist and composer Jessica Radcliffe releases her debut album, Remembrance, marking the end of the First World War centenary. Based on her in-depth study of the devastating event through music, poetry, reports, letters and other historical documents, Radcliffe's original compositions and arrangements create a moving tribute.Radcliffe began composing the music for The Remembrance Project in her final year at Trinity Laban Conservatoire of Music and Dance. "When the WWI centenary rolled around in 2014, I realised that I knew little of nothing about the conflict, and, having enjoyed studying the poetry of the Great War for A Level English, challenged myself to compose some pieces for my composition module," explains Radcliffe. The pieces 'Remembrance', 'Dulce Et Decorum Est', 'There's A Long, Long Trail A-Winding'. 'Over The Top' and 'And When They Ask Us', made up Radcliffe's final performance, for which she received a First. The album was completed following an emotional visit to the Western Front. "I wanted to walk in their footsteps and see all of these places I'd been reading about for a year come to life. I wanted to present something entirely focused on the humanitarian struggles during the conflict."Remembrance draws on a range of influences and styles form all aspects of Radcliffe's musical journey as well as some of the most poignant literature from the conflict. 'Dulce Et Decorum Est', one of Radcliffe's favourite poems by Wilfred Owen for the strikingly onomatopoeic language is a directed group improvisation; for the title track Radcliffe re-harmonised The Last Poet and set a section of Robert Laurence Binyon's poem 'For The Fallen' and the music echoes the music of the classical composers of the time, Vaughan Williams.
Tracklist
:
01.
Jessica Radcliffe - Remembrance
02.
Jessica Radcliffe - Dulce Et Decorum Est
03.
Jessica Radcliffe - There's a Long, Long Trail
04.
Jessica Radcliffe - Mr. Anonymous
05.
Jessica Radcliffe - Little Boy Lost
06.
Jessica Radcliffe - Jack - Jack
07.
Jessica Radcliffe - By a Bierside
08.
Jessica Radcliffe - I Would Rather Be a Rebel
09.
Jessica Radcliffe - Over the Top
10.
Jessica Radcliffe - And When They Ask Us
ANALYZER: auCDtect: CD records authenticity detector, version 0.8.2
Copyright © 2004 Oleg Berngardt. All rights reserved.
Copyright © 2004 Alexander Djourik. All rights reserved.


FILE: 10. And When They Ask Us.flac
Size: 18452572 Hash: 66B62FEF0ECA04F36BAFC0CE02D24B8A Accuracy: -m8
Conclusion: CDDA 100%
Signature: 4F1B06C3CDFD19AD4D18958DBA8C3CA9788D06E9
FILE: 09. Over the Top.flac
Size: 32732959 Hash: A584404AA2C5F7FB2D0956FA43BA6DEF Accuracy: -m8
Conclusion: CDDA 100%
Signature: 4656A72043177E574B882297D80B1BECB00F5382
FILE: 08. I Would Rather Be a Rebel.flac
Size: 22329838 Hash: 31DAE449B9BF87E9A1677E5EF8335BA8 Accuracy: -m8
Conclusion: CDDA 94%
Signature: 43801A81ECA58E1A79AE6FF1378F2D912986B607
FILE: 07. By a Bierside.flac
Size: 36467420 Hash: 7982EEF98638C120ECD178DE8AADFE0B Accuracy: -m8
Conclusion: CDDA 100%
Signature: 5B0B5F2471DD296E32663330F2EAA6A670DEEC17
FILE: 06. Jack - Jack.flac
Size: 42942629 Hash: 6358D561AC0FE796AF994C92D45FF43A Accuracy: -m8
Conclusion: CDDA 100%
Signature: 9A3589BE613AE462094799860578536ED5871504
FILE: 05. Little Boy Lost.flac
Size: 20061279 Hash: A4851AB50750EA374396082D64D79E83 Accuracy: -m8
Conclusion: CDDA 100%
Signature: F3CD104841E435F1458B7FF0F567293CFF9CFC32
FILE: 04. Mr. Anonymous.flac
Size: 37214799 Hash: 4ABA2C0930AD0BF54D4310C95338B507 Accuracy: -m8
Conclusion: CDDA 100%
Signature: 1CF775D3352AAF47D223E32CEC810317B29DFDD9
FILE: 03. There's a Long, Long Trail.flac
Size: 14409449 Hash: FF7F30BE355BA32724AABA134D474615 Accuracy: -m8
Conclusion: CDDA 100%
Signature: 8856AEA51C5214EC2174DD7F00D92411B12481A0
FILE: 02. Dulce Et Decorum Est.flac
Size: 39649941 Hash: 4D4DB36CDB75227171B797300800EFD1 Accuracy: -m8
Conclusion: CDDA 99%
Signature: 1BD62C6A762F35E99AF3AA94A0290D5D2EBAC316
FILE: 01. Remembrance.flac
Size: 31909579 Hash: 32184B52104743E9F821F6FA7D4B5729 Accuracy: -m8
Conclusion: CDDA 100%
Signature: 5A9D01861FEC7594250B554F34005B3D2574CA75