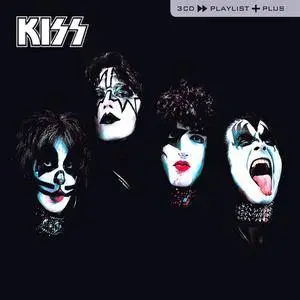 KISS - Playlist Plus (2008) [3CD Box Set]
EAC Rip | FLAC: Image+Cue+Log | 1 Gb | MP3 CBR 320 kbps | 352 Mb | Scans | 29 Mb
Mercury/Universal Music | 06025 174 91601
Hard Rock, Heavy Metal, Glam Metal
The 3-CD set for all KISS-fans, who want to have all great hits of the band in one box. Subdivided in the years of release, the box contains really all hits, like for example: "I was made for lovin' you", "Rock and roll all nite", "Detroit rock city", "Love gun", "Lick it up" and "God gave rock 'n' roll to you II".
Another compilation, this time essentially a repackaging of the three separate "Millenium Best of" volumes as part of Universal's "Playlist Plus" series. One difference is that "Domino" is the studio version, rather than Alive III as on the "Millenium Best of Volume III."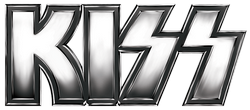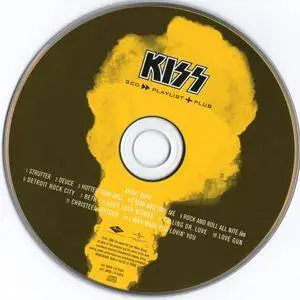 DISC ONE
Catalog: 06025 174 91618
Time: 40:46
01. Strutter (03:11)
02. Deuce (03:05)
03. Hotter Than Hell (03:30)
04. C'mon And Love Me (02:57)
05. Rock And Roll All Nite (Live) (03:25)
06. Detroit Rock City (03:38)
07. Beth (02:46)
08. Hard Luck Woman (03:33)
09. Calling Dr. Love (03:45)
10. Love Gun (03:17)
11. Christine Sixteen (03:13)
12. I Was Made For Lovin' You (04:28)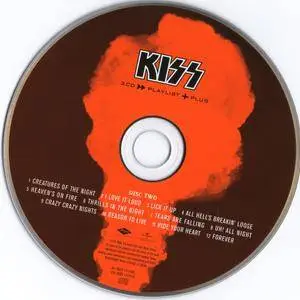 DISC TWO
Catalog: 06025 174 91625
Time: 48:51
01. Creatures Of The Night (04:05)
02. I Love It Loud (04:19)
03. Lick It Up (03:59)
04. All Hell's Breakin' Loose (04:36)
05. Heaven's On Fire (03:24)
06. Thrills In The Night (04:24)
07. Tears Are Falling (03:56)
08. Uh! All Night (04:04)
09. Crazy Crazy Nights (03:48)
10. Reason To Live (04:02)
11. Hide Your Heart (04:25)
12. Forever (03:50)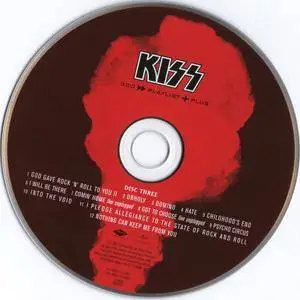 DISC THREE
Catalog: 06025 174 91632
Time: 49:13
01. God Gave Rock 'N' Roll To You II (05:21)
02. Unholy (03:43)
03. Domino (04:02)
04. Hate (04:38)
05. Childhood's End (04:22)
06. I Will Be There (03:51)
07. Comin' Home (Live Unplugged) (02:51)
08. Got To Choose (Live Unplugged) (03:34)
09. Psycho Circus (04:51)
10. Into The Void (04:23)
11. I Pledge Allegiance To The State Of Rock And Roll (03:34)
12. Nothing Can Keep Me From You (Detroit Rock City Motion Picture Soundtrack) (04:04)
Compilation Produced by
Bill Levenson
Exact Audio Copy V1.0 beta 3 from 29. August 2011

Отчёт EAC об извлечении, выполненном 12. июля 2013, 17:01

Kiss / Playlist + Plus (CD1)

Дисковод: HL-DT-STDVDRAM GH20NS10 Adapter: 0 ID: 1

Режим чтения : Достоверность
Использование точного потока : Да
Отключение кэша аудио : Да
Использование указателей C2 : Нет

Коррекция смещения при чтении : 667
Способность читать области Lead-in и Lead-out : Нет
Заполнение пропущенных сэмплов тишиной : Да
Удаление блоков с тишиной в начале и конце : Нет
При вычислениях CRC использовались нулевые сэмплы : Да
Интерфейс : Встроенный Win32-интерфейс для Win NT/2000

Выходной формат : Внутренние WAV-операции
Формат сэмплов : 44.100 Гц; 16 бит; стерео


TOC извлечённого CD

Трек | Старт | Длительность | Начальный сектор | Конечный сектор
––––––––––––––––––––––––––––––––––-
1 | 0:00.00 | 3:10.62 | 0 | 14311
2 | 3:10.62 | 3:04.63 | 14312 | 28174
3 | 6:15.50 | 3:29.58 | 28175 | 43907
4 | 9:45.33 | 2:57.03 | 43908 | 57185
5 | 12:42.36 | 3:24.38 | 57186 | 72523
6 | 16:06.74 | 3:37.42 | 72524 | 88840
7 | 19:44.41 | 2:46.06 | 88841 | 101296
8 | 22:30.47 | 3:32.48 | 101297 | 117244
9 | 26:03.20 | 3:44.36 | 117245 | 134080
10 | 29:47.56 | 3:17.02 | 134081 | 148857
11 | 33:04.58 | 3:12.36 | 148858 | 163293
12 | 36:17.19 | 4:28.24 | 163294 | 183417


Характеристики диапазона извлечения и сообщения об ошибках

Выбранный диапазон

Имя файла C:\rwa12\Kiss - Playlist + Plus (CD1).wav

Пиковый уровень 100.0 %
Скорость извлечения 7.3 X
Качество диапазона 100.0 %
CRC теста 2035FEA6
CRC копии 2035FEA6
Копирование… OK

Ошибок не произошло


AccurateRip: сводка

Трек 1 : извлечено точно (доверие 2) [D1DCD0F6] (AR v2)
Трек 2 : извлечено точно (доверие 2) [FB18EA3B] (AR v2)
Трек 3 : извлечено точно (доверие 2) [ED4C67B9] (AR v2)
Трек 4 : извлечено точно (доверие 2) [8B73A131] (AR v2)
Трек 5 : извлечено точно (доверие 2) [E5431ECB] (AR v2)
Трек 6 : извлечено точно (доверие 2) [404061C1] (AR v2)
Трек 7 : извлечено точно (доверие 2) [988CE813] (AR v2)
Трек 8 : извлечено точно (доверие 2) [8006B105] (AR v2)
Трек 9 : извлечено точно (доверие 2) [83F7E82D] (AR v2)
Трек 10 : извлечено точно (доверие 2) [71274F18] (AR v2)
Трек 11 : извлечено точно (доверие 2) [8F2FD91A] (AR v2)
Трек 12 : извлечено точно (доверие 2) [0355B07F] (AR v2)

Все треки извлечены точно

Конец отчёта

==== Контрольная сумма отчёта 7DE1ECEBBD479E7D57C4733A069190EDD0C5BF20684CD32AB1B117C7EAD3F474 ====
Exact Audio Copy V1.0 beta 3 from 29. August 2011

Отчёт EAC об извлечении, выполненном 12. июля 2013, 23:02

Kiss / Playlist + Plus (CD2)

Дисковод: HL-DT-STDVDRAM GH20NS10 Adapter: 0 ID: 1

Режим чтения : Достоверность
Использование точного потока : Да
Отключение кэша аудио : Да
Использование указателей C2 : Нет

Коррекция смещения при чтении : 667
Способность читать области Lead-in и Lead-out : Нет
Заполнение пропущенных сэмплов тишиной : Да
Удаление блоков с тишиной в начале и конце : Нет
При вычислениях CRC использовались нулевые сэмплы : Да
Интерфейс : Встроенный Win32-интерфейс для Win NT/2000

Выходной формат : Внутренние WAV-операции
Формат сэмплов : 44.100 Гц; 16 бит; стерео


TOC извлечённого CD

Трек | Старт | Длительность | Начальный сектор | Конечный сектор
––––––––––––––––––––––––––––––––––-
1 | 0:00.00 | 4:05.09 | 0 | 18383
2 | 4:05.09 | 4:18.45 | 18384 | 37778
3 | 8:23.54 | 3:58.34 | 37779 | 55662
4 | 12:22.13 | 4:35.56 | 55663 | 76343
5 | 16:57.69 | 3:23.38 | 76344 | 91606
6 | 20:21.32 | 4:24.02 | 91607 | 111408
7 | 24:45.34 | 3:56.13 | 111409 | 129121
8 | 28:41.47 | 4:03.71 | 129122 | 147417
9 | 32:45.43 | 3:48.28 | 147418 | 164545
10 | 36:33.71 | 4:01.42 | 164546 | 182662
11 | 40:35.38 | 4:25.16 | 182663 | 202553
12 | 45:00.54 | 3:49.47 | 202554 | 219775


Характеристики диапазона извлечения и сообщения об ошибках

Выбранный диапазон

Имя файла C:\rwa12\Kiss - Playlist + Plus (CD2).wav

Пиковый уровень 100.0 %
Скорость извлечения 7.7 X
Качество диапазона 100.0 %
CRC теста 5A716A80
CRC копии 5A716A80
Копирование… OK

Ошибок не произошло


AccurateRip: сводка

Трек 1 : извлечено точно (доверие 2) [C85FC4D6] (AR v2)
Трек 2 : извлечено точно (доверие 2) [91114522] (AR v2)
Трек 3 : извлечено точно (доверие 2) [8E0F6FBD] (AR v2)
Трек 4 : извлечено точно (доверие 2) [665A7717] (AR v2)
Трек 5 : извлечено точно (доверие 2) [76AE26BA] (AR v2)
Трек 6 : извлечено точно (доверие 2) [1C684025] (AR v2)
Трек 7 : извлечено точно (доверие 2) [44AE87AA] (AR v2)
Трек 8 : извлечено точно (доверие 2) [0A18D6F2] (AR v2)
Трек 9 : извлечено точно (доверие 2) [AE299299] (AR v2)
Трек 10 : извлечено точно (доверие 2) [7657BF40] (AR v2)
Трек 11 : извлечено точно (доверие 2) [BC2C2BA7] (AR v2)
Трек 12 : извлечено точно (доверие 2) [6866E08A] (AR v2)

Все треки извлечены точно

Конец отчёта

==== Контрольная сумма отчёта 1F818E3B920CA374A30CC656A179B845165A4415947C39CF442064F9B25EC45D ====
Exact Audio Copy V1.0 beta 3 from 29. August 2011

Отчёт EAC об извлечении, выполненном 12. июля 2013, 22:28

Kiss / Playlist + Plus (CD3)

Дисковод: HL-DT-STDVDRAM GH20NS10 Adapter: 0 ID: 1

Режим чтения : Достоверность
Использование точного потока : Да
Отключение кэша аудио : Да
Использование указателей C2 : Нет

Коррекция смещения при чтении : 667
Способность читать области Lead-in и Lead-out : Нет
Заполнение пропущенных сэмплов тишиной : Да
Удаление блоков с тишиной в начале и конце : Нет
При вычислениях CRC использовались нулевые сэмплы : Да
Интерфейс : Встроенный Win32-интерфейс для Win NT/2000

Выходной формат : Внутренние WAV-операции
Формат сэмплов : 44.100 Гц; 16 бит; стерео


TOC извлечённого CD

Трек | Старт | Длительность | Начальный сектор | Конечный сектор
––––––––––––––––––––––––––––––––––-
1 | 0:00.00 | 5:21.30 | 0 | 24104
2 | 5:21.30 | 3:43.03 | 24105 | 40832
3 | 9:04.33 | 4:01.37 | 40833 | 58944
4 | 13:05.70 | 4:37.41 | 58945 | 79760
5 | 17:43.36 | 4:21.72 | 79761 | 99407
6 | 22:05.33 | 3:50.32 | 99408 | 116689
7 | 25:55.65 | 2:51.26 | 116690 | 129540
8 | 28:47.16 | 3:33.37 | 129541 | 145552
9 | 32:20.53 | 4:51.30 | 145553 | 167407
10 | 37:12.08 | 4:22.56 | 167408 | 187113
11 | 41:34.64 | 3:33.49 | 187114 | 203137
12 | 45:08.38 | 4:03.73 | 203138 | 221435


Характеристики диапазона извлечения и сообщения об ошибках

Выбранный диапазон

Имя файла C:\rwa12\Kiss - Playlist + Plus (CD3).wav

Пиковый уровень 99.8 %
Скорость извлечения 7.6 X
Качество диапазона 99.9 %
CRC теста 17F5845E
CRC копии 17F5845E
Копирование… OK

Ошибок не произошло


AccurateRip: сводка

Трек 1 : извлечено точно (доверие 2) [E941A975] (AR v2)
Трек 2 : извлечено точно (доверие 2) [40A6E69B] (AR v2)
Трек 3 : извлечено точно (доверие 2) [A77A5847] (AR v2)
Трек 4 : извлечено точно (доверие 19) [8D4DD466] (AR v1)
Трек 5 : извлечено точно (доверие 2) [D40CD60F] (AR v2)
Трек 6 : извлечено точно (доверие 2) [192C7218] (AR v2)
Трек 7 : извлечено точно (доверие 2) [5CB3DA04] (AR v2)
Трек 8 : извлечено точно (доверие 2) [09AEA6AF] (AR v2)
Трек 9 : извлечено точно (доверие 19) [F18802F7] (AR v1)
Трек 10 : извлечено точно (доверие 19) [04E4292E] (AR v1)
Трек 11 : извлечено точно (доверие 2) [7A49DD65] (AR v2)
Трек 12 : извлечено точно (доверие 2) [55628470] (AR v2)

Все треки извлечены точно

Конец отчёта

==== Контрольная сумма отчёта 65137241F2F52011D144CAE7BE820ADC7465305217D1E70CB4C71636BE8349B4 ====
Many thanks to the original uploader: fan24