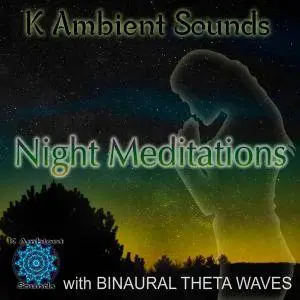 K Ambient Sounds - Night Meditations - Sounds for Meditation & Relaxation with Theta Waves Binaural Beats (2016)
WEB FLAC (tracks) - 731 MB | MP3 CBR 320 kbps (LAME 3.93) - 224 MB | Digital booklet
Genre: Ambient, Meditative, Relaxation | RAR 3% Rec. | Label: Self-released
Natural and relaxing night sounds with soothing background music and Theta Waves Binaural Beats for Meditation and Relaxation. The music is created using the 432 Hz tuning. Each track is half an hour long and each has a different frequency of Binaural Beats.
Tracklist:
01. Night Meditations 1 Binaural Beats 4 Hz
02. Night Meditations 2 Binaural Beats 5 Hz
03. Night Meditations 3 Binaural Beats 6 Hz
Total time:
01:32:35

PERFORMER: auCDtect Task Manager, ver. 1.6.0 RC1 build 1.6.0.1
Copyright © 2008-2010 y-soft. All rights reserved

ANALYZER: auCDtect: CD records authenticity detector, version 0.8.2
Copyright © 2004 Oleg Berngardt. All rights reserved.
Copyright © 2004 Alexander Djourik. All rights reserved.


FILE: 03 Night Meditations 3 Binaural Beats 6 Hz.flac
Size: 235757247 Hash: FCFC080CA8CDAE52DCD28A7433692FB6 Accuracy: -m0
Conclusion: CDDA 100%
Signature: 733BD44833FB5531165F3625EFE3EA6F02456B63
FILE: 02 Night Meditations 2 Binaural Beats 5 Hz.flac
Size: 224034690 Hash: ACC0BCEF2D84098D9EF8FA1EC5FE50E7 Accuracy: -m0
Conclusion: CDDA 99%
Signature: 4CB39DD40CF0527DD6B505910181A4356E8A4BC9
FILE: 01 Night Meditations 1 Binaural Beats 4 Hz.flac
Size: 279129830 Hash: B0C2FA7BAD589B3D37BCD844A3BB7305 Accuracy: -m0
Conclusion: CDDA 100%
Signature: 6D6CCFBDD4B280CD7168540C2709BC291211D930
See also:
K Ambient Sounds - Calming Wat...ta Waves Binaural Beats (2015)