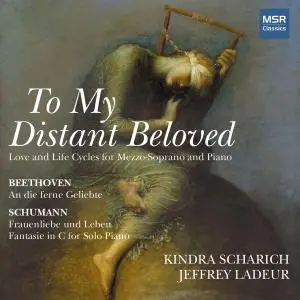 Kindra Scharich - To My Distant Beloved - Beethoven: An die Ferne Geliebte; Schumann: Frauenleben und Leben, Fantasie in C Major (2020)
WEB FLAC (tracks) - 217 MB | Tracks: 17 | 74:10 min
Style: Classical | Label: MSR Classics
Peter Davison has composed music scores for Indie Features, the History Channel, A+E, Biography, PBS, Warner Bros., Disney, Universal, Discovery, Gaiam (Yoga/Relaxation music) and others. Over 30 CDs of his music are on Universal/Higher Octave, Gaiam, Davisounds and TSR/Baja. His CDs "Meditate" and "Exhale" were both in the Billboard Top 10 New Age Albums.
Peter's CDs "On the Edge of Now" and "When I Go Inside" received Global Music Awards Silver Medals for Best New Age Album. "Blooming Memories of Spring" (from his CD "My Universe in Harmony") received the Silver Medal New Age in the Global Music Awards, 2019. His CD "Iris-Bringer of Dreams" received the Global Music Awards Silver Medal, New Age, 2018. His instrumental "Sip of Wine" (from his CD "Future, Present, Past") received the Best Song of the Year Award, Hollywood Music in Media Awards, (New Age/Ambient), 2010.
"Fern Valley" and "Mount Tahquitz" from his CD "Forest Home," "Getting Closer" and "Possibility" have also received HMMA nominations. Peter's score for the PBS Series "The Endless Voyage" was nominated for the "Best Score of the Year, TV Show."
Peter Davison's Yoga/Relaxation music is used for Spas, Yoga, relaxation, meditation, massage - anywhere that a deep, calming and soothing environment is desired. Davison composes the memorable music for over 45 of GAIAM's award winning DVDs featuring master instructors Rodney Yee, Patricia Walden, Suzanne Deason, David-Dorian Ross and others. His CDs are best sellers in this field.
Tracklist:
01. Frauenliebe und Leben, Op. 42: I. Seit ich ihn gesehen
02. Frauenliebe und Leben, Op. 42: II. Er, der Herrlichste von allen
03. Frauenliebe und Leben, Op. 42: III. Ich kann's nicht fassen, nicht glauben
04. Frauenliebe und Leben, Op. 42: IV. Du Ring an meinem Finger
05. Frauenliebe und Leben, Op. 42: V. Helft mir, ihr Schwestern
06. Frauenliebe und Leben, Op. 42: VI. Süsser Freund, du blickest
07. Frauenliebe und Leben, Op. 42: VII. An meinem Herzen, an meiner Brust
08. Frauenliebe und Leben, Op. 42: VIII. Nun hast du mir den ersten Schmerz getan
09. An die ferne Geliebte, Op. 98: I. Auf dem Hügel sitz ich spähend
10. An die ferne Geliebte, Op. 98: II. Wo die Berge so blau
11. An die ferne Geliebte, Op. 98: III. Leichte Segler in den Höhen
12. An die ferne Geliebte, Op. 98: IV. Diese Wolken in den Höhen
13. An die ferne Geliebte, Op. 98: V. Es kehret der Maien, es blühet die Au
14. An die ferne Geliebte, Op. 98: VI. Nimm sie hin denn, diese Lieder
15. Fantasie in C major, Op. 17: I. Durchaus fantastisch und leidenschaftlich vorzutragen
16. Fantasie in C major, Op. 17: II. Mäßig. Durchaus energisch
17. Fantasie in C major, Op. 17: III. Langsam getragen. Durchweg leise zu halten


FILE: 01. Frauenliebe und Leben, Op. 42_ I. Seit ich ihn gesehen.flac
Size: 8558861 Hash: A7C12832A5A27085DAABC8DB305A9FA5 Accuracy: -m0
Conclusion: CDDA 100%
Signature: BD832C23919135E7F5291C78FCC7BDA00D38BC99
FILE: 02. Frauenliebe und Leben, Op. 42_ II. Er, der Herrlichste von allen.flac
Size: 12239513 Hash: DDAB8062635A1422A69B5790695D031D Accuracy: -m0
Conclusion: CDDA 100%
Signature: A1B30E36E2338C5699770074082E6EDEEFB40D5C
FILE: 03. Frauenliebe und Leben, Op. 42_ III. Ich kann's nicht fassen, nicht glauben.flac
Size: 7078798 Hash: B78E30E9832267E73C530485512EE020 Accuracy: -m0
Conclusion: CDDA 100%
Signature: C9C750B81D3CD7E2156C4DD86B909CE7B097DDD5
FILE: 04. Frauenliebe und Leben, Op. 42_ IV. Du Ring an meinem Finger.flac
Size: 10916130 Hash: 6E36A3842631CEB074E1C4992C673F58 Accuracy: -m0
Conclusion: CDDA 99%
Signature: 27BFBA2A9661B678CBCE6419A1EF22D71CEED04C
FILE: 05. Frauenliebe und Leben, Op. 42_ V. Helft mir, ihr Schwestern.flac
Size: 8051173 Hash: FCD33BDD68C4AE3C385725A089B6F10D Accuracy: -m0
Conclusion: CDDA 100%
Signature: DCF0EB64203AA653CF5D5A47BB141AD0801B8963
FILE: 06. Frauenliebe und Leben, Op. 42_ VI. Süsser Freund, du blickest.flac
Size: 15230565 Hash: D318017F6EC1393B3BABCEE39E0E0DDA Accuracy: -m0
Conclusion: CDDA 100%
Signature: 358782621D5C0B3209223E17D839EEE173935D92
FILE: 07. Frauenliebe und Leben, Op. 42_ VII. An meinem Herzen, an meiner Brust.flac
Size: 5663098 Hash: 0D5186AB3924A0B7983A399A581CBD10 Accuracy: -m0
Conclusion: CDDA 100%
Signature: 7F35512272F4A6FE93361C3B3A73CD385BEB41F4
FILE: 08. Frauenliebe und Leben, Op. 42_ VIII. Nun hast du mir den ersten Schmerz getan.flac
Size: 10595467 Hash: F13E2CF23A48D84C9DB10EF7B3F2924D Accuracy: -m0
Conclusion: CDDA 100%
Signature: B2765477CED0E82E6934CBA3D5C80C29AB0903F3
FILE: 09. An die ferne Geliebte, Op. 98_ I. Auf dem Hügel sitz ich spähend.flac
Size: 10834849 Hash: B2771D5E18A40C764A2F1E91E985E3C8 Accuracy: -m0
Conclusion: CDDA 100%
Signature: 21B4845A3FD9011830A28B1A24DC64EED6781C2A
FILE: 10. An die ferne Geliebte, Op. 98_ II. Wo die Berge so blau.flac
Size: 6759263 Hash: 7FA00A73F689D7E02C7DCDE79C01A7F7 Accuracy: -m0
Conclusion: CDDA 100%
Signature: 8A417034C5C8BB564E36DEA3DBEB6F6B1FA554BE
FILE: 11. An die ferne Geliebte, Op. 98_ III. Leichte Segler in den Höhen.flac
Size: 6688727 Hash: 1DF98B77767214E1DDA396A8CE3D2ADF Accuracy: -m0
Conclusion: CDDA 99%
Signature: AF2AA53338A81E764A6C2FF30CC4A91F57F500B1
FILE: 12. An die ferne Geliebte, Op. 98_ IV. Diese Wolken in den Höhen.flac
Size: 4239013 Hash: 804F71E6928FF83B15A5E9EF28A551CF Accuracy: -m0
Conclusion: CDDA 100%
Signature: 8E9184B542DF4174706EA4CB5F929D57199FF654
FILE: 13. An die ferne Geliebte, Op. 98_ V. Es kehret der Maien, es blühet die Au.flac
Size: 10366628 Hash: 136C213842EF43364E54237858D12D22 Accuracy: -m0
Conclusion: CDDA 100%
Signature: B73969B4CC052CE13E65127C60E95DAB082CA3CD
FILE: 14. An die ferne Geliebte, Op. 98_ VI. Nimm sie hin denn, diese Lieder.flac
Size: 15916975 Hash: 9D853D3865CCF59A92790DE6DD1F97C1 Accuracy: -m0
Conclusion: CDDA 100%
Signature: 68290614A9E90958019DF620290E9AEF464843E7
FILE: 15. Fantasie in C major, Op. 17_ I. Durchaus fantastisch und leidenschaftlich vorzutragen.flac
Size: 38318457 Hash: 0C4E459200FE4D6B15C05558A0DFDD4E Accuracy: -m0
Conclusion: CDDA 43%
Signature: 3F489C620E3F05EB8DD5216C77B5C67FA7CA89C4
FILE: 16. Fantasie in C major, Op. 17_ II. Mäßig. Durchaus energisch.flac
Size: 27460168 Hash: 9274BFFE8A0FDD445956759C8C8B8C37 Accuracy: -m0
Conclusion: MPEG 92%
Signature: DC3A217A3275CD73C52AEEEE265CCF4F27145759
FILE: 17. Fantasie in C major, Op. 17_ III. Langsam getragen. Durchweg leise zu halten.flac
Size: 28541108 Hash: F3B8896395636636587D7E06FB6C3C21 Accuracy: -m0
Conclusion: CDDA 43%
Signature: A89F44E1F8C9A3F68D2B627C099DD32CE8670122