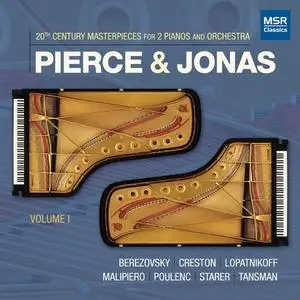 Pierce & Jonas Piano Duo - 20th Century Masterpieces for 2 Pianos and Orchestra (2021)
FLAC tracks | 02:06:43 | 540 Mb
Genre: Classical / Label: MSR Classics
Two things propelled the re-emergence of the keyboard double concerto. One of them was the revival of interest in early classical and baroque music. The other was the emergence of the piano duo, those popular and virtuosic two-piano teams that captured a big audience and toured widely. Some of these duos became superstars: Vronsky & Babin, Gold & Fizdale, Whittemore & Lowe, Luboshutz & Nemenoff are still remembered as masters of their trade and it is due to them and others like them that this new piano-and-orchestra repertoire was created. And this is the tradition that Joshua Pierce and Dorothy Jonas have revived and carried forward as the successors to those virtuosic piano duos of another era. It is logical that Pierce & Jonas have recorded – and, in some cases unearthed and revived – these masterpieces of 20th century two-piano-and orchestra repertoire. This 2-CD album containing seven of these works constitute the first volume; there will be six more in the forthcoming 2-CD second volume, making a bakers dozen of works in all, an extraordinary collection of original works for this medium by an extra-ordinary piano duo working in a grand tradition.