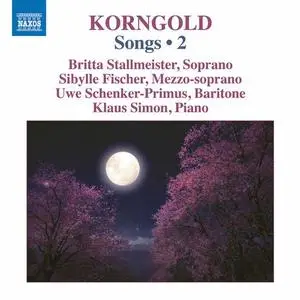 Klaus Simon, Uwe Schenker-Primus, Sibylle Fischer, Britta Stallmeister - Korngold: Songs, Vol. 2 (2021)
FLAC tracks / MP3 320 kbps | 57:52 | 231 / 132 Mb
Genre: Classical / Label: Naxos
In his song settings, Korngold pursued the Romantic ideal and lavished considerable care and inventiveness on their composition. His seemingly effortless gift for melody is everywhere apparent in this second volume, whether in the early works or the songs from the 1940s, which would not sound out of place in an operetta or a Broadway musical. Also present, notably in the Drei Gesänge, Op. 18, is an exciting, experimental approach to harmony that reflects the music of his most radical opera also, Das Wunder der Heliane.
Track List:
01. Abschiedslieder, Op. 14: No. 1, Sterbelied
02. Abschiedslieder, Op. 14: No. 2, Dies eine kann mein Sehnen nimmer fassen
03. Abschiedslieder, Op. 14: No. 3, Mond, so gehst du wieder auf
04. Abschiedslieder, Op. 14: No. 4, Gefaßter Abschied
05. 3 Gesänge, Op. 18: No. 1, In meine innige Nacht
06. 3 Gesänge, Op. 18: No. 2, Tu ab den Schmerz
07. 3 Gesänge, Op. 18: No. 3, Versuchung
08. Tomorrow, Op. 33 (From "The Constant Nymph") [Arr. K. Simon for Voice & Piano Trio] {Sung in German}
09. 5 Lieder, Op. 38: No. 1, I Wish You Bliss (Sung in English)
10. 5 Lieder, Op. 38: No. 2, Wings (Sung in English)
11. 5 Lieder, Op. 38: No. 3, Old Spanish Song (From "The Sea Hawk")
12. 5 Lieder, Op. 38: No. 4, Old English Song (From "The Sea Hawk")
13. 5 Lieder, Op. 38: No. 5, My Mistress' Eyes
14. Sonett für Wien, Op. 41
15. Nachts
16. Der innere Scharm
17. Österreichischer Soldatenabschied
18. Ausser
19. Etwas ganz Persönliches (Arr. H. Fuhlbom & K. Simon for Voice & Piano Trio)
20. Die Gansleber im Hause Duschnitz
21. Quinquaginta-Foxtrott
ANALYZER: auCDtect: CD records authenticity detector, version 0.8.2
Copyright © 2004 Oleg Berngardt. All rights reserved.
Copyright © 2004 Alexander Djourik. All rights reserved.


FILE: 01 - Abschiedslieder, Op. 14_ No. 1, Sterbelied.flac
Size: 15725110 Hash: A030F5864B9849AEE627E2998CB7F169 Accuracy: -m40
Conclusion: CDDA 100%
Signature: D92C412BB2CB64EFECE2C22D14A8E5771D2738DB
FILE: 02 - Abschiedslieder, Op. 14_ No. 2, Dies eine kann mein Sehnen nimmer fassen.flac
Size: 11422275 Hash: 03059D777CC47B7D006B8A80822AAF20 Accuracy: -m40
Conclusion: CDDA 100%
Signature: F861C0B5A88E0A7B6AAE27589A3624AD42179128
FILE: 03 - Abschiedslieder, Op. 14_ No. 3, Mond, so gehst du wieder auf.flac
Size: 15410607 Hash: C0688B67B4AEAA7B2491651BE59BAEC2 Accuracy: -m40
Conclusion: CDDA 100%
Signature: 0B8667E0EA7E105AF677ABC09CFD60F089A8F9FF
FILE: 04 - Abschiedslieder, Op. 14_ No. 4, Gefaßter Abschied.flac
Size: 15480389 Hash: 8AEACAC2EEB01DEB9B492CAFA6A0D44C Accuracy: -m40
Conclusion: CDDA 99%
Signature: B6D6EC90CF9A52A1620CF335C25567DECCC7BA4E
FILE: 05 - 3 Gesänge, Op. 18_ No. 1, In meine innige Nacht.flac
Size: 14132451 Hash: 38B65E6D5888935ECF125E8ED67D03AE Accuracy: -m40
Conclusion: CDDA 100%
Signature: 984DD1B4788CE8D3FC5C09E477FB027F54817E74
FILE: 06 - 3 Gesänge, Op. 18_ No. 2, Tu ab den Schmerz.flac
Size: 8545936 Hash: 992EE862CA113A75385577142EEBB0FC Accuracy: -m40
Conclusion: CDDA 100%
Signature: 8629DBC9E20BFD7C833E701CA834EE66C4931F06
FILE: 07 - 3 Gesänge, Op. 18_ No. 3, Versuchung.flac
Size: 12381127 Hash: 2F0478EBE8A038C148F4953950E81F36 Accuracy: -m40
Conclusion: CDDA 100%
Signature: 1255F1AE398ABB91C58B7FF7B24FF63DE43E7CFB
FILE: 08 - Tomorrow, Op. 33 (From _The Constant Nymph_) [Arr. K. Simon for Voice & Piano Trio] [Sung in German].flac
Size: 10087268 Hash: 4D3955ED15C280E169490E066BA94EAF Accuracy: -m40
Conclusion: CDDA 100%
Signature: 13ABA04589E2E133CB778AA848642BFD430CB900
FILE: 09 - 5 Lieder, Op. 38_ No. 1, I Wish You Bliss (Sung in English).flac
Size: 9243504 Hash: DA09855A1F494BF2C8F6FE45D31E30E4 Accuracy: -m40
Conclusion: CDDA 100%
Signature: 48B48E06379FED3FCDFEF1F5A499ED3AA330208F
FILE: 10 - 5 Lieder, Op. 38_ No. 2, Wings (Sung in English).flac
Size: 8893473 Hash: 25C0C785DDD4ED9F20B1F50DEACB95E3 Accuracy: -m40
Conclusion: CDDA 100%
Signature: 313567C52BE872A45DAD4F984C4C826389F28192
FILE: 11 - 5 Lieder, Op. 38_ No. 3, Old Spanish Song (From _The Sea Hawk_).flac
Size: 3936199 Hash: 57A88631E4C84074A15B269BF662D5A9 Accuracy: -m40
Conclusion: CDDA 100%
Signature: EDB4B9539D66DF567C467F08FF0D49265CF0E6EA
FILE: 12 - 5 Lieder, Op. 38_ No. 4, Old English Song (From _The Sea Hawk_).flac
Size: 4331702 Hash: 3E8460CA5DA92BB024678CB1389BDD7E Accuracy: -m40
Conclusion: CDDA 100%
Signature: 09E208B194BAF233D6984A85DD55041FADEFD8D9
FILE: 13 - 5 Lieder, Op. 38_ No. 5, My Mistress' Eyes.flac
Size: 8727165 Hash: AA5D92305DB729904A852A9E97608CF2 Accuracy: -m40
Conclusion: CDDA 100%
Signature: FE9768EB63C543686A5CE983CEFBDD9DD83769C3
FILE: 14 - Sonett für Wien, Op. 41.flac
Size: 12087235 Hash: 8A0A682163D3105D45445A31C4749635 Accuracy: -m40
Conclusion: CDDA 100%
Signature: E476A57F87F8171A254ED0B13228CA533B1D8051
FILE: 15 - Nachts.flac
Size: 10453390 Hash: 2FC26EFE2228DCA460C50874565AD1D7 Accuracy: -m40
Conclusion: CDDA 85%
Signature: E8A6D2CF72846AC8AA9C9593487EE26B8AC69505
FILE: 16 - Der innere Scharm.flac
Size: 19939877 Hash: 90B192C3FC6A0E2365381B1C6C193F3C Accuracy: -m40
Conclusion: CDDA 100%
Signature: 9FE896583E956450E5B924603434643B60C58245
FILE: 17 - Österreichischer Soldatenabschied.flac
Size: 14965040 Hash: 970F2CAB50D81401C254DBEE1A2440BA Accuracy: -m40
Conclusion: CDDA 100%
Signature: 7E7510527A8A5C73A244A9B70596F06E09A3EBAB
FILE: 18 - Ausser.flac
Size: 20005660 Hash: 6143DF9226399384D54DBC4884FBBC79 Accuracy: -m40
Conclusion: CDDA 100%
Signature: 1F411A4D93B36AC4439EC58AF798643FF1EA47E4
FILE: 19 - Etwas ganz Persönliches (Arr. H. Fuhlbom & K. Simon for Voice & Piano Trio).flac
Size: 6818114 Hash: 9D40B624837272E1DF0425C134282C77 Accuracy: -m40
Conclusion: CDDA 100%
Signature: 78DDC89BE4422D95BE10D99C8246650CB499709F
FILE: 20 - Die Gansleber im Hause Duschnitz.flac
Size: 14851047 Hash: CA33C8F3BB4D988796C89C8F99A9210D Accuracy: -m40
Conclusion: CDDA 100%
Signature: 01CD7A173B829B200C88DEB2F24E281C161BA82E
FILE: 21 - Quinquaginta-Foxtrott.flac
Size: 6097434 Hash: F4559EB652EBED83E09B694F257D94F9 Accuracy: -m40
Conclusion: CDDA 100%
Signature: 616DCA904DAE44E0E5D0C6CD28BB5D45077864F8