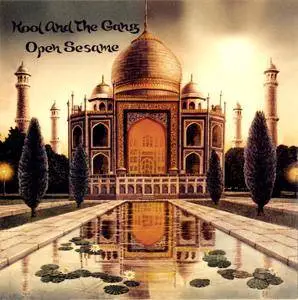 Kool & The Gang - Open Sesame (1976) [2011, Remastered & Expanded Edition]
R&B, Soul/Funk, Disco | XLD Rip | FLAC, Tracks+CUE+LOG+Scans (JPEG) | 51:58 Min | 403,62 Mb
Label: Big Break Records (UK) | Cat.# CDBBR 0045 | Released: 2011-04-25 (1976)
"Open Sesame" is the eighth studio album by the funk band Kool & the Gang, released in 1976. The album yielded the hit title track, "Open Sesame", which achieved some success, first as a top ten R&B single, then later as part of the Saturday Night Fever soundtrack. "Super Band" also reached the R&B top twenty. The album was the second of two albums released by the band in 1976.
~Wikipedia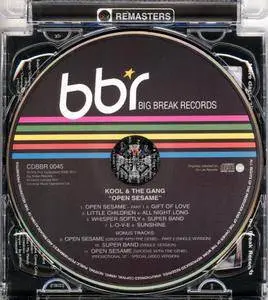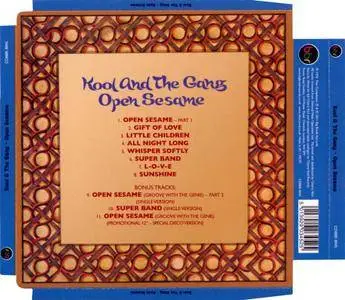 Release of the album:
1976, November [LP De-Lite Records, Cat.# DEP 2023, USA]
Release of this CD:
2011, April, 25 [CD Big Break Records (UK), Cat.# CDBBR 0045 / UPC: 5013929034525]
℗ 1976. This compilation ℗© 2011 Big Break Records.
All Tracks licensed from Universal Music Operations Ltd.
Marketed and Distributed by Cherry Red Records.
Made in EU/MCPS
Credits:
Alto Saxophone, Flute, Vocals, Percussion, Congas – Dennis Thomas
Bass Guitar, Vocals, Percussion – Robert "Kool" Bell*
Drums – George Brown
Effects – Jimmy J. Jordan
Electric Guitar, Acoustic Guitar, Percussion – Claydes Smith
Engineer – Nils Salminen
Engineer, Mixed By – Terry Rosiello
Executive-Producer – Claydes Smith, Ronald Bell
Harp – Ellouise Daughn
Liner Notes [Reissue] – Cleveland Brown, Shelley Nicole
Producer – KG Productions
Reissue Producer – Wayne A. Dickson
Reissue Producer [Associate] – Christian John Wikane, Michal Bednarek
Remastered By – Nick Robbins
Tenor Saxophone, Flute, Clavinet, Synthesizer [Arp Synthesizer], Vocals, Keyboards, Percussion, Vibraphone, Strings – Ronald Bell
Trumpet, Flugelhorn – Larry Gittens
Trumpet, Flugelhorn, Percussion – Robert Mickens
Vocals [Something Sweet] – Beverly Owens, Cynthia Huggins, Joan Motley, Renee Connel
Vocals, Percussion, Valve Trombone, Trombone [Slide] – Otha Nash
Voice [The Genie] – Donald Boyce
Tracklist:
01. Open Sesame (Part 1) (03:49)
02. Gift Of Love (04:10)
03. Little Children (05:30)
04. All Night Long (03:56)
05. Whisper Softly (06:06)
06. Super Band (04:56)
07. L-O-V-E (03:26)
08. Sunshine (03:30)
Bonus Tracks:
09. Open Sesame (Groove With The Genie) (Part 2) (Single Version) (04:28)
10. Super Band (Single Version) (03:22)
11. Open Sesame (Groove With The Genie) (Promotional 12" - Special Disco Version) (08:44)
X Lossless Decoder version 20110528 (134.0)

XLD extraction logfile from 2011-06-05 14:25:00 +0200

Kool & The Gang / Open Sesame

Used drive : SONY DVD RW DW-D150A (revision 1.MD)

Ripper mode : XLD Secure Ripper
Disable audio cache : OK for the drive with a cache less than 1375KiB
Make use of C2 pointers : NO
Read offset correction : 48
Max retry count : 100
Gap status : Analyzed, Appended (except HTOA)

TOC of the extracted CD
Track | Start | Length | Start sector | End sector
––––––––––––––––––––––––––––-
1 | 00:00:00 | 03:48:39 | 0 | 17138
2 | 03:48:39 | 04:09:60 | 17139 | 35873
3 | 07:58:24 | 05:30:09 | 35874 | 60632
4 | 13:28:33 | 03:55:64 | 60633 | 78321
5 | 17:24:22 | 06:06:28 | 78322 | 105799
6 | 23:30:50 | 04:56:29 | 105800 | 128028
7 | 28:27:04 | 03:25:60 | 128029 | 143463
8 | 31:52:64 | 03:30:36 | 143464 | 159249
9 | 35:23:25 | 04:28:06 | 159250 | 179355
10 | 39:51:31 | 03:22:06 | 179356 | 194511
11 | 43:13:37 | 08:44:06 | 194512 | 233817

AccurateRip Summary
Disc not found in AccurateRip DB.

All Tracks
Album gain : -6.59 dB
Peak : 0.966217
Statistics
Read error : 0
Jitter error (maybe fixed) : 0
Retry sector count : 0
Damaged sector count : 0

Track 01
Filename : /XLD-rip/Kool & The Gang - Open Sesame (1976) [FLAC] {2011 Remaster CDBBR 0045}/01 - Open Sesame - Part 1.flac
Pre-gap length : 00:02:00

Track gain : -6.75 dB
Peak : 0.966187
CRC32 hash (test run) : 935C64D8
CRC32 hash : 935C64D8
CRC32 hash (skip zero) : 86DFB77A
AccurateRip signature : F984B412
->Track not present in AccurateRip database.
Statistics
Read error : 0
Jitter error (maybe fixed) : 0
Retry sector count : 0
Damaged sector count : 0

Track 02
Filename : /XLD-rip/Kool & The Gang - Open Sesame (1976) [FLAC] {2011 Remaster CDBBR 0045}/02 - Gift Of Love.flac
Pre-gap length : 00:01:73

Track gain : -6.16 dB
Peak : 0.966187
CRC32 hash (test run) : DC8E4359
CRC32 hash : DC8E4359
CRC32 hash (skip zero) : 86B08FA9
AccurateRip signature : 3A18FE8A
->Track not present in AccurateRip database.
Statistics
Read error : 0
Jitter error (maybe fixed) : 0
Retry sector count : 0
Damaged sector count : 0

Track 03
Filename : /XLD-rip/Kool & The Gang - Open Sesame (1976) [FLAC] {2011 Remaster CDBBR 0045}/03 - Little Children.flac
Pre-gap length : 00:01:73

Track gain : -5.95 dB
Peak : 0.966187
CRC32 hash (test run) : 2C60A4FF
CRC32 hash : 2C60A4FF
CRC32 hash (skip zero) : 1BF117DA
AccurateRip signature : 80871FB2
->Track not present in AccurateRip database.
Statistics
Read error : 0
Jitter error (maybe fixed) : 0
Retry sector count : 0
Damaged sector count : 0

Track 04
Filename : /XLD-rip/Kool & The Gang - Open Sesame (1976) [FLAC] {2011 Remaster CDBBR 0045}/04 - All Night Long.flac
Pre-gap length : 00:01:74

Track gain : -7.44 dB
Peak : 0.966187
CRC32 hash (test run) : D62455A1
CRC32 hash : D62455A1
CRC32 hash (skip zero) : 72F21128
AccurateRip signature : 8032FC81
->Track not present in AccurateRip database.
Statistics
Read error : 0
Jitter error (maybe fixed) : 0
Retry sector count : 0
Damaged sector count : 0

Track 05
Filename : /XLD-rip/Kool & The Gang - Open Sesame (1976) [FLAC] {2011 Remaster CDBBR 0045}/05 - Whisper Softly.flac
Pre-gap length : 00:01:73

Track gain : -5.32 dB
Peak : 0.966187
CRC32 hash (test run) : 3ADA86B6
CRC32 hash : 3ADA86B6
CRC32 hash (skip zero) : 6C2FEE1F
AccurateRip signature : 64071CD3
->Track not present in AccurateRip database.
Statistics
Read error : 0
Jitter error (maybe fixed) : 0
Retry sector count : 0
Damaged sector count : 0

Track 06
Filename : /XLD-rip/Kool & The Gang - Open Sesame (1976) [FLAC] {2011 Remaster CDBBR 0045}/06 - Super Band.flac
Pre-gap length : 00:01:73

Track gain : -6.28 dB
Peak : 0.966156
CRC32 hash (test run) : AF5BF70F
CRC32 hash : AF5BF70F
CRC32 hash (skip zero) : 5E4D0699
AccurateRip signature : 2FF6A288
->Track not present in AccurateRip database.
Statistics
Read error : 0
Jitter error (maybe fixed) : 0
Retry sector count : 0
Damaged sector count : 0

Track 07
Filename : /XLD-rip/Kool & The Gang - Open Sesame (1976) [FLAC] {2011 Remaster CDBBR 0045}/07 - L-O-V-E.flac
Pre-gap length : 00:01:74

Track gain : -6.54 dB
Peak : 0.966187
CRC32 hash (test run) : 3CEC7FD3
CRC32 hash : 3CEC7FD3
CRC32 hash (skip zero) : B1BF1996
AccurateRip signature : 963431D4
->Track not present in AccurateRip database.
Statistics
Read error : 0
Jitter error (maybe fixed) : 0
Retry sector count : 0
Damaged sector count : 0

Track 08
Filename : /XLD-rip/Kool & The Gang - Open Sesame (1976) [FLAC] {2011 Remaster CDBBR 0045}/08 - Sunshine.flac
Pre-gap length : 00:01:72

Track gain : -5.21 dB
Peak : 0.966156
CRC32 hash (test run) : 90072385
CRC32 hash : 90072385
CRC32 hash (skip zero) : 9DBF1A51
AccurateRip signature : 34755CDE
->Track not present in AccurateRip database.
Statistics
Read error : 0
Jitter error (maybe fixed) : 0
Retry sector count : 0
Damaged sector count : 0

Track 09
Filename : /XLD-rip/Kool & The Gang - Open Sesame (1976) [FLAC] {2011 Remaster CDBBR 0045}/09 - Open Sesame (Groove With The Genie) - Part 2 [Single Version].flac
Pre-gap length : 00:01:74

Track gain : -6.96 dB
Peak : 0.966187
CRC32 hash (test run) : D424EDF3
CRC32 hash : D424EDF3
CRC32 hash (skip zero) : D2E46252
AccurateRip signature : 2405F68E
->Track not present in AccurateRip database.
Statistics
Read error : 0
Jitter error (maybe fixed) : 0
Retry sector count : 0
Damaged sector count : 0

Track 10
Filename : /XLD-rip/Kool & The Gang - Open Sesame (1976) [FLAC] {2011 Remaster CDBBR 0045}/10 - Super Band [Single Version].flac
Pre-gap length : 00:01:73

Track gain : -6.39 dB
Peak : 0.966156
CRC32 hash (test run) : 56B4559A
CRC32 hash : 56B4559A
CRC32 hash (skip zero) : 5EC6D28D
AccurateRip signature : 3DC3170C
->Track not present in AccurateRip database.
Statistics
Read error : 0
Jitter error (maybe fixed) : 0
Retry sector count : 0
Damaged sector count : 0

Track 11
Filename : /XLD-rip/Kool & The Gang - Open Sesame (1976) [FLAC] {2011 Remaster CDBBR 0045}/11 - Open Sesame (Groove With The Genie) [Promotional 12'' - Special Disco Version].flac
Pre-gap length : 00:01:74

Track gain : -7.12 dB
Peak : 0.966217
CRC32 hash (test run) : B1D329F0
CRC32 hash : B1D329F0
CRC32 hash (skip zero) : B22863B8
AccurateRip signature : 729F3B40
->Track not present in AccurateRip database.
Statistics
Read error : 0
Jitter error (maybe fixed) : 0
Retry sector count : 0
Damaged sector count : 0

No errors occurred

End of status report
––––––––––––––––––––––––––––––––––––––––
Analyzed: Kool & The Gang / Open Sesame
––––––––––––––––––––––––––––––––––––––––

DR Peak RMS Duration Track
––––––––––––––––––––––––––––––––––––––––
DR9 -0.30 dB -11.13 dB 3:49 01-Open Sesame - Part 1
DR9 -0.30 dB -10.49 dB 4:10 02-Gift Of Love
DR10 -0.30 dB -12.19 dB 5:30 03-Little Children
DR8 -0.30 dB -10.56 dB 3:56 04-All Night Long
DR10 -0.30 dB -13.19 dB 6:06 05-Whisper Softly
DR10 -0.30 dB -11.54 dB 4:56 06-Super Band
DR10 -0.30 dB -11.62 dB 3:26 07-L-O-V-E
DR10 -0.30 dB -12.89 dB 3:30 08-Sunshine
DR9 -0.30 dB -11.17 dB 4:28 09-Open Sesame (Groove With The Genie) - Part 2 [Single Version]
DR10 -0.30 dB -11.46 dB 3:22 10-Super Band [Single Version]
DR9 -0.30 dB -10.60 dB 8:44 11-Open Sesame (Groove With The Genie) [Promotional 12" - Special Disco Version]
––––––––––––––––––––––––––––––––––––––––

Number of tracks: 11
Official DR value: DR9

Samplerate: 44100 Hz
Channels: 2
Bits per sample: 16
Bitrate: 970 kbps
Codec: FLAC
================================================================================
Thanks to the Original customer!

password: BlondStyle