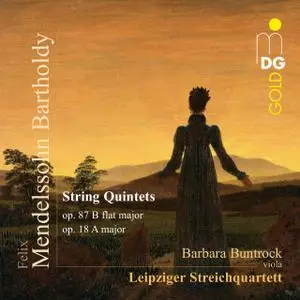 Leipziger Streichquartett, Barbara Buntrock - Mendelssohn: String Quintets (2013)
WEB | FLAC (tracks) - 286 MB | 56:50
Genre: Classical | Label: MDG Gold
The 21st century has seen a certain revival of interest in Felix Mendelssohn's chamber music, and an entry in the field from the German audiophile label MDG is welcome. In the realm of engineering, this recording is superb even by MDG's high standards, with startlingly clear, immediate, yet never overwhelming sound captured at one of the label's favorite haunts, the Konzerthaus der Abtei Marienmünster (a historic abbey). The effect is impressive in the String Quartet No. 2 in B flat major, Op. 87, a work in which Mendelssohn pulls out all the stops to create an orchestra-like texture. It's a tremendously exciting piece, not very Mendelssohn-like, and not much like anything else in the chamber music repertory. The Leipzig String Quartet, with the addition of violist Barbara Buntrock (these are string quintets in the Mozart configuration, with paired violins and violas), catches the excitement with very high energy in the dense, hurtling outer movements. The fetching quality of Mendelssohnian melody, on comparatively greater display in the String Quintet No. 1 in A major, Op. 18, is less of a strong point for the group, but they are nowhere less than technically impressive. Recordings of these two works are still not abundant, and for the fine performance of the B flat major quintet and the top-notch engineering this is well worth considering for libraries of chamber music of the 19th century.
Track List:
String Quintet No. 2 R 33 [Op. 87]
1. Allegro Vivace 9:31
2. Allegretto Scherzando 4:23
3. Adagio E Lento 9:07
4. Allegro Molto Vivace 5:20
String Quintet No. 1 R 21 [Op. 18]
5. Allegro Con Moto 11:25
6. Intermezzo 6:29
7. Scherzo. Allegro Di Molto 4:35
8. Allegro Vivace 6:00
Performers:
Leipziger Streichquartett
Viola – Barbara Buntrock
–––––––––––-
DON'T MODIFY THIS FILE
–––––––––––-
PERFORMER: auCDtect Task Manager, ver. 1.6.0 RC1 build 1.6.0.1
Copyright © 2008-2010 y-soft. All rights reserved
http://y-soft.org
ANALYZER: auCDtect: CD records authenticity detector, version 0.8.2
Copyright © 2004 Oleg Berngardt. All rights reserved.
Copyright © 2004 Alexander Djourik. All rights reserved.
FILE: 01 - Leipziger Streichquartett - String Quintet No. 2 in B-Flat Major, Op. 8- I. Al.flac
Size: 48759338 Hash: F6D722AAD0D01820012C4B56172EBD8F Accuracy: -m0
Conclusion: CDDA 100%
Signature: B0D2556BB9117FF57C1E74C20FCE0937BBF04917
FILE: 02 - Leipziger Streichquartett - String Quintet No. 2 in B-Flat Major, Op. 8- II. A.flac
Size: 18166401 Hash: 75A00B608AF66C3336C23CBE81A35E08 Accuracy: -m0
Conclusion: CDDA 100%
Signature: 9EEE78E739158BBF7250D6D84D23DA6EC83882D2
FILE: 03 - Leipziger Streichquartett - String Quintet No. 2 in B-Flat Major, Op. 8- III..flac
Size: 41851557 Hash: 27A7A4C64AEB3591CD3E572DA2986BCC Accuracy: -m0
Conclusion: CDDA 99%
Signature: AAC6092F31D4B02397F46774062B672FE7CC9C14
FILE: 04 - Leipziger Streichquartett - String Quintet No. 2 in B-Flat Major, Op. 8- VI. A.flac
Size: 27036147 Hash: D359045CD54E2A4250AC6F8420B4B836 Accuracy: -m0
Conclusion: CDDA 100%
Signature: F52E686AEAC4FA2A679415C4EA6999528009CDF5
FILE: 05 - Leipziger Streichquartett - String Quintet No. 1 in A Major, Op. 18- I. Allegr.flac
Size: 55657631 Hash: 71D5EFF8B11714F4A0117BBF2EF54F53 Accuracy: -m0
Conclusion: CDDA 100%
Signature: 3E8F167F5372578468C62662967EE7A6D30DB2FD
FILE: 06 - Leipziger Streichquartett - String Quintet No. 1 in A Major, Op. 18- II. Inter.flac
Size: 28221754 Hash: 9E1CA5714C9024A2F439606BD8E886A6 Accuracy: -m0
Conclusion: CDDA 100%
Signature: F2B23DBC01C0B5FE858C8AE2390AAED0A72619D7
FILE: 07 - Leipziger Streichquartett - String Quintet No. 1 in A Major, Op. 18- III. Sche.flac
Size: 20704795 Hash: 167C99B559DA4F7E2D9F3E4D1FFBAD92 Accuracy: -m0
Conclusion: CDDA 100%
Signature: BB487512642955E83E4166A6495756ECB09197AA
FILE: 08 - Leipziger Streichquartett - String Quintet No. 1 in A Major, Op. 18- VI. Alleg.flac
Size: 32208257 Hash: A9B7B716A7C39B7386D8D2322BE9477C Accuracy: -m0
Conclusion: CDDA 100%
Signature: 8362CF547E1E229EE7ED93378F387B1753D0C91C