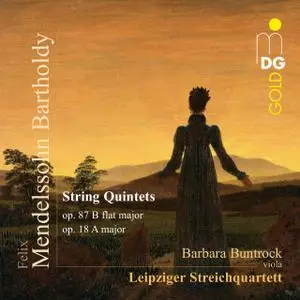 Leipziger Streichquartett, Barbara Buntrock - Mendelssohn: String Quintets (2013)
WEB | FLAC (tracks) - 286 MB | 56:50
Genre: Classical | Label: MDG Gold
The 21st century has seen a certain revival of interest in Felix Mendelssohn's chamber music, and an entry in the field from the German audiophile label MDG is welcome. In the realm of engineering, this recording is superb even by MDG's high standards, with startlingly clear, immediate, yet never overwhelming sound captured at one of the label's favorite haunts, the Konzerthaus der Abtei Marienmünster (a historic abbey). The effect is impressive in the String Quartet No. 2 in B flat major, Op. 87, a work in which Mendelssohn pulls out all the stops to create an orchestra-like texture. It's a tremendously exciting piece, not very Mendelssohn-like, and not much like anything else in the chamber music repertory.