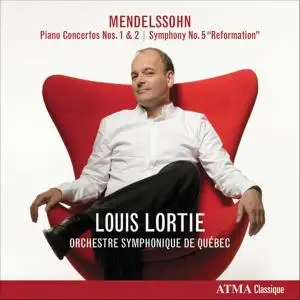 Louis Lortie - Mendelssohn: Piano Concertos Nos. 1 & 2 / Symphony No. 5 "Reformation" (2009)
WEB | FLAC (tracks) - 250 MB | MP3 (CBR 320 kbps) - 162 MB | 01:04:10
Genre: Classical | Label: ATMA Classique
This recording from Quebec's ATMA Classique label is a mixed bag in terms of both repertory and quality. The former aspect is a plus: the program of two Mendelssohn piano concertos plus the Symphony No. 5, Op. 107, "Reformation," is a natural mix that covers several phases of Mendelssohn's career and might easily show up on a live symphonic program, but CD marketers do not so often mix concertos and symphonies in this way. Montreal-born pianist Louis Lortie plays and conducts throughout, which Mendelssohn himself might have done, and the results are generally enjoyable.