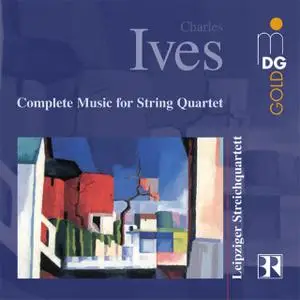 Leipziger Streichquartett - Ives: Complete Music for String Quartet (2002)
WEB | FLAC (tracks) - 308 MB | 01:05:47
Genre: Classical | Label: MDG Gold
Charles Ives's innovations, his seemingly cluttered experiments, his use of quotation (from indigenous folk-tunes to Beethoven's Fifth!) and his visionary ability to suggest and collide his childhood (Holidays Symphony) and look beyond ourselves (The Unanswered Question) has his detractors seeing him, at best, as eccentric. This CD brings maximum contrast from the off – first comes the 90-second Scherzo, gnarled and angular, from a European acolyte of radical Schoenberg maybe, which is followed by the hymnal opening of the First Quartet, music that became the third movement of Ives's remarkable Fourth Symphony, and which could easily have been composed by Dvorak in America, save the harmony wouldn't have 'slipped' so much! This Quartet, completed in 1902, is in the conventional four movements. The second is a pleasing take on folksong, sometimes half-heard as in the Second Symphony; the slow movement sings sweetly and the 'Finale' marches to a church gathering.

In the First Quartet, Ives can be heard tweaking Mendelssohn, Schumann and Dvorak. Adagio sostenuto (quartet plus cor anglais and piano) is more sea-misty and melodically fragmentary – more Ivesian if you will. Of the four pieces for quartet and piano, the two called Largo risoluto are not only recognisably Ivesian and thus more American – Ives invented American Music – both are also passionate and exhaustively 'modern'. The Adagio cantabile is more intimate and sparing, more distant. Hallowe'en scampers to string clusters and a disruptive piano before a recognisable cadence heralds some bass drum bangs.

The most substantial work is the half-hour Second Quartet written over several years to 1913, and thus contemporaneous with the concept of the all-embracing and 'free' Fourth Symphony. It vividly encapsulates Ives's eclectic mix. The Quartet's second movement, 'Arguments', can be heard as anticipating the densest Schoenberg, and beyond him. The first movement also has looks forward, yet I can't help feeling it would be even stronger if Ives had avoided one or two 'churchy' references. 'The Call of the Mountains', the last movement, is a very personal, restrained and slow memorial to a tranquil haven, maybe something unattainable.

This superbly played and recorded CD – three of the Leipzig Quartet's members are previously first-desk players in the Gewandhaus Orchestra – offers a very useful complete collection that helps add to our appreciation of Ives. Wolfgang Rathert writes a sympathetic and informed booklet note. I strongly recommend the Leipzig Q's account of Mendelssohn's Opp.12 & 13 [MDG 307 1055-2]. Schumann's three quartets would be very welcome too.
Track List:
1. Scherzo 1:33
String Quartet No. 1
2. Andante Con Moto 4:58
3. Allegro 5:35
4. Adagio Cantabile 5:33
5. Allegro Marziale 5:18
6. Adagio Sostenuto For English Horn, String Quartet And Piano
7. Largo Risoluto No. 1 For String Quartet And Piano 3:09
8. Largo Risoluto No. 2 For String Quartet And Piano 3:27
9. Adagio Cantabile "The Innate" For String Quartet And Piano 2:28
String Quartet No. 2
10. Discussions 10:25
11. Arguments 4:53
12. The Call Of The Mountains 13:10
13. Hallowe'en For String Quartet And Piano 2:14
Performers:
Leipziger Streichquartett
–––––––––––-
DON'T MODIFY THIS FILE
–––––––––––-
PERFORMER: auCDtect Task Manager, ver. 1.6.0 RC1 build 1.6.0.1
Copyright © 2008-2010 y-soft. All rights reserved
http://y-soft.org
ANALYZER: auCDtect: CD records authenticity detector, version 0.8.2
Copyright © 2004 Oleg Berngardt. All rights reserved.
Copyright © 2004 Alexander Djourik. All rights reserved.
FILE: 01 - Leipziger Streichquartett - Scherzo for String Quartet.flac
Size: 8122056 Hash: 0A0350433DC8AFEABE951C4AB8FB9CC9 Accuracy: -m0
Conclusion: CDDA 99%
Signature: CE2D5D8A109F11B39A28FAAF506B3FB514A51BE6
FILE: 02 - Leipziger Streichquartett - String Quartet No. 1- I. Andante con moto.flac
Size: 24719522 Hash: DBFB835AE00FA321D12957361AF9B0D0 Accuracy: -m0
Conclusion: CDDA 99%
Signature: B2090D7D3648187439E6DE48CEA7CA6EB5B0A985
FILE: 03 - Leipziger Streichquartett - String Quartet No. 1- II. Allegro.flac
Size: 27337650 Hash: AFDA6710949773F25DC58594CCD094BA Accuracy: -m0
Conclusion: CDDA 100%
Signature: DE820B48C802810E29E1FA14357F041ADEA460A2
FILE: 04 - Leipziger Streichquartett - String Quartet No. 1- III. Adagio cantabile.flac
Size: 22683972 Hash: 16441B6DA614C8143D62317152F0087A Accuracy: -m0
Conclusion: CDDA 100%
Signature: F406544B76CDCA3548071281D20BD0B40FF3F9D0
FILE: 05 - Leipziger Streichquartett - String Quartet No. 1- IV. Allegro marziale.flac
Size: 26755855 Hash: 620BD4658C30D5704758D8352A249BFA Accuracy: -m0
Conclusion: CDDA 100%
Signature: 5014FFC5F5640EC42418461FE3C1FEBDE8E99AAE
FILE: 06 - Leipziger Streichquartett - Adagio Sostenuto for English Horn, String Quartet.flac
Size: 6646569 Hash: 64AFF7CEC19D76F05B17CC95A58A897C Accuracy: -m0
Conclusion: CDDA 99%
Signature: 0F0591796127181EB51427E29160BACFE256E9A5
FILE: 07 - Leipziger Streichquartett - Largo Risoluto No. 1 for String Quartet and Piano.flac
Size: 15060167 Hash: 61B9DEA28713C59D6704F3033D7F9E03 Accuracy: -m0
Conclusion: CDDA 100%
Signature: 4163301EE288473852C0987D1BC22C11A2E5534D
FILE: 08 - Leipziger Streichquartett - Largo Risoluto No. 2 for String Quartet and Piano.flac
Size: 14009188 Hash: D58B3964CB88A30F0F8E53367C811E36 Accuracy: -m0
Conclusion: CDDA 100%
Signature: CBAA54D2D61A2338669749B27205D81C9D17E548
FILE: 09 - Leipziger Streichquartett - Adagio Cantabile -The Innate- for String Quartet a.flac
Size: 9881033 Hash: BAA55BED88F7CABAC84C8FB1702980F8 Accuracy: -m0
Conclusion: CDDA 100%
Signature: 8915CBEEA1DE064576498E3BC1E74592C778D307
FILE: 10 - Leipziger Streichquartett - String Quartet No. 2- I. Discussions.flac
Size: 49906811 Hash: B85E973710975A0735D07F2EC1878C57 Accuracy: -m0
Conclusion: CDDA 100%
Signature: 53C7EC117D3BB9F85C5FA744625BDBDB2F873B36
FILE: 11 - Leipziger Streichquartett - String Quartet No. 2- II. Arguments.flac
Size: 26016292 Hash: 5E54447121B4C0F2368A7FE19B6A1340 Accuracy: -m0
Conclusion: CDDA 100%
Signature: 5A3341E773713808BCCF1D65B3EE8ACB312F08B6
FILE: 12 - Leipziger Streichquartett - String Quartet No. 2- III. The Call of the Mountai.flac
Size: 54055867 Hash: FF8641239817AC09634467B37C21E9C9 Accuracy: -m0
Conclusion: CDDA 100%
Signature: EF7F2F96DC41567C6D9761A97918DDD53DF41C40
FILE: 13 - Leipziger Streichquartett - Hallowe'en for String Quartet and Piano.flac
Size: 7721102 Hash: 46BF70359034187A18B3FE8CBBCB8EA8 Accuracy: -m0
Conclusion: CDDA 100%
Signature: EE5155091E3E971CF37C4F777D28EC4D460CB57C