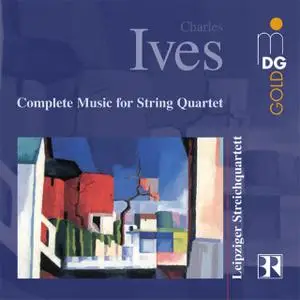 Leipziger Streichquartett - Ives: Complete Music for String Quartet (2002)
WEB | FLAC (tracks) - 308 MB | 01:05:47
Genre: Classical | Label: MDG Gold
Charles Ives's innovations, his seemingly cluttered experiments, his use of quotation (from indigenous folk-tunes to Beethoven's Fifth!) and his visionary ability to suggest and collide his childhood (Holidays Symphony) and look beyond ourselves (The Unanswered Question) has his detractors seeing him, at best, as eccentric. This CD brings maximum contrast from the off – first comes the 90-second Scherzo, gnarled and angular, from a European acolyte of radical Schoenberg maybe, which is followed by the hymnal opening of the First Quartet, music that became the third movement of Ives's remarkable Fourth Symphony, and which could easily have been composed by Dvorak in America, save the harmony wouldn't have 'slipped' so much! This Quartet, completed in 1902, is in the conventional four movements.