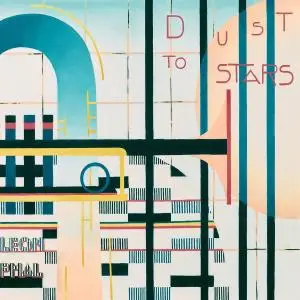 Léon Phal - Dust to Stars (2021)
WEB FLAC (tracks) - 264 MB | Tracks: 8 | 42:30
Style: Jazz | Label: Kyudo Records
A little more than a year after his first album Canto Bello, which revealed him as part of the RéZZo Focal Jazz in Vienne, Léon Phal strikes a second card which reveals his musical versatility and finesse.
With his close band in traditional quintet format (tenor, trumpet, Rhodes, double bass, drums), the tenor saxophonist recorded in Lausanne an irresistible dancefloor jazz proposition.
Admittedly, the idea is foamed by the London generation, but our Franco-Swiss prove that their trademark - namely the light and the surgical precision of the saxophone duo - trumpet (Léon Phal - Zacharie Ksyk), the hovering of the keyboards ( Gauthier Toux), the devastating groove of the double bass - drums tandem (Rémi Bouyssière - Arthur Alard) - can offer intensely solar house music ("Make it Bright") as well as powerfully dreamlike drum'n'bass ("All I ') ve Got ").
Under the leadership of sound engineer Benoît Corboz (who accompanies Erik Truffaz), the textures of this album entitled Dust To Stars are worked on with little onion.
Tracklist:
1. Make it bright 05:22
2. All I've got 06:45
3. Dust to stars 06:06
4. Like a monday 04:25
5. Let it go 04:51
6. Last call 03:16
7. Eternal youth 04:41
8. Here we are 07:04


FILE: 01. Make It Bright.flac
Size: 35315641 Hash: 26D6C77DBC9A75DA92419E874623405A Accuracy: -m0
Conclusion: CDDA 100%
Signature: 3285808F08EA0771DFCC7AEBA92DCC0239CC5748
FILE: 02. All I've Got.flac
Size: 43574711 Hash: 55C47B83E2A37ABA601145DADBCE5702 Accuracy: -m0
Conclusion: CDDA 100%
Signature: 7092F1CF63147A6CB1789F4B67961F9CD52E9410
FILE: 03. Dust to Stars.flac
Size: 41643773 Hash: CF3039EB2E09DB116BC8FAB53504F8E4 Accuracy: -m0
Conclusion: CDDA 100%
Signature: 43AA1C37E21E41699C0BC00A81541ADE8C4D682C
FILE: 04. Like a Monday.flac
Size: 26813752 Hash: 004E94F46A517F9C54A5D3A4FA5657AD Accuracy: -m0
Conclusion: CDDA 100%
Signature: 4AB882030563BD7D35F48062D8151B596D457166
FILE: 05. Let It Go.flac
Size: 29121112 Hash: 351D54B00FD57062FB8C096C111E95D5 Accuracy: -m0
Conclusion: CDDA 100%
Signature: 3AEFB08953307EF645397EE33218A681973C5647
FILE: 06. Last Call.flac
Size: 22084541 Hash: 4682E9A6971360BF9F962EAB318D40D5 Accuracy: -m0
Conclusion: CDDA 100%
Signature: 68C63E73236F91F4171511D103BAD12690938141
FILE: 07. Eternal Youth.flac
Size: 31817081 Hash: 9BC1B289CD7159CE619EA4B4F5DCEC50 Accuracy: -m0
Conclusion: CDDA 100%
Signature: 36D29C3F93F5CF176A99F20E89C56D9AAC6274CB
FILE: 08. Here We Are.flac
Size: 46008376 Hash: 6D01E1960914585CFF66EBA9FED1095C Accuracy: -m0
Conclusion: CDDA 100%
Signature: 901532504A94406E69ACCA9E3259B4952DFBD34A