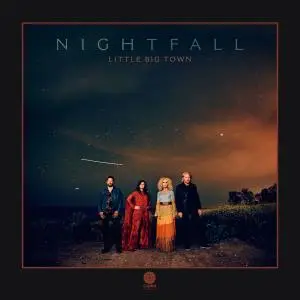 Little Big Town - Nightfall (2020)
WEB FLAC (tracks) - 304 MB | Tracks: 13 | 46:11 min
Style: Country | Label: Capitol Records Nashville
Grammy Award-winning vocal group Little Big Town announced this morning, the release of their ninth studio album Nightfall, and accompanying headline tour, The Nightfall Tour. The foursomes' new album will drop January 17, 2020 succeeding a once-in-a-lifetime performance at the historic Carnegie Hall in New York City on January 16, 2020. This is the first mainstream country performance featured at Carnegie Hall since Alan Jackson in 2013.
Tracklist:
1. Next To You (4:07)
2. Nightfall (3:21)
3. Forever And A Night (4:26)
4. Throw Your Love Away (3:44)
5. Over Drinking (3:10)
6. Wine, Beer, Whiskey (3:16)
7. Questions (3:04)
8. The Daughters (3:33)
9. River Of Stars (3:37)
10. Sugar Coat (3:40)
11. Problem Child (3:35)
12. Bluebird (3:11)
13. Trouble With Forever (3:31)


FILE: 01. Next To You.flac
Size: 25148198 Hash: 64372BE618713B793F92EB4DE27CDC72 Accuracy: -m0
Conclusion: CDDA 100%
Signature: 37F5CC0887710FDBE6BD49CCB69CC6E469CD5C8B
FILE: 02. Nightfall.flac
Size: 25673690 Hash: 45E0B7D49C60BC432AEF6EA4F9391A35 Accuracy: -m0
Conclusion: CDDA 100%
Signature: F350050948F98F1A0FA7FB1161198CC1B105C41F
FILE: 03. Forever And A Night.flac
Size: 28856929 Hash: 2FEFA27CF0380B12A4EC31CDB1EE3026 Accuracy: -m0
Conclusion: CDDA 100%
Signature: 1BF870C24DF6F07D3D04B342C844045C28E5736A
FILE: 04. Throw Your Love Away.flac
Size: 27574902 Hash: D97D508610F8F70B1ED803DA63589F02 Accuracy: -m0
Conclusion: CDDA 99%
Signature: 42A037807D449DFEAADF1F8C77A3A424E9142028
FILE: 05. Over Drinking.flac
Size: 22844287 Hash: 7C85E1E14A5897A7FDB49C43784498D6 Accuracy: -m0
Conclusion: CDDA 100%
Signature: 466BD731417524054F932E94C3DFA9D69C3083DD
FILE: 06. Wine, Beer, Whiskey.flac
Size: 24586321 Hash: 29F52DD9E8D6480E09E90D5C47CA98CB Accuracy: -m0
Conclusion: CDDA 100%
Signature: B67724F2BEFCD61D5A1E05EE27E02922FC8645B8
FILE: 07. Questions.flac
Size: 20280098 Hash: 58770692D6650AA85486A92151856D51 Accuracy: -m0
Conclusion: CDDA 99%
Signature: CF61BAFAD212AFCDC9D356E7A918F5626756BD66
FILE: 08. The Daughters.flac
Size: 23118592 Hash: 28D46F62D0A008BB85C55E991519C9D1 Accuracy: -m0
Conclusion: CDDA 100%
Signature: 88817236F5F9293E719CDA5A07FCE0B4EC95C5E2
FILE: 09. River Of Stars.flac
Size: 26724851 Hash: F47FB638EF1884864CA13D7171F21393 Accuracy: -m0
Conclusion: CDDA 100%
Signature: AFC1C691C8B3B07EE41ED799661E2151E3514442
FILE: 10. Sugar Coat.flac
Size: 24654494 Hash: FA5BD1A335390DC536612AE07100398A Accuracy: -m0
Conclusion: CDDA 100%
Signature: 55B5744BEB05DFD30080C02802CB8C1A9F63EEF1
FILE: 11. Problem Child.flac
Size: 22787370 Hash: F2D404BAFF56C089B5ACBA176C6E014D Accuracy: -m0
Conclusion: CDDA 100%
Signature: 5DE22DF5086C51F4BEA09BF594EE3C82B4630343
FILE: 12. Bluebird.flac
Size: 23881954 Hash: 07899AC4B46BDDBDF6D736D2F11498A7 Accuracy: -m0
Conclusion: CDDA 100%
Signature: 5DC2B05C81F20D0E289C20EA8B19D8C39E445DEB
FILE: 13. Trouble With Forever.flac
Size: 22740646 Hash: 5E2D0A0C08DD3F46A8E0B9CE861F6DBE Accuracy: -m0
Conclusion: CDDA 100%
Signature: 4232401943677C8D3DF28C685D9F39D02E2B2878