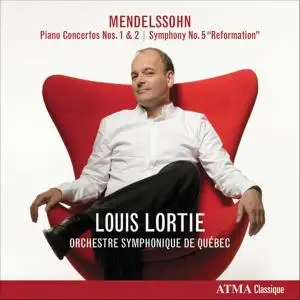 Louis Lortie - Mendelssohn: Piano Concertos Nos. 1 & 2 / Symphony No. 5 "Reformation" (2009)
WEB | FLAC (tracks) - 250 MB | MP3 (CBR 320 kbps) - 162 MB | 01:04:10
Genre: Classical | Label: ATMA Classique
This recording from Quebec's ATMA Classique label is a mixed bag in terms of both repertory and quality. The former aspect is a plus: the program of two Mendelssohn piano concertos plus the Symphony No. 5, Op. 107, "Reformation," is a natural mix that covers several phases of Mendelssohn's career and might easily show up on a live symphonic program, but CD marketers do not so often mix concertos and symphonies in this way. Montreal-born pianist Louis Lortie plays and conducts throughout, which Mendelssohn himself might have done, and the results are generally enjoyable. The high point is the opening Piano Concerto No. 1 in G minor, Op. 25, written in 1830 when Mendelssohn was 21 and evincing a brilliant feel for the way Beethoven's idiom might be combined with the emerging tradition of the virtuoso showpiece. Lortie's Presto finale has all the verve, sparkle, and fun that the great champion of Mendelssohn's concertos, Rudolf Serkin, brought to these works. The weightier second concerto and the Symphony No. 5 are more dependent on the strings of the Orchestre Symphonique de Québec, which don't always deliver the goods in terms of intonation, and in the rather ponderous symphony, which is where the Romantic musical approach to religion really began, there is plenty of competition for this recording. There's an energy throughout that recommends this disc for Mendelssohn lovers, however, and the sound is clear and unfussy. A good choice except for those whose interest is specifically in the Symphony No. 5. Booklet notes are in French and English.
Track List:
Piano Concerto No. 1 in G Minor, Op. 25, MWV O 7
1. I. Molto allegro con fuoco 6:43
2. II. Andante 5:35
3. III. Presto 5:57
Piano Concerto No. 2 in D Minor, Op. 40, MWV O 11
4. I. Allegro appassionato 8:28
5. II. Adagio - Molto sostenuto 6:17
6. III. Finale. Presto scherzando 6:02
Symphony No. 5 in D Major, Op. 107, MWV N 15 "Reformation"
7. I. Andante - Allegro con fuoco 10:04
8. II. Allegro vivace 4:33
9. III. Andante 3:02
10. IV. Andante con moto - Allegro vivace 7:29
Performers:
Piano, Conductor – Louis Lortie
Orchestre Symphonique De Quebec
–––––––––––-
DON'T MODIFY THIS FILE
–––––––––––-
PERFORMER: auCDtect Task Manager, ver. 1.6.0 RC1 build 1.6.0.1
Copyright © 2008-2010 y-soft. All rights reserved
http://y-soft.org
ANALYZER: auCDtect: CD records authenticity detector, version 0.8.2
Copyright © 2004 Oleg Berngardt. All rights reserved.
Copyright © 2004 Alexander Djourik. All rights reserved.
FILE: 01 - I. Molto allegro con fuoco.flac
Size: 24946965 Hash: 2E337BCC4B4A7C533A0A363ABCDA5951 Accuracy: -m0
Conclusion: CDDA 87%
Signature: BCC1684760877A8AF4B124BAE741005412E8E72E
FILE: 02 - II. Andante.flac
Size: 17055030 Hash: CDDE275F6AA580210EAAE97886317478 Accuracy: -m0
Conclusion: CDDA 100%
Signature: DB8055A1C643410241AE6FA7AEAC3077BC2C50B3
FILE: 03 - III. Presto.flac
Size: 22296096 Hash: 88359FF3ED9FB28984E4524C84BF0682 Accuracy: -m0
Conclusion: CDDA 100%
Signature: B6434CAD3B9D1C5C1C99356A4E88BF5D864DDDE9
FILE: 04 - I. Allegro appassionato.flac
Size: 30976688 Hash: 881B85FDB5E43E412A2903D0EE3D03F0 Accuracy: -m0
Conclusion: CDDA 100%
Signature: 079B9E4BFC5A8B5752E3045709284906C4D5BF44
FILE: 05 - II. Adagio - Molto sostenuto.flac
Size: 18766651 Hash: 06B26D6FD859A59A9C35223CBC46B45E Accuracy: -m0
Conclusion: CDDA 86%
Signature: 2F254FD9829B961A90CBC302070ED5944A712AF3
FILE: 06 - III. Finale_ Presto scherzando.flac
Size: 22211565 Hash: 4B66F522C529DC5B69103753001B10F3 Accuracy: -m0
Conclusion: CDDA 100%
Signature: 15958F5EB6D7BEBC0D7FA583EEA97AF89EA8915A
FILE: 07 - I. Andante - Allegro con fuoco.flac
Size: 41489552 Hash: A6772CA7B1DBE4BACFC9DA3468EF22CB Accuracy: -m0
Conclusion: CDDA 100%
Signature: 676BE8C618E9F3CB2D4EE5C5F9101D1821B5E719
FILE: 08 - II. Allegro vivace.flac
Size: 16590680 Hash: DB4E389BECAC85FDB95FA2F0BD38A9C5 Accuracy: -m0
Conclusion: CDDA 100%
Signature: 13B74C96BA07020B13232545C225EFF626C04E5C
FILE: 09 - III. Andante.flac
Size: 10276777 Hash: F10123DC47D9D16D77168F5A1B164D28 Accuracy: -m0
Conclusion: CDDA 100%
Signature: 67EB4DC2DF62FD967BD650968690BD1F236D2A06
FILE: 10 - IV. Andante con moto - Allegro.flac
Size: 33549927 Hash: F053D5934FA45DA38558321FCEF84A10 Accuracy: -m0
Conclusion: CDDA 100%
Signature: E7DD194B36EC622535FE8FC4640939C681ACB7F5