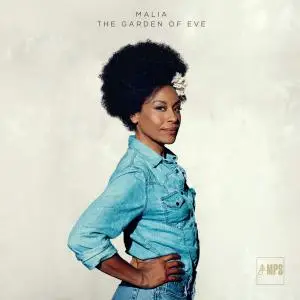 Malia - The Garden of Eve (2020)
WEB FLAC (Tracks) 235 MB | Cover | 41:55 | MP3 CBR 320 kbps | 99 MB
Smooth Jazz, Blues | Label: Musik Produktion Schwarzwald
It was a long time ago that a contemporary artist had appreciated the blues so beautifully. A style that deserved a little dusting in 2020.
"Blues has always been close to my heart. It is a cathartic experience, precious and profound, whether I play it or listen to it on the radio! When I first heard Billie Holiday sing 'Blue Moon', I felt it with every cell in my body - it had such a powerful effect on me. The sensitivity of the blues, born of tragic situations that sometimes reflect my own experiences … No matter how bad family, friends, politics, partners, lovers, governments or elites are sometimes, they can never have the powers of good in the world to destroy. And over time I find more and more about this truth that is deeply rooted in my soul and I finally feel mature enough to understand this wonderful musical tradition - because blues is life. "
And when blues is life, malia is the energy that enables blues to have a soul, a voice. Characterized by her very special timbre, which certainly doesn't need any further explanation, Malia's music lets us pause in the 12 tracks of this album. An album that has everything to become a classic.
In times when technology is increasingly influencing music, The Garden Of Eve does the opposite. It is an organic album that was produced by real musicians in a very lively mood. And even if the blues since the death of the late B.B. King has lost his most loyal missionary, Malia and The Garden Of Eve offer a nice makeover that gives this genre a modern twist and will enchant new groups of blues lovers.
TRACKLIST
1. Malia - Hope
2. Malia - Last Show
3. Malia - The Thrill Is Gone
4. Malia - Me & My Girlfriend
5. Malia - Two Seedlings
6. Malia - Lord, I Feel so Bad
7. Malia - Restoration
8. Malia - Death
9. Malia - Freedom at Last
10. Malia - Moving Away
11. Malia - Honeymoon Is Over
12. Malia - Love in Vain
–––––––––––-
DON'T MODIFY THIS FILE
–––––––––––-
PERFORMER: auCDtect Task Manager, ver. 1.6.0 RC1 build 1.6.0.1
Copyright © 2008-2010 y-soft. All rights reserved
http://y-soft.org
ANALYZER: auCDtect: CD records authenticity detector, version 0.8.2
Copyright © 2004 Oleg Berngardt. All rights reserved.
Copyright © 2004 Alexander Djourik. All rights reserved.
FILE: 9 - Freedom at Last.flac
Size: 23068850 Hash: 01F1D721064D78DE4DDD954ED79606EA Accuracy: -m0
Conclusion: CDDA 100%
Signature: B097A10EEDFF2C5972C821D240644F867F4D8456
FILE: 8 - Death.flac
Size: 20657233 Hash: 8C053B8309A879D80A291013DA253A58 Accuracy: -m0
Conclusion: CDDA 100%
Signature: 3A0D4F480651A9A84713A42A341750B3FE4FFADD
FILE: 7 - Restoration.flac
Size: 23148879 Hash: 68DFA73348FFFF8A633DAB942037F15B Accuracy: -m0
Conclusion: CDDA 100%
Signature: 04C7902BF1B8597B243DFE6ED70B55A58A6D91B0
FILE: 6 - Lord, I Feel so Bad.flac
Size: 18535124 Hash: A5594120EC89F9686AF442D82A572A5C Accuracy: -m0
Conclusion: MPEG 95%
Signature: 5A3E14729AB2F4A2FC1EC5A1BF31A9C5CFCCE7AD
FILE: 5 - Two Seedlings.flac
Size: 17019847 Hash: 0B57F85F7D5817A187E1876D23F397D1 Accuracy: -m0
Conclusion: CDDA 100%
Signature: 27C3EE6FFE08185FD5355D3BF7210AC9BB589617
FILE: 4 - Me & My Girlfriend.flac
Size: 19798320 Hash: 87AB358EEE37E610EA524EEC2F6E13C1 Accuracy: -m0
Conclusion: CDDA 99%
Signature: 68202B3C57637F0387888F37BCD84FA130C4F324
FILE: 3 - The Thrill Is Gone.flac
Size: 21319168 Hash: 70332726536E4CCF3DDD7210410FC12E Accuracy: -m0
Conclusion: CDDA 100%
Signature: DF01C67B4273C4A92D6063430AB2AD81FBC96978
FILE: 2 - Last Show.flac
Size: 19876183 Hash: 1BAA8CBD996FAE7D4489AAEB4A1B7414 Accuracy: -m0
Conclusion: CDDA 100%
Signature: EF088D1CBA7C6EB853560CB8198489B1A0295A95
FILE: 12 - Love in Vain.flac
Size: 18349897 Hash: B91A5A2690BAB701790D02594FE6A5E7 Accuracy: -m0
Conclusion: CDDA 100%
Signature: E3D753DA43D80C6740B29D78CDCECACAA67EAFA9
FILE: 11 - Honeymoon Is Over.flac
Size: 21430513 Hash: 46BB3C2E4F1D8A24FD44136C4D883E8D Accuracy: -m0
Conclusion: CDDA 100%
Signature: 355DC51999C908B0266460E42FF23BD928B0FB3C
FILE: 10 - Moving Away.flac
Size: 22459387 Hash: 71A673A4FD6CF54AB417D2C94B5C14CE Accuracy: -m0
Conclusion: CDDA 100%
Signature: E7C268F4F52B1D0B56B7334A4E101D24AAE45A35
FILE: 1 - Hope.flac
Size: 21037859 Hash: 9290AA7D1518A31400E729EBC5656E46 Accuracy: -m0
Conclusion: CDDA 100%
Signature: 493AA047FD05DE97FFF75BC24D76D1F536B4155F