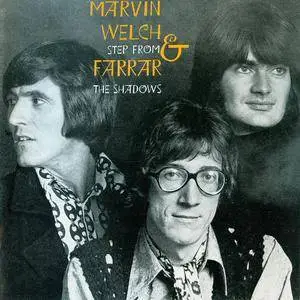 Marvin, Welch & Farrar - Step From The Shadows (1986) CD issue 1989
EAC | FLAC | Image (Cue&Log) ~ 368 Mb | Mp3 (CBR320) ~ 150 Mb | Scans included
British Invasion, Pop Rock, Beat | Label: See for Miles | # SEE CD 78 | Time: 00:56:22
Marvin, Welch & Farrar (aka MWF) were a 1970s British and Australian popular music group formed by Hank Marvin and Bruce Welch, both members of The Shadows – as a change of direction manoeuvre during 1970 to 1973 – and John Farrar (ex-The Strangers). The distinction was that while The Shadows were famous for their instrumental work, Marvin Welch & Farrar were a trio, vocal harmony group. They have been favourably compared to USA folk close harmony group Crosby Stills Nash and Young (aka CSNY) and The Hollies. Their second album, Second Opinion (1971), produced by Peter Vince, in a private poll during the 1970s by EMI record's Abbey Road's sound engineers, was voted as one of the best ever sounding albums recorded at these studios. This album is a compilation of MWF's first and second album.
To anyone not from England, or not part of the baby boom generation, it's a bit difficult to explain the significance of Marvin, Welch & Farrar as a group – not that they were lacking in any way; far from it, their music speaks (or, more properly and significantly, sings) volumes, and they made some superb vocal pop, very much influenced by Crosby, Stills & Nash, among other harmony vocal music of the early '70s. But that's the hard part to explain – to anyone who doesn't know Hank Marvin and Bruce Welch as core members of the Shadows, a quartet renowned since 1958 for their instrumental music, or to anyone who does know them that way. It's as though members of the New York Philharmonic string section decided to form a choral outfit and ended up being really good at it.

The key to understanding what Marvin, Welch & Farrar were about is to recognize that the Shadows didn't just make instrumental music, and that's not merely referencing their work with vocalist Cliff Richard. Rather, Hank Marvin and Bruce Welch did occasional vocal numbers, and while these never "took" with the public, the critics and more discerning listeners all approved of what they'd heard. Cut to 1968 – after ten years of success as a rock & roll outfit, most of it quite immense during the first four and a lot of the rest receding gradually amid the rise of the Beatles, the Rolling Stones, et al., the Shadows, consisting then of Marvin, Welch, bassist John Rostill, and drummer Brian Bennett, decided to put the band on hiatus. Rostill and Bennett went their separate ways in music, while Welch took some time off and Marvin kept his hand in music with a series of solo releases and a record cut in tandem with Richard. But by 1970, Welch was ready to pursue a new musical venture, and he and Marvin decided that this would be as un-Shadows-like as possible – a harmony vocal outfit. Rejecting the idea of a new band, or reestablishing the Shadows identity, they decided to go out as themselves, using simply their names. But a third voice and player seemed called for, and that was when Welch's Australian fiancée – Olivia Newton-John – took a hand, reminding them of their favorable impression of a guitarist they'd seen on a tour of Australia a couple of years before, named John Farrar; and contacting him was not half the problem it might normally have been, as Newton-John had not long before worked with singer Pat Carroll, who happened to be Mrs. John Farrar. By the end of the summer of 1970, Farrar was in London and the trio was recording, assisted by Clem Cattini on the drums and Dave Richmond on bass.

The group's debut single, "Faithful" b/w "Mr. Sun," issued in early 1971, was a stunner vocally, with some of the most beautiful harmonies heard on a record that year. And it was totally unexpected to Shadows fans expecting a certain kind of sound from Hank Marvin and Bruce Welch. It got good press and lots of exposure but failed to chart, though the self-titled debut album that followed did better, reaching number 30. It was a total break from the sounds with which Marvin and Welch had previously been associated, and they took the bull by the horns, even remaking an old Marvin-authored Shadows track called "Throw Down a Line" in distinctly new terms in their new musical surroundings. And as testimony to the craftsmanship that went into the compositions, two of the new songs on the album – and they were all originals – were covered by Cliff Richard, who got a Top 30 hit out of "Silvery Rain" that same year. The resulting album was impressive on just about every level, especially the vocals, something that Marvin and Welch were simply not known for doing – indeed, a lot of the record came off as what might have resulted if the Hollies, widely known for their three-part harmonies, had done an unplugged or low-wattage album.

This flurry of activity was complicated by the fact that the Shadows, now reactivated as a recording outfit, had an album of their own out at the same time. In one of those peculiar coincidences, Marvin, Welch & Farrar and the new Shadows album each peaked within weeks of each other at the identical chart position, number 30, in England. Meanwhile, a somewhat abbreviated U.S. release of the Marvin, Welch & Farrar album went unnoticed on the far side of the Atlantic. A brace of follow-up singles and an album, Second Opinion, followed, but by mid-1972 personal situations – most notably the breakup of the engagement between Welch and Newton-John – had begun to take their toll. And by the time of the second album's release, the trio was effectively reduced to a duo of Hank Marvin and John Farrar.

The group did a tour alongside Cliff Richard that drew enough people to be a success on paper, but they were never able to break away entirely from the expectations of the Shadows' audience. People expected the rock & roll instrumentals, and the absence of that material from their set disappointed concertgoers in droves. In 1973, Marvin, Welch & Farrar were effectively folded into the fully reactivated Shadows, with Brian Bennett resuming his place in the drummer's slot. According to Hank Marvin, in an interview quoted by David Wells in his notes for a reissue of the trio's albums on Beat Goes On, they were able to incorporate some of the Marvin, Welch & Farrar vocal numbers very well into the Shadows' sets. The vocals continued to figure in their work until the departure of John Farrar – he went on to collaborate with Olivia Newton-John and followed her to America. Meanwhile, Welch enjoyed a highly successful second career as a producer, and Marvin released the occasional solo effort – and the Shadows went on playing and recording right into the 21st century, clocking in more than 40 years as stars. Eventually, however, someone did remember their attempt to redefine their music as a vocal trio – in 2006, the two Marvin, Welch & Farrar albums were reissued on CD by Beat Goes On.



Bruce Eder, Allmusic.com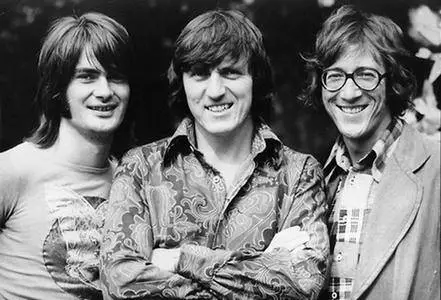 Tracklist:
01. Marmaduke (03:04)
02. Lady Of The Morning (03:41)
03. The Time To Care (02:27)
04. Lonesome Mole (03:18)
05. Black Eyes (03:24)
06. Brownie Kentucky (02:34)
07. Skin Deep (04:25)
08. Faithful (02:23)
09. You Never Can Tell (03:37)
10. So Hard To Live With (03:31)
11. Music Makes My Day (03:48)
12. Mistress Fate & Father Time (03:15)
13. Silvery Rain (02:33)
14. Wish You Were Here (03:25)
15. A Thousand Conversations (02:17)
16. Tiny Robin (02:38)
17. Thank Heavens I've Got You (02:34)
18. Please Mr Please (03:20)
Exact Audio Copy V1.1 from 23. June 2015

Отчёт EAC об извлечении, выполненном 17. февраля 2016, 19:33

Marvin, Welch & Farrar / Step From The Shadows

Дисковод: ASUS DRW-24B3ST Adapter: 0 ID: 0

Режим чтения : Достоверность
Использование точного потока : Да
Отключение кэша аудио : Да
Использование указателей C2 : Нет

Коррекция смещения при чтении : 6
Способность читать области Lead-in и Lead-out : Нет
Заполнение пропущенных сэмплов тишиной : Да
Удаление блоков с тишиной в начале и конце : Нет
При вычислениях CRC использовались нулевые сэмплы : Да
Интерфейс : Установленный внешний ASPI-интерфейс

Выходной формат : Пользовательский кодировщик
Выбранный битрейт : 1024 kBit/s
Качество : Высокий
Добавление ID3-тега : Нет
Утилита сжатия : C:\Program Files (x86)\Exact Audio Copy\FLAC\FLAC.EXE
Дополнительные параметры : -6 -V -T "ARTIST=%artist%" -T "TITLE=%title%" -T "ALBUM=%albumtitle%" -T "DATE=%year%" -T "TRACKNUMBER=%tracknr%" -T "GENRE=%genre%" -T "COMMENT=%comment%" -T "BAND=%albuminterpret%" -T "ALBUMARTIST=%albuminterpret%" -T "COMPOSER=%composer%" %haslyrics%–tag-from-file=LYRICS="%lyricsfile%"%haslyrics% -T "DISCNUMBER=%cdnumber%" -T "TOTALDISCS=%totalcds%" -T "TOTALTRACKS=%numtracks%" %hascover%–picture="%coverfile%"%hascover% %source% -o %dest%


TOC извлечённого CD

Трек | Старт | Длительность | Начальный сектор | Конечный сектор
––––––––––––––––––––––––––––––––––-
1 | 0:00.32 | 3:04.13 | 32 | 13844
2 | 3:04.45 | 3:41.60 | 13845 | 30479
3 | 6:46.30 | 2:27.55 | 30480 | 41559
4 | 9:14.10 | 3:18.17 | 41560 | 56426
5 | 12:32.27 | 3:24.23 | 56427 | 71749
6 | 15:56.50 | 2:34.30 | 71750 | 83329
7 | 18:31.05 | 4:25.05 | 83330 | 103209
8 | 22:56.10 | 2:23.25 | 103210 | 113959
9 | 25:19.35 | 3:37.37 | 113960 | 130271
10 | 28:56.72 | 3:31.50 | 130272 | 146146
11 | 32:28.47 | 3:49.00 | 146147 | 163321
12 | 36:17.47 | 3:15.23 | 163322 | 177969
13 | 39:32.70 | 2:33.17 | 177970 | 189461
14 | 42:06.12 | 3:25.38 | 189462 | 204874
15 | 45:31.50 | 2:17.12 | 204875 | 215161
16 | 47:48.62 | 2:38.38 | 215162 | 227049
17 | 50:27.25 | 2:34.60 | 227050 | 238659
18 | 53:02.10 | 3:20.40 | 238660 | 253699


Характеристики диапазона извлечения и сообщения об ошибках

Выбранный диапазон

Имя файла E:\Torrents\Marvin, Welch & Farrar - 1989 - Step From The Shadows\Marvin, Welch & Farrar - Step From The Shadows.wav

Пиковый уровень 100.0 %
Скорость извлечения 8.5 X
Качество диапазона 100.0 %
CRC теста 6892EB4F
CRC копии 6892EB4F
Копирование… OK

Ошибок не произошло

Конец отчёта

==== Контрольная сумма отчёта BD450AC6952A3102E8BE86311CAF6DCD94DC6690D4570C9DC2A7BB7B1271001E ====
foobar2000 1.2 / Dynamic Range Meter 1.1.1
log date: 2016-02-26 15:04:18

––––––––––––––––––––––––––––––––––––––––
Analyzed: Marvin, Welch & Farrar / Step From The Shadows
––––––––––––––––––––––––––––––––––––––––

DR Peak RMS Duration Track
––––––––––––––––––––––––––––––––––––––––
DR12 0.00 dB -14.48 dB 3:04 01-Marmaduke
DR12 0.00 dB -13.38 dB 3:42 02-Lady Of The Morning
DR12 0.00 dB -14.88 dB 2:28 03-The Time To Care
DR11 0.00 dB -13.84 dB 3:18 04-Lonesome Mole
DR12 0.00 dB -14.51 dB 3:24 05-Black Eyes
DR11 -1.17 dB -15.81 dB 2:34 06-Brownie Kentucky
DR12 0.00 dB -14.86 dB 4:25 07-Skin Deep
DR11 -0.83 dB -15.97 dB 2:23 08-Faithful
DR11 -0.94 dB -15.12 dB 3:37 09-You Never Can Tell
DR12 -0.01 dB -14.17 dB 3:32 10-So Hard To Live With
DR13 0.00 dB -16.16 dB 3:49 11-Music Makes My Day
DR11 -0.85 dB -16.88 dB 3:15 12-Mistress Fate & Father Time
DR12 0.00 dB -15.02 dB 2:33 13-Silvery Rain
DR11 0.00 dB -16.17 dB 3:26 14-Wish You Were Here
DR11 -0.32 dB -16.89 dB 2:17 15-A Thousand Conversations
DR11 -0.85 dB -16.39 dB 2:39 16-Tiny Robin
DR11 -0.71 dB -16.15 dB 2:35 17-Thank Heavens I've Got You
DR12 0.00 dB -14.68 dB 3:21 18-Please Mr Please
––––––––––––––––––––––––––––––––––––––––

Number of tracks: 18
Official DR value: DR12

Samplerate: 44100 Hz
Channels: 2
Bits per sample: 16
Bitrate: 860 kbps
Codec: FLAC
================================================================================