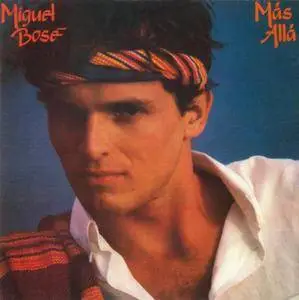 Miguel Bosé - Más Allá (1981) [1992, Reissue]
Pop/Rock, Latin Pop, Vocal, Ballad | EAC Rip | FLAC, Tracks+CUE+LOG+Scans (JPEG) | 41:37 Min. | 281,74 Mb
Label: CBS/Sony (EU) | Cat.# 472929 2 | Released: 1992 (1981)
Luis Miguel González Bosé (born April 3, 1956), usually known as Miguel Bosé, is a Panamanian-born Spanish musician and actor. Bosé became an honorary Colombian citizen in 2010. Propelled by his famous family and their friends, in 1971, Bosé started a career as an actor, participating in various movies. He quickly won spots on the basis of his talent and good looks alone, rather than his name, and he did study serious acting as well as dancing and singing. However, he did not make that many films, and in 1975 he decided a career change was due and started exploring his talents as a singer. With the assistance of Camilo Blanes he recorded his first singles. Two years later, in 1977, Bosé signed a contract with CBS Records, and he remained with them until 1984.
~Wikipedia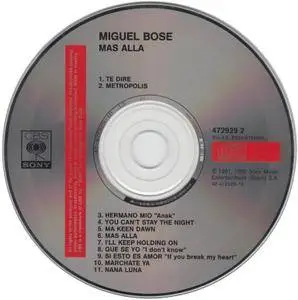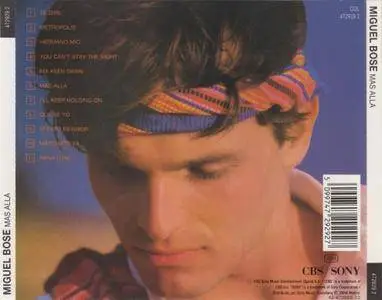 Release of this album:
1981 [LP CBS, Cat.# S 85366, Spain]
Release of this CD:
1992 [CD CBS/Sony (EU), Cat.# 472929 2 / UPC: 5099747292927]
℗ 1981, 1992 Sony Music Entertainment (Spain) S.A.
© 1992 Sony Music Entertainment (Spain) S.A.
Made in Austria
Credits:
Arranged By – Danilo Vaona, Graham Preskett
Artwork By – Juan O. Gatti
Backing Vocals – Danilo Vaona, "Huevo" Cuervo, Enzo Giuffre, Peter Felsatti, Martin Jay, Miguel Bosé, Simon Bell, Tony Burrows
Bass – Alan Jones
Cello – Clive Anstee
Drums – Barry Morgan
Engineer [Assistant] – Liz Biddiscombe
Engineer, Mixed By – Brad Davis
Guitar – Alan Parker, Nigel Jenkins, Ricky Hitchcock
Keyboards – Trevor Bastow
Other [Avisadora] – Jill Burrows
Percussion – Barry Morgan, Frank Riccotti
Photography – Javier Vallhonrat
Piano, Keyboards [Additional] – Danilo Vaona, Graham Preskett
Producer – Danilo Vaona
Saxophone – Ron Asprey
Synthesizer [Moog, Prophet] – Hans Zimmer
Tracklist:01.
Te Diré (02:54)
(D. Vaona, P. Felisatti, L. G. Escolar, M. Bosé)
02.
Metrópolis (03:50)
(D. Vaona, P. Felisatti, M. Bosé)
03.
Hermano Mío (Anak) (04:03)
(F. Aguilar)
04.
You Can't Stay The Night (04:01)
(D. Bugatti, F. Musker)
05.
Ma Keen Dawn (05:54)
(C. Vallois, A. Desrouvres)
06.
Más Allá (03:48)
(J. P. Dreau, M. Bosé)
07.
I'll Keep Holding On (03:47)
(R. Ballard)
08.
Qué Se Yo (I Don't Know) (03:04)
(P. Felisatti)
09.
Si Esto Es Amor (If You Break My Heart) (03:30)
(D. Essex, S. Colyer)
10.
Márchate Ya (03:58)
(D. Vaona, P. Felisatti, L. G. Escolar, M. Bosé)
11.
Nana Luna (02:47)
(P. Felisatti, M. Bosé)
Exact Audio Copy V1.1 from 23. June 2015

Archivo Log de extracciones desde 19. Febrero 2016, 14:25

Miguel Bosé / Más Alla

Usar unidad : ASUS DRW-24F1ST a Adapter: 1 ID: 0

Modo de Lectura : : Seguro
Utilizar corriente precisa : Sí
Caché de audio por defecto : No
Utilizar los punteros C2 : No

Corrección de Desplazamiento de Lectura : : 6
Sobreleer tanto en Lead-In como en Lead-Out : No
Rellenar las muestras faltantes con silencios : Sí
Eliminar silencios inicial y final : No
Muestras nulas usadas en los calculos de CRC : Sí
Interfaz usada : Interfaz propio de Win32 para Windowns NT y 2000
Manejo de huecos : No se detectó, por lo que anexa a la pista anterior

Formato de Salida utilizado : : Compresor definido por el Usuario
Velocidad de bits seleccionada : 768 kBit/s
Calidad : Alta
Añadir ID3 tag : No
linea de comandos del compresor : C:\Program Files (x86)\Exact Audio Copy\FLAC\FLAC.EXE
Opciones adicionales en línea de comandos : : -6 -V -T "ARTIST=%artist%" -T "TITLE=%title%" -T "ALBUM=%albumtitle%" -T "DATE=%year%" -T "TRACKNUMBER=%tracknr%" -T "GENRE=%genre%" -T "COMMENT=%comment%" -T "BAND=%albuminterpret%" -T "ALBUMARTIST=%albuminterpret%" -T "COMPOSER=%composer%" %haslyrics%–tag-from-file=LYRICS="%lyricsfile%"%haslyrics% -T "DISCNUMBER=%cdnumber%" -T "TOTALDISCS=%totalcds%" -T "TOTALTRACKS=%numtracks%" %hascover%–picture="%coverfile%"%hascover% %source% -o %dest%


TOC extraídos del CD

Pista | Inicio | Longitud | Inicio del sector | Fin del sector
–––––––––––––––––––––––––––––––––
1 | 0:00.00 | 2:54.12 | 0 | 13061
2 | 2:54.12 | 3:49.53 | 13062 | 30289
3 | 6:43.65 | 4:03.27 | 30290 | 48541
4 | 10:47.17 | 4:01.20 | 48542 | 66636
5 | 14:48.37 | 5:54.15 | 66637 | 93201
6 | 20:42.52 | 3:47.50 | 93202 | 110276
7 | 24:30.27 | 3:47.10 | 110277 | 127311
8 | 28:17.37 | 3:04.25 | 127312 | 141136
9 | 31:21.62 | 3:30.18 | 141137 | 156904
10 | 34:52.05 | 3:58.20 | 156905 | 174774
11 | 38:50.25 | 2:46.52 | 174775 | 187276


Pista 1

Nombre de Archivo F:\EAC\01 Te Diré.wav

Nivel Pico 86.2 %
Velocidad de extracción 2.8 X
Calidad de Pista 100.0 %
Copiar CRC 0ECAD891
Pista sin datos en Accuraterip
Copia OK

Pista 2

Nombre de Archivo F:\EAC\02 Metrópolis.wav

Nivel Pico 83.2 %
Velocidad de extracción 3.1 X
Calidad de Pista 99.9 %
Copiar CRC D9519333
Pista sin datos en Accuraterip
Copia OK

Pista 3

Nombre de Archivo F:\EAC\03 Hermano Mio.wav

Nivel Pico 77.2 %
Velocidad de extracción 3.3 X
Calidad de Pista 99.9 %
Copiar CRC 7725E454
Pista sin datos en Accuraterip
Copia OK

Pista 4

Nombre de Archivo F:\EAC\04 You Can't Stay the Night.wav

Nivel Pico 79.9 %
Velocidad de extracción 3.6 X
Calidad de Pista 100.0 %
Copiar CRC 3C1D0649
Pista sin datos en Accuraterip
Copia OK

Pista 5

Nombre de Archivo F:\EAC\05 Ma Keen Dawn.wav

Nivel Pico 78.1 %
Velocidad de extracción 3.9 X
Calidad de Pista 99.9 %
Copiar CRC 0935D7B4
Pista sin datos en Accuraterip
Copia OK

Pista 6

Nombre de Archivo F:\EAC\06 Mas Allá.wav

Nivel Pico 82.1 %
Velocidad de extracción 4.2 X
Calidad de Pista 100.0 %
Copiar CRC 595E3D0A
Pista sin datos en Accuraterip
Copia OK

Pista 7

Nombre de Archivo F:\EAC\07 I'll Keep Holding On.wav

Nivel Pico 90.5 %
Velocidad de extracción 4.5 X
Calidad de Pista 100.0 %
Copiar CRC 3EF91985
Pista sin datos en Accuraterip
Copia OK

Pista 8

Nombre de Archivo F:\EAC\08 Qué Sé Yo.wav

Nivel Pico 89.0 %
Velocidad de extracción 4.6 X
Calidad de Pista 100.0 %
Copiar CRC 5A904792
Pista sin datos en Accuraterip
Copia OK

Pista 9

Nombre de Archivo F:\EAC\09 Si Esto Es Amor.wav

Nivel Pico 84.3 %
Velocidad de extracción 4.8 X
Calidad de Pista 100.0 %
Copiar CRC 7B1CF0CE
Pista sin datos en Accuraterip
Copia OK

Pista 10

Nombre de Archivo F:\EAC\10 Márchate Ya.wav

Nivel Pico 99.4 %
Velocidad de extracción 5.0 X
Calidad de Pista 100.0 %
Copiar CRC AFCA075D
Pista sin datos en Accuraterip
Copia OK

Pista 11

Nombre de Archivo F:\EAC\11 Nana Luna.wav

Nivel Pico 57.9 %
Velocidad de extracción 5.0 X
Calidad de Pista 100.0 %
Copiar CRC BE7CBE35
Pista sin datos en Accuraterip
Copia OK


Ninguna pista tiene datos en AccurateRip

Sin Errores

Final del Informe

–– CUETools DB Plugin V2.1.6

[CTDB TOCID: 32p0BKa5sImOICHoGSvY2Ix_gC4-] disk not present in database
Submit result: 32p0BKa5sImOICHoGSvY2Ix_gC4- has been uploaded
––––––––––––––––––––––––––––––––––––––––
Analyzed: Miguel Bosé / Más Alla
––––––––––––––––––––––––––––––––––––––––

DR Peak RMS Duration Track
––––––––––––––––––––––––––––––––––––––––
DR15 -1.28 dB -20.11 dB 2:54 01-Te Diré
DR14 -1.59 dB -18.70 dB 3:50 02-Metrópolis
DR15 -2.24 dB -22.66 dB 4:03 03-Hermano Mio
DR13 -1.94 dB -17.52 dB 4:01 04-You Can't Stay the Night
DR14 -2.14 dB -19.61 dB 5:54 05-Ma Keen Dawn
DR15 -1.71 dB -21.17 dB 3:48 06-Mas Allá
DR14 -0.86 dB -17.67 dB 3:47 07-I'll Keep Holding On
DR16 -1.00 dB -19.55 dB 3:04 08-Qué Sé Yo
DR13 -1.48 dB -19.16 dB 3:30 09-Si Esto Es Amor
DR15 -0.05 dB -17.82 dB 3:58 10-Márchate Ya
DR12 -4.74 dB -21.19 dB 2:47 11-Nana Luna
––––––––––––––––––––––––––––––––––––––––

Number of tracks: 11
Official DR value: DR14

Samplerate: 44100 Hz
Channels: 2
Bits per sample: 16
Bitrate: 653 kbps
Codec: FLAC
================================================================================
See also:
Miguel Bosé - Linda (1977) [2008, Reissue]
Miguel Bosé - Miguel Bosé (1978) [1992, Reissue]
Miguel Bosé - Chicas! (1979) [1992, Reissue]
Miguel Bosé - Miguel (1980) [1992, Reissue]
Thanks to original releaser

password: BlondStyle