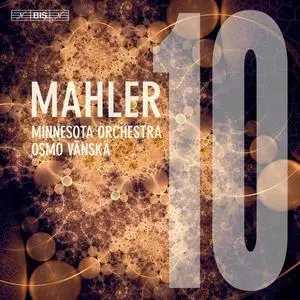 Minnesota Orchestra & Osmo Vänskä - Mahler: Symphony No. 10 in F-Sharp Major "Unfinished" (Completed by D. Cooke) (2021)
FLAC tracks | 01:18:19 | 273 Mb
Genre: Classical / Label: BIS
Left unfinished at the death of the composer, Gustav Mahler's Tenth Symphony has exerted an enormous fascination on musicologists as well as musicians – a kind of Holy Grail of 20th-century music. Recognized as an intensely personal work, it was initially consigned to respectful oblivion, but over the years, Alma Mahler, the composer's widow, released more and more of Mahler's sketches for publication, and gradually it became clear that he had in fact bequeathed an entire five-movement symphony in short score (i.e. written on three or four staves). Of this, nearly half had reached the stage of a draft orchestration, while the rest contained indications of the intended instrumentation.Over the years a number of different completions or performing versions of 'the Tenth' have seen the light of day. One of the most often performed and recorded of these is that by Deryck Cooke. Cooke himself insisted that his edition was not a 'completion' of the work, but rather a functional presentation of the materials as Mahler left them. Cooke's performing version of the symphony is the one that Osmo Vänskä has chosen to use for the seventh installment in his and the Minnesota Orchestra's "Mahler series", a cycle characterized by an unusual transparency and clarity of sound as well as musical conception.
Track List:
01. Symphony No. 10 in F-Sharp Major "Unfinished" (Completed by D. Cooke): I. Andante - Adagio (26:42)
02. Symphony No. 10 in F-Sharp Major "Unfinished" (Completed by D. Cooke): II. Scherzo. Schnelle Viertel (11:39)
03. Symphony No. 10 in F-Sharp Major "Unfinished" (Completed by D. Cooke): III. Purgatorio. Allegretto moderato (4:23)
04. Symphony No. 10 in F-Sharp Major "Unfinished" (Completed by D. Cooke): IV. Scherzo. Allegro pesante. Nicht zu schnell (11:52)
05. Symphony No. 10 in F-Sharp Major "Unfinished" (Completed by D. Cooke): V. Finale. Langsam, schwer - Allegro moderato (23:44)
ANALYZER: auCDtect: CD records authenticity detector, version 0.8.2
Copyright © 2004 Oleg Berngardt. All rights reserved.
Copyright © 2004 Alexander Djourik. All rights reserved.


FILE: 01. Mahler Symphony No. 10 in F-Sharp Major Unfinished (Completed by D. Cooke) I. Andante - Adagio.flac
Size: 94874585 Hash: 39A2BBE388F9E2013D6472E221028CFF Accuracy: -m40
Conclusion: CDDA 100%
Signature: 4E57D029A0F2A59831456F44A7E0FA42EE337C78
FILE: 02. Mahler Symphony No. 10 in F-Sharp Major Unfinished (Completed by D. Cooke) II. Scherzo. Schnelle Viertel.flac
Size: 49266670 Hash: 0B94F7E5DAF147A1DE0C13BE95EFD1D9 Accuracy: -m40
Conclusion: CDDA 100%
Signature: 1BFB264CB737ECBB790119225566DDE51C8B6BC7
FILE: 03. Mahler Symphony No. 10 in F-Sharp Major Unfinished (Completed by D. Cooke) III. Purgatorio. Allegretto moderato.flac
Size: 14518737 Hash: 377F540240DD1DAFBF7EDDA9B47C366C Accuracy: -m40
Conclusion: CDDA 100%
Signature: AB99F71FB5C1456BF956A2FA9F2D54D8937EDE1C
FILE: 04. Mahler Symphony No. 10 in F-Sharp Major Unfinished (Completed by D. Cooke) IV. Scherzo. Allegro pesante. Nicht zu schnell.flac
Size: 48437826 Hash: 61CFEF4B50F8C87D1A4D673AA0D1A8DE Accuracy: -m40
Conclusion: CDDA 99%
Signature: E58001D60C3561E6B6C3C4555D65425B15359F62
FILE: 05. Mahler Symphony No. 10 in F-Sharp Major Unfinished (Completed by D. Cooke) V. Finale. Langsam, schwer - Allegro moderato.flac
Size: 77982107 Hash: 4F9D4100B98D0DA87E95B92E6BD51A8F Accuracy: -m40
Conclusion: CDDA 100%
Signature: EE784717E7095C99A433CB01FDBDBD0C2FDCD45A