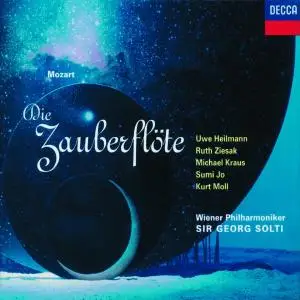 VA - Mozart: Die Zauberflöte (1991)
FLAC (tracks) - 588 MB | 2:31:19
Classical | Label: Decca
Wolfgang Amadeus Mozart was not only one of the greatest composers of the Classical period, but one of the greatest of all time. Surprisingly, he is not identified with radical formal or harmonic innovations, or with the profound kind of symbolism heard in some of Bach's works. Mozart's best music has a natural flow and irresistible charm, and can express humor, joy or sorrow with both conviction and mastery.
His operas, especially his later efforts, are brilliant examples of high art, as are many of his piano concertos and later symphonies. Even his lesser compositions and juvenile works feature much attractive and often masterful music. Mozart was the last of seven children, of whom five did not survive early childhood. By the age of three he was playing the clavichord, and at four he began writing short compositions. Young Wolfgang gave his first public performance at the age of five at Salzburg University, and in January 1762, he performed on harpsichord for the Elector of Bavaria. There are many astonishing accounts of the young Mozart's precocity and genius. At the age of seven, for instance, he picked up a violin at a musical gathering and sight-read the second part of a work with complete accuracy, despite his never having had a violin lesson. In the years 1763-1766, Mozart, along with his father Leopold, a composer and musician, and sister Nannerl, also a musically talented child, toured London, Paris, and other parts of Europe, giving many successful concerts and performing before royalty. The Mozart family returned to Salzburg in November 1766. The following year young Wolfgang composed his first opera, Apollo et Hyacinthus. Keyboard concertos and other major works also came from his pen. In 1769, Mozart was appointed Konzertmeister at the Salzburg Court by the Archbishop. Beginning that same year, the Mozarts made three tours of Italy, where the young composer studied Italian opera and produced two successful efforts, Mitridate and Lucio Silla. In 1773, Mozart was back in Austria, where he spent most of the next few years composing. He wrote all his violin concertos between 1774 and 1777, as well as Masses, symphonies, and chamber works. In 1780, Mozart wrote his opera Idomeneo, which became a sensation in Munich. After a conflict with the Archbishop, Mozart left his Konzertmeister post and settled in Vienna. He received a number of commissions and took on a well-paying but unimportant Court post. In 1782 Mozart married Constanze Weber and took her to Salzburg the following year to introduce her to his family. 1782 was also the year that saw his opera Die Entführung aus dem Serail staged with great success. In 1784, Mozart joined the Freemasons, apparently embracing the teachings of that group. He would later write music for certain Masonic lodges. In the early and mid-1780s, Mozart composed many sonatas and quartets, and often appeared as soloist in the 15 piano concertos he wrote during this period. Many of his commissions were for operas now, and Mozart met them with a string of masterpieces. Le nozze di Figaro came 1786, Don Giovanni in 1787, Così fan tutte in 1790, and Die Zauberflöte in 1791. Mozart made a number of trips in his last years, and while his health had been fragile in previous times, he displayed no serious condition or illness until he developed a fever of unknown origin near the end of 1791.
Tracklist
CD1
[6:32] 1. - Overture
[6:38] 2. Uwe Heilmann - "Zu Hilfe! Zu Hilfe!"
[7:07] 3. Michael Kraus - "Der Vogelfänger bin ich ja"
[4:59] 4. Uwe Heilmann - "Dies Bildnis ist bezaubernd schön"
[4:46] 5. Sumi Jo - "O zittre nicht"
[6:28] 6. Michael Kraus - "Hm! hm! hm! hm!"
[5:07] 7. Heinz Zednik - "Du feines Täubchen, nur herein"
[2:51] 8. Ruth Ziesak - "Bei Männern, welche Liebe fühlen"
[1:43] 9. Max Emanuel Cencic - "Zum Ziele führt dich diese Bahn"
[1:57] 10. Uwe Heilmann - "Die Weisheitslehre dieser Knaben"
[6:04] 11. Andreas Schmidt - "Wo willst du kühner Fremdling hin?"
[2:59] 12. Uwe Heilmann - "Wie stark ist nicht dein Zauberton"
[3:01] 13. Ruth Ziesak - "Schnelle Füße, rascher Mut"
[1:40] 14. - "Es lebe Sarastro! Sarastro lebe!"
[6:22] 15. Ruth Ziesak - "Herr, ich bin zwar Verbrecherin"
[6:04] 16. Kurt Moll - Marsch der Priester
[3:13] 17. Kurt Moll - "O Isis und Osiris"
CD2
[3:14] 1. Uwe Heilmann - Dialog "Eine schreckliche Nacht"
[1:07] 2. Clemens Bieber - "Bewahret euch vor Weibertücken" - Dialog "He, Lichter her!"
[4:49] 3. Adrianne Pieczonka - "Wie? Wie? Wie?"
[2:17] 4. Heinz Zednik - "Alles fühlt der Liebe Freuden"
[4:10] 5. Sumi Jo - "Der Hölle Rache kocht in meinem Herze"
[6:44] 6. Kurt Moll - "In diesen heil'gen Hallen"
[3:00] 7. Max Emanuel Cencic - "Seid uns zum zweiten Mal willkommen"
[5:39] 8. Ruth Ziesak - "Ach, ich fühl's"
[3:36] 9. Kurt Moll - "O Isis und Osiris, welche Wonne!"
[5:02] 10. Ruth Ziesak - "Soll ich dich, Teurer, nicht mehr sehn?"
[5:36] 11. Michael Kraus - "Ein Mädchen oder Weibchen"
[1:48] 12. Max Emanuel Cencic - "Bald prangt, den Morgen zu verkünden"
[4:07] 13. Ruth Ziesak - "Bald prangt, den Morgen zu verkünden" - "Du also bist mein Bräutigam"
[4:36] 14. Hans Franzen - "Der, welcher wandelt diese Straße voll Beschwerden"
[3:12] 15. Ruth Ziesak - "Tamino mein, o welch ein Glück"
[3:18] 16. Uwe Heilmann - "Wir wandelten durch Feuersgluten"
[4:46] 17. Michael Kraus - "Papagena! Papagena!"
[2:19] 18. Michael Kraus - "Pa-Pa-Pa-Pa-Pa-Pa-Papagena!"
[2:06] 19. Heinz Zednik - Nur stille, stille, stille
[2:57] 20. Kurt Moll - "Die Strahlen der Sonne" - "Heil sei euch"
–––––––––––-
DON'T MODIFY THIS FILE
–––––––––––-
PERFORMER: auCDtect Task Manager, ver. 1.6.0 RC1 build 1.6.0.1
Copyright © 2008-2010 y-soft. All rights reserved
http://y-soft.org
ANALYZER: auCDtect: CD records authenticity detector, version 0.8.2
Copyright © 2004 Oleg Berngardt. All rights reserved.
Copyright © 2004 Alexander Djourik. All rights reserved.
FILE: 20 - _Die Strahlen der Sonne_ - _Heil sei euch_.flac
Size: 14382979 Hash: BE76FBF6ADB6B8AE98F0CC63A823B431 Accuracy: -m8
Conclusion: CDDA 99%
Signature: 1A929858C4F04E79ACE5178E80DAF29F3E82A984
FILE: 19 - Nur stille, stille, stille.flac
Size: 9521106 Hash: B1E23596EBB28AED5DB1CABF2461DD77 Accuracy: -m8
Conclusion: CDDA 100%
Signature: 1B8AE1BF14EE7BC125B09C3CF5A3404B66E2A59F
FILE: 18 - _Pa-Pa-Pa-Pa-Pa-Pa-Papagena!_.flac
Size: 10412869 Hash: 0327A5F80A386E23812B51453DDC85B6 Accuracy: -m8
Conclusion: CDDA 100%
Signature: 1D8DF3FCF2A59833004ECA4D1221C6E976B4039B
FILE: 17 - _Papagena! Papagena!_.flac
Size: 21048311 Hash: CDE29B70150D0903B2B77D68C842E76B Accuracy: -m8
Conclusion: CDDA 100%
Signature: 754C7C32A87874526EEF118220814E80CF61ADCB
FILE: 16 - _Wir wandelten durch Feuersgluten_.flac
Size: 13392753 Hash: 92F4B70C46D3EC9D5A57E792B0692CC8 Accuracy: -m8
Conclusion: CDDA 100%
Signature: F08925E29BAE239E6D5B57EF98D3861B46D0E87C
FILE: 15 - _Tamino mein, o welch ein Glück_.flac
Size: 13183411 Hash: 8A45303CEB4CC8EE6C23F5AF0BDD7369 Accuracy: -m8
Conclusion: CDDA 100%
Signature: 98B659E7370DA1F82F19854393856A5ED4042CA7
FILE: 14 - _Der, welcher wandelt diese Straße voll Beschwerden_.flac
Size: 19669724 Hash: 8BF0CB55D1A6ECB6535044C51395B38B Accuracy: -m8
Conclusion: CDDA 100%
Signature: 1C723578DE0DD515D2AC83521FAC96FE4D925101
FILE: 13 - _Bald prangt, den Morgen zu verkünden_ - _Du also bist mein Bräutigam_.flac
Size: 18814198 Hash: 8263C2623F6C30A5A14D1E7D7FAD0F4A Accuracy: -m8
Conclusion: CDDA 100%
Signature: F9E436B42AD121D74EC8BCAD8F04F63C4C27144B
FILE: 12 - _Bald prangt, den Morgen zu verkünden_.flac
Size: 7582146 Hash: BB8875DE46FB5BD6C2DB59BB8D11A1E5 Accuracy: -m8
Conclusion: CDDA 100%
Signature: ED997CE30AA5A2E2752C01B24AB395B54838F102
FILE: 11 - _Ein Mädchen oder Weibchen_.flac
Size: 22238706 Hash: 8C2B5915C74936F0DC8AC1219C348B0D Accuracy: -m8
Conclusion: CDDA 100%
Signature: D37AFAAD2629ECD6D77D90D5C9258DA053EE7B3D
FILE: 10 - _Soll ich dich, Teurer, nicht mehr sehn__.flac
Size: 19121005 Hash: E530F6F5B0987FF37289012A8DA491FD Accuracy: -m8
Conclusion: CDDA 100%
Signature: 88B3DE94B582D9C68D3408CE1DAC9DDBBFDB57FC
FILE: 09 - _O Isis und Osiris, welche Wonne!_.flac
Size: 14794234 Hash: E5550E64DD92E985C70117A81DC0DDB2 Accuracy: -m8
Conclusion: CDDA 99%
Signature: 224FE6E617CCCCA07107E517DF113BEFBDB0F78C
FILE: 08 - _Ach, ich fühl's_.flac
Size: 19310906 Hash: 5715B818814D6C8F908725F4E735E946 Accuracy: -m8
Conclusion: CDDA 100%
Signature: 74B645940899C9A6034F84FBF3F9E3E1FDF88B3E
FILE: 07 - _Seid uns zum zweiten Mal willkommen_.flac
Size: 10393437 Hash: F0CE04BCC9866706D1460B79CBBACF1E Accuracy: -m8
Conclusion: CDDA 100%
Signature: C913C7FBF8F4A7750BE7EF769C463CD49E97AF02
FILE: 06 - _In diesen heil'gen Hallen_.flac
Size: 24520634 Hash: D78AE523FB82176AB6F4BAB167020B7A Accuracy: -m8
Conclusion: CDDA 100%
Signature: EB0E32971CD0E99B4F7E86D0A8603405B4960286
FILE: 05 - _Der Hölle Rache kocht in meinem Herze_.flac
Size: 17893628 Hash: E5A1F6D4068F5DF5D37D949A1F344398 Accuracy: -m8
Conclusion: CDDA 100%
Signature: 5B5EC19E5776AFD76270B4E84BAA50BCB6103110
FILE: 04 - _Alles fühlt der Liebe Freuden_.flac
Size: 8949302 Hash: C7E98BB3A0C1D6B8762CEB2F45082B18 Accuracy: -m8
Conclusion: CDDA 100%
Signature: DF360284D834E8D0721ED76E5CE981F6A98D0105
FILE: 03 - _Wie_ Wie_ Wie__.flac
Size: 20088863 Hash: EA18AF6996ACEB08046C54495F775225 Accuracy: -m8
Conclusion: CDDA 100%
Signature: 22E1D6B578C83D1195AC1ED3D909EC92C0D132E2
FILE: 02 - _Bewahret euch vor Weibertücken_ - Dialog _He, Lichter her!_.flac
Size: 4601428 Hash: EB149E4B92645D79BBE6C72E1D37017E Accuracy: -m8
Conclusion: CDDA 100%
Signature: BF71DF35A4ABADD41885DABF79A769CCF8B72F30
FILE: 01 - Dialog _Eine schreckliche Nacht_.flac
Size: 10428549 Hash: 8DF7889B105D623ABE2C5C7D20D08D6E Accuracy: -m8
Conclusion: CDDA 100%
Signature: 9C08D5EDE94AE9E645481D404210561546C0F4AA
FILE: 17 - _O Isis und Osiris_.flac
Size: 12504503 Hash: 51CB5FAB87723D15CE2E7AF72582BDE3 Accuracy: -m8
Conclusion: CDDA 100%
Signature: FCB407807A01B8FE3558655FBAAE241B62B5B3B9
FILE: 16 - Marsch der Priester.flac
Size: 19501669 Hash: BD56FC70E4CEE7FC85446792C9F764F2 Accuracy: -m8
Conclusion: CDDA 100%
Signature: 8EF304DD3075CD520DD358C82A5AA8CFE21F21FD
FILE: 15 - _Herr, ich bin zwar Verbrecherin_.flac
Size: 28625555 Hash: 8B3A4E16CA3B854E0F14CB17CC417C1D Accuracy: -m8
Conclusion: CDDA 99%
Signature: 61B0C309F8E25301B3F56FEC2CB3036E840630E6
FILE: 14 - _Es lebe Sarastro! Sarastro lebe!_.flac
Size: 8321953 Hash: 8AF01E2673B98CC071ECABF2989BCC4A Accuracy: -m8
Conclusion: CDDA 100%
Signature: 723D340288081354D2C3E35548CA50E72A07FBF3
FILE: 13 - _Schnelle Füße, rascher Mut_.flac
Size: 12887936 Hash: 7814F1059AF87170701B3FE7CF88E40C Accuracy: -m8
Conclusion: CDDA 100%
Signature: 7F28B72CD4DE47A9376B193A52389F6030120E55
FILE: 12 - _Wie stark ist nicht dein Zauberton_.flac
Size: 12453419 Hash: 698DADB4F96FBE5E97318F87E76F236F Accuracy: -m8
Conclusion: CDDA 99%
Signature: 9B14BEE4C7458FE049B7782D1F530BC6E9867A6F
FILE: 11 - _Wo willst du kühner Fremdling hin__.flac
Size: 23698003 Hash: CAC2797F411EE22F182809D31162F7D5 Accuracy: -m8
Conclusion: CDDA 100%
Signature: 1D9DB8CABFBE6135DF96C1F5ED62782CE9057017
FILE: 10 - _Die Weisheitslehre dieser Knaben_.flac
Size: 9041951 Hash: 2F8E77C724A31654618AA90AE56656DF Accuracy: -m8
Conclusion: CDDA 100%
Signature: 5BCD6280522DF9DFEDE5330F6053F1FDFB8E4F23
FILE: 09 - _Zum Ziele führt dich diese Bahn_.flac
Size: 7705778 Hash: AA7CD866BDB3352E03E5DDD4D94AEDAB Accuracy: -m8
Conclusion: CDDA 100%
Signature: 6F8AD37823367418548A598F0B55EF595A3CC1BC
FILE: 08 - _Bei Männern, welche Liebe fühlen_.flac
Size: 10650687 Hash: 2E1F4C086A4FE6721049A8E2EAB70B13 Accuracy: -m8
Conclusion: CDDA 100%
Signature: 7B576B43FF845A8AD390BEC6B08F08EBB38DC5CD
FILE: 07 - _Du feines Täubchen, nur herein_.flac
Size: 17531514 Hash: 13C7487D51EDF34EE2B1F1E26C3DA4BC Accuracy: -m8
Conclusion: CDDA 100%
Signature: 4A25DF8513A2535ED9979B969708005EA090DC4B
FILE: 06 - _Hm! hm! hm! hm!_.flac
Size: 27360928 Hash: 74B612EA7214CCCA7539B6CE28E0BD15 Accuracy: -m8
Conclusion: CDDA 99%
Signature: 84369EC808CA2C7E7D37FFD3A28D9D0940E82D26
FILE: 05 - _O zittre nicht_.flac
Size: 19982839 Hash: BD0CD9E34058C28A78A987C00C538632 Accuracy: -m8
Conclusion: CDDA 100%
Signature: 93831C29F42220BF84F8E1D1EC8234C822ACABAE
FILE: 04 - _Dies Bildnis ist bezaubernd schön_.flac
Size: 21050931 Hash: 6EC5CEE65177FE5A18BDF6D3EE3D1125 Accuracy: -m8
Conclusion: CDDA 99%
Signature: 2DC9B9ABCF173D25EBB49E6642078D0226C109EA
FILE: 03 - _Der Vogelfänger bin ich ja_.flac
Size: 26952474 Hash: E0C2CA3765463557B31B9F31B9E2CF77 Accuracy: -m8
Conclusion: CDDA 100%
Signature: E8A0E5DB16790A9588050A59864DF499CBFDD97C
FILE: 02 - _Zu Hilfe! Zu Hilfe!_.flac
Size: 29301982 Hash: A87F689DF65AF1BEE19953AC8AF4EC0A Accuracy: -m8
Conclusion: CDDA 100%
Signature: ED1E3EDC0106D3B7CED0C23727D0586A284B86DD
FILE: 01 - Overture.flac
Size: 29216204 Hash: 31E2AE133B7D01BEAF4AD2333CAD0194 Accuracy: -m8
Conclusion: CDDA 100%
Signature: FB24045392529E50C7B4347C545CD61F9EF665E6