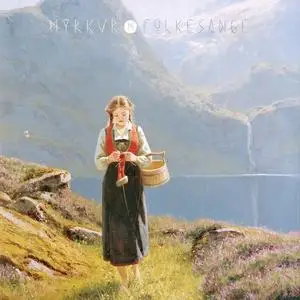 Myrkur - Folkesange (2020)
WEB FLAC (Tracks) | Cover | 46:59 | 254 MB
Black Metal , Folk | Label: Relapse Records
Amalie Bruun has always paved her own path, challenging underground preconceptions of heavy metal ever since the release of her debut Myrkur EP in 2014. Her first two full-length studio albums, 2015's M and 2017's Mareridt, recast black metal in the most personal yet expansive of terms, their blending of Amalie's Danish folk roots with tempestuous internal struggles breathing new life into a subgenre whose followers can be rigidly possessive. With the release of her new album, Folkesange, Amalie Bruun has set out to journey into the very heart of the Scandinavian culture that marked her childhood. Folkesange relinquishes black metal for a refined yet far-reaching evocation of traditional folk, combining songs ancient and new to sublimely resonant effect.
TRACKLIST
01. Ella (3:55)
02. Fager som en Ros (2:51)
03. Leaves of Yggdrasil (4:00)
04. Ramund (3:29)
05. Tor i Helheim (7:10)
06. Svea (3:26)
07. Harpens Kraft (3:19)
08. Gammelkäring (3:29)
09. House Carpenter (3:38)
10. Reiar (3:46)
11. Gudernes Vilje (3:57)
12. Vinter (3:59)
–––––––––––-
DON'T MODIFY THIS FILE
–––––––––––-
PERFORMER: auCDtect Task Manager, ver. 1.6.0 RC1 build 1.6.0.1
Copyright © 2008-2010 y-soft. All rights reserved
http://y-soft.org
ANALYZER: auCDtect: CD records authenticity detector, version 0.8.2
Copyright © 2004 Oleg Berngardt. All rights reserved.
Copyright © 2004 Alexander Djourik. All rights reserved.
FILE: 9 - House Carpenter.flac
Size: 23518558 Hash: 834949B4EB5CB8DD6779F91D7E25BC20 Accuracy: -m0
Conclusion: CDDA 99%
Signature: 22A504478B375FCB602802155484EA20FA072F81
FILE: 8 - Gammelkäring.flac
Size: 17377206 Hash: F55FBB479BCBACFEF59F005EFCFED630 Accuracy: -m0
Conclusion: CDDA 100%
Signature: 13938EF3213E92C91ADCBF48B23A424D831FD376
FILE: 7 - Harpens Kraft.flac
Size: 20000583 Hash: 2B5F4A1F4F898D463479E38569BCC865 Accuracy: -m0
Conclusion: CDDA 100%
Signature: 39207DAB7FEC5C00CAE645B5BEABAD22C95DA197
FILE: 6 - Svea.flac
Size: 20443683 Hash: D8D2A4362A17B34FB6E9743A79591F92 Accuracy: -m0
Conclusion: CDDA 100%
Signature: 5A610A6F17DBCBE73BED98CA69F5F572EA2EA919
FILE: 5 - Tor i Helheim.flac
Size: 38375288 Hash: F1AE9940C6E5FF9769463246D187233C Accuracy: -m0
Conclusion: CDDA 100%
Signature: 9D1E39A70F7D7372E65C7A2BBC9DCAF2A7F21DA5
FILE: 4 - Ramund.flac
Size: 20777156 Hash: 0C59B79A83E99E485104ADD36F305F6A Accuracy: -m0
Conclusion: CDDA 100%
Signature: 8BF8B24F4BB0B982D1FFFC3095769246D9EE0609
FILE: 3 - Leaves of Yggdrasil.flac
Size: 23007684 Hash: 41E0A3E84FD00DADE9989117965D746B Accuracy: -m0
Conclusion: CDDA 99%
Signature: F0550AC033AFA24DDC2FCEEC31D66304E2F1C174
FILE: 2 - Fager som en Ros.flac
Size: 19556842 Hash: DF9D1239A3FF96A1529E4ACD93E1302D Accuracy: -m0
Conclusion: CDDA 100%
Signature: F05C79714C78664CD9B4A638132106EEB6D7942E
FILE: 12 - Vinter.flac
Size: 17156967 Hash: D79EF2E675D2B347D4F28859F377D10D Accuracy: -m0
Conclusion: CDDA 100%
Signature: 5E0D0F1DFF8BA9008790EBA1191D70EC8D661352
FILE: 11 - Gudernes Vilje.flac
Size: 22141739 Hash: 6B11A4E2B15964AFE5E22AEFC9D1864C Accuracy: -m0
Conclusion: CDDA 100%
Signature: DDEBFED6D0CD038782F0EF99C054ADA3AF93AAB1
FILE: 10 - Reiar.flac
Size: 21124828 Hash: 88976605807548F67D368C5C155B82F4 Accuracy: -m0
Conclusion: CDDA 99%
Signature: 7FC7644F5C83ABCD1928C7AB1CD5F9542010C848
FILE: 1 - Ella.flac
Size: 22866103 Hash: 661614C3ACB487998E3598E460AAD296 Accuracy: -m0
Conclusion: CDDA 100%
Signature: CC33A655CE1573398895C5CE0A0997DAA348472C