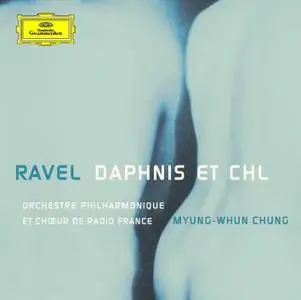 Myung-Whun Chung - Ravel: Daphnis et Chloé (2005)
WEB | FLAC (tracks) - 206 MB | 55:15
Genre: Classical | Label: Deutsche Grammophon
In this 2006 recording of Ravel's Daphnis et Chloé, Myung-Whun Chung leading the Orchestre Philharmonique de Radio France turns in a lithe, lean, limber, and lovely performance – but not ultimately a persuasive performance. Described by the composer as a "Symphonie chorégraphique," Daphnis et Chloé is not just another brilliantly colorful, appealingly tuneful, and irresistibly rhythmic work in Ravel's canon; it is also by far his most dramatically cohesive and formally unified large-scale work. These were the crucial qualities the great performances of the past – Cluytens, Monteux, and Martinon – had in equal measure. Chung and the Radio France Orchestra, however, are all about color, melody, and rhythm – which is fine as far as it goes, but it doesn't go nearly far enough. Beyond superficial beauty, Daphnis et Chloé needs relentless clarity and terminal cogency to take it to the next level, the crucial qualities that Chung does not bring to the music. His harmony is from chord to chord, his drama is from moment to moment, and his form is from climax to climax. The result is a superbly played but only outwardly exciting performance of the work that leaves it deeper unities untouched. Deutsche Grammophon's recording is clean, close, and immediate.
Track List:
Daphnis et Chloé, M. 57 - Ballet / Première partie (Maurice Ravel)
1. Invocation des Nymphes. Entrée de Daphnis et de Chloé 07:47
2. Danse des Jeunes Filles autour de Daphnis 00:47
3. Le désir de Dorcon pour Chloé 01:45
4. Daphnis réaffirme son amour pour Chloé. La compétition de Dorcon et Daphnis pour un baiser de Chloé 00:44
5. Danse grotesque de Dorcon 01:48
6. Danse légère et gracieuse de Daphnis 02:48
7. Le triomphe de Daphnis et l'union extatique avec Chloé 01:05
8. Tentative de séduction du Lycéion et danse des voiles 02:21
9. Invasion des Pirates et les efforts sans succès de Daphnis pour sauver Chloé 02:00
10. Invocation à Pan par les Nymphes 05:02
Daphnis et Chloé, M. 57 - Ballet / Deuxième partie (Maurice Ravel)
11. Interlude / Interlude 02:40
12. Danse guerrière des Pirates 03:47
13. Bryaxis ordonne d'amener la captive 00:44
14. Danse suppliante de Chloé 03:49
15. L'atmosphère se charge d'éléments insolites. Entrée des chèvres-pieds. La terre s'entrouvre 02:08
Daphnis et Chloé, M. 57 - Ballet / Troisième partie (Maurice Ravel)
16. Lever de Soleil, Daphnis prostré devant la grotte de Nymphes 03:12
17. Daphnis et Chloé sont réunis 03:40
18. Dapnis et Chloé miment l'aventure de Pan et de Syrinx 02:50
19. Abandonnant leurs rôles, les amoureux s'embrassent et s'agenouillent devant l'autel des Nymphes 02:17
20. Entrée des jeunes filles et des jeunes gens, agitant des tambourins. Un joyeux tumulte domine en l'honneur du triomphe des amoureux 04:01
Performers:
Orchestre Philharmonique De Radio France
Myung-Whun Chung (Conductor)
–––––––––––-
DON'T MODIFY THIS FILE
–––––––––––-
PERFORMER: auCDtect Task Manager, ver. 1.6.0 RC1 build 1.6.0.1
Copyright © 2008-2010 y-soft. All rights reserved
http://y-soft.org
ANALYZER: auCDtect: CD records authenticity detector, version 0.8.2
Copyright © 2004 Oleg Berngardt. All rights reserved.
Copyright © 2004 Alexander Djourik. All rights reserved.
FILE: 01 - Invocation des Nymphes. Entrée.flac
Size: 27937028 Hash: 6FDFC5CFE4F50C846CE636AA702FD49C Accuracy: -m0
Conclusion: CDDA 100%
Signature: A947BA45F1124EE5059D980F6877CE8F98006687
FILE: 02 - Danse des Jeunes Filles autour.flac
Size: 3036652 Hash: 99E0025D775676D007828F790AF169C9 Accuracy: -m0
Conclusion: CDDA 100%
Signature: 5113B10BB47B14B485FE940BCBB550EDD9EB4BAD
FILE: 03 - Le désir de Dorcon pour Chloé.flac
Size: 6540989 Hash: EAB77805E3AA8ACAB8C9A8ED7D7B9ACF Accuracy: -m0
Conclusion: CDDA 100%
Signature: 29B50FA7155E667B9843E7F00F7AD8AABADD101C
FILE: 04 - Daphnis réaffirme son amour pou.flac
Size: 2185782 Hash: 2782FA9EA80F81EAF22950CD83A97A71 Accuracy: -m0
Conclusion: CDDA 100%
Signature: 7484C00AAE6D10D7C54A1FA66D30FC8483CE58AD
FILE: 05 - Danse grotesque de Dorcon.flac
Size: 6988814 Hash: C7EEBA16AF5F2366F350AAFE08E3D9DF Accuracy: -m0
Conclusion: CDDA 100%
Signature: 732DFAE162B015E8D3CB0DB1041ED77E9DF09AD8
FILE: 06 - Danse légère et gracieuse de Da.flac
Size: 8685322 Hash: 64965FA7450EE13793808B89BDC7F4F6 Accuracy: -m0
Conclusion: CDDA 100%
Signature: A7F5C7259A233569C435CBC427FC757E24429456
FILE: 07 - Le triomphe de Daphnis et l'uni.flac
Size: 3970126 Hash: A215F43680748229D0A81786F4799654 Accuracy: -m0
Conclusion: CDDA 100%
Signature: E698A1735FB66E16BB645EB3B057CE3247520D70
FILE: 08 - Tentative de séduction du Lycéi.flac
Size: 6975501 Hash: E765EF11DA7DDBD8FD00E2B9C92EAD55 Accuracy: -m0
Conclusion: CDDA 100%
Signature: 15A109C2D5A8C179FAE636DE239158A4BDC14673
FILE: 09 - Invasion des Pirates et les eff.flac
Size: 6742895 Hash: B181E3AF113DE15D2CBF84DE9EE446D9 Accuracy: -m0
Conclusion: CDDA 100%
Signature: F2B30637139EF1B7B67BC5092FAA4F666ACB0E13
FILE: 10 - Invocation à Pan par les Nymphe.flac
Size: 14527414 Hash: 98F6437F3EA69555AF895B13C886DAED Accuracy: -m0
Conclusion: CDDA 100%
Signature: A1E7F23F421FB4CC66DE87604AD953136ADEA4FF
FILE: 11 - Interlude _ Interlude.flac
Size: 6835620 Hash: 33681853B56883307BF95C067D511A6D Accuracy: -m0
Conclusion: CDDA 99%
Signature: D1FB639B07EF59C524A6BE128EF1E605EDAAF6B4
FILE: 12 - Danse guerrière des Pirates.flac
Size: 16791078 Hash: 17D88F080D6047F86AF299485C0405E4 Accuracy: -m0
Conclusion: CDDA 100%
Signature: 70F0FC63A1ECA2E2FFA694715717C4195938DE68
FILE: 13 - Bryaxis ordonne d'amener la cap.flac
Size: 2016175 Hash: 2A28BA961E64249A6413FB7A2EC958E9 Accuracy: -m0
Conclusion: CDDA 100%
Signature: EC15C6FA625076645289437DC1DC3C07F24839BA
FILE: 14 - Danse suppliante de Chloé.flac
Size: 13139892 Hash: ECF2B09AFBAE30FE5389A76CFC4D45A3 Accuracy: -m0
Conclusion: CDDA 100%
Signature: F3140B9255521AACCFC3651EF26477713EE4053A
FILE: 15 - L'atmosphère se charge d'élémen.flac
Size: 7321790 Hash: E5CC8FEEDA6336037DC6293CEB3139F4 Accuracy: -m0
Conclusion: CDDA 100%
Signature: 0A4C0E6C7648D4956672C780ADE000256012099A
FILE: 16 - Lever de Soleil, Daphnis prostr.flac
Size: 12158689 Hash: A748F9B9CE5C2EFD0411B808C2D8E650 Accuracy: -m0
Conclusion: CDDA 100%
Signature: 662C84B977F281091338816C650C05FA72DE2536
FILE: 17 - Daphnis et Chloé sont réunis.flac
Size: 13141067 Hash: 77359887041786DA44C1A2AFC8BE4815 Accuracy: -m0
Conclusion: CDDA 100%
Signature: 3185A3CC13F3F7CE01694A19813BF313211152BB
FILE: 18 - Dapnis et Chloé miment l'aventu.flac
Size: 9100513 Hash: D1CE8FE284260EE4BA7D8A331CE9A5BB Accuracy: -m0
Conclusion: CDDA 100%
Signature: 886F76A94A2939C054014D23F3113FD612C4704E
FILE: 19 - Abandonnant leurs rôles, les am.flac
Size: 8619372 Hash: 9C2B1D584622B03BB4046037B66961FB Accuracy: -m0
Conclusion: CDDA 99%
Signature: 567CE6D698EB6E6BFADFB6E6FD76155035085B0B
FILE: 20 - Entrée des jeunes filles et des.flac
Size: 18842509 Hash: 18966DC051EA5BE77203C10EC2108814 Accuracy: -m0
Conclusion: CDDA 100%
Signature: 7F27E87A76FC0C24C6CA6BC4DA1F100BBA019745