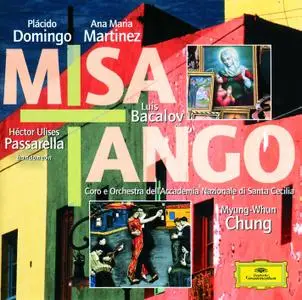 Ana María Martínez, Plácido Domingo, Myung-Whun Chung - Bacalov: Misa Tango; Tangosaín / Piazzolla: Adiós Nonino; Libertango (2000)
WEB | FLAC (tracks) - 240 MB | 53:50
Genre: Classical | Label: Deutsche Grammophon
This is a great Mass work. It is good that Mr. Domingo and the people from Deutsche Grammophon recorded this work from Bacalov. Placido Domingo is great at always finding and recording new genders of music. I believe this is the first time this work is recorded. His recent recording of Albéniz "Merlin" (Decca London) is also a first. He is accompanied on both works by Ms.Ana Maria Martinez who in my oppinion has one of the best young voices today. She sings beautifully on both works. Her vocal range and musicality is one of the best my ears have listen to. I saw her live singing with Andrea Bocelli and she brought tears to my eyes. What a voice!! I will definetly buy more copies of Misa Tango to give to my friends this holiday season.