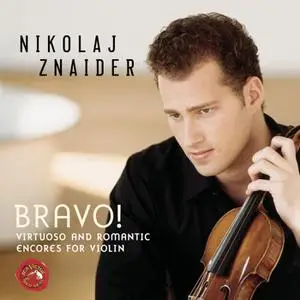 Nikolaj Znaider - Bravo! Virtuoso And Romantic Encores For Violin (2003)
WEB | FLAC (tracks) - 290 MB | 58:36
Genre: Classical | Label: RCA Red Seal
With the best will in the world, anyone listening to a disc entitled Bravo! Virtuoso Romantic Encores for Violin is all too likely to succumb to terminal ennui. After all, the ephemeral thrills of encores are not supposed to last an hour, and unless the performer is a very great artist, the listener may die of boredom long before the disc ends. Violinist Nikolai Znaider is nearly a very great artist. He has a graceful tone, an elegant technique, and a virtuoso's temperament. His performances are truly virtuoso and his interpretations truly romantic, but with the best will in the world, anyone listening will still succumb to terminal ennui halfway through the disc. After Znaider's spectacular Polonaise de concert, after his stupendous Romanza, after his soulful Vocalise, after his astonishing Ballade, after one astounding performance after another after another, the listener becomes fatigued by so many amazing performances and longs for something less eye-popping and jaw-dropping. Of course, listening to just one or two tracks and then putting the disc away may suffice, but that would be like stopping before the box of bonbons is finished. This is a superlative recital in small doses.
Track List:
1. Polonaise de Concert in D, Op. 4 05:08
2. Romanza Andaluza, Op. 22 No. 1 04:38
3. Vocalise, Op. 34, No. 14 04:50
4. Solo Sonata, Op. 27 No. 3 "Ballade" 06:39
5. Nocturne in D Major, Op. 27, No. 2 06:49
6. Nocturne in E-Flat Major, Op. 55, No. 2 03:59
7. Recitativo & Scherzo Caprice, Op. 6 04:42
8. Hebrew Melody, Op. 33 06:25
9. Estrellita 03:18
10. Variations on an Original Theme, Op. 15, in A 12:08
Performers:
Violin – Nikolaj Znaider
Piano – Daniel Gortler (1 to 3, 5, 6, 8 to 10)
–––––––––––-
DON'T MODIFY THIS FILE
–––––––––––-
PERFORMER: auCDtect Task Manager, ver. 1.6.0 RC1 build 1.6.0.1
Copyright © 2008-2010 y-soft. All rights reserved
http://y-soft.org
ANALYZER: auCDtect: CD records authenticity detector, version 0.8.2
Copyright © 2004 Oleg Berngardt. All rights reserved.
Copyright © 2004 Alexander Djourik. All rights reserved.
FILE: 01 - Polonaise de Concert in D, Op..flac
Size: 26556362 Hash: A697B39D13F20D90B6B900E2569CEF05 Accuracy: -m0
Conclusion: CDDA 100%
Signature: 8FD8BC94196FB98087DF693AD4413693DAD9E7A5
FILE: 02 - Romanza Andaluza, Op. 22 No. 1.flac
Size: 22433241 Hash: 62C201CF0A760B133B4345C16B286A19 Accuracy: -m0
Conclusion: CDDA 100%
Signature: 62E940723E3781FAE4DC13E72C8A87E0819AD3D8
FILE: 03 - Vocalise, Op. 34, No. 14.flac
Size: 19998930 Hash: 3BC718F001127189A4847E191A1B9EAA Accuracy: -m0
Conclusion: CDDA 100%
Signature: E3A6CA9056F8F0DB6204D7D5FD65E2AD9D810DD3
FILE: 04 - Solo Sonata, Op. 27 No. 3 _Ball.flac
Size: 34338175 Hash: E665BE43B9B060BC4B8BF12C05A5563A Accuracy: -m0
Conclusion: CDDA 100%
Signature: A7EB4BA1D0FD95BFA04DDEDF0B3D1B6F40196860
FILE: 05 - Nocturne in D Major, Op. 27, No.flac
Size: 32688963 Hash: CD4640666F4DCB3145CF1AED479B7BCB Accuracy: -m0
Conclusion: CDDA 100%
Signature: 509BA0D23936F41BB5B11197F6F55CC64DC7FD01
FILE: 06 - Nocturne in E-Flat Major, Op. 5.flac
Size: 17854644 Hash: 0260EB6FB525C76B00A38C39AF642712 Accuracy: -m0
Conclusion: CDDA 100%
Signature: 6CC93C7D7F642862838637F40766BF992E3450B2
FILE: 07 - Recitativo & Scherzo Caprice, O.flac
Size: 21206277 Hash: 70993A589447BA13E6F46BDB2CED7F1B Accuracy: -m0
Conclusion: CDDA 100%
Signature: 96B3562C1A7A25B86C91F34DFFB9210CB28A0E42
FILE: 08 - Hebrew Melody, Op. 33.flac
Size: 25525684 Hash: 328D82680B1920B8F98DF3800CFB4EA6 Accuracy: -m0
Conclusion: CDDA 100%
Signature: 53B1E13D300AF4BBDD7B1B51F7B2C99FF5B059B3
FILE: 09 - Estrellita.flac
Size: 13984358 Hash: FE57CFD6CD7B96ADF32EDE7A33D69823 Accuracy: -m0
Conclusion: CDDA 100%
Signature: BAEB4CA80A372F03F5A9D9F17A4B78349A3A7FD7
FILE: 10 - Variations on an Original Theme.flac
Size: 61101823 Hash: 4ADD93967D7BFCEE9B97EE302ECB167E Accuracy: -m0
Conclusion: CDDA 100%
Signature: 3DB2EF694FE52E7823765318BD3425A31B8B69A8