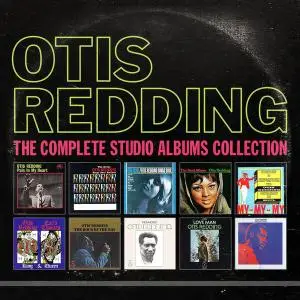 Otis Redding - The Complete Studio Albums Collection (2015)
Flac(Image) + Cue & MP3 CBR 320Kbps
Rhino Records | ~ 1690 or 744 Mb | Funk / Soul | Remastered
Official Digital Download (24bit/96 kHz) => Flac (16bit/44.1 kHz) Image + Cue & MP3 CBR 320Kbps
American soul singer/songwriter, producer and arranger whose best-known compositions include "R.E.S.P.E.C.T." and "(Sittin' On) The Dock Of The Bay", born 9 September 1941 in Dawson, Georgia, USA, and died in a plane crash 10 December 1967 near Madison, Wisconsin, USA.

Inducted into Rock And Roll Hall of Fame in 1989 (Performer) and inducted into Songwriters Hall of Fame in 1994…



~ discogs
Otis Redding - The Complete Studio Albums Collection (2015):
Disc 01. Pain In My Heart (1964):
01 - Pain In My Heart
02 - The Dog
03 - Stand By Me
04 - Hey Hey Baby
05 - You Send Me
06 - I Need Your Lovin'
07 - These Arms Of Mine
08 - Louie Louie
09 - Something Is Worrying Me
10 - Security
11 - That's What My Heart Needs
12 - Lucille
[CUETools log; Date: 27.08.2021 22:08:01; Version: 2.1.4]
Padded some input files to a frame boundary.
[AccurateRip ID: 000e68a3-008657a7-8f07740c] disk not present in database.

Track Peak [ CRC32 ] [W/O NULL]
– 100,0 [E7B80DD6] [0E97B25D]
01 72,9 [B1992B89] [C3F6461D]
02 100,0 [7AA3C3AD] [5DBD22DC]
03 79,3 [BCD46654] [A14A69CA]
04 81,7 [37CCA5BE] [05590BF3]
05 76,5 [A787A2E9] [16FA39D8]
06 93,2 [1B8897F8] [EF57BF0B]
07 78,8 [B1D1BAB4] [B0E7BCC5]
08 75,3 [825274DC] [B481F6FC]
09 97,1 [17A53A19] [309BF129]
10 89,3 [92348646] [FD54B12B]
11 84,8 [9D4400EE] [69777EC4]
12 87,3 [74E4E52B] [4897B86A]


Disc 02. The Great Otis Redding Sings Soul Ballads (1965):
01 - That's How Strong My Love Is
02 - Chained And Bound
03 - A Woman, A Lover, A Friend
04 - Your One And Only Man
05 - Nothing Can Change This Love
06 - It's Too Late
07 - For Your Precious Love
08 - I Want To Thank You
09 - Come To Me
10 - Home In Your Heart
11 - Keep Your Arms Around Me
12 - Mr. Pitiful
[CUETools log; Date: 27.08.2021 22:13:39; Version: 2.1.4]
Padded some input files to a frame boundary.
[AccurateRip ID: 000f5bbd-008f3297-9b07e90c] disk not present in database.

Track Peak [ CRC32 ] [W/O NULL]
– 99,0 [0E08642D] [C8E61863]
01 84,9 [AF933269] [F66C0778]
02 68,7 [A6C5D9F7] [FD63755B]
03 81,8 [0CCFA515] [7CB489CD]
04 98,3 [95902928] [C0CE0D59]
05 84,5 [8FB2D033] [F3EB0E22]
06 71,4 [9C913F47] [527D97E6]
07 99,0 [0034C120] [3EFA53B3]
08 89,1 [315CB39A] [7B1C69EA]
09 80,3 [B8D15BEC] [A341F13A]
10 89,2 [AADA40AA] [CEA222AB]
11 78,2 [99D3104A] [DCB8FA4B]
12 78,2 [7AB5E843] [C1C820B8]


Disc 03. Otis Blue: Otis Redding Sings Soul (1965):
Otis Redding's third album, and his first fully realized album, presents his talent unfettered, his direction clear, and his confidence emboldened, with fully half the songs representing a reach that extended his musical grasp. More than a quarter of this album is given over to Redding's versions of songs by Sam Cooke, his idol, who had died the previous December, and all three are worth owning and hearing. Two of them, "A Change Is Gonna Come" and "Shake," are every bit as essential as any soul recordings ever made, and while they (and much of this album) have reappeared on several anthologies, it's useful to hear the songs from those sessions juxtaposed with each other, and with "Wonderful World," which is seldom compiled elsewhere. Also featured are Redding's spellbinding renditions of "(I Can't Get No) Satisfaction" (a song epitomizing the fully formed Stax/Volt sound and which Mick Jagger and Keith Richards originally wrote in tribute to and imitation of Redding's style), "My Girl," and "You Don't Miss Your Water." "Respect" and "I've Been Loving You Too Long," two originals that were to loom large in his career, are here as well; the former became vastly popular in the hands of Aretha Franklin and the latter was an instant soul classic. Among the seldom-cited jewels here is a rendition of B.B. King's "Rock Me Baby" that has the singer sharing the spotlight with Steve Cropper, his playing alternately elegant and fiery, with Wayne Jackson and Gene "Bowlegs" Miller's trumpets and Andrew Love's and Floyd Newman's saxes providing the backing. Redding's powerful, remarkable singing throughout makes Otis Blue gritty, rich, and achingly alive, and an essential listening experience.
[CUETools log; Date: 27.08.2021 21:57:41; Version: 2.1.4]
Padded some input files to a frame boundary.
[AccurateRip ID: 000daecc-007740c5-8707d10b] disk not present in database.

Track Peak [ CRC32 ] [W/O NULL]
– 80,6 [989FF54C] [B4C3CEE5]
01 76,4 [E92C2C70] [B1E7F97E]
02 76,6 [BC0D1611] [3559EFB6]
03 66,7 [7850D267] [A5237B02]
04 69,4 [1BA89F19] [1D7908F3]
05 67,7 [46998A22] [ED06BE87]
06 65,3 [2AA62CFE] [88F37890]
07 60,8 [05538A1D] [27B632DC]
08 76,4 [98E00FF4] [21A2BCB8]
09 80,6 [9DC6E22F] [3508758B]
10 67,1 [3FC1ED6B] [BD7C6B19]
11 51,7 [BF1BC4D6] [B3400542]


Disc 04. The Soul Album (1966):
01 - Just One More Day
02 - It's Growing
03 - Cigarettes and Coffee
04 - Chain Gang
05 - Good To Me
06 - Scratch My Back
07 - Treat Her Right
08 - Everybody Makes A Mistake
09 - Any Ole Way
10 - 634-5789
11 - Nobody Knows You (When You're Down And Out)
[CUETools log; Date: 27.08.2021 22:17:15; Version: 2.1.4]
Padded some input files to a frame boundary.
[AccurateRip ID: 000e0215-0078c9ef-a007d00b] disk not present in database.

Track Peak [ CRC32 ] [W/O NULL]
– 100,0 [2E645A33] [B757E3B7]
01 95,6 [04688C85] [637A64D5]
02 88,6 [C2F38C97] [A78E3979]
03 65,4 [F0B9E4EA] [E725AF6E]
04 93,6 [0CE3B513] [27C13FCA]
05 75,1 [1AE8613C] [867E6A37]
06 88,1 [772303A2] [316860D1]
07 89,9 [9948D7D6] [7353C7F2]
08 81,8 [7F15F560] [270AF095]
09 100,0 [32368AD2] [93847333]
10 94,2 [6696DCF2] [B17E4409]
11 90,3 [61B7BC3E] [76B109C0]


Disc 05. Complete & Unbelievable: The Otis Redding Dictionary Of Soul (1966):
01 - Fa-Fa-Fa-Fa-Fa (Sad Song)
02 - I'm Sick Y'All
03 - Tennessee Waltz
04 - Sweet Lorene
05 - Try A Little Tenderness
06 - Day Tripper
07 - My Lover's Prayer
08 - She Put The Hurt On Me
09 - Ton Of Joy
10 - You're Still My Baby
11 - Hawg For You
12 - Love Have Mercy
[CUETools log; Date: 27.08.2021 21:50:39; Version: 2.1.4]
Padded some input files to a frame boundary.
[AccurateRip ID: 000fca8f-00944b75-9d08640c] disk not present in database.

Track Peak [ CRC32 ] [W/O NULL]
– 99,9 [937076BD] [E16B8FD8]
01 99,9 [49B0CD98] [0F15516E]
02 93,6 [E817544F] [E701E018]
03 88,2 [37A67636] [8473C4D8]
04 90,0 [18F4D632] [7B670BA5]
05 96,4 [7D128717] [9DCD9C10]
06 87,3 [12B517EF] [4E8A7751]
07 48,1 [3DD25C0A] [7C0ADDBE]
08 87,6 [DD872C25] [AD624A7F]
09 78,0 [9FBE42E9] [26FB504A]
10 88,0 [9CDE92F6] [93D3A81C]
11 72,6 [30723393] [D6AAE44C]
12 86,7 [F870185B] [D98645E5]


Disc 06. King & Queen (1967):
01 - Knock On Wood
02 - Let Me Be Good To You
03 - Tramp
04 - Tell It Like It Is
05 - When Something Is Wrong With My Baby
06 - Lovey Dovey
07 - New Year's Resolution
08 - It Takes Two
09 - Are You Lonely For Me Baby
10 - Bring It On Home
11 - Ooh Carla, Ooh Otis
[CUETools log; Date: 27.08.2021 21:53:27; Version: 2.1.4]
Padded some input files to a frame boundary.
[AccurateRip ID: 000d9ad9-0075ee5e-9407a40b] disk not present in database.

Track Peak [ CRC32 ] [W/O NULL]
– 98,7 [A51C93D1] [D60C8C7E]
01 91,6 [EB18F28C] [F3A224F7]
02 68,5 [40F3BB90] [3FF94186]
03 79,6 [78F12711] [F681CBFB]
04 66,7 [6DF3C4F3] [0426A25E]
05 56,1 [79E2B46E] [00FF9F14]
06 82,7 [3FBF4FA2] [2098B1C0]
07 69,5 [3E497AB3] [4846D4AD]
08 98,7 [AFED9CF4] [B77C7969]
09 80,7 [71F65CC7] [A885F808]
10 76,1 [1E9A0ACD] [211C20B5]
11 78,1 [4E5722EC] [24F635C1]


Disc 07. The Dock Of The Bay (1968):
01 - (Sittin' On) The Dock Of The Bay
02 - I Love You More Than Words Can Say
03 - Let Me Come On Home
04 - Open The Door
05 - Don't Mess With Cupid
06 - The Glory Of Love
07 - I'm Coming Home To See About You
08 - Tramp
09 - The Huckle-Buck
10 - Nobody Knows You (When You're Down And Out)
11 - Ole Man Trouble
[CUETools log; Date: 27.08.2021 22:11:41; Version: 2.1.4]
Padded some input files to a frame boundary.
[AccurateRip ID: 000cda22-006fc3e6-a507650b] disk not present in database.

Track Peak [ CRC32 ] [W/O NULL]
– 100,0 [444FD1DC] [4AE33998]
01 46,3 [BC11D039] [E29310C6]
02 60,7 [EED7B822] [C720FC4B]
03 60,7 [C44A114B] [D72C1A5E]
04 74,2 [B7F41399] [5DEAC041]
05 100,0 [F401433C] [C1AFE0FF]
06 54,6 [A6149D50] [B6B9B6B1]
07 75,7 [72291F78] [CAFEA8D9]
08 73,6 [E0D715FD] [BD228E9D]
09 64,9 [4F7B3527] [BE111B8C]
10 78,3 [CC069E5A] [6DDAA9DA]
11 73,0 [4B5A002F] [EB230815]


Disc 08. The Immortal Otis Redding (1968):
01 - I've Got Dreams To Remember
02 - You Made A Man Out Of Me
03 - Nobody's Fault But Mine
04 - Hard To Handle
05 - Thousand Miles Away
06 - The Happy Song (Dum-Dum)
07 - Think About It
08 - A Waste Of Time
09 - Champagne And Wine
10 - A Fool For You
11 - Amen
[CUETools log; Date: 27.08.2021 22:15:12; Version: 2.1.4]
Padded some input files to a frame boundary.
[AccurateRip ID: 000c22d7-0069c344-9307290b] disk not present in database.

Track Peak [ CRC32 ] [W/O NULL]
– 100,0 [3095F1FA] [060A61D4]
01 99,5 [67EA849C] [1175FB64]
02 91,3 [F464B34A] [30315631]
03 86,2 [C5BD741C] [17DF0B85]
04 87,8 [1C2068C3] [49DA204C]
05 93,7 [0268F7D8] [5FAA6FC2]
06 83,3 [B45553E9] [7C19367E]
07 75,4 [2779452C] [D417BADD]
08 93,0 [DA3D51A8] [5CE4671D]
09 69,4 [3063A9DA] [0DB51388]
10 100,0 [FBACF87E] [F4E846DA]
11 91,3 [DE4E43CA] [315FC61F]


Disc 09. Love Man (1969):
01 - I'm A Changed Man
02 - (Your Love Has Lifted Me) Higher And Higher
03 - That's A Good Idea
04 - I'll Let Nothing Seperate Us
05 - Direct Me
06 - Love Man
07 - Groovin' Time
08 - Your Feeling Is Mine
09 - Got To Get Myself Together
10 - Free Me
11 - A Lover's Question
12 - Look At That Girl
[CUETools log; Date: 27.08.2021 21:55:40; Version: 2.1.4]
Padded some input files to a frame boundary.
[AccurateRip ID: 000de783-00820482-9507670c] disk not present in database.

Track Peak [ CRC32 ] [W/O NULL]
– 98,4 [D9831334] [72E14B55]
01 92,8 [91AD640C] [09D8722D]
02 95,1 [343E3D79] [F9696811]
03 94,6 [ADB7715F] [DAD54AE9]
04 84,0 [465A1CD3] [D3A226A5]
05 92,5 [ED66E161] [CDD3B42E]
06 96,6 [68D5D4FA] [182F8C96]
07 89,0 [298BE202] [92A702D8]
08 90,6 [9233ECC1] [95DE9579]
09 91,7 [AAFD5FCB] [F25646EA]
10 89,8 [2CA45B4C] [6FC37A5E]
11 97,3 [3B22DE58] [7434FA47]
12 98,4 [73F64C8F] [CE44DC74]


Disc 10. Tell The Truth (1970):
01 - Demonstration
02 - Tell The Truth
03 - Out Of Sight
04 - Give Away None Of My Love
05 - Wholesale Love
06 - I Got The Will
07 - Johnny's Heartbreak
08 - Snatch A Little Piece
09 - Slippin' And Slidin'
10 - The Match Game
11 - A Little Time
12 - Swingin' On A String
[CUETools log; Date: 27.08.2021 22:09:53; Version: 2.1.4]
Padded some input files to a frame boundary.
[AccurateRip ID: 000dfb7d-0081d65d-9707450c] disk not present in database.

Track Peak [ CRC32 ] [W/O NULL]
– 99,7 [076284AA] [4262FB35]
01 90,8 [6507655E] [51F6281A]
02 81,1 [9D99A510] [792694EB]
03 54,2 [CEE1F5A0] [42A8267B]
04 58,4 [9189CAC7] [0255C3E7]
05 79,4 [793BF158] [31C14C89]
06 99,7 [F60B15FC] [CDABDE6B]
07 67,0 [6B4EC539] [63A7B11D]
08 75,6 [0BD3F987] [FBA0CE12]
09 91,2 [7CF94A31] [04A899C3]
10 71,4 [649CF587] [2C9743FF]
11 75,0 [2FB8CE6A] [714136C8]
12 83,1 [5D0BB088] [4A3D41EF]


All thanks go to the original releaser
Otis Redding
in my Blog
Download Otis Redding - The Complete Studio Albums Collection (2015):