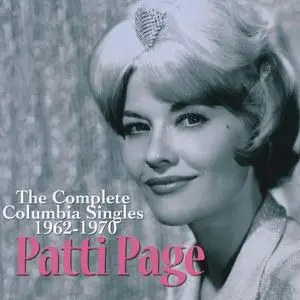 Patti Page - The Complete Columbia Singles (1962-1970) (Remastered) (2014)
FLAC (tracks) - 517 MB | MP3 CBR 320 kbps - 312 MB
2:09:39 | Jazz, Pop, Ballad, Vocal, Easy Listening | Label: Legacy Recordings
With the passing of Patti Page on New Year's Day of this year just weeks before she was scheduled to receive the prestigious Grammy Lifetime Achievement Award America lost one of its most distinctive and distinguished musical voices, the #1-selling female artist of the '50s and a remarkably versatile singer equally at home in the pop and country genres. Virtually all Page retrospectives have concentrated on her '50s recordings for the Mercury label, but she had a very successful second act to her career while recording during the '60s for the Columbia label, where she scored a dozen chart hits.
Now, to honor her singular talent and enduring recording legacy, Real Gone Music is training its collector's eye on Patti Page's Columbia recordings with The Complete Columbia Singles 1962-1970, which includes all 51 single sides she released on the Columbia label, featuring all 12 of the aforementioned hits (most prominently "Hush, Hush, Sweet Charlotte," here in its hit single and bonus German version) and many impossible-to-find non-album tracks previously only available on 45 rpm vinyl. Lifelong Page fan and friend Alan Eichler contributes liner notes, and the booklet offers plenty of photos, including some from the family's private archive, with remastering at Sony's own Battery Studios. Any admirer of Patti Page will find much to cherish here.
Tracklist
CD 1
01. Pretty Boy Lonely
02. Just a Simple Melody
03. Say Wonderful Things
04. I Knew I Would See Him Again
05. Nobody
06. Maybe He'll Come Back to Me
07. Love Letters
08. If and When
09. I Adore You
10. I Wonder, I Wonder, I Wonder
11. Drive In Movie
12. I'd Rather Be Sorry (Than Safe All Alone)
13. Drina (Little Soldier Boy)
14. Promises
15. Days of the Waltz
16. Don't You Pass Me By
17. Hush, Hush, Sweet Charlotte
18. Longing to Hold You Again
19. You Can't Be True, Dear
20. Who's Gonna Shoe My Pretty Little Feet
21. Ribbons and Roses
22. That's What I Tell Them
23. Happy Birthday, Jesus (A Child's Prayer)
24. Christmas Bells
25. Custody
26. Till You Come Back to Me
CD 2
01. Can I Trust You? (Lo Ti Daró Di Piú) (Single Version)
02. In This Day and Age
03. Almost Persuaded (Single Version)
04. It's the World Outside (Single Version)
05. The Wishing Doll (Single Version)
06. Music and Memories (Single Version)
07. Wish Me a Rainbow (Single Version)
08. This is the Sunday
09. Walkin' - Just Walkin' (Single Version)
10. Same Old You
11. Pretty Bluebird (Single Version)
12. All the Time
13. Gentle On My Mind
14. Excuse Me
15. Little Green Apples
16. This House
17. Stand By Your Man (Single Version)
18. Red Summer Roses (Single Version)
19. The Love Song
20. A Mighty Fortress is Our Love
21. Boy from the Country
22. You Don't Need a Heart
23. I Wish I Had a Mommy Like You
24. He'll Never Take the Place of You
25. Hush, Hush Sweet Charlotte (German Version)
–––––––––––-
DON'T MODIFY THIS FILE
–––––––––––-
PERFORMER: auCDtect Task Manager, ver. 1.6.0 RC1 build 1.6.0.1
Copyright © 2008-2010 y-soft. All rights reserved
http://y-soft.org
ANALYZER: auCDtect: CD records authenticity detector, version 0.8.2
Copyright © 2004 Oleg Berngardt. All rights reserved.
Copyright © 2004 Alexander Djourik. All rights reserved.
FILE: 26 - Till You Come Back to Me.flac
Size: 8924584 Hash: 916CFF1EDD6E366F9D297E660F5A9CE7 Accuracy: -m40
Conclusion: CDDA 100%
Signature: 35394E9F774C93477318B2930DCC8F5DD299F768
FILE: 25 - Custody.flac
Size: 9874152 Hash: 4CC0B9122A0942708C7209CAF5AB9877 Accuracy: -m40
Conclusion: CDDA 100%
Signature: B153FB8FEE3F09F49498163800273E579DB39E01
FILE: 24 - Christmas Bells.flac
Size: 10956998 Hash: 9F6337231B6329B6A3DFF9FE73041B38 Accuracy: -m40
Conclusion: CDDA 100%
Signature: 8AA902EBF74A3BA23685D28EE838AFCAC577F307
FILE: 23 - Happy Birthday, Jesus (A Child's Prayer).flac
Size: 9686572 Hash: A738A3A0775857355E63C377DF8B3265 Accuracy: -m40
Conclusion: CDDA 99%
Signature: B0F78C9A14FBE595B3F02321B212AAE7F238D0DE
FILE: 22 - That's What I Tell Them.flac
Size: 9495886 Hash: 6A44B581371D6083BBB576A93A5D9118 Accuracy: -m40
Conclusion: CDDA 100%
Signature: C87AD3B9606BC067D87EEDBBE53B8ACA02877A40
FILE: 21 - Ribbons and Roses.flac
Size: 10398085 Hash: B4ED0C94812E212EC392FE5DC8CBD535 Accuracy: -m40
Conclusion: CDDA 100%
Signature: ED99C1EC3F0833EADD28B547B088CBE69F2F5EAA
FILE: 20 - Who's Gonna Shoe My Pretty Little Feet.flac
Size: 8591131 Hash: 78B99984638422058576F8D171300E5E Accuracy: -m40
Conclusion: CDDA 100%
Signature: 31B01206F0F9D0991A5B359BCDE535B3F5BE191A
FILE: 19 - You Can't Be True, Dear.flac
Size: 9046937 Hash: EF8A58FA9185F042A23DA4013B711BBC Accuracy: -m40
Conclusion: CDDA 100%
Signature: BF45D378391FB885BACEA147BED1F95F36C9B242
FILE: 18 - Longing to Hold You Again.flac
Size: 8652167 Hash: A2C3EB583110979D8BA3A3181640C71B Accuracy: -m40
Conclusion: CDDA 100%
Signature: 442074458A70634A6F6E712A53E7B94E26B2CA8C
FILE: 17 - Hush, Hush, Sweet Charlotte.flac
Size: 11223433 Hash: F259536FD51641FE0A300A5A20B56183 Accuracy: -m40
Conclusion: CDDA 100%
Signature: 407A511D0F7AC6FBF1EC1C8B8FA4D86399F092F8
FILE: 16 - Don't You Pass Me By.flac
Size: 9764143 Hash: A1C5AD4B90D7FED00358DB1D2020F2BD Accuracy: -m40
Conclusion: CDDA 100%
Signature: 4149872195A5B15B61CC24BFA5CD8BDBA08FE83A
FILE: 15 - Days of the Waltz.flac
Size: 12533415 Hash: BB90114C9AFF764EDF1B7E4A6009F4C8 Accuracy: -m40
Conclusion: CDDA 100%
Signature: C7281CA8D0F7DF6CA71302611065B12CA9E550D0
FILE: 14 - Promises.flac
Size: 12767568 Hash: B76F4658F7FC8C588A0801A067708D63 Accuracy: -m40
Conclusion: CDDA 100%
Signature: 20FC1AFA3090E40123EDB0DD15AC9F9F2808E0C6
FILE: 13 - Drina (Little Soldier Boy).flac
Size: 11608131 Hash: 707BAFFC84144E689A1BE439E933986D Accuracy: -m40
Conclusion: CDDA 100%
Signature: 0724CD3D92AB00CB1669B9430D63BAF8D04569AF
FILE: 12 - I'd Rather Be Sorry (Than Safe All Alone).flac
Size: 10536493 Hash: E1AF7899C4722982BFB1A258109F217E Accuracy: -m40
Conclusion: CDDA 100%
Signature: B331887C345A4462D52B96A534D7AE158D3E908E
FILE: 11 - Drive In Movie.flac
Size: 10830084 Hash: 0ABE21D14771315A97B9A586781DA87F Accuracy: -m40
Conclusion: CDDA 99%
Signature: AF6C1AFE3D164D0E849E2144D8C3865A5942539A
FILE: 10 - I Wonder, I Wonder, I Wonder.flac
Size: 8725454 Hash: A55A17EC19FFE87DDA26DC5284B66662 Accuracy: -m40
Conclusion: CDDA 100%
Signature: F196AA78DE4587112EB5830F26AB4D7A8B5CDD7E
FILE: 09 - I Adore You.flac
Size: 11197258 Hash: 705C3064886FF8BE64261C8F7173E275 Accuracy: -m40
Conclusion: CDDA 100%
Signature: CE962EE3EF7BAC0DAB8F099ADEC1077FD8AB3CD3
FILE: 08 - If and When.flac
Size: 9450899 Hash: FC0B19AC8C5CA65371C587C77D041FB3 Accuracy: -m40
Conclusion: CDDA 100%
Signature: 021194339D73458A5C574A82CB9B13EF4761458F
FILE: 07 - Love Letters.flac
Size: 10692167 Hash: B7FDAE00343B67EB43C3EA7E5CA69649 Accuracy: -m40
Conclusion: CDDA 100%
Signature: 16D57F274070963428D41A6A55C93A57193A2C45
FILE: 06 - Maybe He'll Come Back to Me.flac
Size: 11074374 Hash: 23F18607784D7622A5DC8F84CE1941FB Accuracy: -m40
Conclusion: CDDA 100%
Signature: 8EC9451FFCA192260135ADD1E5D0332D8259B91B
FILE: 05 - Nobody.flac
Size: 10333113 Hash: 4042BCB534E576DFBFB7075614179415 Accuracy: -m40
Conclusion: CDDA 100%
Signature: B83CA3E19868A042ADCD965B62EDE8009570EA41
FILE: 04 - I Knew I Would See Him Again.flac
Size: 8410467 Hash: EFE6159107F9BAEA57F233203AE7A58E Accuracy: -m40
Conclusion: CDDA 100%
Signature: 553A5F4EA3F3D7277C99A48397AF9085E4CFD8A7
FILE: 03 - Say Wonderful Things.flac
Size: 9226380 Hash: 96CCD292780B0C56C1A1E775079AF783 Accuracy: -m40
Conclusion: CDDA 99%
Signature: 163E5645A9C81ABD708A2B89C1C584D39CD6AB36
FILE: 02 - Just a Simple Melody.flac
Size: 11058696 Hash: A132707DEB23ECFB6BA8F506707E2596 Accuracy: -m40
Conclusion: CDDA 100%
Signature: 7AA89605FEB329EFA8EAEA335EE17688592E3D6A
FILE: 01 - Pretty Boy Lonely.flac
Size: 9820196 Hash: 06C491831CC6F5F52F03BECD7CE1ABB2 Accuracy: -m40
Conclusion: CDDA 100%
Signature: 698CF48D76C780605BD52EF06FD143F4977A6A77
FILE: 25 - Hush, Hush Sweet Charlotte (German Version).flac
Size: 10688797 Hash: C50D1BFBB9C93C24E5F586753BDDFB47 Accuracy: -m40
Conclusion: CDDA 100%
Signature: D2ACFB7D47DC46E6D322AEC716B4A6FE402FC506
FILE: 24 - He'll Never Take the Place of You.flac
Size: 17425916 Hash: 1F9301704AAAA0ABC24A5D6230C44A79 Accuracy: -m40
Conclusion: CDDA 100%
Signature: D3F2391830FF07A2E679916130EBA893CEBA9F14
FILE: 23 - I Wish I Had a Mommy Like You.flac
Size: 22022458 Hash: 57F0A242D7ADAC47B3A8C63FB83D8DA2 Accuracy: -m40
Conclusion: CDDA 100%
Signature: B5A84387CFF81867835AD883227FBF6E929FEE65
FILE: 22 - You Don't Need a Heart.flac
Size: 10929643 Hash: D83BCE881F8E36F01F9F52AF5F46E21B Accuracy: -m40
Conclusion: CDDA 100%
Signature: DD62E4EBFCFBBB13FC0D9CD2A5899FC39C9CE3BA
FILE: 21 - Boy from the Country.flac
Size: 11078468 Hash: 33E6729958812DAAD7405A6145CA5949 Accuracy: -m40
Conclusion: CDDA 100%
Signature: 6145648DC99670AB06573D2E8FB432856D957949
FILE: 20 - A Mighty Fortress is Our Love.flac
Size: 10801437 Hash: 81CB1D725C7941D98E6361DF5CD949FA Accuracy: -m40
Conclusion: CDDA 99%
Signature: 948A4810113545CED47B407E7DA2BA1C275B302C
FILE: 19 - The Love Song.flac
Size: 11896459 Hash: 96F53B26958CFDDB73A641C13D8000F6 Accuracy: -m40
Conclusion: CDDA 100%
Signature: DC2B3766664D7076B433609FD0768334D984208D
FILE: 18 - Red Summer Roses (Single Version).flac
Size: 10357251 Hash: C7A8C2B4D5CF367A42EE03ED8C69BA86 Accuracy: -m40
Conclusion: CDDA 100%
Signature: 6837265A840EA2E45832F46020DB0900D3BCA37A
FILE: 17 - Stand By Your Man (Single Version).flac
Size: 12082292 Hash: A2A36A1C51B301386F2512445592D4E0 Accuracy: -m40
Conclusion: CDDA 100%
Signature: 0979F73118A4C010270DBD9DF35DBA234EBD79CD
FILE: 16 - This House.flac
Size: 12000538 Hash: 3A425ED2022C2C35FCC5ED3A29891B7F Accuracy: -m40
Conclusion: CDDA 99%
Signature: E80779BBB8D5391C842D9FAEE3D0324DB2567D5F
FILE: 15 - Little Green Apples.flac
Size: 11743814 Hash: E0728E2F1D0B57D995A0DBB09D6B55C2 Accuracy: -m40
Conclusion: CDDA 100%
Signature: 35435F34E92728C72608F99394CFB02B36452AA6
FILE: 14 - Excuse Me.flac
Size: 8925537 Hash: BACC293DC7FEFAE0713EB68B968F282E Accuracy: -m40
Conclusion: CDDA 100%
Signature: BAC94898664533C6324D2818CD2E9419E7B75B5E
FILE: 13 - Gentle On My Mind.flac
Size: 10554798 Hash: DF7213FD2DA0E54E456603C610082C7F Accuracy: -m40
Conclusion: CDDA 99%
Signature: 2758C15E9BDD9D0AAF0CA41532811E9261C7ECD2
FILE: 12 - All the Time.flac
Size: 10528592 Hash: 43531CB5635FE0D4F7C0FE7828219218 Accuracy: -m40
Conclusion: CDDA 100%
Signature: F33FF57A96ED1680F1DDB92870DDABFCEFBCB657
FILE: 11 - Pretty Bluebird (Single Version).flac
Size: 8001492 Hash: 4B2C33AF0ABED9BC5F37958B90C4F606 Accuracy: -m40
Conclusion: CDDA 100%
Signature: FF4364EB7EF6ED644BF2C04D5619F8AD73869534
FILE: 10 - Same Old You.flac
Size: 10099961 Hash: C3B0BC13AE495EA371A8AE75EB9B9451 Accuracy: -m40
Conclusion: CDDA 100%
Signature: 152A370A2BB789998015207D30569F9C5CF6930F
FILE: 09 - Walkin' - Just Walkin' (Single Version).flac
Size: 9927676 Hash: F655BE34E44D733AE1BD78FD9C93654C Accuracy: -m40
Conclusion: CDDA 100%
Signature: 663F631E910D95CBAE06DDECBD917BC8D83E39E0
FILE: 08 - This is the Sunday.flac
Size: 11509001 Hash: BC647046A36CE2B837B127A2FA209D79 Accuracy: -m40
Conclusion: CDDA 100%
Signature: 32137590A131A42A01A09C686CED1CAAE1F95DD2
FILE: 07 - Wish Me a Rainbow (Single Version).flac
Size: 7233434 Hash: 747E243AEFB974BE58C85E3CBC744DB8 Accuracy: -m40
Conclusion: CDDA 100%
Signature: 43173E1BCC902495D96DC6EC42CE0C71DD42A578
FILE: 06 - Music and Memories (Single Version).flac
Size: 10793347 Hash: 79280FE25AC311EB4797DFD31730EC47 Accuracy: -m40
Conclusion: CDDA 100%
Signature: 8E978907111B1E1B1C8709CF8F82AFEB45219839
FILE: 05 - The Wishing Doll (Single Version).flac
Size: 9157786 Hash: 86F79E10D4ADB4FA9FFEAA28DE1CAAE2 Accuracy: -m40
Conclusion: CDDA 100%
Signature: 2D9DD808FB7471B5C95133EB1ADF375E47C6F24F
FILE: 04 - It's the World Outside (Single Version).flac
Size: 8426689 Hash: F604C7E2888A035DA3558F91F60892CC Accuracy: -m40
Conclusion: CDDA 100%
Signature: 14411ECF7FB0EAD3032926491A604EB1AE74250E
FILE: 03 - Almost Persuaded (Single Version).flac
Size: 10156488 Hash: B551147CC95DBD7AD91BD9A2E679C76D Accuracy: -m40
Conclusion: CDDA 100%
Signature: 9A652723A25B8C2E0C0DF43AA2472D8E40D08FC6
FILE: 02 - In This Day and Age.flac
Size: 11181721 Hash: 5C823F33745260BABCD10219C786EFFC Accuracy: -m40
Conclusion: CDDA 100%
Signature: 3D0E26BDFC6FF131496DC57B9EA470C5F42DE173
FILE: 01 - Can I Trust You_ (Lo Ti Daró Di Piú) (Single Version).flac
Size: 9875803 Hash: B2F28330D9CB0156201D644E52C6AD47 Accuracy: -m40
Conclusion: CDDA 100%
Signature: 8428AAA08591D66F4F4533FAC4F7C4D86731CEF0