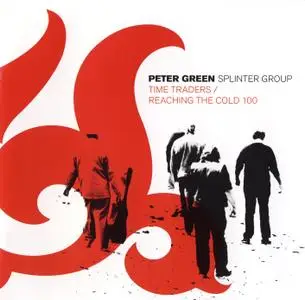 Peter Green Splinter Group - Time Traders (2001) + Reaching the Cold 100 (2003) [2007 2CD Set]
EAC | FLAC | Image (Cue&Log) ~ 928 Mb | Mp3 (CBR320) ~ 358 Mb | Scans included
Blues-Rock, British Blues | Label: Snapper Music, Recall 2cd | # SMDCD593 | 02:23:35
This release combines two studio albums from the Peter Green Splinter Group 'Time Traders' from 2001 and 'Reaching The Cold 100' from 2003. Peter Green's status as a blues guitarist is second to none. With first John Mayall's Bluesbreakers and then Fleetwood Mac, he created an extraordinary body of work which established his reputation. Time Traders and Reaching The Cold 100 were the last studio recordings by the Peter Green Splinter Group, which operated from 1997 to 2004 and in contrast to their earlier albums they feature entirely original compositions by members of the group. These are two great albums worthy of inclusion in any fan's collection.
Great Britain's Recall label reaches toward Eagle Rock Entertainment for a pair of Peter Green Splinter Group records from earlier in the decade – Time Traders from 2001 and Reaching the Cold 100 from 2003 – and pops them out in this two-disc edition with jive liner notes that don't offer any real credits other than those due the songwriters. These are both very different albums than previous Splinter Group offerings. The bands are bigger, a bit rowdier, and Green's singing and playing are stronger than ever. That said, even with Nigel Watson, Peter Stroud, Roger Cotton (who wrote the new material here; Green's own writing contributions are recycled Fleetwood Mac jams), the first of these is very slick, and follows too closely in the current Chicago blues vernacular to be indisputably essential Green listening. There are moments on each of these records, however, of real interest. First there's Cotton's killer "Real World," on Time Traders; it's written in a minor key in the ghostly Green lineage with the writer's gorgeous B-3 flitting about in the background intertwining the guitar players; Green's spare snaky lead lines are here in abundance. Watson's old-school "Shadow on My Door" was written for Green to shine, and he does; so does the band. Stroud's "Time Keeps Slipping Away" is a blues-ish tune Chris Rea wishes he could have penned complete with female backing chorus. Green's instrumental "Underway" is a rare treat. It's beautiful, adrift with guitars playing call and response in the ether, with Green using Snowy White as a foil.

Reaching the Cold 100 is tantamount to a double album, clocking in at 78 minutes. It is the final Splinter Group recording, and perhaps was never meant to be an album, as Green left shortly after its completion. Too bad it didn't get more play because it's a stronger album all around. Green's playing two years on from Time Traders was fluid and confident; his singing even more so. Reaching the Cold 100 is the final Peter Green Splinter Group recording. It is polished, warm-toned British blues-rock in a mode that literally puts anything Eric Clapton's done in the last 20 years to shame. Peter Stroud, Nigel Watson and Roger Cotton composed most of the material here separately; yet they have figured out a way to sound like a single songwriter reflecting Green's voice and musical persona. This record has a ton of spiritual themes attached to it, many of them spooky, and not in that clichéd way people have been imitating Robert Johnson in, either. Whether they are mid-tempo, minor-key rockers like "Needs Must the Devil Drives," the slower, Chicago-styled "Spiritual Thief" that walks the line between blues and soul, or the downright hunted "Dangerous Man" that spiritual, haunted theme underlies much of what's here. Other standouts on this set are the snarling, funky "Cool Down," the smoldering "Look Out for Yourself," the soul blues of "When Somebody Cares," and the minimal blues-funk in "Smile." As a bonus, there are new acoustic renditions of Green's "Black Magic Woman," "It Takes Time," "Green Manalishi," and "Albatross." Certainly these versions don't replace the originals, but they are nonetheless captivating moments, especially "Black Magic Woman," which has been redefined in light of the Santana version, combining the best elements of both. "It Takes Time" is a natural for this band, but the vocal suffers a bit, like it's really a demo vocal attached to the finished track. "Green Manalishi" feels and sounds like a demo jam, but it's a good listen, and "Albatross" is, simply put, one of the most gorgeous guitar instrumentals ever, and Green playing acoustic on it is simply stunning. This is it, the end of this short-lived band's recorded history, and they go out on a high note. Who knows what Green will do next? Let's just hope it's something. These discs can be had now for a completely reasonable price for a double, and they sound great. The first of these albums is three stars, the second one is 3.5, but together, there is more than enough material here to keep everyone happy.



Review by Thom Jurek, Allmusic.com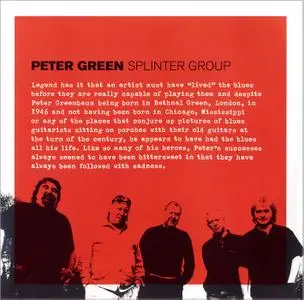 Tracklist:
CD1 - Time Traders (2001) [01:04:34]:

01. Until The Well Runs Dry (5:19)
02. Real World (6:17)
03. Running After You (4:47)
04. Shadow On My Door (5:36)
05. Lies (4:44)
06. (Down The Road Of)Temtation (4:17)
07. Downsize Blues(Repossess My Body) (3:48)
08. Feeling Good (4:17)
09. Time Keeps Slipping Away (4:44)
10. Wild Dogs (5:09)
11. Home (5:17)
12. Underway (4:49)
13. Uganda Woman (5:31)

CD2 - Reaching The Cold 100 (2003) [01:19:01]:

01. Ain't Nothin' Gonna Change It (3:29)
02. Look Out For Yourself (4:31)
03. Cool Down (4:00)
04. Dangerous Man (4:08)
05. Needs Must The Devil Drives (4:18)
06. Must Be A Fool (4:36)
07. Don't Walk Away (4:34)
08. Can You Tell Me Why (3:50)
09. Spiritual Thief (4:58)
10. I'm Ready For You (4:41)
11. Smile (5:18)
12. Nice Girl Like You (4:39)
13. When Somebody Cares (5:27)
14. Black Magic Woman (6:54)
15. It Takes Time (5:29)
16. Green Manalishi (4:46)
17. Albatross (3:23)
Exact Audio Copy V0.99 prebeta 4 from 23. January 2008

Отчёт EAC об извлечении, выполненном 4. августа 2012, 8:16

Peter Green Splinter Group / Time Traders

Дисковод: ASUS DRW-1814BL Adapter: 1 ID: 0

Режим чтения : Достоверность
Использование точного потока : Да
Отключение кэша аудио : Да
Использование указателей C2 : Нет

Коррекция смещения при чтении : 6
Способность читать области Lead-in и Lead-out : Нет
Заполнение пропущенных сэмплов тишиной : Да
Удаление блоков с тишиной в начале и конце : Нет
При вычислениях CRC использовались нулевые сэмплы : Да
Интерфейс : Установленный внешний ASPI-интерфейс

Выходной формат : Пользовательский кодировщик
Выбранный битрейт : 1024 kBit/s
Качество : Высокий
Добавление ID3-тэга : Нет
Утилита сжатия : C:\Program Files\Exact Audio Copy\FLAC\FLAC.EXE
Дополнительные параметры : -6 -V -T "ARTIST=%a" -T "TITLE=%t" -T "ALBUM=%g" -T "DATE=%y" -T "TRACKNUMBER=%n" -T "GENRE=%m" -T "COMMENT=%e" %s -o %d


TOC извлечённого CD

Трек | Старт | Длительность | Начальный сектор | Конечный сектор
––––––––––––––––––––––––––––––––––-
1 | 0:00.00 | 5:19.21 | 0 | 23945
2 | 5:19.21 | 6:16.53 | 23946 | 52198
3 | 11:35.74 | 4:46.38 | 52199 | 73686
4 | 16:22.37 | 5:35.47 | 73687 | 98858
5 | 21:58.09 | 4:43.48 | 98859 | 120131
6 | 26:41.57 | 4:16.66 | 120132 | 139397
7 | 30:58.48 | 3:47.65 | 139398 | 156487
8 | 34:46.38 | 4:17.22 | 156488 | 175784
9 | 39:03.60 | 4:44.14 | 175785 | 197098
10 | 43:47.74 | 5:09.00 | 197099 | 220273
11 | 48:56.74 | 5:17.32 | 220274 | 244080
12 | 54:14.31 | 4:48.54 | 244081 | 265734
13 | 59:03.10 | 5:30.65 | 265735 | 290549


Характеристики диапазона извлечения и сообщения об ошибках

Выбранный диапазон

Имя файла H:\loSSleSS\P.Green'07\Peter Green Splinter Group - Time Traders.wav

Пиковый уровень 100.0 %
Качество диапазона 100.0 %
CRC теста E8A7396B
CRC копии E8A7396B
Копирование… OK

Ошибок не произошло


AccurateRip: сводка

Трек 1 точность не определена (достоверность 9) [9EAE8EC8], AccurateRip вернул [D786C816]
Трек 2 точность не определена (достоверность 10) [C549A44B], AccurateRip вернул [649D6FC9]
Трек 3 точность не определена (достоверность 9) [B763FC9C], AccurateRip вернул [BCB20128]
Трек 4 точность не определена (достоверность 9) [52C3AB1D], AccurateRip вернул [6D8DE8D3]
Трек 5 точность не определена (достоверность 9) [98D3ECE9], AccurateRip вернул [52583F6D]
Трек 6 точность не определена (достоверность 9) [25936D37], AccurateRip вернул [32BB825F]
Трек 7 точность не определена (достоверность 9) [9FB4FDA3], AccurateRip вернул [B57B1D29]
Трек 8 точность не определена (достоверность 9) [13CF8EFA], AccurateRip вернул [16D4C1C8]
Трек 9 точность не определена (достоверность 10) [0E38EE2B], AccurateRip вернул [C19DCAB7]
Трек 10 точность не определена (достоверность 9) [F3CC59B0], AccurateRip вернул [55F8EB1E]
Трек 11 точность не определена (достоверность 9) [3D35D8B4], AccurateRip вернул [BBADC780]
Трек 12 точность не определена (достоверность 9) [48B3AEC8], AccurateRip вернул [D573261C]
Трек 13 точность не определена (достоверность 8) [D2A2F217], AccurateRip вернул [969BCCD7]

Ни один трек не прошёл проверки на точность
В вашей базе может быть иной вариант штамповки диска

Конец отчёта
[CUETools log; Date: 05.11.2018 6:01:31; Version: 2.1.4]
[CTDB TOCID: zyIBm0ZTqYUTuLLgQ2z98yNu_.8-] found.
Track | CTDB Status
1 | (91/94) Accurately ripped
2 | (92/94) Accurately ripped
3 | (92/94) Accurately ripped
4 | (92/94) Accurately ripped
5 | (92/94) Accurately ripped
6 | (92/94) Accurately ripped
7 | (92/94) Accurately ripped
8 | (91/94) Accurately ripped
9 | (92/94) Accurately ripped
10 | (92/94) Accurately ripped
11 | (92/94) Accurately ripped
12 | (91/94) Accurately ripped
13 | (91/94) Accurately ripped
[AccurateRip ID: 001f67f9-0136cf9f-bc0f220d] found.
Track [ CRC | V2 ] Status
01 [9eae8ec8|f2c6c9a6] (00+03/69) Accurately ripped
02 [c549a44b|d149a6fa] (00+03/71) Accurately ripped
03 [b763fc9c|55a69c98] (00+03/69) Accurately ripped
04 [52c3ab1d|91641f97] (00+03/69) Accurately ripped
05 [98d3ece9|608892ec] (00+03/70) Accurately ripped
06 [25936d37|a2f703ed] (00+03/69) Accurately ripped
07 [9fb4fda3|160307d8] (00+03/69) Accurately ripped
08 [13cf8efa|398fd4ae] (00+03/70) Accurately ripped
09 [0e38ee2b|db44fda4] (00+03/71) Accurately ripped
10 [f3cc59b0|afbcdd59] (00+03/69) Accurately ripped
11 [3d35d8b4|fc8878a5] (00+03/68) Accurately ripped
12 [48b3aec8|0c54e1dc] (00+03/68) Accurately ripped
13 [d2a2f217|37fe657b] (00+03/66) Accurately ripped
Offsetted by 18:
01 [d786c816] (10/69) Accurately ripped
02 [649d6fc9] (11/71) Accurately ripped
03 [bcb20128] (10/69) Accurately ripped
04 [6d8de8d3] (10/69) Accurately ripped
05 [52583f6d] (10/70) Accurately ripped
06 [32bb825f] (10/69) Accurately ripped
07 [b57b1d29] (10/69) Accurately ripped
08 [16d4c1c8] (10/70) Accurately ripped
09 [c19dcab7] (11/71) Accurately ripped
10 [55f8eb1e] (10/69) Accurately ripped
11 [bbadc780] (10/68) Accurately ripped
12 [d573261c] (10/68) Accurately ripped
13 [969bccd7] (09/66) Accurately ripped
Offsetted by 682:
01 [96af09fe] (09/69) Accurately ripped
02 [7677a5f1] (10/71) Accurately ripped
03 [63effe38] (09/69) Accurately ripped
04 [9f24229b] (09/69) Accurately ripped
05 [6330951d] (10/70) Accurately ripped
06 [6d65ab3f] (09/69) Accurately ripped
07 [d8b252b1] (09/69) Accurately ripped
08 [db9485b0] (10/70) Accurately ripped
09 [9b42e7c7] (10/71) Accurately ripped
10 [ed488a86] (09/69) Accurately ripped
11 [f4f5f790] (09/68) Accurately ripped
12 [72d13b8c] (09/68) Accurately ripped
13 [459435d7] (09/66) Accurately ripped
Offsetted by 592:
01 [7a75eb78] (00/69) No match (V2 was not tested)
02 [59d4ac7b] (00/71) No match (V2 was not tested)
03 [4969e77c] (00/69) No match (V2 was not tested)
04 [1930ee0d] (00/69) No match (V2 was not tested)
05 [c39af889] (00/70) No match (V2 was not tested)
06 [2b9d4177] (00/69) No match (V2 was not tested)
07 [6bd3b513] (00/69) No match (V2 was not tested)
08 [cc7a87aa] (00/70) No match (V2 was not tested)
09 [1a4a990b] (00/71) No match (V2 was not tested)
10 [0269b360] (00/69) No match (V2 was not tested)
11 [7c9e4d94] (00/68) No match (V2 was not tested)
12 [b313e6e8] (00/68) No match (V2 was not tested)
13 [71b7f017] (00/66) No match (V2 was not tested)
Offsetted by 688:
01 [fef71d18] (00/69) No match (V2 was not tested)
02 [563e3f1b] (00/71) No match (V2 was not tested)
03 [bb09ffbc] (00/69) No match (V2 was not tested)
04 [a812372d] (00/69) No match (V2 was not tested)
05 [a1075b49] (00/70) No match (V2 was not tested)
06 [71c85cf7] (00/69) No match (V2 was not tested)
07 [dff45d33] (00/69) No match (V2 was not tested)
08 [dc96414a] (00/70) No match (V2 was not tested)
09 [d70f314b] (00/71) No match (V2 was not tested)
10 [b8acbb00] (00/69) No match (V2 was not tested)
11 [1f1df1d4] (00/68) No match (V2 was not tested)
12 [a1bbb8a8] (00/68) No match (V2 was not tested)
13 [3191d417] (00/66) No match (V2 was not tested)

Track Peak [ CRC32 ] [W/O NULL] [ LOG ]
– 100,0 [E8A7396B] [87C94F7A] CRC32
01 99,8 [4C0A972C] [75C66138]
02 99,5 [9DB1E350] [E143FF7C]
03 99,8 [ABA852AD] [1C0797CD]
04 100,0 [4D3FF856] [35DF19FE]
05 99,1 [91ECCB06] [52F34A86]
06 99,8 [2B76CDA9] [80FFBF6D]
07 99,8 [1C89A9EB] [549CB6EF]
08 99,8 [8E0E3B47] [C260854C]
09 99,8 [5D81C5F9] [A5168572]
10 99,8 [DCA789B0] [677660DB]
11 99,8 [2CD13B56] [D088EC98]
12 99,8 [0829F3EF] [EC048FB3]
13 99,8 [B885AE8F] [82E897E6]
foobar2000 1.2 / Dynamic Range Meter 1.1.1
log date: 2018-11-05 06:01:30

––––––––––––––––––––––––––––––––––––––––
Analyzed: Peter Green Splinter Group / Time Traders
––––––––––––––––––––––––––––––––––––––––

DR Peak RMS Duration Track
––––––––––––––––––––––––––––––––––––––––
DR5 -0.01 dB -6.41 dB 5:19 01-Until The Well Runs Dry
DR6 -0.04 dB -8.21 dB 6:17 02-Real World
DR7 -0.01 dB -8.72 dB 4:47 03-Running After You
DR7 0.00 dB -9.65 dB 5:36 04-Shadow On My Door
DR7 -0.07 dB -8.57 dB 4:44 05-Lies
DR7 -0.01 dB -8.42 dB 4:17 06-(Down The Road Of)Temtation
DR7 -0.01 dB -9.72 dB 3:48 07-Downsize Blues(Repossess My Body)
DR8 -0.01 dB -9.42 dB 4:17 08-Feeling Good
DR8 -0.01 dB -10.11 dB 4:44 09-Time Keeps Slipping Away
DR7 -0.01 dB -8.59 dB 5:09 10-Wild Dogs
DR6 -0.01 dB -7.90 dB 5:17 11-Home
DR7 -0.01 dB -8.69 dB 4:49 12-Underway
DR5 -0.01 dB -6.44 dB 5:31 13-Uganda Woman
––––––––––––––––––––––––––––––––––––––––

Number of tracks: 13
Official DR value: DR7

Samplerate: 44100 Hz
Channels: 2
Bits per sample: 16
Bitrate: 909 kbps
Codec: FLAC
================================================================================
Exact Audio Copy V0.99 prebeta 4 from 23. January 2008

Отчёт EAC об извлечении, выполненном 4. августа 2012, 11:18

Peter Green Splinter Group / Reaching The Cold 100

Дисковод: ASUS DRW-1814BL Adapter: 1 ID: 0

Режим чтения : Достоверность
Использование точного потока : Да
Отключение кэша аудио : Да
Использование указателей C2 : Нет

Коррекция смещения при чтении : 6
Способность читать области Lead-in и Lead-out : Нет
Заполнение пропущенных сэмплов тишиной : Да
Удаление блоков с тишиной в начале и конце : Нет
При вычислениях CRC использовались нулевые сэмплы : Да
Интерфейс : Установленный внешний ASPI-интерфейс

Выходной формат : Пользовательский кодировщик
Выбранный битрейт : 1024 kBit/s
Качество : Высокий
Добавление ID3-тэга : Нет
Утилита сжатия : C:\Program Files\Exact Audio Copy\FLAC\FLAC.EXE
Дополнительные параметры : -6 -V -T "ARTIST=%a" -T "TITLE=%t" -T "ALBUM=%g" -T "DATE=%y" -T "TRACKNUMBER=%n" -T "GENRE=%m" -T "COMMENT=%e" %s -o %d


TOC извлечённого CD

Трек | Старт | Длительность | Начальный сектор | Конечный сектор
––––––––––––––––––––––––––––––––––-
1 | 0:00.00 | 3:28.46 | 0 | 15645
2 | 3:28.46 | 4:30.52 | 15646 | 35947
3 | 7:59.23 | 4:00.09 | 35948 | 53956
4 | 11:59.32 | 4:08.28 | 53957 | 72584
5 | 16:07.60 | 4:18.08 | 72585 | 91942
6 | 20:25.68 | 4:35.40 | 91943 | 112607
7 | 25:01.33 | 4:34.26 | 112608 | 133183
8 | 29:35.59 | 3:50.25 | 133184 | 150458
9 | 33:26.09 | 4:57.74 | 150459 | 172807
10 | 38:24.08 | 4:41.10 | 172808 | 193892
11 | 43:05.18 | 5:18.17 | 193893 | 217759
12 | 48:23.35 | 4:38.71 | 217760 | 238680
13 | 53:02.31 | 5:27.31 | 238681 | 263236
14 | 58:29.62 | 6:54.30 | 263237 | 294316
15 | 65:24.17 | 5:28.43 | 294317 | 318959
16 | 70:52.60 | 4:45.43 | 318960 | 340377
17 | 75:38.28 | 3:22.71 | 340378 | 355598


Характеристики диапазона извлечения и сообщения об ошибках

Выбранный диапазон

Имя файла H:\loSSleSS\P.Green'07\Peter Green Splinter Group - Reaching The Cold 100.wav

Пиковый уровень 98.2 %
Качество диапазона 100.0 %
CRC теста 3FB00EAF
CRC копии 3FB00EAF
Копирование… OK

Ошибок не произошло


AccurateRip: сводка

Трек 1 нет в базе данных
Трек 2 нет в базе данных
Трек 3 нет в базе данных
Трек 4 нет в базе данных
Трек 5 нет в базе данных
Трек 6 нет в базе данных
Трек 7 нет в базе данных
Трек 8 нет в базе данных
Трек 9 нет в базе данных
Трек 10 нет в базе данных
Трек 11 нет в базе данных
Трек 12 нет в базе данных
Трек 13 нет в базе данных
Трек 14 нет в базе данных
Трек 15 нет в базе данных
Трек 16 нет в базе данных
Трек 17 нет в базе данных

Ни одного трека нет в базе AccurateRip

Конец отчёта
[CUETools log; Date: 05.11.2018 6:00:46; Version: 2.1.4]
[CTDB TOCID: SnEB5xWTAagIvC1917WCg.VB2Kc-] found.
Track | CTDB Status
1 | (11/11) Accurately ripped
2 | (11/11) Accurately ripped
3 | (11/11) Accurately ripped
4 | (11/11) Accurately ripped
5 | (11/11) Accurately ripped
6 | (11/11) Accurately ripped
7 | (11/11) Accurately ripped
8 | (11/11) Accurately ripped
9 | (11/11) Accurately ripped
10 | (11/11) Accurately ripped
11 | (11/11) Accurately ripped
12 | (11/11) Accurately ripped
13 | (11/11) Accurately ripped
14 | (11/11) Accurately ripped
15 | (11/11) Accurately ripped
16 | (11/11) Accurately ripped
17 | (11/11) Accurately ripped
[AccurateRip ID: 002eb8cb-0259e1bc-e4128511] found.
Track [ CRC | V2 ] Status
01 [e6bdf023|6b1a7602] (0+3/7) Accurately ripped
02 [c798f32f|cd2a403b] (0+3/7) Accurately ripped
03 [9eeabf0e|a1054821] (0+3/7) Accurately ripped
04 [4f16fa32|08e801f4] (0+3/7) Accurately ripped
05 [4eb13153|767bcbe6] (0+3/7) Accurately ripped
06 [bcc11708|3853e111] (0+3/7) Accurately ripped
07 [6e2fbcde|b19aaeab] (0+3/7) Accurately ripped
08 [468384f8|665627b6] (0+3/7) Accurately ripped
09 [1d2c64a1|36cf1867] (0+3/7) Accurately ripped
10 [aea76d13|fd0c0e6d] (0+3/7) Accurately ripped
11 [2990cc4c|b6f7ef6d] (0+3/7) Accurately ripped
12 [1c7cc17b|6d005184] (0+3/7) Accurately ripped
13 [c25bd2ab|f8caaf33] (0+3/7) Accurately ripped
14 [b5b6a00e|2ccfb66d] (0+3/7) Accurately ripped
15 [6cc7026e|0d65d3af] (0+3/7) Accurately ripped
16 [dcca6a4b|a656cd96] (0+3/7) Accurately ripped
17 [390b2082|ab8ee4fe] (0+3/7) Accurately ripped
Offsetted by 664:
01 [357ff0c4] (0/7) No match (V2 was not tested)
02 [1bca8a27] (0/7) No match (V2 was not tested)
03 [1c0cb0fd] (0/7) No match (V2 was not tested)
04 [883b6744] (0/7) No match (V2 was not tested)
05 [e3c8ebe2] (0/7) No match (V2 was not tested)
06 [1e9fc290] (0/7) No match (V2 was not tested)
07 [d612ea6c] (0/7) No match (V2 was not tested)
08 [3065867d] (0/7) No match (V2 was not tested)
09 [f3a8d6e5] (0/7) No match (V2 was not tested)
10 [be0dcbaf] (0/7) No match (V2 was not tested)
11 [862643ec] (0/7) No match (V2 was not tested)
12 [56dbb0d9] (0/7) No match (V2 was not tested)
13 [3c7bc38b] (0/7) No match (V2 was not tested)
14 [06f38241] (0/7) No match (V2 was not tested)
15 [793f5661] (0/7) No match (V2 was not tested)
16 [14081969] (0/7) No match (V2 was not tested)
17 [f821796a] (0/7) No match (V2 was not tested)

Track Peak [ CRC32 ] [W/O NULL] [ LOG ]
– 98,2 [3FB00EAF] [B2C2404D] CRC32
01 92,6 [EC369F83] [B9CFA965]
02 92,7 [614056C2] [FF67842E]
03 93,2 [16F8DC16] [98269F44]
04 92,6 [10EC3E19] [C992CEA8]
05 98,2 [C12E5CF7] [B5CC0E7E]
06 94,9 [1DFBF89F] [11E704D2]
07 92,6 [268B68FC] [AAEE283E]
08 87,4 [B1CA6663] [3D5934E9]
09 94,9 [D405C92C] [267B5045]
10 94,8 [5EDECF05] [417427F0]
11 92,6 [80A906A9] [F677A6D7]
12 96,8 [500E0389] [63D890CC]
13 92,6 [530D029E] [5DFD5F5A]
14 97,2 [63ADD798] [30D1B70F]
15 95,6 [85E8DC1E] [105AF420]
16 96,4 [E11FE908] [750D5153]
17 92,4 [24100419] [F16A3EDC]
foobar2000 1.2 / Dynamic Range Meter 1.1.1
log date: 2018-11-05 06:00:45

––––––––––––––––––––––––––––––––––––––––
Analyzed: Peter Green Splinter Group / Reaching The Cold 100
––––––––––––––––––––––––––––––––––––––––

DR Peak RMS Duration Track
––––––––––––––––––––––––––––––––––––––––
DR9 -0.66 dB -11.27 dB 3:29 01-Ain't Nothin' Gonna Change It
DR7 -0.65 dB -9.19 dB 4:31 02-Look Out For Yourself
DR9 -0.61 dB -11.27 dB 4:00 03-Cool Down
DR9 -0.66 dB -10.27 dB 4:08 04-Dangerous Man
DR9 -0.15 dB -10.61 dB 4:18 05-Needs Must The Devil Drives
DR10 -0.45 dB -11.74 dB 4:36 06-Must Be A Fool
DR9 -0.66 dB -12.06 dB 4:34 07-Don't Walk Away
DR8 -1.16 dB -10.64 dB 3:50 08-Can You Tell Me Why
DR8 -0.45 dB -10.77 dB 4:58 09-Spiritual Thief
DR9 -0.46 dB -11.17 dB 4:41 10-I'm Ready For You
DR11 -0.66 dB -12.70 dB 5:18 11-Smile
DR9 -0.28 dB -10.88 dB 4:39 12-Nice Girl Like You
DR9 -0.66 dB -11.92 dB 5:27 13-When Somebody Cares
DR8 -0.24 dB -9.83 dB 6:54 14-Black Magic Woman
DR8 -0.39 dB -9.69 dB 5:29 15-It Takes Time
DR8 -0.31 dB -9.69 dB 4:46 16-Green Manalishi
DR9 -0.69 dB -11.43 dB 3:23 17-Albatross
––––––––––––––––––––––––––––––––––––––––

Number of tracks: 17
Official DR value: DR9

Samplerate: 44100 Hz
Channels: 2
Bits per sample: 16
Bitrate: 846 kbps
Codec: FLAC
================================================================================