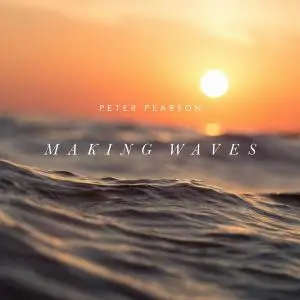 Peter Pearson - Making Waves (2019)
WEB FLAC (tracks) - 536 MB | MP3 CBR 320 kbps (LAME 3.93) - 231 MB | Front cover
Genre: Chillout, Downtempo | RAR 3% Rec. | Label: Self-released
A composer of mainly instrumental music, with an emotionally driven style that crosses the genres of Easy Listening and Chillout with elements of Ambient, Lounge, Jazz, Blues, light Classical and Rock. Simplicity and emotion are his driving forces - if there is no passion, there is no music.
Tracklist:
01. Evocation
02. Making Waves
03. Searching
04. We Meet Again
05. Please Stay (Feat. Yvonne Jay)
06. Nocturne
07. The Sweetest Eyes
08. Still Life
09. Such A Tease
10. Free
11. A Beautiful Evening
12. It's Rose Time
13. When I Touch You
14. I Missed You
15. A Shade Of Blue
16. Can You Feel It
17. Moments Like This
18. Meet You Under The Stars
19. Always You
20. Every Little Thing
Total time:
01:32:29

PERFORMER: auCDtect Task Manager, ver. 1.6.0 RC1 build 1.6.0.1
Copyright © 2008-2010 y-soft. All rights reserved

ANALYZER: auCDtect: CD records authenticity detector, version 0.8.2
Copyright © 2004 Oleg Berngardt. All rights reserved.
Copyright © 2004 Alexander Djourik. All rights reserved.


FILE: 20 Every Little Thing.flac
Size: 20038201 Hash: 7AA3FC135679A6B2AE1BC7CFB9A73E99 Accuracy: -m0
Conclusion: CDDA 100%
Signature: 2829A9933F0A5649C3244CE2ECF34BA8117CC82D
FILE: 19 Always You.flac
Size: 27732029 Hash: 075CF4A55DB53879224B3980F8FD6556 Accuracy: -m0
Conclusion: CDDA 100%
Signature: 462CC94DB983E40F4E32D1EC7F94EDF30331CE9B
FILE: 18 Meet You Under The Stars.flac
Size: 22178111 Hash: 024AAE87A0448FAFF58319F94E30138E Accuracy: -m0
Conclusion: CDDA 94%
Signature: 6CDFB393B7DA2296BFE9B981B915F44BFB1F76BE
FILE: 17 Moments Like This.flac
Size: 24589276 Hash: 49E2F416BB2635AF610386BE7945873F Accuracy: -m0
Conclusion: CDDA 58%
Signature: 15F5C2D5086A5C72E4D9776064AE98D20711F879
FILE: 16 Can You Feel It.flac
Size: 28981547 Hash: C0DB745A045B8C2A29A6B07D306E93B0 Accuracy: -m0
Conclusion: CDDA 99%
Signature: C8575510EAEC674EB4A49B6944A66256E6911F24
FILE: 15 A Shade Of Blue.flac
Size: 21795254 Hash: 01728E6AE76E592389BA02F4527E00F3 Accuracy: -m0
Conclusion: CDDA 100%
Signature: B7728F0F037B0FEF7E5119ABE220FCB6EBD7704B
FILE: 14 I Missed You.flac
Size: 26652106 Hash: FE776B6326C02B95E977AE9AA11A6A6B Accuracy: -m0
Conclusion: CDDA 100%
Signature: 7792724DB4E80EF43EC691FB81B454DE1BA574AD
FILE: 13 When I Touch You.flac
Size: 37738552 Hash: 19E20F8CD34E413FFE97DC5C7AA3A27D Accuracy: -m0
Conclusion: CDDA 100%
Signature: 6916913687EBB906336FA58755E2CB175A13ADDB
FILE: 12 It's Rose Time.flac
Size: 41296284 Hash: E22B0107CAB14CE1B78DD22F7EB95E50 Accuracy: -m0
Conclusion: CDDA 100%
Signature: 8DB2C75F75B9E435E0F77D67DCF6C913C954E2D7
FILE: 11 A Beautiful Evening.flac
Size: 38076961 Hash: 942D8ED35842CE722D266ABA648621EB Accuracy: -m0
Conclusion: CDDA 100%
Signature: 428D892003678EBF9E02900FA131E19774B4C115
FILE: 10 Free.flac
Size: 24531302 Hash: B0C1DE797E3199CCC73170E80F493842 Accuracy: -m0
Conclusion: CDDA 100%
Signature: 840C80C760FDC1B5FC04DBAA097CCE77F83FBCFB
FILE: 09 Such A Tease.flac
Size: 23662839 Hash: E451757A9EF003A27335FBB3B2641CCC Accuracy: -m0
Conclusion: CDDA 100%
Signature: 803D6912E9244E3DD08596A13E97643311A05FB1
FILE: 08 Still Life.flac
Size: 25873017 Hash: 47502AB573E934DE0934662E868DA69B Accuracy: -m0
Conclusion: CDDA 100%
Signature: 2EDEB3032C9E052A3ED0C89058E6DB15C9A3FDD2
FILE: 07 The Sweetest Eyes.flac
Size: 15963397 Hash: 1566010123BCB4214C3B0ABF37541159 Accuracy: -m0
Conclusion: CDDA 86%
Signature: 8829272C3151FDDB16A01EEE6A953FD91176AF1A
FILE: 06 Nocturne.flac
Size: 22604413 Hash: 6D08EBBBFB54184C2E34C3F3B42232B2 Accuracy: -m0
Conclusion: CDDA 92%
Signature: F2CF1E582A10E947E387B576076B5F2E9D4444D9
FILE: 05 Please Stay (Feat. Yvonne Jay).flac
Size: 22405389 Hash: DA741E7033175628F2B6463C8820F849 Accuracy: -m0
Conclusion: CDDA 100%
Signature: 592812ADAF38334EA6182E0C309B20CAB14436E8
FILE: 04 We Meet Again.flac
Size: 24365712 Hash: A236637AB07873339E69C5CE277AC897 Accuracy: -m0
Conclusion: CDDA 100%
Signature: 28156C43212B3F036372B12F8ACF45FC8CC4009E
FILE: 03 Searching.flac
Size: 35541169 Hash: 41E4E1D6D8E4665B8BDE889BBB8B8AC4 Accuracy: -m0
Conclusion: CDDA 100%
Signature: DC5A75F5E8359EAF7C2837D23DEA82CCEE86B68D
FILE: 02 Making Waves.flac
Size: 29424949 Hash: DE83ECF91E3EDB8952ECBCC6766256E5 Accuracy: -m0
Conclusion: CDDA 100%
Signature: AF61E151BBCEA90E1FC9BF260D75FCC1EA6B082F
FILE: 01 Evocation.flac
Size: 32496558 Hash: 5C55B8EFD3DE63F56461AAF81D57F0B4 Accuracy: -m0
Conclusion: CDDA 100%
Signature: CD0C247888D32B53571D19EF1773F2F75D3429B7