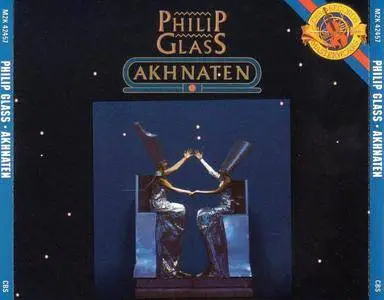 Philip Glass - Akhnaten: An Opera in Three Acts for Orchestra, Chorus and Soloists (1987)
The Stuttgart State Opera Orchestra & Chorus, Soloists, conducted by Dennis Russell Davies
EAC | FLAC | Image (Cue&Log) ~ 630 Mb | Mp3 (CBR320) ~ 316 Mb | Scans included
Genre: Classical, Minimalism, Opera | Label: CBS Masterworks | # M2K 42457 | Time: 02:08:37
The third in the Glass' trilogy of operas about men who changed the world in which they lived through the power of their ideas, "Akhnaten"'s subject is religion. The Pharaoh Akhnaten was the first monotheist in recorded story, and his substitution of a one-god religion for the multi-god worship in use when he came to power was responsible for his violent overthrow. The opera describes the rise, reign, and fall of Akhnaten in a series of tableaus. Libretto (Egyptian, Arcadian, Hebrew, and language of the audience) by the composer in association with Shalom Goldman, Robert Israel and Richard Riddell. Vocal text drawn from original sources by Shalom Goldman.
Akhnaten, Philip Glass's third opera, is a work of relatively compact dimensions but with all the qualities of epic about it. More a history than a story, it tells in Glass's characteristically elliptical fashion of the rise and fall of Akhnaten, sun-worshipper and monotheist, the 'man of religion' who complements in Glass's opera-trilogy the 'man of science' in Einstein on the Beach, and Gandhi, 'man of politics' in Satyagraha. Instead of a libretto there are texts and documents recovered by the Egyptologists, sung or spoken against an endlessly flowing line of orchestral background that symbolizes the passage of time.

Characters as such barely exist, indeed the very notion of 'characterization' is quite inapplicable to the elusive figures who pass through the music like ghosts or shadows. Religious fervour always excepted, everything is drained of human detail and emotion. Even the Act 2 duet between Akhnaten and Nefertiti has all the passion of a pair of scarab beetles mating, indeed, it comes as no surprise to find that the words of this domestic exchange are the same ones used just minutes earlier to address the sun-god Aten. Such is the manner of this solemn, ritualistic work. Decades pass; religions are set up and topple; always the orchestra, the ultimate protagonist, throbs underneath with its almost seamless weft of minor-mode arpeggios. Like Satie's Socrate, another piece of 'white music' and a score to which Akhnaten owes a great deal, this is a statuesque work of such earnestness that the term 'opera', with its implication of drama, fails to communicate the nature of the conception.

Akhnaten contains some of Glass's very best music. The Act I funeral scene, almost anthropo-logically observed with its terrifying drumming and the wild trumpet that accompanies the male chorus at the climax of the procession, strikes a chilling note from which the atmosphere never recovers. The final scene, sung wordlessly by the ghosts of Akhnaten, his wife and his mother in the ruins of their city, haunts the mind long after the music has ceased to play. Strangest and most wonderful of all is the ''Hymn to the Sun'', sung by Akhnaten himself at the centre of the opera, and addressed to the audience in its own language—English was chosen for the recording. It is one of the very few moments when we are invited to participate in Akhnaten's private world of belief, and with Glass's mesmeric music it's difficult not to be drawn in completely and utterly.

Success in the performance of Akhnaten relies more upon the orchestra than on voices, and here the Stuttgart State Opera (which commissioned the work) does a superb job. With relatively limited scope for interpretation, the soloists are to be judged more for the nature of their voices than for what they put into the playing of their parts, and in this regard I was slightly disappointed only by Paul Esswood, whose tense, tight-toned singing of the title-role turns Akhnaten into a colder, more remote figure than he need have been. The chorus is marvellous. Documentation, vital for an understanding of the story, is more than adequate, with full texts and translations from the Egyptian and Hebrew. Since playing time on the last three LP sides is minimal—all are under 20 minutes—and side-changing introduces quite unwanted interruption to the passage of the music, this is a work to hear on CD if at all possible.'



Review by Gramophone.co.uk
Akhnaten is a modern masterpiece in every way, and deserves a place in the standard repertory. Forgoing conventional narrative structure, this opera explores the controversial reign of Akhnaten through various tableau showing the Pharaoh overthrowing the religious establishment and founding a new order based on Atenism, and early form of monotheism.

Glass also explores both the controversial Oedipal and incestuous dimensions of the Pharaoh's rule, depicting his decay into a state of undifferentiated "familial" bliss using a vocalese-based musical language charged with pure emotion. Indeed, the whole opera uses music and langauge in amazing new ways, underscoring complex states of psychological being and various power relationships by contrasting languages and vocalese as well as intricate musical plotting. The fact that Akhnaten is scored for a countertenor is a stroke of genuis in itself, highlighting his almost alien nature as well as sexually controversial personality.

This opera hits at a primal level, and I cannot recommend this recording more highly. So many moments are charged with beauty, mystery, and power: the thundering funeral scene, the heartbreaking countertenor/soprano/contralto trio in the famous "Window of Appearances," the glorious Hymn to the Sun, the eerily beautiful "Family Scene," the climactic fall of Akhnaten…. simply wonderful.

I also recommend John Richardson's book about the opera, "Singing Archeology." Though somewhat overly academic in tone, it provides an invaluable key for understanding this incredible work.

I applaud both the Boston Lyric Opera and the Chicago Lyric Opera for bringing it back to American opera houses.



Review by Allen Ruch, Amazon.com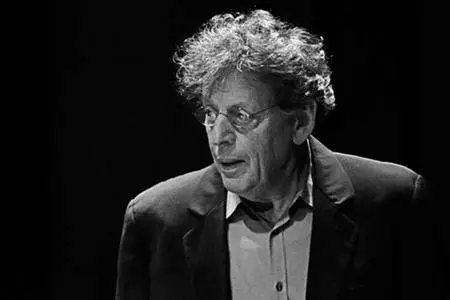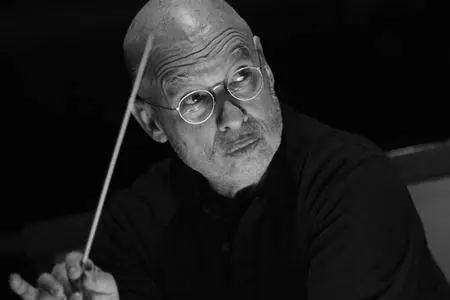 The Stuttgart State Opera, Orchestra & Chorus
Dennis Russell Davies, Conductor
Akhnaten - Paul Esswood, countertenor
Nefertiti - Milagro Vargas, alto
Wife of Akhnaten
Queen Tye - Melinda Liebermann, soprano
Mother of Akhnaten
Horemhab - Tero Hannula, baritone
General and future Pharaoh
Amon High Priest - Helmut Holzapfel, tenor
Aye - Cornelius Hauptmann, bass
Father of Nefertiti and advisor to the Pharaoh
The Daughters of Akhnaten:
Bekhetaten - Victoria Schneider, soprano
Meretaten - Lynne Wilhelm-Koniger, soprano
Maketaten - Maria Koupilova-Ticha, soprano
Ankhesenpaaten - Cristina Wachtler, alto
Neferneferuaten - Geraldine Rose, alto
Sotopenre - Angelika Schwarz, alto
Scribe - David Warrilow, narrator
Amenhotep, son of Hapu
Tracklist:
CD1:

01. Act I - Prelude: Refrain, Verse 1, Verse 2 (10:44)
02. Act I - Prelude: Verse 3 (00:39)
03. Act I - Scene 1: Funeral of Amenhotep III (08:59)
04. Act I - Scene 2: The Coronation of Akhnaten (17:14)
05. Act I - Scene 3: The Window of Appearances (09:12)

06. Act II - Scene 1: The Temple (12:47)
07. Act II - Scene 2: Akhnaten and Nefertiti (10:10)

CD2:

01. Act II - Scene 3: Narration: The City (02:30)
02. Act II - Scene 3: Dance (05:10)
03. Act II - Scene 4: Hymn (13:43)
04. Act III - Scene 1: The Family (11:35)
05. Act III - Scene 2: Attack and Fall (07:43)
06. Act III - Scene 3: The Ruins (07:28)
07. Act III - Scene 4: Epilogue (10:37)
Exact Audio Copy V0.99 prebeta 5 from 4. May 2009

Отчёт EAC об извлечении, выполненном 28. марта 2010, 23:36

Philip Glass / Akhnaten (CD1)

Дисковод: Optiarc DVD RW AD-7203A Adapter: 4 ID: 1

Режим чтения : Достоверность
Использование точного потока : Да
Отключение кэша аудио : Да
Использование указателей C2 : Нет

Коррекция смещения при чтении : 48
Способность читать области Lead-in и Lead-out : Нет
Заполнение пропущенных сэмплов тишиной : Да
Удаление блоков с тишиной в начале и конце : Нет
При вычислениях CRC использовались нулевые сэмплы : Да
Интерфейс : Встроенный Win32-интерфейс для Win NT/2000

Выходной формат : Пользовательский кодировщик
Выбранный битрейт : 128 kBit/s
Качество : Высокий
Добавление ID3-тэга : Нет
Утилита сжатия : C:\Program Files\FLAC\flac.exe
Дополнительные параметры : -5 -V %s


TOC извлечённого CD

Трек | Старт | Длительность | Начальный сектор | Конечный сектор
––––––––––––––––––––––––––––––––––-
1 | 0:00.00 | 10:44.57 | 0 | 48356
2 | 10:44.57 | 0:39.70 | 48357 | 51351
3 | 11:24.52 | 8:59.48 | 51352 | 91824
4 | 20:24.25 | 17:14.27 | 91825 | 169401
5 | 37:38.52 | 9:12.03 | 169402 | 210804
6 | 46:50.55 | 12:47.10 | 210805 | 268339
7 | 59:37.65 | 10:10.67 | 268340 | 314156


Характеристики диапазона извлечения и сообщения об ошибках

Выбранный диапазон

Имя файла D:\EAC\Philip Glass - Akhnaten (CD1).wav

Пиковый уровень 100.0 %
Качество диапазона 100.0 %
CRC теста F9151208
CRC копии F9151208
Копирование… OK

Ошибок не произошло


AccurateRip: сводка

Трек 1 точное извлечение (доверие 32) [A8C59B90]
Трек 2 точное извлечение (доверие 32) [6F6ED465]
Трек 3 точное извлечение (доверие 32) [38B23119]
Трек 4 точное извлечение (доверие 31) [EF264CD0]
Трек 5 точное извлечение (доверие 32) [9666E578]
Трек 6 точное извлечение (доверие 32) [69FA06E0]
Трек 7 точное извлечение (доверие 32) [DBFCE82D]

Все треки извлечены точно

Конец отчёта
[CUETools log; Date: 31.01.2017 16:51:18; Version: 2.1.4]
[CTDB TOCID: u1r8RnnJUZrxjdJkFoEJbIspKX8-] found.
Track | CTDB Status
1 | (111/113) Accurately ripped
2 | (111/113) Accurately ripped
3 | (112/113) Accurately ripped
4 | (109/113) Accurately ripped
5 | (110/113) Accurately ripped
6 | (109/113) Accurately ripped
7 | (109/113) Accurately ripped
[AccurateRip ID: 00119cbe-006caa8b-60105c07] found.
Track [ CRC | V2 ] Status
01 [a8c59b90|37adabe3] (047+040/139) Accurately ripped
02 [6f6ed465|41d4965b] (047+040/138) Accurately ripped
03 [38b23119|572730b7] (047+040/138) Accurately ripped
04 [ef264cd0|c0879ed9] (046+038/136) Accurately ripped
05 [9666e578|1cb469f9] (046+040/139) Accurately ripped
06 [69fa06e0|b5cb39f1] (046+041/139) Accurately ripped
07 [dbfce82d|02428236] (044+041/137) Accurately ripped
Offsetted by -628:
01 [ab2aa3e1] (017/139) Accurately ripped
02 [9098a9ac] (016/138) Accurately ripped
03 [f6463247] (016/138) Accurately ripped
04 [7959b591] (017/136) Accurately ripped
05 [dc8de7dd] (017/139) Accurately ripped
06 [167f6169] (017/139) Accurately ripped
07 [284c5d9c] (017/137) Accurately ripped
Offsetted by -664:
01 [0c48ec93] (000/139) No match (V2 was not tested)
02 [9771920a] (000/138) No match (V2 was not tested)
03 [70479d88] (000/138) No match (V2 was not tested)
04 [e27f807e] (000/136) No match (V2 was not tested)
05 [1b8d361f] (000/139) No match (V2 was not tested)
06 [3885f9cd] (000/139) No match (V2 was not tested)
07 [ed67a2f2] (000/137) No match (V2 was not tested)

Track Peak [ CRC32 ] [W/O NULL] [ LOG ]
– 100,0 [F9151208] [ECE0B33B] CRC32
01 75,7 [477F8FA9] [8B7268E6]
02 22,2 [E17EE311] [A9B1D2A3]
03 100,0 [3BF666AD] [99115E00]
04 88,7 [518F6D05] [08A67E26]
05 92,4 [4C0FA58A] [B046C5CB]
06 95,4 [D4FF9AA6] [F2DEE6BF]
07 75,7 [92606D47] [E95C13FF]
foobar2000 1.2 / Dynamic Range Meter 1.1.1
log date: 2017-01-31 17:15:55

––––––––––––––––––––––––––––––––––––––––
Analyzed: Philip Glass / Akhnaten (CD1)
––––––––––––––––––––––––––––––––––––––––

DR Peak RMS Duration Track
––––––––––––––––––––––––––––––––––––––––
DR11 -2.41 dB -19.92 dB 10:45 01-Act I - Prelude: Refrain, Verse 1, Verse 2
DR16 -13.04 dB -32.66 dB 0:40 02-Act I - Prelude: Verse 3
DR11 0.00 dB -15.27 dB 9:00 03-Act I - Scene 1: Funeral of Amenhotep III
DR12 -1.04 dB -18.38 dB 17:14 04-Act I - Scene 2: The Coronation of Akhnaten
DR12 -0.68 dB -17.74 dB 9:12 05-Act I - Scene 3: The Window of Appearances
DR12 -0.40 dB -16.56 dB 12:47 06-Act II - Scene 1: The Temple
DR12 -2.41 dB -21.40 dB 10:11 07-Act II - Scene 2: Akhnaten and Nefertiti
––––––––––––––––––––––––––––––––––––––––

Number of tracks: 7
Official DR value: DR12

Samplerate: 44100 Hz
Channels: 2
Bits per sample: 16
Bitrate: 632 kbps
Codec: FLAC
================================================================================
Exact Audio Copy V0.99 prebeta 5 from 4. May 2009

Отчёт EAC об извлечении, выполненном 29. марта 2010, 0:17

Philip Glass / Akhnaten (CD2)

Дисковод: Optiarc DVD RW AD-7203A Adapter: 4 ID: 1

Режим чтения : Достоверность
Использование точного потока : Да
Отключение кэша аудио : Да
Использование указателей C2 : Нет

Коррекция смещения при чтении : 48
Способность читать области Lead-in и Lead-out : Нет
Заполнение пропущенных сэмплов тишиной : Да
Удаление блоков с тишиной в начале и конце : Нет
При вычислениях CRC использовались нулевые сэмплы : Да
Интерфейс : Встроенный Win32-интерфейс для Win NT/2000

Выходной формат : Пользовательский кодировщик
Выбранный битрейт : 128 kBit/s
Качество : Высокий
Добавление ID3-тэга : Нет
Утилита сжатия : C:\Program Files\FLAC\flac.exe
Дополнительные параметры : -5 -V %s


TOC извлечённого CD

Трек | Старт | Длительность | Начальный сектор | Конечный сектор
––––––––––––––––––––––––––––––––––-
1 | 0:00.00 | 2:30.47 | 0 | 11296
2 | 2:30.47 | 5:10.15 | 11297 | 34561
3 | 7:40.62 | 13:43.13 | 34562 | 96299
4 | 21:24.00 | 11:35.32 | 96300 | 148456
5 | 32:59.32 | 7:43.00 | 148457 | 183181
6 | 40:42.32 | 7:28.58 | 183182 | 216839
7 | 48:11.15 | 10:37.42 | 216840 | 264656


Характеристики диапазона извлечения и сообщения об ошибках

Выбранный диапазон

Имя файла D:\EAC\Philip Glass - Akhnaten (CD2).wav

Пиковый уровень 96.3 %
Качество диапазона 100.0 %
CRC теста 23AB72CA
CRC копии 23AB72CA
Копирование… OK

Ошибок не произошло


AccurateRip: сводка

Трек 1 точное извлечение (доверие 8) [E048FB10]
Трек 2 точное извлечение (доверие 8) [C3C92E87]
Трек 3 точное извлечение (доверие 8) [625E2300]
Трек 4 точное извлечение (доверие 8) [A95DFE19]
Трек 5 точное извлечение (доверие 8) [EC2EEC38]
Трек 6 точное извлечение (доверие 8) [262BE17E]
Трек 7 точное извлечение (доверие 8) [FA5DB1DD]

Все треки извлечены точно

Конец отчёта
[CUETools log; Date: 31.01.2017 16:51:37; Version: 2.1.4]
[CTDB TOCID: hhTGWYziZ4UXYiLP1oRavD4FQTs-] found.
Track | CTDB Status
1 | (146/147) Accurately ripped
2 | (146/147) Accurately ripped
3 | (145/147) Accurately ripped
4 | (146/147) Accurately ripped
5 | (146/147) Accurately ripped
6 | (146/147) Accurately ripped
7 | (145/147) Accurately ripped
[AccurateRip ID: 000e939f-005b5e9a-5e0dc807] found.
Track [ CRC | V2 ] Status
01 [e048fb10|238517d1] (012+012/185) Accurately ripped
02 [c3c92e87|bdb36280] (012+012/186) Accurately ripped
03 [625e2300|d0ba369f] (012+012/186) Accurately ripped
04 [a95dfe19|786761da] (012+012/185) Accurately ripped
05 [ec2eec38|1d2004fc] (012+012/184) Accurately ripped
06 [262be17e|57709bbe] (012+012/185) Accurately ripped
07 [fa5db1dd|98340919] (012+012/186) Accurately ripped
Offsetted by -921:
01 [600becd3] (011/185) Accurately ripped
02 [abeec3e3] (012/186) Accurately ripped
03 [1c210239] (012/186) Accurately ripped
04 [ad3f5e0b] (012/185) Accurately ripped
05 [ba7aa498] (012/184) Accurately ripped
06 [88b6751c] (012/185) Accurately ripped
07 [ed5260c0] (013/186) Accurately ripped
Offsetted by -599:
01 [532f6fdd] (011/185) Accurately ripped
02 [7dbcd4a1] (011/186) Accurately ripped
03 [eaae18bd] (011/186) Accurately ripped
04 [643f1472] (011/185) Accurately ripped
05 [fd91bc1e] (011/184) Accurately ripped
06 [9e21078d] (011/185) Accurately ripped
07 [02397c50] (011/186) Accurately ripped
Offsetted by -104:
01 [7ab9b317] (019/185) Accurately ripped
02 [615549f8] (019/186) Accurately ripped
03 [d7516e58] (019/186) Accurately ripped
04 [588ad614] (018/185) Accurately ripped
05 [6ef2de99] (018/184) Accurately ripped
06 [c3635ab0] (019/185) Accurately ripped
07 [9ab2d08e] (018/186) Accurately ripped
Offsetted by 29:
01 [0b3ad228] (028/185) Accurately ripped
02 [78d0a4a0] (028/186) Accurately ripped
03 [9756b973] (028/186) Accurately ripped
04 [92ab8cf2] (028/185) Accurately ripped
05 [5f06cdf3] (028/184) Accurately ripped
06 [248098cb] (028/185) Accurately ripped
07 [87774ba3] (028/186) Accurately ripped

Track Peak [ CRC32 ] [W/O NULL] [ LOG ]
– 96,3 [23AB72CA] [A02F8DCB] CRC32
01 49,1 [6D8D818D] [966D2C20]
02 88,0 [1802B727] [7770589A]
03 89,1 [98DEC4F3] [A670B0C0]
04 72,0 [8269050C] [085E866A]
05 96,3 [F0CA1BF8] [EDF0EAC3]
06 87,2 [BF83B503] [B3B5E4DF]
07 50,7 [B9E09BD1] [8A7508C8]
foobar2000 1.2 / Dynamic Range Meter 1.1.1
log date: 2017-01-31 17:16:17

––––––––––––––––––––––––––––––––––––––––
Analyzed: Philip Glass / Akhnaten (CD2)
––––––––––––––––––––––––––––––––––––––––

DR Peak RMS Duration Track
––––––––––––––––––––––––––––––––––––––––
DR15 -6.17 dB -26.25 dB 2:31 01-Act II - Scene 3: Narration: The City
DR11 -1.10 dB -17.79 dB 5:10 02-Act II - Scene 3: Dance
DR13 -1.00 dB -20.08 dB 13:43 03-Act II - Scene 4: Hymn
DR13 -2.84 dB -20.39 dB 11:35 04-Act III - Scene 1: The Family
DR11 -0.33 dB -13.62 dB 7:43 05-Act III - Scene 2: Attack and Fall
DR12 -1.18 dB -18.20 dB 7:29 06-Act III - Scene 3: The Ruins
DR12 -5.89 dB -21.14 dB 10:38 07-Act III - Scene 4: Epilogue
––––––––––––––––––––––––––––––––––––––––

Number of tracks: 7
Official DR value: DR12

Samplerate: 44100 Hz
Channels: 2
Bits per sample: 16
Bitrate: 658 kbps
Codec: FLAC
================================================================================